In talking to retailers, wholesalers and suppliers, one subject seems to loom large: the threat of an economic downturn as the year runs out, and the importance of value for maintaining sales and footfall. And for shoppers, price-marked packs (PMPs) are a key indicator of a good deal.
Whether this means stocking more value-line PMPs or making premium SKUs more attractive by using PMPs, or by adding PMPs to categories – such as frozen – which have grown under lockdown, PMPs remains the subject everybody is thinking about.
PMPs are, of course, one of convenience's secret weapons (another is ready-chilled drinks), and that comes from the visibility of the flash price for the impulse shopper. Value is paramount but value is not only about price.
"For many consumers, price isn't everything. They still want good quality products and they will take health and sustainability into consideration, so they are looking for value, rather than simply a low price point" says Martin Tilney, Senior Commercial Director at Del Monte.
"Price marked packs help to increase impulse purchases, encourage repeat custom and ultimately drive stock through more quickly, so it's important for retailers to stock a range of products to maximise these impulse purchases from a variety of shoppers," Tilney adds.
At the same time, according to Allison Wallentin, Category Manager for Convenience at Saputo Dairy UK, PMPs "support convenience retailers in showcasing value for money and reassure customers that they are getting a fair deal, helping to overcome the common preconception that C-stores are more expensive than rival outlets."
Joss Bamber, Commercial Manager at Birds Eye, says that many shoppers are seeking financial comfort through PMPs after an unsettling year and that 31 per cent of consumers admit to buying PMPs either most or every time they visit a convenience store. "That number has steadily increased over the last six years or so," he says, "showing the growing appeal of PMPs in store. With the pandemic continuing to financially impact many people, the majority of households (62 per cent) have become more careful with their spending, presenting a real opportunity for retailers to offer great value for their customers."
The fact that PMPs typically come from well-known and established brands also helps to attract shoppers' eyes.
"PMPs offer clarity and transparency to shoppers who are seeking value products, but do not want to compromise on quality," says Tilney. "It is therefore essential for retailers stock leading brands – such as Del Monte – providing affordable options without the need to sacrifice quality or compromise on taste."
The fact is that individual uncertainty over the economic future as furlough ends, and as the debt taken out by the government during the pandemic begins to bite, means that shoppers are laser-focussed on watching the pennies, and PMPs help a lot with that. As Wallentin points out, recent Lumina Intelligence insight suggests that some two thirds of convenience shoppers are now being more careful what they spend money on than before the pandemic and some 60 per cent claim to be very aware of product prices in convenience stores.
The art of PMPs
How many PMPs should your store display compared to regular stock? Which lines from premium to economy should be chosen, and should they be displayed together for comparison, or as beacons to attract attention?
There is certainly a craft if not an art to directing a shopper's attention to the PMP offer and selection and variety are a big component: match the variety of PMP to the profile of customers and try to ensure PMPs are available in all areas.
"PMP's are a quick signpost for value and over the last year, shoppers have become increasingly money-conscious in these unprecedented times, looking for affordable, everyday deals that cater to adults, families and children," points out Peperami & Jack Link's marketing director, Laura Trivulzio. "Retailers should place PMP's and single serve snacks for the on the go, ready to eat occasion at the front of store, within meal deals and till runs," she advises.
With financial anxieties uppermost, Parminder Walia, Category Development Manager, Tata Consumer Products (Tetley), also says that economy to premium should be PMP ranged: "This requires a different approach on shelf – smaller entry point packs and different pack sizes to match different shopper missions; plus balanced promotions and demonstrations of value will all help to retain and support shoppers."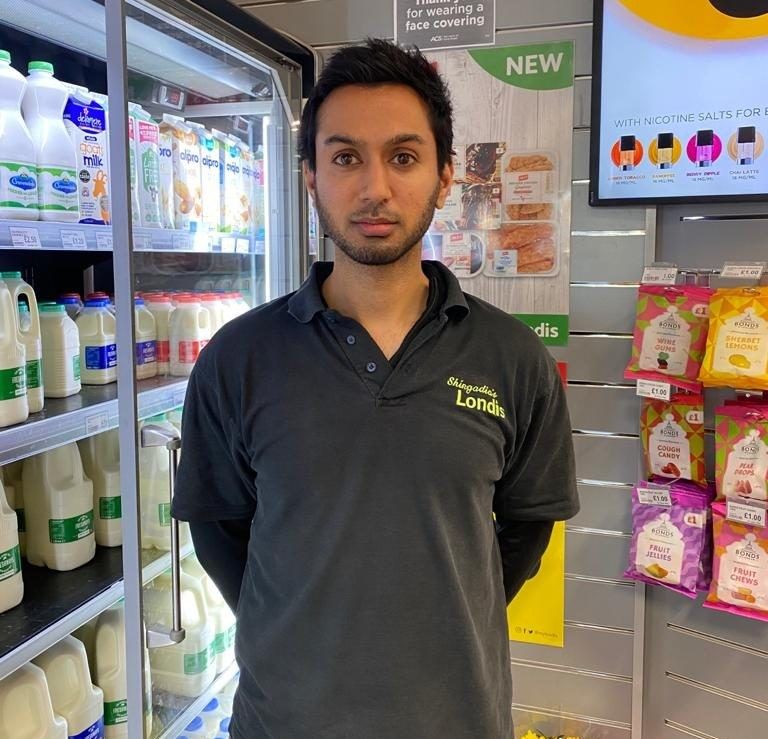 Amish Shingadia of Londis Caterways sees the importance of arranging a choice of PMPs from high to low. "I'm quite pro price-marked products, I think it gives you a very good price point on it," he says, "and I have a combination of premium and multi price-marked products but I generally don't go like low, low price, low tier. For example we have Yorkshire tea bags and then we have Happy Shopper tea bags, which is even cheaper. In fact I have three price levels on the shelf and I find it does very well having all three categories in all different varieties. By having them all grouped together, I find the price points standout. My point is, we need to have a good variety or PMPs lose their appeal, if that makes sense."
"PMPs are part of marketing and merchandising," agrees Bobby Singh of Holmfield Lane Superstore. "When something is price marked then most of the customers are okay with it. It is a good deal, good bargain kind of thing. What we tend to do is, when we have any kind of promotions, where things are price marked, we will tend to promote that and advertise that and put it in our stores more strategically where customers will see that and be drawn in to have a look."
Maeve Judge, Marketing Manager for Meals and Baking at General Mills , believes that PMPs are a key tool in dispelling (what is already something of an outdated assumption), that c-stores are a lot more expensive. "For us," she says, "the benefit of a PMP range is two-fold. One, consumers feel like they are getting a competitive price, as historically the perception is that prices are higher in convenience stores, so the on-pack price flash can increase the appeal to purchase. Two, for retailers, the range can inform and educate what the RRP of a product should be and helps them infer a Profit on Return (POR) more easily."
Selling health through PMPs
PMPs attract attention and spending, so they are perfect to direct shoppers to areas where they can benefit, such as healthier eating. PMPs need not not only be for basic or treat products – healthy lines can also do well in flash packs.
Snack bar brand graze is a case in point, having recently decided to allow their brand to enter the PMP fray.
"In 2020, graze brought its first ever PMP range to retail and wholesale sectors to bring healthy snacks to these channels, where there is a huge gap for healthy, on-the-go snacks," says , says Melanie Tucker, Head of OOH at graze.
Their line-up includes our best-selling sweet and savoury punnet products, including Lively Lemon flapjack, Cocoa Vanilla flapjack, Smoky Barbecue Crunch and Salt & Vinegar Crunch – and the PMPs have been designed to make purchasing decisions easier for shoppers, whilst also enabling retailers to tap into the healthy snacking opportunity.
"Price marked packs are proven to help drive sales, and with the £1 splash on the front of our much-loved snacks, will attract even more shoppers through value perception, and in turn gain their trust. What's more, the products are completely VAT free, providing retailers with an even greater profit opportunity."
With goodness sealed in and at a great price, frozen food has also taken off in convenience under lockdown. "More consumers are considering the benefits of frozen fruit and veg," says Shah Khan, Senior Marketing Manager at Aviko UK & Ireland. "They're understanding that frozen works against food wastage whilst offering equal if not enhanced quality, health and taste over fresh produce, and as a result are filling their freezers."
As a result, Aviko have invested in some best-selling lines going PMP, such as Hash Brown Bites, Crunchy bites, Herb Diced Potatoes and SuperCrunch Thick Cut Oven Chips. PMPs can make these sorts of product an automatic choice when shopping for meal ingredients: "When you consider most people eat with their eyes, retailers should use point-of-sale materials to raise awareness of products and inspire purchase," says Khan.
"It's important that retailers offer PMPs within the frozen category, with one in three frozen food shoppers saying they would be more likely to buy a product if it was a PMP," adds Birds Eye's Bamber. "A lot of customers turn to PMPs, and to the frozen category, for financial comfort when shopping as the 'permanence' of the price being printed on pack indicates stability for them. This creates the perfect opportunity for retailers."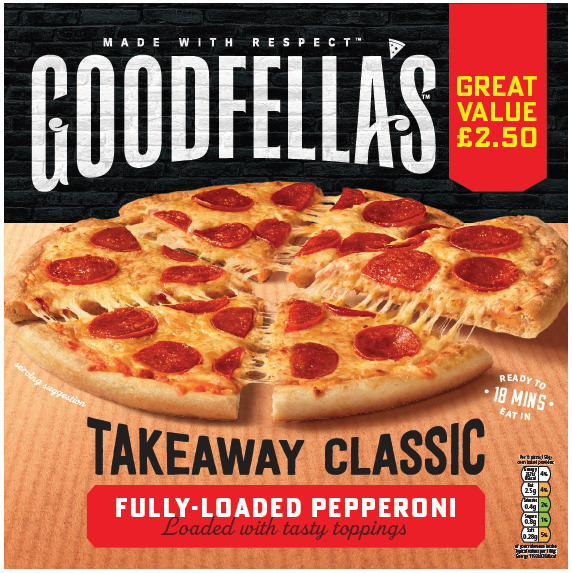 Birds Eye's intent has been signalled by the recent Goodfella's updated packaging across its entire pizza portfolio, including PMP formats for the convenience sector. The packaging revamp comes as Goodfella's looks to retain the new shoppers who entered the frozen pizza category in 2020, as consumers enjoyed more meals at home during the pandemic.
The possibilities for new categories of PMPs are exciting – we have recently began to see PMPs in spirits and can expect to have more wines marked up that way as well.
"Meat snacks and savoury snacks are becoming more prominent within the PMP category and have proven that the better-for-you snacking movement is growing.," says Peperami's Trivulzio. With healthier products typically thought of as more expensive, stocking PMPs such as Peperami, offer nutritionally aware consumers alternatives to sugary snacks, at an accessible price-point."
To continue delivering on these important trends for value and better-for-you snacks, Peperami offers PMPs for their hugely popular single sticks in Original, Hot and Firestick priced at £1.00 in 30g formats, providing a bigger bite at an affordable price point.
And the trend for healthy eating and the return of on-the-go shopping is a big one.
"With healthy snacking firmly back into the spotlight and PMPs playing a big part in a customer's purchasing decision, there has never been a more important time to consider PMP formats in the healthier snacking category," concludes Tucker."Not only will shoppers be looking for a healthier snacking option, but they will also be looking for a good value product, and PMPs demonstrate just that."
PMP drinks and snacks
In a way the essence of PMPs is the grab-and-go drinks and snacks aisles. If she can't decide on a flavour, a shopper can still immediately see that a price is deliciously crunchy or thirst-quenching, and choose it.
"PMPs are a great way for retailers to drive sales, particularly for consumers looking for an impulse purchase," says Jon Wood, commercial director of Calbee UK. "Our price marked packs are excellent value for money and continue to grow in the wholesale channel, which demonstrates demand in the convenience sector."
Calbee's Seabrook brand recently launched Loaded Fries, available in a £1 PMP bag in Cheese & Bacon and Chilli Heat flavour. In fact £1 PMPs flow across the entire Seabrooks range – from Sea Salted, Cheese and Onion and Beefy crisps to the new Worcestershire Sauce flavour Crinkle Cut with a taste based on the original 1837 recipe.
At Tayto, marketing director Matt Smith says that "Golden Wonder has always offered both retailers and consumers great taste and value – and we have seen good growth in our entry price-point Fun Snacks range (that includes Tangy Toms, Spicy Bikers, Awesome Oinks and Quarterbacks), as 30p PMPs have been growing faster than the market."
Tayto, which also makes the Mr Porky range of pork scratchings (another lockdown winner with the pubs shut), supplies a £1 PMP price point range, illustrating the principle that PMP should be across different lines and sizes. "£1 PMP Snacks are growing three times faster than the market and now account for 39% of Snacks, with family favourites such as our Golden Wonder Ringos and Transform-A-Snack brands performing well in this format," Smith reveals.
Scott Snell, Vice President of Customer at pladis UK & Ireland, says that the snacks giant recognises the power of PMPs: "Despite the fact that only 12 per cent of SKUs in convenience stores are PMPs, they represent three quarters of sales in the channel because shoppers perceive PMPs to represent good value for money." He explains that biscuits and snacks are a huge source of store revenue through PMPs and that pladis is moving mountains to make their brands available that way.
"We offer PMPs across a number of our bestselling SKUs – including McVitie's Milk Chocolate Digestives and  Jaffa Cakes – but we're always assessing what else we can add to the mix to help our retail customers drive sales through PMPs," he says.
pladis has recently launched Flipz Peanut Butter in PMP format to capitalise on the brand's huge volume growth over the past year – up 11.7 per cent. "We're confident that launching Flipz Peanut Butter in a £1 PMP will help to drive this further," says Snell.
At Mondelēz, meanwhile, alongside its Cadbury PMP singles bars and tablets, £1 price-marked 95g chocolate bags are available across bestsellers in the segment including Dairy Milk Giant Buttons, Dairy Milk Caramel Nibbles, Cadbury Twirl Bites and Cadbury Bitsa Wispa. Wholesalers can also take advantage of PMPs on smaller packs through the PMP singles available for Cadbury Dairy Milk Freddo, Cadbury Dairy Milk Buttons, Cadbury Chomp and Cadbury Fudge.
Trade Communications Manager Susan Nash says that "Mondelēz now offers its widest ever range of PMPs across its confectionery brands and formats. This helps these best-selling brands stand out on shelf with the convenience of clear on-pack pricing to help drive additional sales for retailers."
Notable is the giant success of Aussie classic import Cadbury Caramilk this summer, which has been made available in is also available in single and tablet PMP formats, improving stand-out on shelf while boosting shoppers' trust with the convenience of clear pricing.
Shoppers can wash all this down with some fabulously attractive PMP deals in drinks, some of which – as with Carabao – are permanent and part of the brand identity.
Britvic has just bought juice brand Drench and is supplying it in a 79p price-marked pack (PMP) across its 500ml PET bottles, and retailers can stock up on £1.49 price-marked 900ml bottles of Robinsons Orange, Apple & Blackcurrant and Summer Fruits squash.
It has also updated the 500ml PMP offering to a competitive single price point of £1, across its whole low and no added sugar range including Pepsi MAX, Pepsi MAX Cherry & Raspberry, Diet Pepsi, 7UP Free and Tango Orange Original (plus Sugar Free flavours Strawberry & Watermelon and Dark Berry). "This temporary move will allow retailers to clearly communicate value to their shoppers," says Phil Sanders, Out of Home Commercial Director at Britvic.
Britvic also now distributes Rockstar energy drink and the core range is available in PMPs, alongside a PMP deal on Rockstar Original No Sugar, too (at £1.19 fora 500ml can).
Amy Burgess, Senior Trade Communications Manager at Coca-Cola Europacific Partners (CCEP), stresses that there is a complete choice of PMPs right across brands and ranges. "Accounting for more than 60 per cent of total soft drink sales in independent and symbol convenience stores, price-marked packs (PMPs) offer visible value – which can help to reassure shoppers who are spending carefully but who still want to enjoy their favourite brands."
Coca-Cola, Fanta, Sprite, Dr Pepper, Monster, Relentless and Reign are all available in PMPs as well as plain, she says.
At Suntory Beverage & Food GB&I, wholesale channel director Matt Gouldsmith reveals that soft drink sales have grown by 4.3 per cent over the last year, and within that, the Lucozade Energy contributed a significant £60.7m-worth of sales while adding to its portfolio with Lucozade Energy Raspberry Ripple. Gouldsmith points out that sales of Lucozade Energy's drink-later formats are continuing to grow, and the brand has tapped into the trend with the launch of a new PMP 1.45L bottle at £2.
And PMPs add to the energy of the energy drinks category. Adrian Hipkiss, Marketing and International Business Director at Boost Drinks, says that PMPs"are a great way to build consumer loyalty" and says that new SKUs such as the Boost Mango 250ml Energy "will offer great quality products that meet the consumer trends, at attractive price points in PMPs." He points out that  PMPs account for over 60 per cent of total soft drink sales in independents and symbols.
Carabao would advise retailers to ensure they prioritise having a range of chilled priced marked pack energy drinks at eye level in the chiller so that they are easily accessible for consumers. It also recommends placing  brands that are exclusively low or no sugar at "easy to grab" spaces help shoppers to make healthier choices. And of course, it is a PMP winner:
"For those families who are still facing economic uncertainty, independents should ensure to stock a range of price marked energy drinks, such as Carabao's 'only 69p' cans to give shoppers that instant reassurance that they are buying a great product at attractive price and meet the needs of customers seeking exceptional value products.
It is something that YAZOO knows very well, as Wayne Thompson, Business Unit Controller for Out of Home at FrieslandCampina, explaining that the 52 per cent of brand revenue (£32m) comes through the convenience channel, with PMPs representing 63 per cent of sales.
"YAZOO offers permanent PMP variants of all core flavours (Chocolate, Strawberry, Banana and Vanilla) as well as across its Limited-Edition flavours, meaning retailers can tailor their offering to whatever suits their stores," he advises.
Mind your margins
A final point to make is that if merchandising is more the art of PMPs then pricing them is the craft, with a play-off between margin for supplier and store owner, which is inevitably squeeze by the pack discount.
"As retailers, we want 25 per cent to be the minimum [margin]," says Amish Shingadia. "I think PMP comes on average about 21 per cent. I would like to see an improvement on it, but then the flip side is we sell a lot more is price marks."
Importantly, PMPs might not offer top grade margins, but they are often impulsive buys and incremental to the usual basket spend, so in the end it can mean bonus sales and revenue.
"Are we retailers ever happy with the margins?" asks Bobby Singh rhetorically (don't all answer at once!) "Some manufacturers have thought of the retailer," he says, "and we do get 20 per cent and above. But some manufacturers don't think of retailers and the margins are very low. So in some aspects, I'm not happy because we're not getting the support from the manufacturer. But in majority of cases manufacturer has thought of the retailer and left a reasonable margin for them."
Other retailers are also in two minds: "Margin is just okay. Of course I would love it if we could get more. But in some cases, yeah, it is too little," says Craig Warren of The Corner Stores, Mildenhall.
"We can always do with bigger margins for ourselves – more profit!" adds Danny of Cofton News & Wines.
"In margins, some of them are good, some of them are not," says Roheet Verma, SK Superstore – and others have points to make about the margins on particular categories, such as  Pete Patel of Costcutter Brockley, who thinks "margins are just okay" and that. "Confectionery brands can give better margins."