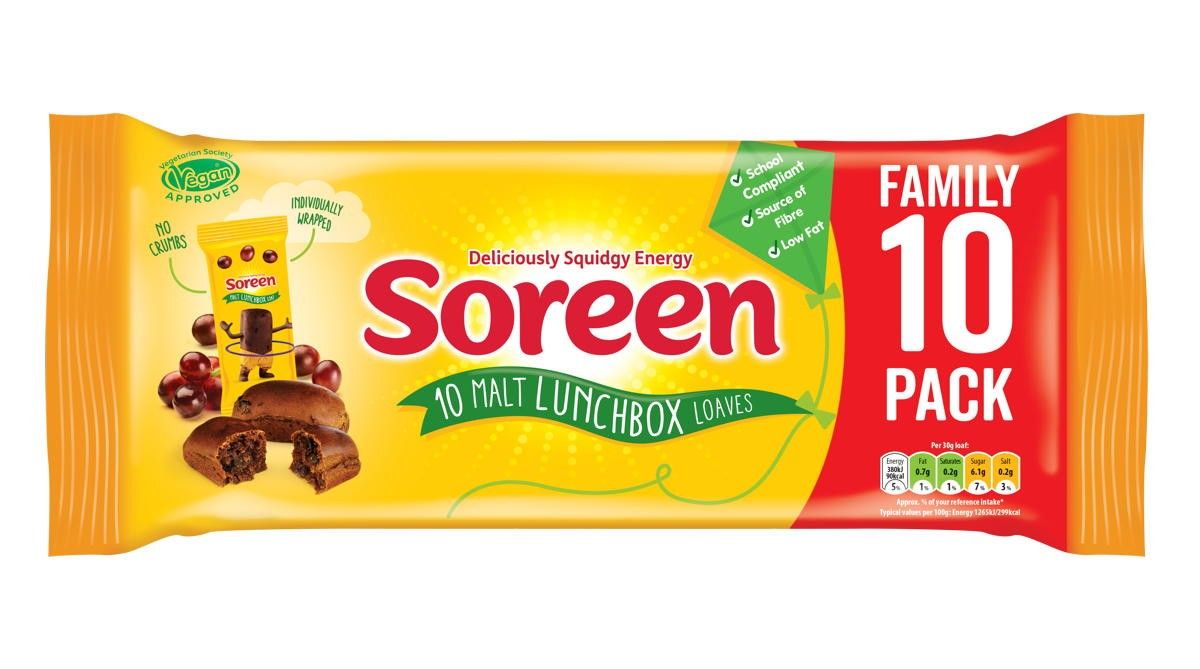 Leading malt loaf manufacturer Soreen has launched a new 10-pack of Malt Lunchbox Loaves, providing a more convenient pack size for families.
Soreen said its individually wrapped Lunchbox Loaves, previously only available as a multipack of 5, have proved immensely popular ever since their launch in 2012, predominantly due to their "deliciously squidgy treat-like" taste, whilst also being a school compliant snack.
"We identified that almost half of our Lunchbox Loaves (5-pack) shoppers were purchasing more than one pack of Lunchbox Loaves a week in order to meet their consumption needs," Liz Jacobs, head of marketing at Soreen, commented.
"To make their lives easier, we made the decision to launch our new 10-pack, so that parents could not only shop more efficiently but also more cost effectively. This means that their children can access healthier snacks every day, whether that be as part of their lunchbox, or as an after-school snack."
With the easing of lockdown restrictions and children set to be at school full-time, Soreen hopes that its Lunchbox Loaves would prove a healthier choice for lunchboxes.
"Two-children families are the most common family size in the UK. Therefore, it was a natural progression for us to launch our Lunchbox Loaves as a 10-pack," Jacobs added.
At 100 calories a portion, Malt Lunchbox Loaves provide a healthier snack option and contain 50% less sugar than the average cake bar. In addition, they are also low in fat and provide a source of fibre.
Earlier this year, Soreen announced that the vast majority of their products were going vegan-friendly for 2021, with the launch of their biggest ever vegan range. This included Soreen's iconic original malt products.
Jacobs said: "Given that our Malt Lunchbox Loaves are a healthier snack and a source of natural energy, they are particularly favoured amongst children and families as a tasty lunchtime snack. Plus, given that they're vegan approved and plant-based, they are now suitable for children who need to follow a dairy free diet, providing even wider appeal.
"Our Lunchbox Loaves also contain no reds in their nutritional traffic lights, ensuring a healthier choice for children. We took the decision to feature the traffic light nutritionals on the front of our packs in 2017 to make it easier for parents to make healthier choices."
Launching into Tesco with an RRP of £2, Soreen's 10-pack of Malt Lunchbox Loaves will be more widely available, including independents and wholesalers, in the coming weeks.