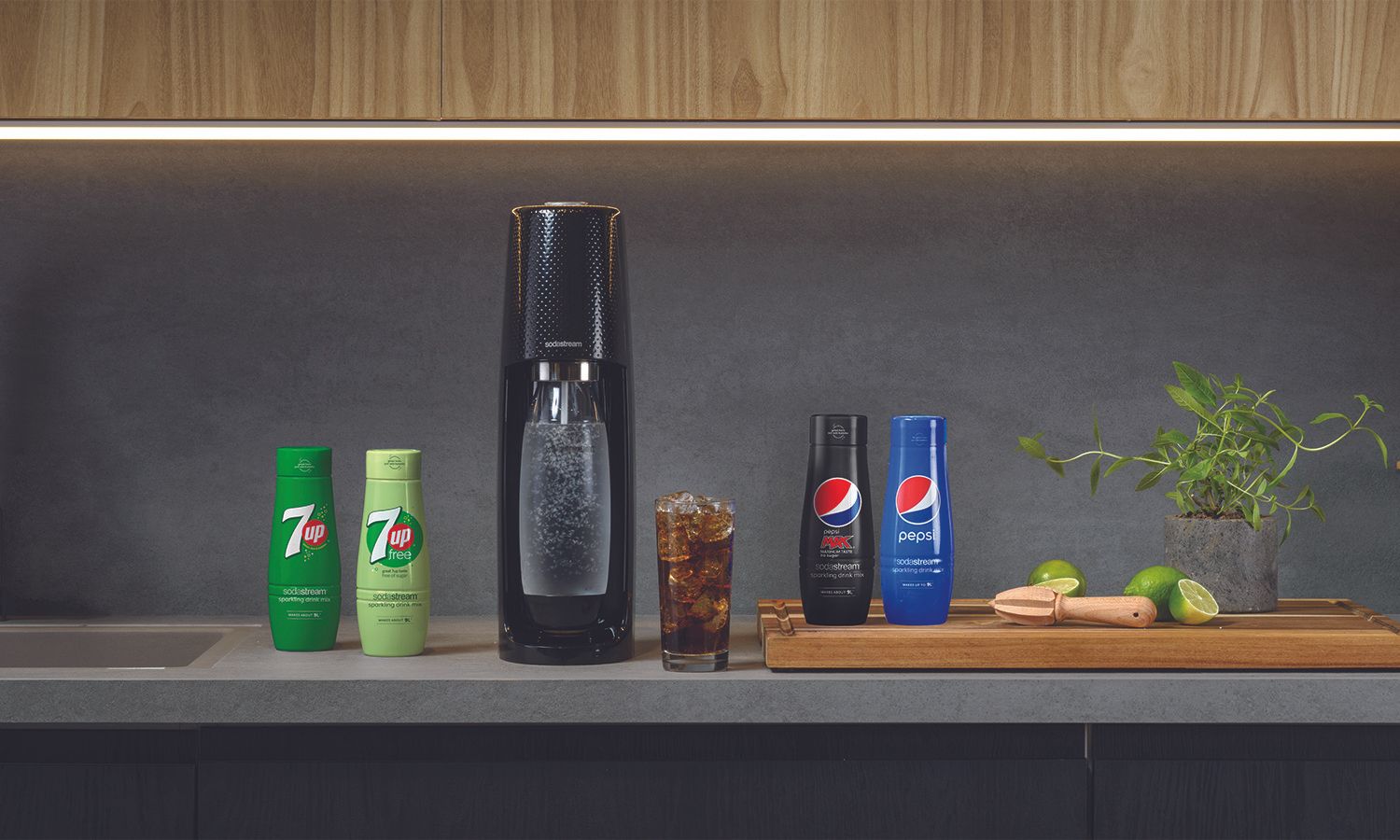 SodaStream is about to send soft drink lovers bubbling over with excitement, as it today announces it is bringing four of PepsiCo's most iconic flavours- Pepsi MAX, Pepsi, 7UP Free- for the very first time.
The launch comes just in time for consumers to enjoy a glass of freshly sparkled Pepsi MAX or 7UP Free in those long Autumnal evenings. And the new flavours are the perfect choice for anyone looking for a delicious drink to enjoy this Sober October too!
What's more, not only can SodaStream lovers now enjoy the great taste of PepsiCo beverages just as they like it, but they can do so conveniently from the comfort of their own home as well. It couldn't be easier. Simply add a dash of one of the delicious PepsiCo flavours to a glass of sparkling water and voila!
There's now even greater freedom of choice when it comes to how to enjoy soft drinks. SodaStream fans can now make up to nine litres of sparkling refreshment at home out of each 440ml bottle of PepsiCo flavour, giving them more sustainable options to enjoy their favourite drinks.
The new PepsiCo flavours from SodaStream are available to purchase now for £4.99 from Sainsbury's (22nd September), Asda (26th October) and John Lewis (12th October) as well as directly through SodaStream.co.uk.
Once soft drink lovers have bubbled away to their heart's content, making PepsiCo drinks using their SodaStream, they can replace their empty gas cylinders too to get their sparkle back. Simply sign up to SodaStream's Sparkle Saver's Plan to exchange directly and receive a £10 refundable deposit off of future orders, making each gas cylinder just £13. Or they can exchange in 3,000 stores nationwide including Asda, Sainsbury's, Robert Dyas, Lakeland and Argos.
SodaStream is a $1billion brand worldwide and part of PepsiCo. It is the world's leading sparkling water-maker brand, enabling consumers to enjoy endless good bubbles at home. SodaStream bubbles are better for the consumer – healthy and easy to make – and better for the planet – replacing thousands of single-use plastic bottles with one reusable SodaStream bottle, saving consumers from carrying countless numbers of bottles home too.