The snacks market is a mature one, with nearly every household purchasing at least once a year, and Brits defiantly remain a proud and enthusiastic nation of Olympic-class crisp-munchers.
Indeed, the UK is one of the biggest snacking nations in the world, giving the crisps industry the opportunity for innovation. This is great news for independent retailers, who are ideally suited to cash in. Add to that the extraordinary circumstances of the past year, and snacks are riding even higher than usual.
As Paul Hargreaves, chief executive at fine foods distributor Cotswold Fayre, explains: "Crisp and snack sales have remained strong throughout the last year with a nation in various stages of lockdown, with a growth in sales of large sharing bags (150g+) and a corresponding decline in the sales of individual (40g) bags as people stay at home, reflecting changes in demand and eating occasion.
Snacks are up +29 per cent with Sweet & Savoury Mixes up 45 per cent according to Kantar– "Statistics which reflect the trend we've seen throughout Covid where people have wanted to give themselves a special treat or just to gain some energy to get through the long days of working from home," says Jon Roberts, Brand Manager at Asian snacks brand Cofresh.
He argues that with so many cutbacks and restrictions on daily life in recent months, snacking has become the affordable treat – at-home snacking is one area that has experienced continued growth.
"Consumers really want a little snack to provide some pleasure in these difficult times and they're increasingly keen to experiment with international flavours from the comfort of their own home," adds Roberts, and surveying the category and what the experts have to say, it seems that themes of taste, health, novelty, nostalgia, value (NPD), format (multis and sharing) and treating emerge strongly from an incredibly vigorous category that has thrived under lockdown.
Calbee UK's commercial Director, Jon Wood, has seen the pandemic snacking effect on his own crisp sales: "Consumer needs, behaviour and lifestyles have shifted in the past year as a result of Covid-19," he says. "Nonetheless, consumers are still desiring snacks which are great tasting, satisfying and substantial. The total Seabrook brand is now worth £51m. Growing at +20.9 per cent in the last twelve weeks, the brand is ahead of the market at +11.1 per cent."
"Great taste remains a key driver for snack purchases and during uncertain times," agrees Roberts at Cofresh. "Shoppers tend to seek out smaller 'guilt free' snacks while doing larger, less frequent shops. Multipack formats are therefore ideal for seeing consumers through until their next shop – we've seen sales rocket +63 per cent versus pre-pandemic levels."
 "Bagged snacks remain a vital driver of growth within Convenience and demand shows no sign of slowing," concludes Matt Collins, Trading Director at KP Snacks."Since the beginning of the pandemic there has been a marked increase in savoury snacking occasions within the home, which were up 47 per cent at the height of lockdown, with CSN continuing to perform ahead of other impulse snacking categories such as biscuits and chocolate."
Bestway's Burchell is in the perfect position to give an overview of the category, and he is unequivocal about both performance and prospects, explaining that Crisps and Snacks are now worth £429 million RSV in Independents and Symbols, and growing by +5 per cent year on year. (Nielsen)
According to Nielsen, the top-selling brands catering to the lockdown include:
£1 PMP Crisps: Walkers, McCoy's, Sensations, Walkers Max
£1 PMP Snacks: Cheetos, Hula Hoops, Wotsits, Monster Munch, Nik Naks
Evening Sharing Occasion: Doritos, Pringles, Butterkist
Singles: Walkers, Quavers, Squares, Cheetos, Space Raiders
Multipacks: Walkers, Quavers
"Best-sellers can sometimes vary regionally," advises Burchell,"so ensure your regional favourites find their place into the core range and planograms.Walkers Crisps is the No.1 Brand sold in Bestway and in the Indies and Symbols Market, delivering 15 per cent of all CSN sales."
The mighty spud
It is strange to think that all this munching is basically down to one vegetable, the humble potato (and corn, of course – both native American transplants). Although the category is now welcoming a wider range of plant-based snacks, including peas, and has always included nuts, the historical essence of crisps is spuds. Pork scratchings have their own evolutionary branch in snacking's ancestral tree, and snack salami and biltong are surely near direct descendants.
As it is, many new species of snacking products are being born as we speak, as if a new "Cambrian explosion" period was provoked by lockdown. Calbee's Seabrook brand has been very active, and Jon Wood says that "We've recently launched 'Loaded Fries', our first branded snack product under the Seabrook brand. The product brings a modern, on-trend twist to everyday snacks and is available in a 6x19g multipack, 130g sharing bag and a £1 PMP bag."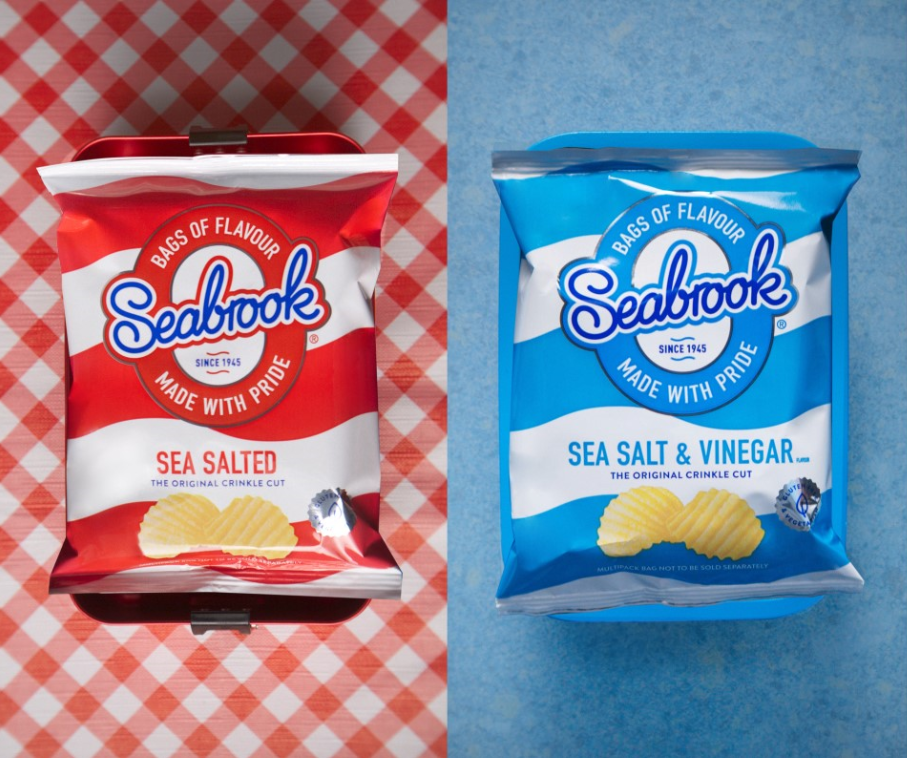 Seabrook's Crinkle Cut crisp, meanwhile, is growing faster than the category in both volume and value. "The entire range is gluten-free and vegetarian friendly with Sea Salt, Sea Salt and Vinegar, Beefy and Prawn Cocktail flavours all vegan," he says.
"Within multipack crisps, Seabrook is the second largest brand (on a volume and total brand basis). Our 6x25g multipacks remain popular with consumers and are available in a variety pack containing two each of Sea Salted, Salt and Vinegar and Cheese and Onion, as well as single flavour multipacks across a range of our core flavours."
Drawing a little on nostalgia and tradition, last year Seabrook boosted its portfolio with new flavour 'Lea & Perrins', and introduced the highly anticipated Worcestershire Sauce flavour Crinkle Cut crisp. Based on the original 1837 Lea & Perrins Worcestershire sauce flavour, the crinkle cut crisps are available in a 6x25g multipack, 150g sharing bag, £1 PMP bag and a 31.8g bag.
Matt Collins at KP Snacks, says that theMcCoy's brand is now worth £131.3m RSV, pointing out that Salt & Vinegar and Flame Grilled Steak are the No.1 and No.2 best-selling meal deal choices.
The launch of McCoy's Fire Pit introduced a brand new range featuring three flavours inspired by the trend of open fire, or "wood fired" cooking: Flame Roasted Peri Peri, Flame Smoked Chorizo, and Flame Scorched BBQ Ribs. Matt explains that they tap into the fastest growing CSN flavours of Spicy (+7.1 per cent), Meaty (+5.8 per cent) and BBQ (+4.5 per cent) , with smoky, chargrilled flavours traditionally associated with cooking meat slowly over an open fire.
popchips, worth £30.8m RSV, is now the No.1 'Better for You' bagged snack brand in the sharing pack format (popchips sharing is up +19.3 per cent YTD) and the core range  of BBQ, Sea Salt, Sour Cream & Onion and Sea Salt & Vinegar drives 80 per cent of volume – with BBQ their most popular variant.
"Coming in at under 100 calories per serving and with a third less fat than the market leader, popchips provides a more permissible snack option without compromising on big flavour – perfect for consumers who are looking for a tasty, healthier product to share and for retailers looking to capitalise on the 'Better for You' trend," says Collins.
The Family favourite, Hula Hoops is eaten by 1.9million consumers every week and has an impressive 90 per cent brand awareness,while the Hoops portfolio has extended over recent years into more permissible options such as Puft. And the premium Tyrrells is also growing in value, by +5.3 per cent, currently purchased by over 5.9m households in the UK (with its main shoppers falling within the 45yr+ ABC1 category).
At PepsiCo, Guy Harvey, Impulse Category Management Controller, says they are introducing new price-marked packs across a number of multipack and sharing bag lines. For the first time, two multipack products will include a price-marked flash: Walkers Classic Variety and Quavers Cheese 6-packs.
New larger Doritos and Walkers Sensations sharing bags will also launch with an RRP of £2, with pack size having increased in size by 20g. The £2 PMPs will be available across three products; Doritos Chilli Heatwave, Tangy Cheese and Walkers Sensations Thai Sweet Chilli, offering better value than the existing 65g bags. "We hope that our new range – exclusive to the convenience channel – will help retailers to continue to thrive as we begin the move out of lockdown, catering to demand for sharing snacks as restrictions on socialising together decrease," says Harvey.
PepsiCo has also updated its core range of crisps and snacks for Symbols and Independents, launching with the HERO 25 line-up, which gives a greater focus to PMP and sharing products, offering retailers value and formats that are in demand with shoppers, as 62 per cent of shoppers say they are now more careful with their cash.
"By offering PMPs in sharing formats, Hero 25 allows retailers to stock our core bestsellers that meet this demand,"says Harvey, ensuring retailers can maximise crisp and snacks sales, encouraging them to stock the formats and flavours that shoppers will be demanding.
"We have also launched an additional range called DRIVE 25," he adds. "It offers a tailored approach, with a targeted range for medium and larger stores. Having a wider selection than HERO 25 means retailers can add breath and excitement to their range, with fun products that will lead to strong sales. The selected lines, such as Cheetos, Wotsits and Quavers, are ideal for the BNI occasions, with recognisable brands that add a sense of occasion to savoury snacking."
The four P's, cheese, and Bombay Mix
And by the four P's we mean peas, porkies, popcorn and Peperami, not to mention nuts, of course (but not a P unless a peanut!). Indeed, the snacks universe is vast and expanding faster than ever, proving itself every bit as innovative as that rival galaxy, the confectionery aisle.
"Snacking is no longer all about potatoes," says Hargreaves of Cotswold Fayre,and he predicts a continued move away from potato snacks, with chickpeas, plantain, corn, lentil chips, and even lotus seed-based products entering the category.
"While some consumers may still require some convincing or educating about both the benefits and taste of some of these new products, we're seeing plenty of 'weird and wonderful' combinations, which taste great and capture shoppers' imaginations," he says."Many of these new snacks are also non-VATable, which makes a big difference when it comes to retail price."
Among the "weird and wonderful", Hargreaves mentions Love Corn (premium Crunchy Corn, vegan and gluten free), in four flavours and 45g or 115g packs; Cambrook Nuts, including chilli, smoked and sweet flavours – baked in small batches for big flavour (140g sharing bags); and Insane Grain – delicious and nutritious and made from the ancient supergrain, sorghum, offering a potassium and iron rich snack, in individual (35g) and sharing (115g) sizes, and including Sea Salt, Sweet Chilli, Dark Chocolate and Paprika and Chilli flavours.
"Consumers are looking to experiment with tastes of the world," says Michael Ratheram, Customer Engagement Officer at specialist snacks suppliers, Epicurium. "Shoppers have shifted attention to healthier alternatives such as Eat Real, Hippeas and ProperChips, away from traditional crisps and bagged snacks."
The Vegan movement has clearly had an effect on this – not that potatoes are made of meat, but it's about healthy connotations and an "alternative" lifestyle.
Pea Pops are exemplary of the new snacks revolution. Their spokesperson says that Pea Pops were born out of a love of snacking and a desire to produce a healthy snack with no compromise on taste. They are made from chickpeas, nutritionally denser than many other snack products, have 20 per cent protein, are high in fibre, gluten free, vegetarian/vegan and, because they are popped not fried, they have 60 per cent less fat than regular fried chips. (They have already won three Great Taste Awards).
Pea Pops are available in Smoky BBQ, Chilli & Lime and Cheddar & Onion flavours, and come in two pack sizes: single serve 23g and 80g sharing with respective RSPs of 99p for 23g.
Calbee is also getting in on the pea act. "In 2020, we entered into license agreements with Viacom/Nickelodeon to develop a range of Paw Patrol oven-baked pea snaps," says Jon Wood."Our Paw Patrol gluten-free snacks contain all green and amber GDAs, are lower in calories, fat and saturates than standard potato crisps and are vegetarian friendly. The pea snaps are available in 6x15g multipacks and 19g single bags and are the ideal bridge from the baby aisle into the snacking aisle."
The multipacks contain two child-friendly flavours, pizza and cheese, while the single bags are available in cheese. The 15g bags have 65 calories per pack, while the larger 19g bags have 82 calories and will be available to Foodservice outlets.
Tayto is the king of pork Scratchings and owns the UK's top three pork brands – Mr Porky, Midland Snacks and Real Pork Co. – as well as Golden Wonder crisps. Scratchings have performed exceptionally well in convenience during the lockdown: "Pork snacks have been the star performer – the fastest growing category (+10.1 per cent) due, in part, to pub closures leading consumers to pick up scratchings in shops so that they can 'take the pub taste home'."
Smith explains, "Despite historically being seen as a pub snack, the majority of pork scratchings are now sold in retail. Given over 80 per cent of pork snacks are consumed with a drink, consumers frequently talk about buying them 'at the offie', by which they mean their local convenience store. To meet this need, Tayto has developed a range of Mr Porky clipstrips that enable retailers to merchandise pork scratchings on, or adjacent to, BWS to capture these profitable VAT-free impulse sales. It's a great way of capturing additional high value sales without taking up precious shelf or floor space."
Tayto refreshed their entire pork snacks portfolio last year, tailoring it to the latest consumer insights, with award-winning products and new formats including clipstrips for easy merchandising. Tayto is now launching the biggest ever campaign for pork scratchings, with the strapline, "There's no matching a scratching". Aimed at engaging both new and lapsed consumers, the campaign sets out to highlight the unique appeal of scratchings and demonstrate how other snacks "just don't come up to scratch".
Laura Trivulzio, Marketing Director at Peperami & Jack Link's, says that because of the pandemic, "health is riding higher on the consumer agenda than ever before and snacks is one of the main categories that is performing well currently.As well as opting for snacks with functional and nutritional benefits to boost their health during this time, consumers are now selecting products with a longer shelf life which they can stock up at home."
Good shelf-life and ambient accents is a snacks speciality – always there when you need them – and Laura says they have noticed that more traditional snacks, such as crisps and nuts, are becoming more of an everyday staple leading to an influx of new, healthy products to the market including savoury meat snacks. People like (and need) protein, and meat remains a great delivery system. Peperami is seeing ever greater interestin such products:
"In the last few years, Peperami has expanded their range of healthier, high protein snacks including the Peperami & Cheese Snack Box – combining the iconic salami with 100 per cent real cheddar cheese pieces to add calcium to the fold too, as well as its Chicken Bites," she says.
"In fact, the Peperami Chicken Bites range has driven over 80 per cent of incremental sales to the branded chicken snacks sub-category. This is due to the success of the brands' Pep'd Up Chicken Bites, which prompted Peperami to introduce its new Smokin' Chicken Bites. Made with 100 per cent chicken breast, which are oven baked not fried, the chicken contains just 103 calories per 50g bag."
Protein in snacking has seen strong demand during lockdown. "High protein meat snacks have remained resilient throughout the pandemic, due to their wide appeal to a range of demographics, while appealing to consumers following new health trends," says Trivulzio.
She adds that Peperami offers 100 per cent pork salami sticks at only 112 calories per stick and Peperami mini salamis at just 40 calories per stick, for both nutrition and energy: "It is clear that high protein, lower sugar, gluten free and under 100 calories have become key benefits that shoppers are looking for."
Matt Collins at KP Snacks stresses the healthy state of the market for nuts and popcorn, noting that
KP Nuts is now worth £77.9m RSV and is growing in value +19.7 per centYOY, and is also more than six times bigger than the nearest branded competitor .
"In May 2019 KP Snacks relaunched KP Nuts, unveiling a brand-new pack designed and a £1.3m promotional campaign," says Matt."The packs feature a stand-out sunshine design and highlight the protein and fibre contents to appeal to health-conscious shoppers."
Meanwhile, the Butterkist brand has shot up to £51.5m RSV and is growing in value +16.7 per cent, with popcorn sharing occasions growing +21 per cent. And naturally, 85 per cent of popcorn is consumed at a sharing occasion (2+ people present) – hurrah for Netflix. "Butterkist is the nation's favourite popcorn brand and, at twice as large as its nearest branded competitor, enjoys a market share of 37.9 per cent," says Matt, pointing out that when purchased as part of a multipack, Butterkist Toffee Popcorn (20g), Cinema Sweet Popcorn (12g) and Sweet & Salted Popcorn (12g) are all under 100 calories per serving.
pladis has been seeing tremendous growth in its Jacob's Mini Cheddars and Twiglets lines, now worth £72 million and £11.3 million respectively. "These products have been savoury snacking fan-favourites for a number of years, so are must-stocks," says Scott Snell, Vice President of Customer at pladis UK&I."Our Jacob's brand continues to perform exceptionally well in the crisps and bagged snacks category… Jacob's Mini Cheddars is showing strong growth of +8.8 per cent."
Snell sees the comfort and nostalgia that appeals to lockdown consumers in well-loved and trusted products with a great story: "The brand's strong performance over the past year just goes to show how important classic, heritage brands are to shoppers – something which became even more evident when Covid-19 hit the UK. Sales data shows that during uncertain times, shoppers look to trusted, established brands, like Jacob's – which has been on shop shelves for 170 years – for snacks which they can be confident deliver on taste and quality."
This is underlined by the family-time during lockdown, and hence the sharing aspect of consumer purchases. "Moments of 'togetherness' have become a key part of the nation's routine, with shoppers spending more evenings indoors at home," notes Snell."In fact, in 2020, larger packs drove huge volume growth – with sharing packs and multipacks growing +17.8 per cent and +11.7 per cent respectively . This means that snacks in larger, sharing formats – such as our Jacob's Mini Cheddars Original and Jacob's Mini Cheddars Smoky BBQ PMPs – are must-stocks.
But he stresses that being a long-established brand does not mean that innovation is lacking, and speaks of the recent NPD activity in the Jacobs brand:
"We know that flavour and texture innovation continues to see strong shopper uptake," he says,"with many looking for new takes on classic lines for a much-needed bit of variety and to drive excitement in-home – so products such as our newly-launched Jacob's Mini Cheddars Sticks, in Rich & Tangy Cheddar and Grilled Cheddar & Sizzling Steak flavours will encourage shoppers to make impulse purchases, helping to drive overall basket spend."
In addition, the Jacob's Mini Cheddars Smoky BBQ PMP (launched in August) is available in a £1PMP, just like Jacob's Mini Cheddars Original.
Finally, with the ever-growing popularity of World Food flavours and dishes, Cofresh, purveyor of Asian-styled snacks, goes from strength to strength (see especially the Ramadan feature in this issue).
"Our Bombay Mix 325g and Chilli & Lemon Grills 80g £1 PMP are our two best performing and 'must stock' SKU's," says Jon Roberts "We would suggest supporting them with Balti Mix and Chilli & Lemon Bombay Mix (both 325g) and with the Jalapeno and Sweet Chilli Grills (both 80g) £1 PMP."
These snacks all offer excellent value for money with the authentic and punchy flavours consumers expect from Cofresh, and the firm also has some excellent WIGIG options which vary depending on the time of year – so keep an eye open for these excellent promotions to differentiate your range and satisfy your customers.
Sharing snacks and PMPS
Kenton Burchell reveals that shoppers spent more time and money in convenience stores than ever during 2020, and 54 per cent of shoppers used a convenience store every week while basket spend increased by +11 per cent, according to Lumina Intelligence.
"In order for retailers to retain the shoppers they gained last year, they will need to continue offering choice, value and a positive shopping experience," says Burchell. "With more people eating in the home, instead of at on-the-go/in the workplace, there's been a rise in sales of take-home products from convenience stores. Its important retailers maintain their focus on Sharing & Multipacks."
During the pandemic food consumption in the home has increased by +24 per cent versus pre-lockdown at the expense food consumption on-the-go has decreased by -52 per cent (Kantar, Sept 2020). That means it is time to rethink formats and go for sharing as these new habits now look sticky.
Burchell gives three reasons for bigger format popularity:
Multipacks cater well for in-home lunch occasion
Sharing PMP is ideal for the afternoon snacking occasion
Bigger Bag Sharing caters perfectly for the evening sharing/'Big Night In' occasion
"With varied levels of COVID restrictions still likely to be in place for the first half of the year, we expect Food To Go missions to continue to be suppressed and the preference of take home products to remain," he concludes, adding that  the recovery of Single Serve is predicted to begin in the second half of the year and points out that £1 RRP price-marked packs have become more important at the expense of Singles, but that Singles still play an important role, particularly for the lunch occasion.
Epicurium's Michael Ratheram also stresses the larger format advantage, saying that "Shoppers are staying local and stopping in. Movie nights and same household family parties have put the 'Big Night In' at the forefront of minds… We're educating retailers about the need to introduce new sharing formats and premium indulgent options to keep them engaged, avoiding snacking fatigue.
Laura Trivulzio agrees. "There is also a greater need to stock firm favourites in both single, large and multipack versions that meet the trend for healthier eating," she says. "As such, retailers should place single-serve snacks for the on-the-go, ready-to-eat occasion at the front of store, within meal deals and till runs.Having large packs, and multipacks of top-selling SKUs is also core for those on a top-up mission, and where space is limited, branded POS units work as great solutions for both, creating additional space and visibility."
She believes visibility in store is key to maximising growth of healthier snacking options including meat snacks, "as in-store and online prominence will help to drive awareness and help shoppers find Peperami products with ease," adding that Peperami has also seen the huge advantages in 2021 of the PMP revolution:
"Retailers should also look to stock PMPs to signpost good value across all snacking occasions including lunchtime and afternoon snacking. In particular, Peperami offers PMPs for their hugely popular single sticks in Original, Hot and Firestick, priced at £1.00 in 28g formats, providing both a bigger bite and bigger margin.
Matt Collins at KP Snacks also sees that, "In the last year, we have seen a significant increase in multipacks and sharing format sales, with familiar, trusted and well-known brands doing exceptionally well. Strong familiar brands are driving individual segment growth and our diverse portfolio is currently growing at +4.7 per cent ahead of the category at +4.3 per cent  whilst meeting a range of different need states."
The Sharing segment is strong and growing, he explains. Worth nearly £1.3bn, the largest within CSN, it is currently experiencing growth of +10.4 per cent; and Guy Harvey at PepsiCo agrees that "As shoppers spent more time of their time at home, there was a marked decrease in sales of single-serve products … replaced by an increase in sharing and multi-packs sales. Multipacks specifically have performed extremely well – growing by +15.6 per centover the past year.
He thinks that as we begin the transition out of lockdown, "larger packs will likely to continue to dominate over traditional singles as shoppers look to incorporate a series of lunchtime and snacking occasions."
The experts are all in agreement: this is another great year for snacks, and for the immediate future it's larger formats, PMPs and above all taste to put some flavour back into our somewhat colourless lockdown lives.