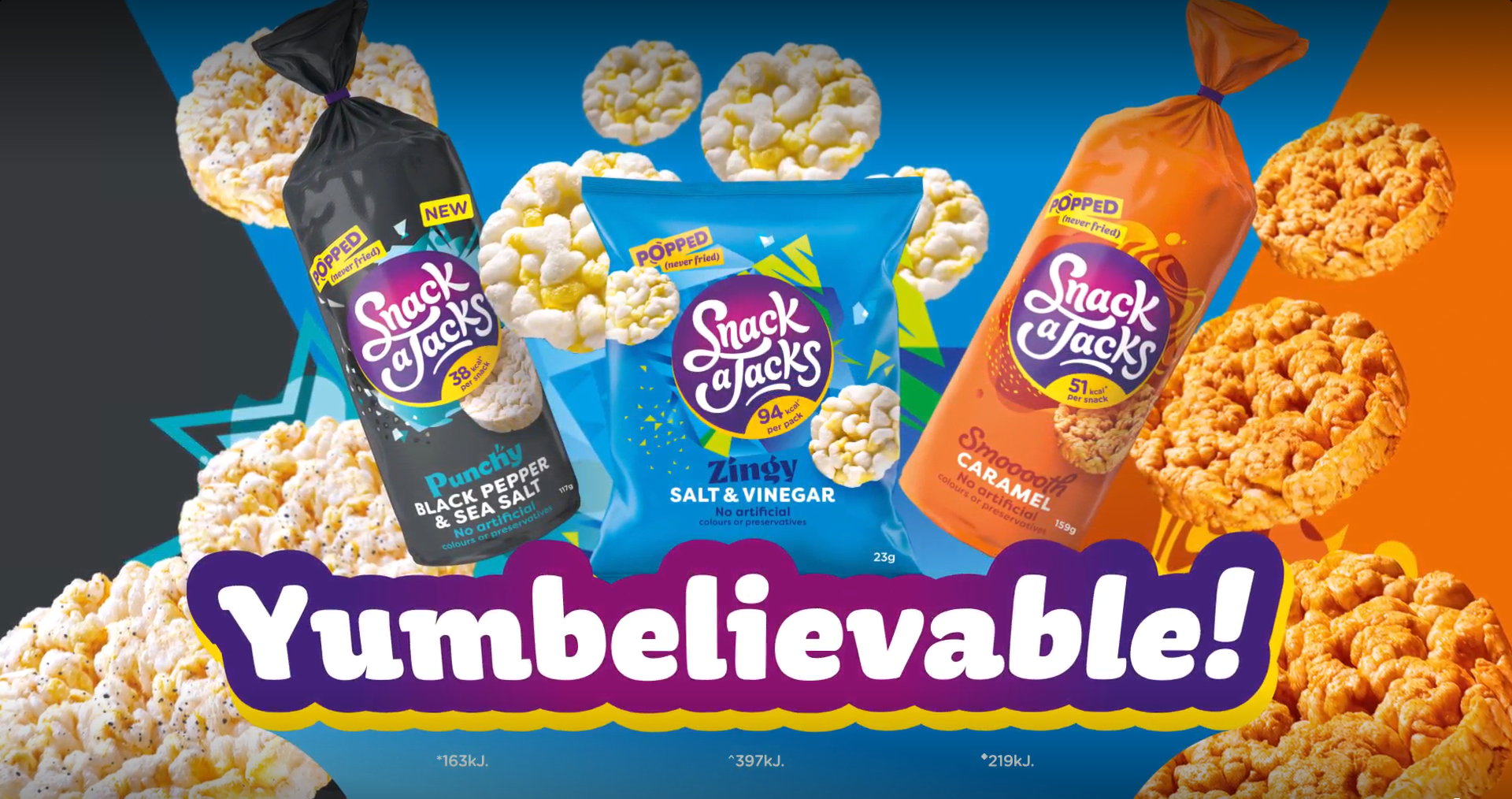 Rice cake brand Snack a Jacks will be back on our screens this autumn, with its first ATL campaign in over a decade. Titled "Yumbelievable!", the new creative aims to highlight the range of delicious flavours within the Snack a Jacks portfolio, with the most recent addition, non-HFSS "Black Pepper and Sea Salt", complementing the existing range of family-friendly sweet and savoury rice cakes.
"There could be a misconception that smarter snacking options such as rice cakes can mean a compromise on taste," Ekaterina Petrova, Senior Brand Manager for Snack a Jacks, explains. "Our 'Yumbelievable!' campaign looks to address this perception head-on by showing a family enjoying the different varieties of Snack a Jack rice cakes and looking surprised and delighted by the sensory experience. It's a fun creative which looks to champion the taste of our range and debunk the myth that choosing rice cakes means a compromise on taste. Our customers' repeat rate is 46.3 per cent, which shows that the great taste of Snack a Jacks has people coming back for more.
"Snack a Jacks currently hold a 33 per cent value market share of the rice cakes segment which is seeing +0.7 per cent growth. To reinforce its market position, Snack a Jacks has continued to expand its innovation pipeline throughout 2022 to appeal to families, and in June announced the launch of three new non-HFSS flavours: Snack a Jacks Jumbo Cool Sour Cream and Chive, Snack a Jacks Multipack Sizzlin' Barbeque and Jumbo Punchy Black Pepper and Sea Salt, with the latter featuring in the creative.
The Snack a Jacks 'Yumbelievable!' campaign runs from 10th November until 19th December, and will be supported with a heavy-weight investment. It is expected to reach 91 per cent of Snack a Jacks' target audience and will be featured extensively across VOD and all major social media and gaming platforms.
The Snack a Jacks lines form part of PepsiCo's efforts to transform its snacks portfolio and offer NHFSS alternatives. PepsiCo has set its ambition that by 2025, half of its snacks sales will come from products that do not classify as high in fat, salt or sugar (HFSS), or from products sold in portions of 100 calories or less.