One thing that is clear about tobacco and everything related to it, is that there is an ongoing convulsive change taking place in the industry.
Despite more regulation, restrictions and tax on a legal pleasure still enjoyed by millions (and a vitally important source of revenue for the convenience channel), the sector appears in fact to be thriving, even if the "smoking section" of the ever-expanding nicotine world is not itself breaking any records.
The menthol ban from May 2020 looks to have been thoroughly and easily absorbed. There were nifty workarounds, like crush-balls, new products to compensate, such as flavour papers, and a rush into cigarillos, an area unregulated in that particular spasm of official interference. And of course the burgeoning vape part of the nicotine world benefitted enormously – meaning that the tobacco companies' hit from the ban was greatly ameliorated because they are all expanding into vape and heat-not-burn (HNB) anyway.
Considering the directions in which the sector is developing, it will probably soon be wrong or at least insufficient to refer to tobacco or smoking: vape does not contain tobacco and HNB does not have smoke. But what cigarettes, cigars, HNB and vape (mostly) all share is the nicotine molecule – so perhaps the "nicotine sector" would be a better – more inclusive, more accurate – term to use.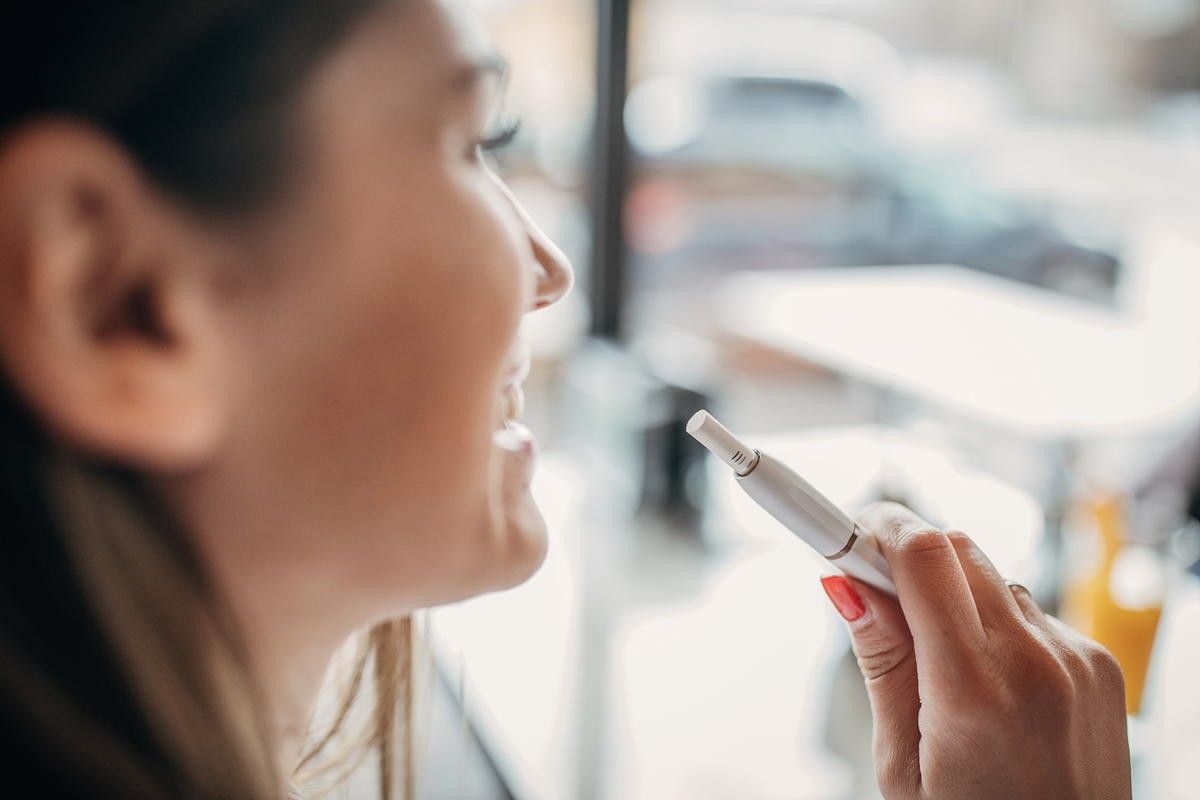 More widely, tax and therefore pricing is having a discernible long-term effect – as it always has. I still remember the outrage when my parents' nightly pack of 20 Benson and Hedges rose to 64 pence back in the 1970s (they would send me across the road to the pub to buy it for them from the off-sales counter out back). Now at least twenty times that price for premium smokes, the industry has responded in various ways – introducing value brands and then making roll-your-own (RYO) versions of the value brands as customers trimmed their budgets again and again after each Chancellor's annual announcement. And then came value RYO …
Many smokers are now "dual" smokers, meaning they will switch between factory- or ready-made cigarettes (FMC, RMC), and RYO is almost half (45 per cent) of total tobacco sales – an unthinkable position for the dedicated but small minority of fresh tobacco fanatics in the old days.
As Imperial Tobacco's UK Corporate Affairs Director, Duncan Cunningham, points out, it's important to be flexible: "While many smokers may be experimenting with the nicotine products available across segments," he says,"shopper demand for value continues to drive buying habits in tobacco overall. This is a trend we expect to continue and grow in 2021 and beyond. In order to effectively harness the sales opportunities this presents, retailers must be equipped with the right products and importantly, the right knowledge, to help their customers navigate the Tobacco category."
Market trends
Philip Morris has announced they will give up smoking altogether before too long (maybe 2030?), and despite whether that proves feasible, it does widen the imaginative scope for the tobacco companies to see where their product development and sales strategies might lead in the future – which remains an open horizon. PML's recent move to buy a health company to further explore the benefits and profits of nicotine – already touted as an Alzheimers' preventative, and a concentration and study aid – demonstrates that a wide new world lies within reach for what used to be simply smoking.
"We are committed to a smoke-free future and have adapted to support the convenience channel in the transition away from products that burn tobacco," says Kate O'Dowd, Head of Commercial Planning UK & Ireland, Philip Morris Limited. "This work is vital, so that more smokers who would otherwise continue to smoke are aware and informed of the alternatives to smoking."
She points out that smoking rates have been declining in the UK for many years and that the consumer shift towards smoke-free products has increased, "meaning categories like vape and heated tobacco will play a larger part in the future of retailer economics – eating further into the market share of conventional products."
PML's response to this was to go headlong for the new HNB technology, and the revolutionary IQOS, which uses re-formulated tobacco designed to release flavour and nicotine without ignition (and therefore the release of harmful chemicals), has taken root among the nation's smokers.
"IQOS has been the UK's number one smoke-free product for over a year now," says O'Dowd. "The IQOS consumable (known as 'HEETS') has increased its market share by 75 per cent in the past year alone and since 2018, the number of stores selling HEETS in the UK has increased sixfold."
JTI followed up with its next-generation Ploom HNB device. Gemma Bateson, Head of Reduced Risk Products at JTI UK, points out that the Heated Tobacco category was worth £64 million in the last year in Traditional Retail with growth of 91.8 per cent YoY [IRI Market Place] which, although obviously counting from a low base, still represents amazing uptake. "A growing number of existing adult smokers are looking for an alternative but familiar tobacco experiences in the form of heated tobacco products," she says.
While the price of the initial purchase is a hurdle for HNB devices, many deals are being thought up and the subsequent 50-plus per cent discount on FMCs represented by IQOS HEETs and JTI's EVO tobacco sticks will quickly replenishthe customer's wallet.
"We have our sights set high," says Bateson, "and the ambition is to see Ploom become the number-one heated tobacco device in the UK. We are looking to get this product into the hands of other retailers as we continue to grow, so for now, watch this space!"
The EVO tobacco sticks come in four "chromatic" flavours: Bronze for full flavoured tobacco; Sepia smooth and rounded tobacco; Emerald classic tobacco infused with cooling menthol; and Purple classic tobacco infused with berry and cooling menthol.
Meanwhile, having been around a little longer, PML can boast that "the number of stores selling HEETS in the UK has increased sixfold. In locations such as London, the market share for HEETS has exceeded five per cent [Philip Morris International Inc. 2021 Second-Quarter Results (July 2021)], with thousands now stocking a range of variants, says O'Dowd.
While some complain that strictly tobacco flavours in vape can be unsuccessful and even occasionally unpleasant, the fact that real tobacco is included in HNB products means that the taste satisfies the standards of "true" smokers who demand authentic tobacco flavour and experience from their alternative delivery systems.
On the horizon now appears British American Tobacco's glo HNB system, currently only available abroad (Japan and S Korea, trialling in a few other countries), but which looks increasingly likely to join battle with IQOS and Ploom before very long in the UK.
BAT chief executive Jack Bowles recently said that, "We continue to expect 2021 to be a pivotal year for the business, with accelerating new category revenue growth (and) a clear pathway to new category profitability," which many took as a hint that glo will shortly reach these shores.
BAT has invested nearly £500 million in its new category products business last year and has set a target of achieving 5 billion in sales for the business by 2025 and 50 million customers by 2030. The UK, with its vape/HNB-friendly environment (in contrast to the USA, for example), would be a prime market for glo to expand into.
Ready-made suits you, Sir
Alternative tobacco, however, is still right now playing second fiddle to regular tobacco, the cost regular of which still comes in a packet of ten – whoops, no longer! – or 20 FMCs.
Retailers now have to deal with a lack of advertising, a blank and unwelcoming gantry and various other means of dissuasion aimed at stopping customers buying cigarettes – yet still they persist, and the numbers of smokers – or at least the numbers of cigarettes smoked – went up under lockdown as a bored nation reached for a fresh pack. ("We have located the products into a draw. We have seen no drop in sales," says retailer Amish Shingadia revealingly.)
FMCs have adapted to measures such as the menthol ban by altering the blend and changing the paper thickness. BAT's Pall Mall is one brand that has done well since May 2020.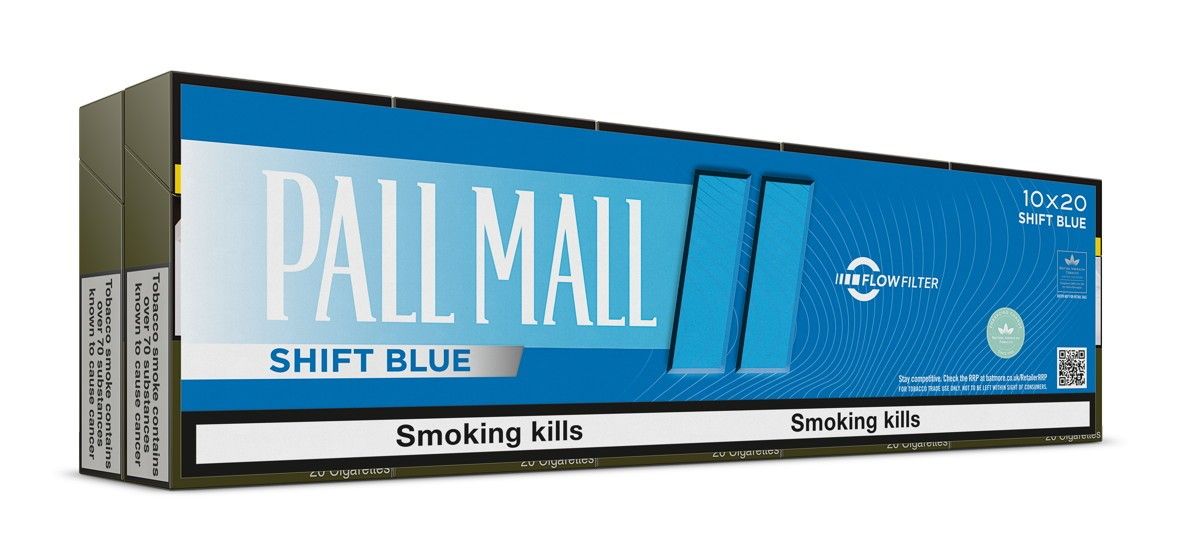 "It's clear that tobacco has retained its appeal for many consumers throughout the past year," BAT's UK Regional Director for the South, Warren Scanlan, told Asian Trader recently. "In that time, we've seen an overall increase in tobacco sales across most brands. Earlier in the pandemic, we saw some consumers buying larger amounts in one purchase, but since last summer sales, buying habits have returned to normal," he explains.
"Traditionally, Pall Mall offered consumers menthol and capsule cigarettes. Now, the brand has moved successfully through the ban on cigarettes with characterizing flavours by adapting from a capsule product to a standard one. Pall Mall is becoming just as popular now as it was before the menthol ban."
The brand's post-menthol development represents a masterclass in innovation. BAT enhanced the tube flow filters to make the cigarette well-rounded and firmer for a smoother draw. They improved the quality, firmness, and blend of the cigarette. "And our innovation has gone further with the launch of a new product offer, the Pall Mall Shift Blue, which features a unique stick, slimmer and longer than a traditional cigarette," says Scanlon.
Imperial's Cunningham notes the economics-based shift toward RYO, but insists that FMCs are far from being stubbed out.
"While we're seeing a growing trend towards RYO, FMC still account for the majority of tobacco sales with a 52.7 per cent share of the market [ITUK Estimates Oct 20-Mar 21]. As in the wider category, interest in value for money remains a leading trend, with many consumers seeking products that offer the lowest out of pocket spend," he says.
This explains the proliferation of value brands in the FMC category, and their popularity.
"We actively monitor the emerging market trends in the tobacco category and adapt our product offering to ensure it is well positioned to help our trade customers tap into the latest sales opportunities," Cunningham continues."Our most recent FMC innovations include our new Embassy Signature range where everything is premium except the price."
The Embassy Signature range launched with Gold and Silver variants, with Embassy Signature Gold Superkings next to join the line up as a straight swap for Embassy No.1 Red Superkings and the very latest addition to the range, Embassy Signature New Crush, comprises a modern blend of the finest Virginia tobaccos wrapped in premium paper with a unique cooling sensation filter. When coupled with flavour cards, New Crush provides one of the closest menthol alternatives available on the market.
"The Embassy brand has enjoyed continuous growth over the last 12 months [Based on ITUK Estimates and EPOS Data October 2020] and with the sub economy sector worth almost 60 per cent of the total FMC market, we're confident our new Embassy Signature range will drive further sales momentum in the months to come," says Cunningham. Emphasising that it offers offers great value for shoppers, and importantly increased profits for trade customers. (He reminds us that the RRP of both Embassy Signature and Richmond has dropped to £9.25, and Riverstone Roll Your Own Tobacco will fall to just £11.95 and £19.60 respectively for its 30g and 50g formats, joining recently launched JPS Players Easy Rolling Tobacco in this new price tier.
Ross Hennessey, Sales Vice President at JTI UK, is also bullish about the sector, including RMCs. JTI is the leader in UK tobacco manufacture, with an (almost) MMC-attracting combined market share of 46.1 per cent. And when you realise that the country's tobacco sector is worth £15.7 Billion annually, it is obvious that the well-known brands have a lot of life in them still.
On a roll
RYO is doing especially well as FMC/RMC smokers "trade down" partially or full-time to learn the joys of hand-rolling tobacco and save money in the process. Within the RYO Category, Value RYO is the leading sector with a 50.6 per cent share, reveals Cunningham, providing a significant opportunity for retailers to maximise sales. Mark McGuinness, Marketing Director at JTI UK, points to the RYO version of its best-selling Sterling brand as a great one to stock.
"This spring we introduced a new member to the Sterling family, Sterling Rolling Tobacco Essential 30g," he says. "Available at an RRP of just £12.35, it offers the lowest price point in the Sterling Rolling family and creates a great value tobacco option for customers from the UK's fastest growing RYO brand."
It is an elegantly simple proposition, and with no filters and papers, provides smokers the freedom to purchase their preferred tobacco accessories. "It also comes in a paper insert pouch packaging which contains less aluminium, whilst the blend generates less leaf waste compared to other RYO brands due to its unique whole leaf blend," he adds.
At Imperial Tobacco, which is also acting fast on the uplift of value RYO, they have recently launched JPS Players Easy Rolling Tobacco, a new blend of fine-cut tobacco that offers an easier rolling experience and benefits from the brand recognition of one of the UK's best-selling cigarette brands
"JPS Players Easy Rolling Tobacco features a more vibrant colour and lower levels of moisture, making the blend easier to handle and to roll," says Cunningham. It is available to buy in 30g and 50g and priced at £11.95 and £19.60, with each pouch including a set of quality rolling papers.
Lambert & Butler RYO ("already a trusted brand in the FMC category") has become Imperial's fastest-growing rolling tobacco brand and now includes an improved freshness seal, plus the addition of filter tips and quality papers.
"We've also launched a limited-edition outer design as part of the range exclusively for the independent channel to celebrate one year of Lambert & Butler RYO in the market, which are available to buy in both 30g and 50g formats with MRRPs of just £12.80 and £21.00 respectively" says Cunningham, and Tom Gully, Trade Marketing Manager, confirmed that "Following a shift in the market with a rising number of smokers moving to more affordable price points, we have reduced the MRRP on several of our key brands to support retailers and their sales."
Cunninghman adds that the RRP of Riverstone Roll Your Own Tobacco has fallen to just £11.95 and £19.60 respectively for its 30g and 50g formats, just like the JPS Players Easy Rolling Tobacco in this new price tier. RYO value is here to stay and clearly the way for real, value-seeking customers to go.
The beautiful leaf
Cigars and Cigarillos had a big boost from the menthol ban: leaf-wrapped products were exempt from the anti-flavour legislation (let's hear some applause for bureaucratic oversights!), so menthol cigarillos predictably became a thing and the category is also now beginning its seasonal uplift as winter and Christmas approaches.
JTI's Ross Hennessy predicts that cigarillos will continue to grow in popularity, and that to capitalise on the growth of the cigarillo market, which is the fastest growing cigar sector, "retailers should stock up on products such as Sterling Dual Capsule Leaf Wrapped, which is the No.1 cigarillo brand, with a 93.9 per cent share of the UK cigarillo market."
You read that correctly – over 93 per cent.
"Every year, cigar sales follow a very similar pattern with a volume uplift trend in the run up to December," Hennessey adds. "Therefore, now is a good time to stock up on cigars such as Sterling Dual Capsule Leaf Wrapped to take full advantage of this seasonal profit opportunity."
Part of Sterling Dual Capsule Leaf Wrapped's success is the mentholated capsule filter that, when crushed, releases a peppermint flavour. Interestingly, the product is the same price or cheaper than most FMC brands, with an affordable RRP of £4.90 for a pack of 10 (not banned) and £9.60 for a pack of 20 cigarillos – which also helps to explain its popularity.
Likewise, Scandinavian Tobacco Group's (STG) Signature Action Cigarillo launched at the beginning of last year in time for the ban –it's a filter cigarillo with a peppermint click filter which comes in a convenient and stylish pack of ten. "In addition, a carefully selected blend of Virginia tobacco and a light real leaf Ecuadorian wrapper deliver a smooth taste, making it a very credible option for those smokers who enjoy the peppermint flavour," says Alastair Williams, STG Country Director.
The traditional cigar market, which is also gearing up for Christmas, is less dynamic than the menthol-infused cigarillo one, but it is still a great category for convenience.
"Cigars are still growing," says newsagent Arif Ahmed. "Cigars are having a moment. Sales were down because due to COVID-19 but many people still buying the good premium products. And maybe now this will start picking up a bit because our Asian people have big weddings and they take the cigar smoke: it's a bit like Cuba!"
The Signature cigarillo brand is STG's flagship. "bit earlier in the summer we were pleased to introduce the new pack format for our Signature Red Filter brand, which is the UK's best-selling aromatic filter cigar," says Williams. The new pocket-friendly sized pack comes with  a pocket-friendly price of just £5.79, and perfectly matches the current trend towards a more convenient smoking experience.
"Signature Red Filter is currently the ninth best-selling cigar brand in the UK with an annual sales value of just under £8m," he says."It's smooth taste and vanilla flavour prove consistently popular with those adult smokers who enjoy an aromatic cigar, and it plays an important role in the market leading Signature brand family, perfectly complementing Signature Blue, Signature Original and the more recent addition Signature Action."
But Williams points out that cigarillos are not seeing all the leaf action. "The performance of traditional cigars is fairly static and doesn't tend to change too dramatically over time," says Williams. "However, when you include the recently emerging cigarillos segment, you can see that the combined category has grown strongly over the last year or so and is currently worth just over £270m in annual sales."
He says that one current trend in cigars definitely worth highlighting is the medium to large segment enjoying something of a renaissance at the moment, growing by 14.2 per cent in volume and 20.3 per cent in value versus the same time last year– and one wonders if work-from-home is conducive to thoughtful stogie smoking.
If so, the return to work does not necessarily spell the end of the big-cigar renaissance:"We expect a good number of adult smokers will continue to trade-up to enjoy a larger format cigar. The trend is led by our Henri Wintermans Half Corona brand, which is responsible for three quarters of all sales in this segment, and in value growth of 20.5% since the same time last year."
Value in the rolled-leaf sector is also very important, explains Williams. "[it is] evidenced by the success of our Moments Blue brand, which offers a quality smoke at a low price. It is now the sixth best-selling traditional cigar brand in the UK in value terms, but interestingly most of its sales go through the multiple grocery channel, so I wonder if it's one area where independent retailers might be missing a trick by not stocking it?"
Stock it!
Accessorise, accessorise!
Cunningham says that the increasing consumer shift towards RYO products also presents new sales opportunities for tobacco-related accessories:"In order to tap into this trend and take advantage of the incremental sales on offer, retailers should make sure they're fully stocked at all times of filters, papers, lighters and other flavour-related innovations."
Imperial owns the venerable Rizla brand, and in 2019 launched Rizla Flavour Infusions range, which has been extremely well received by both the trade and consumers. Rizla Flavour Infusions comprise flavour cards that can be used with traditional factory made cigarettes or roll your own tobacco products. "Simply insert a flavour card into a packet of cigarettes or roll your own tobacco and wait at least 60 minutes, or leave it in longer for a stronger, more intense flavour," says Cunningham.
Latest figures show that Infusions are flying off the shelves and selling around 900,000 packs per week [ITUK Internal Estimates, (Report on Trade, February 2021)] as consumers look to recreate the menthol experience.
Gavin Anderson, Head of Sales at Republic Technologies UK, agrees that it's a golden age for accessories – which upsell, add to basket and provide delight through the great brands, functions and designs, adding value to the smoking experience.
"They bring in good lot of revenue," says retailer Sunder Sandher of S & S Londis Ltd.,"so it's very important to have all of them. We have plenty of accessories in stock for the tobacco products. If a customer sees that my staff sell tobacco, they'll ask them whether they want to buy the sort of regular papers or all papers or, or lighter. So, they're an upsell. So, they are very important."
"They add extra cash, so we encourage staff to upsell on the goods," adds Amish Shingadia of  Londis Caterways.
The tobacco accessories market is now worth over £314m [IRI 52 w/e 16/05/2021] in the UK – with increasing pressure on suppliers to innovate to make their mark in the category.
Anderson reveals that the market has seen YOY growth of 6.7 per cent, with filters leading the way, worth £100m and growing at 7.9 per cent YoY, bolstered by a raft of innovative new product development.
"Effective product display is an important consideration in this category for driving awareness and demand, particularly if you are looking to increase profits by stocking a range of products that deliver on quality and brand assurance," he adds, and Republic's brilliant new counter-top designs, with a limited space demand but offering a wide product selection and colourful presentation, are key to increased category sales.
"Driving visibility of trusted, market-leading tobacco accessories brands is key to increasing shopper awareness and can be a successful tool towards encouraging impulse sales," he says. "We're continuing to advise retailers to move products out of the gantry and utilise counter-top display units, where space allows, in order to highlight NPD and signpost the tobacco category."
Counter-top units are available for Republic Technologies' leading brands including Swan Menthol Filters range, OCB Slim & Tips and Swan Flavour Fusion Cards.
Accessories win by also blending into household requirements for utility lighters and such. Available on space-saving clip strips, the Republic Technologies' lighters range includes Zig-Zag, By candlelight and lumière. These products are all-year-round profit contributors, which prove particularly popular during seasonal events and autumn/winter celebrations.
"With a growing appetite amongst people to make up for lost time by celebrating in style this autumn and winter, we're giving consumers the choice and performance they're looking for with our household lighters which are stylish, good quality and affordable," adds Anderson.
All in all, tobacco is still a vibrant, growing and developing category in all kinds of ways. Don't be left out of it.