The shopper confidence has seen significant changes on a week-to-week basis in December, IGD revealed.
While the score – which was -6 in November – increased to 0 at the start of the month on the back of the end of the second lockdown and the roll out of the first vaccine, this then dropped to -8 the following week with the introduction of stricter tier four restrictions in England, and by the end of the month saw a slight boost to -6 in line with an EU trade deal announcement.
Confidence has changed significantly also by region with notable declines in London and the South East, corresponding with a tightening of restrictions in these regions, according to the latest IGD Shopper Confidence Index.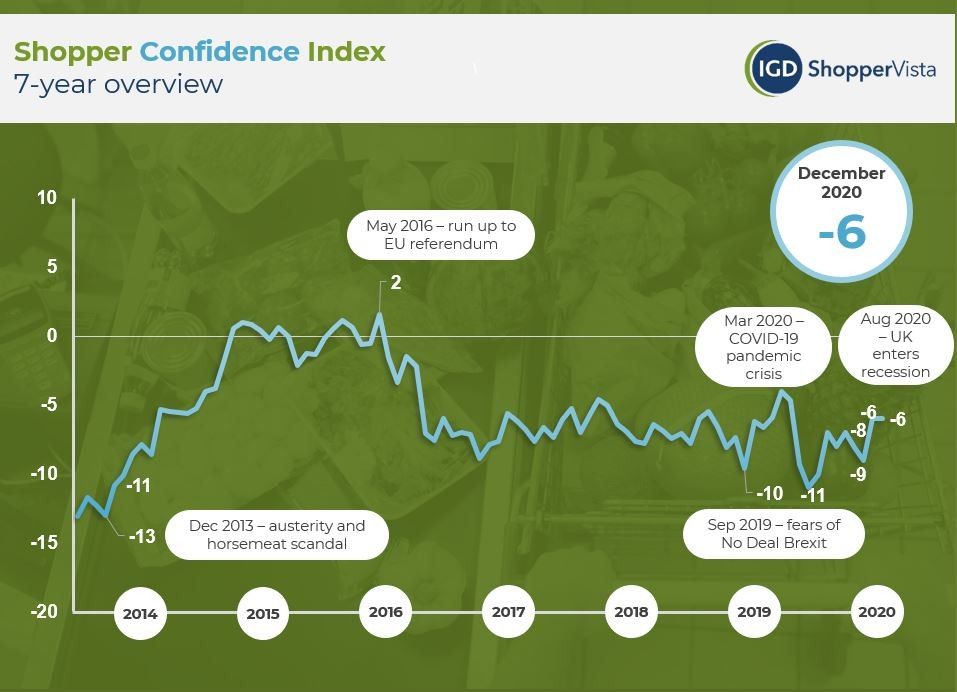 Despite sitting at a relatively low level of -6, December's score is still at the highest level since February 2020.
"While it's encouraging that overall confidence is still the highest it's been in nearly a year, we can see that December was a turbulent month as shoppers navigated the constant changes brought on by rising COVID-19 cases," commented Simon Wainwright, director of global insight at IGD.
"This uncertainty will likely continue for the foreseeable future as we enter a new national lockdown and shoppers contend with the deepening economic downturn. It will be key for retailers and suppliers to remain agile in responding to further changes in shopper behaviour and to demonstrate value for shoppers across all physical and digital touchpoints."