We have heard a lot in recent years about how important the shopping experience has become, and that the theatre of a store is vital to keep customers coming through the door.
That is one big consequence of the online shopping revolution, where bricks and mortar can rarely any longer compete on price, so must offer something more.
That might work fine if you are an upmarket brand of luxury clothing, a Tesla distributor or Rolex AD, but what about the everyday convenience store?
In fact, presentation is just as important in grocery as in is in haute couture – customers entering an attractive and captivating store environment will spend more and return often, compared to a dusty, unimaginative and utilitarian space – where low price is your only (fickle) friend.
According to Convenience store specialists GDP Design & Shopfitting, the long list of advantages that come from thinking about and investing in classy shopfitting includes:
Increased turnover, profits, and business value
Improved stock display
Better customer shopping experience
Increased impulse purchases
Less stock theft
Create promotional ends
Better lighting levels and ambience
Improved customer flow
Increased average customer spend
Attract new customers and retain existing ones
Improved stock rotation & less "out of date" stock
It is surely worthwhile to invest in customer happiness, as last year's Asian Trader of the Year winner, Shamly Sud, proved by transforming her stores – Racetrack Pitstop Premier in Strathclyde, for example – into a total, themed experience extravaganza.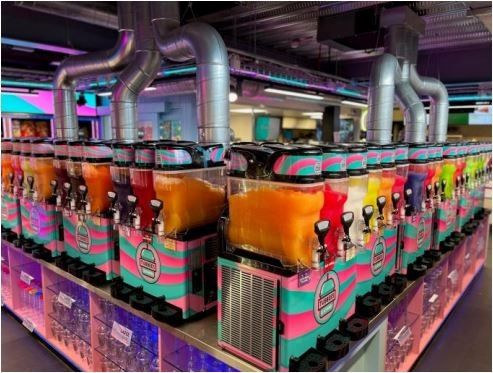 Of course, you don't have to go that far – and you might not have the space or the funds, but it is easy and worthwhile to invest in some shopfittings that suit some of the biggest trends in the convenience channel – food-to-go, and chilled & frozen.
It is worthwhile being aware of trends in shopfitting technology and styles that could help your own store appear more cutting edge and attractive to passers-by as well as regular customers.
For example, digital consultants and planners, PlanRadar, identify contemporary trends in shopfitting and store design as follows:
Experiential shopping: With online competition, shopfitting is no longer "just about installing shelves and lighting and electrical points. You will need to develop skills installing new kinds of equipment and technology. This can include lighting rigs, stages, art installations and so on. In many ways, this is positive, allowing you to be more creative."
Green retail: Recycling and helping the planet is on shoppers' minds more than ever. "In the coming years, you can expect to use eco-friendly materials, lighting, or flooring. You might also need to install new air conditioning systems, facades or even bicycle parking stations, depending on the design.
Technology everywhere: "Technology is more deeply ingrained with the retail experience than ever before. It is now normal for shops to have LCD displays, Wi-Fi and touchscreen units to order products in-store. Many stores are going much further with things such as variable mood lighting, high tech window displays and more."
Hot and Cold
"When it comes to shop fitting, it pays to consider current trends, while also future-proofing a store to deliver the maximum return on investment," says Gary Thacker, Sales Director of Fri-Jado UK. "One of the biggest trends in the retail sector currently, is the drive for quality hot food-to-go."
Thacker points out that the food-to-go market in the UK has demonstrated consistent year-on-year growth for the best part of two decades up to the pandemic and since has shown a resilience that few other trends and sectors have been able to achieve.
In fact, according to the recent "Food to Go Report 2023" by Lumina Intelligence, although the food-to-go sector underwent a slow recovery in customer numbers and high street footfall, it still reached a total of £21.4bn in 2022, 0.9 per cent ahead of its 2019 pre-pandemic value. The report goes on to say that the growth would have been higher had it not been for the high inflation hampering the recovery in footfall. In other words, the future looks bright:
"To maximise the food-to-go potential, it is vital to ensure your customers know what they're eating and to demonstrate its quality. With this in mind, it's vital to effectively display a food-to-go offering in a retail store in the most prominent way. From the use of eye-catching packaging and engaging signage to the latest display equipment that helps to showcase the food held within."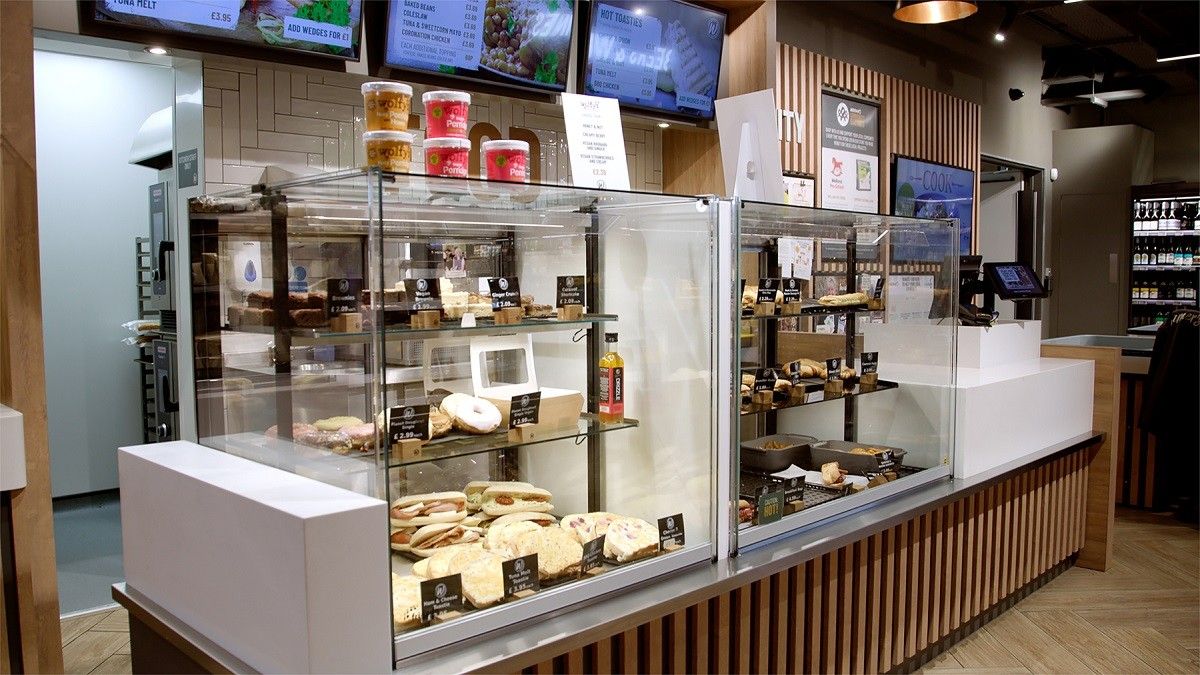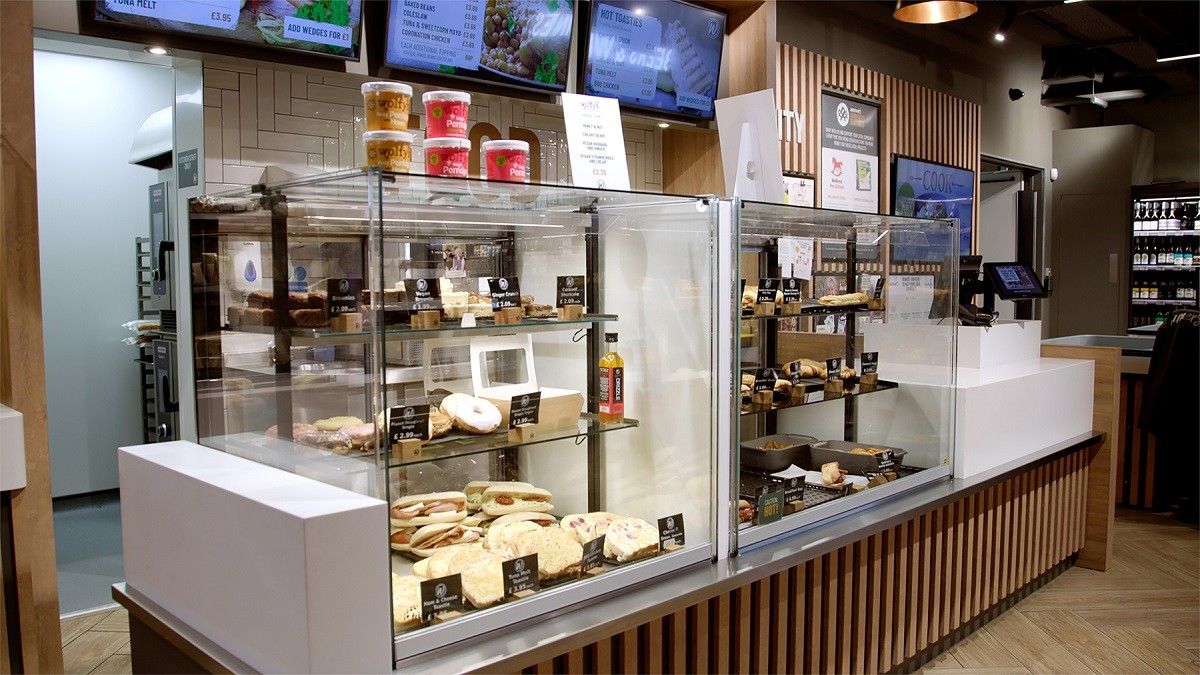 Fri-Jado has been a market leader in hot and cold display equipment for the retail sector for more than 80 years. Using the latest technology and innovative design, its equipment allows the retailer to effectively display an eye-catching, appealing range of foods to customers, remaining as fresh and nutritious as the moment it was made.
"Our portfolio of equipment includes food display units and merchandisers, ideal for independent operators, forecourts and compact stores, through to larger deli and convenience counters – which are perfect for larger supermarket and group retail stores."
Thacker says today's food-to-go sector is dominated by fresh, nutritious and attractive foods that are designed to be enjoyed on the go, and it is exactly these trends that Asian Trader has also been highlighting for several years now, lockdowns notwithstanding.
That requires units capable of maintaining quality over a sustained period of time: a retailer is sure to notice rapidly decreasing sales and ultimately, dissatisfied customers.
A second consideration is maximum visibility: "It's no secret that customers buy with their eyes, and therefore using equipment that offers the very best view of the food offering is essential to driving sales and impulse purchases.
The third is versatility: "Display equipment naturally needs to be versatile to suit the needs of individual businesses. However, for retailers, versatility means that their equipment can be used in a variety of settings and for a range of different uses too. From hot and cold display to specific seasonal promotions, even being easy to move for effective cleaning and maintenance, are all things to consider.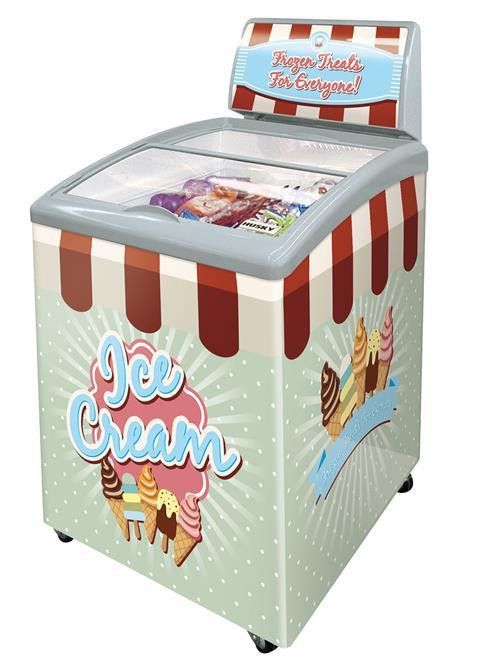 Lutterworth-based Husky Commercial refrigeration specialises in keeping products ice cold, and offers the following advice for storing chilled & frozen food in compliment to hot foot-to-go offers:
It's about Convenience! Because independent stores are often open late at night, early in the morning and on holidays, many people also rely on them for emergency purchases of things like ice, milk, eggs when regular stores are closed. Ensuring that you have a good range of impulse treats to tempt your customer who pops in for that emergency purchase is crucial. The Husky PRO range of chillers are suitable for both dairy products and cold drinks which enables cross merchandising as well as meal deal opportunities for customers who are on their way home but don't want the hassle of queuing at large Supermarkets!
Summer socialising opportunities all require cold drinks, ready to go. Dairy safe chillers such as the Husky upright single and double door PRO range enable cross merchandising of food and dairy with cold drinks to benefit from incremental sales. Maximise ice cream sales by making your ice cream freezer unmissable placing it alongside other impulse products such as crips and confectionary. Offer a good range of impulse ice creams and consider promoting your ice cream range on social media on warmer days to drive shoppers to your store.
Allocate your refrigeration space depending on the fastest selling lines and your customer profile. If demand changes from soft drinks and water at lunchtime to wine, beer and cider in the evening, restock as required.  Keep your contents of your fridge and freezer front facing for maximum impact.  The Husky PRO range provides full length LED lighting to ensure that the stock contents are well lit from top to bottom and easily visible for those customers on the go.
Harish Patel of Jaydees News in High Wycombe says that he purchased two of Husky's C10PROs. "Having had my two old Husky fridges for 15 years, I knew it was time to change and although I could have bought cheaper, I wanted peace of mind that I was buying from a good brand and my new two fridges would be of the same quality and reliability," said Patel. "I am very happy with my new fridges, and I know they will also save me money as they are more efficient to run than my old ones."
Indeed, summer is a great test of keeping food at the correct temperature – warm as well as chilled – and ensuring that it doesn't dry out or wilt over time. Fri-Jado's Thacker adds that one of the most popular models in the Fri-Jado range is the Modular Convenience Counters (MCC):
"The MCC is an example of our commitment to achieving the very best. Having undertaken extensive research and development, including gaining vital feedback on key pain points from our retailer customers, we have combined the latest state-of-the-art airflow technology, with standout design. This has enabled us to create a range of modular heated and chilled counters designed to meet the needs of those in the retail industry."
Featuring a new ultra slim and ergonomic design, the MCC range is available in numerous formats and sizes, while self-service, with door for enhanced efficiency, serve over, stand-along or inline configurations help to meet the bespoke requirements. Designed to offer a complete 360° view of your foods, providing up to 75 per cent more visibility with the highest TDA (Total Display Area).
"For even greater display capability, the MCC Cold uses slim, transparent, and adjustable shelves which appear to be floating, creating the ultimate food experience and deliver an unobstructed view to help to put your food offering in the spotlight," he adds.
Supplier Information:
Husky says that by switching your 1mtr Open Fronted Dairy Deck to a Husky 1mtr Double Door Display Dairy Chiller you would SAVE OVER £3,000 per annum of energy costs based on electricity based on 45p per kwh. Check out their offers at Husky Commercial (https://www.husky.co.uk/, tel: 01455 555340).
For more information on the MCC range, as well as the other products and services offered by Fri-Jado, visit www.frijado.com or call +44 (0)189 527 2227.