With the debate ongoing around the environmental impact of the littering of single-use, vaping products, Scottish Grocers' Federation will, in partnership with ELFBAR, roll-out a pilot programme which provides a fully funded recycling programme for used vapes.
The pilot was launched today, at multi-award winning retailer Anand Cheema's 'Costcutter – Fresh in Falkirk' convenience store where he took receipt of a vape recycling bin, and will see a total of 20 SGF member stores from across Scotland participating, beginning from October. This pilot marks the first step of a long-term programme.
"A key focus for Scottish Grocers' Federation is the promotion of responsible community retailing," said SGF CEO Dr Pete Cheema OBE. "That is why we value the opportunity to work in partnership with ELFBAR to address the environmental damage done by single-use vaping products if they are not disposed of responsibly. SGF recognise however that single-use vapes can also be a gateway to long-term vaping products for those quitting smoking, but that they must stop appearing in our streets and parks. Stores participating in the pilot will be able to offer customers a return point in-store through a recycling bin for used vapes and retailers will be provided with a convenient waste and recycling option as part of this.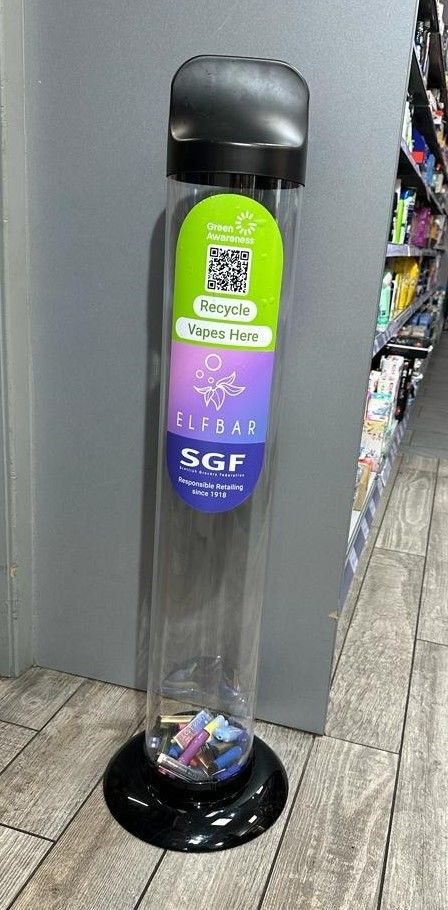 "This is the first part of an ELFBAR & SGF "Recycle Used Vapes" Programme. However, there will be a further announcement at our SGF Annual Conference next month around waste and recycling options for these products and which convenience retailers will have the opportunity to sign up to over the two days of our flagship event."
Eve Peters, Director of Government Affairs and spokesperson for ELFBAR UK, said: "We welcome the opportunity to join with SGF in this important extension of our GreenAwareness recycling programme. To date, our own programme has covered 70 stores in England and Wales with plans to scale up in terms of recycling bin coverage by the end of the year, including the 20 SGF member stores in Scotland in this pilot partnership with SGF. Recycling points for used vapes have increased significantly in Scotland in recent months and we have worked to extend our recycling effort into the convenience sector, therefore we will be making further announcements in partnership with the SGF at the conference in October."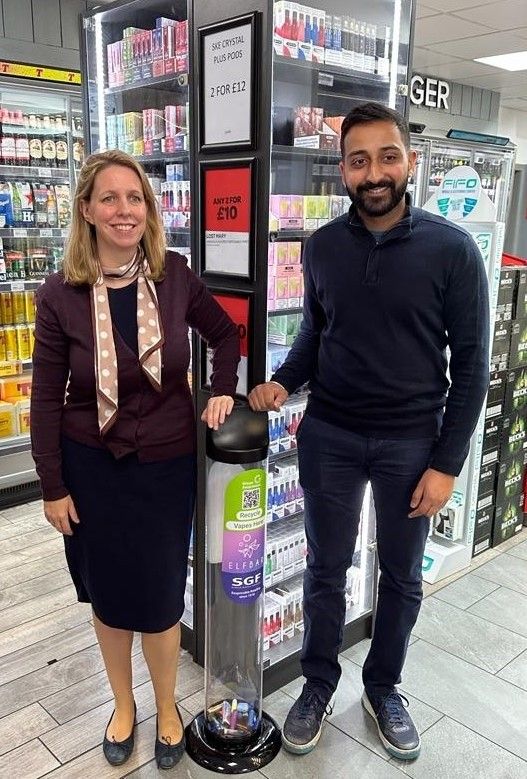 Local store owner Anand Cheema commented: "I am delighted to participate in the pilot programme and to be able to offer my customers an in-store return point, through the vape bin, for their used vape products. As a convenience retailer, I want to play my part in reducing the littering associated with single-use, vaping products which in turn will benefit our local environment. This is a positive step forward and one which I fully support."
The stores participating in the pilot will have their used vapes in recycling bins collected by Recover, a UK lithium battery recycling company, to responsibly handle the discarded devices. The products are then 100 per cent disassembled by TES-AMM (Europe) Ltd, an AATF-certified recycling company, in Scotland. The programme is designed to ensure the raw materials are properly dismantled and recycled, including plastics and the battery, as part of ELFBAR's commitment to the delivery of a closed recycling loop by 2025.