Health is on the national agenda more than ever during the Covid-19 pandemic and lockdown, and consumers are following a more controlled diet to manage their weight and general health. This means the market for free-from and healthier products is booming. According to the Mintel UK Free-From Foods Market Report 2021, value sales in the free-from foods market broke through the £1 billion ceiling in 2020, rising by 16.9% year on year. Sales in the specific free-from market grew to £652m, with dairy-free and lactose-free sales reaching £455m.
The market benefitted from the influx of new buyers amid the grocery stock shortages at the start of the Covid-19 outbreak, as well as from the dramatic shift from foodservice to retail driven by the pandemic. And a consumer research conducted by Product of the Year late last year has confirmed the considerable appetite for free-from foods, with 44% of the UK population saying they would consider trying a plant-based product because of the positive health benefits.
Unsurprisingly,food giants have woken up to the potential of the free-from sector. Last November, Unilever announced a new annual sales target of €1 billion (£860m) for plant-based food products, hoping to meet it within five to seven years. In July last year Jammie Dodgers declared that it is now free from animal products and vegan. "We have listened to our biscuit fans," said Kate Needham, marketing director at Burtons Biscuits "and are pleased to announce that we've moved once again to a dairy-free recipe."
Earlier this year, PepsiCo and faux-burger makers Beyond Meat announced an alliance to create and market drinks and snacks made from plant-based proteins, which is the latter's specialty. The latest big-ticket announcement came earlier this month, with Britvic acquiring plant-based drinks business Plenish to strengthen its offer in the high-growth plant-based milks and organic juice categories.
Rise of flexitarians
A YouGov study has found that over 30% of the UK population now identify as flexitarians (cutting down on meat and dairy while eating more plant-based foods) and more than a third claiming to have introduced one or more dedicated "vegetarian days" per week over the past year.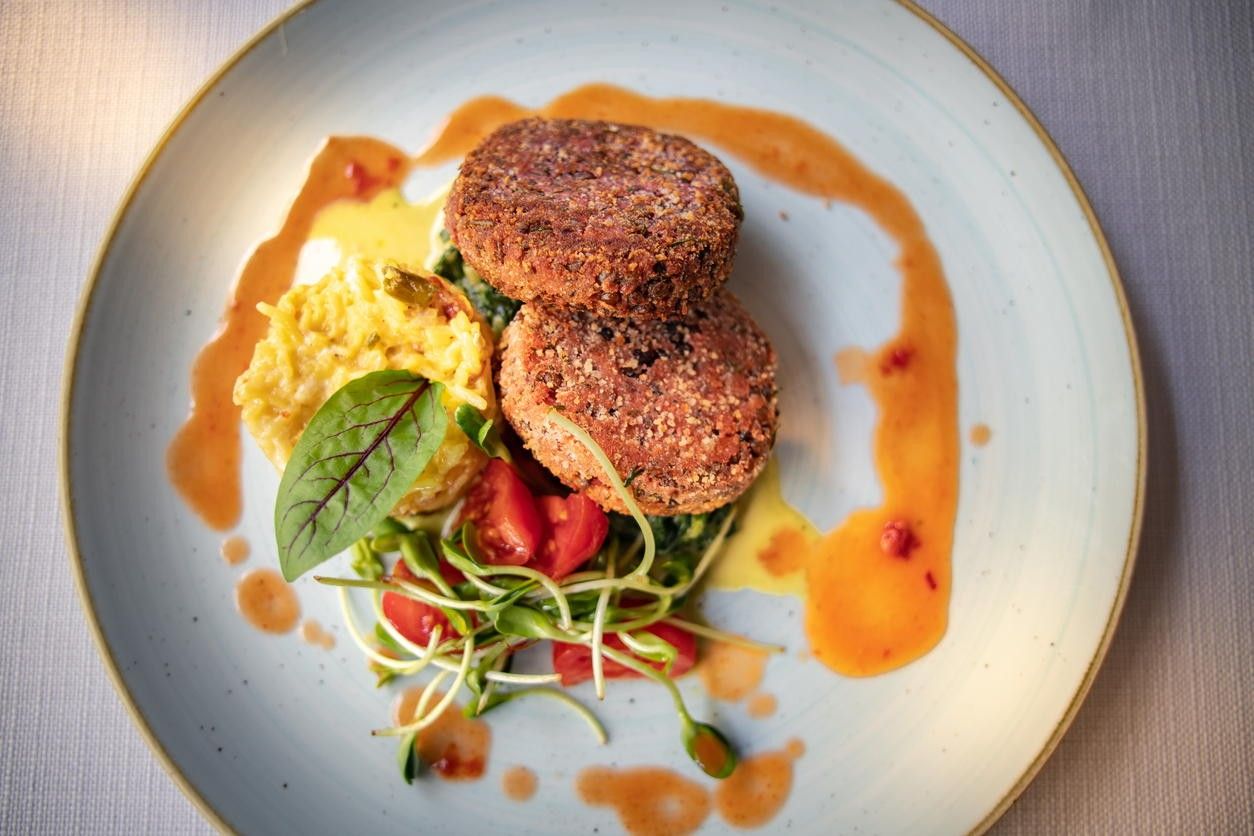 Kevin Butterworth, marketing director at Symington's, credits flexitarians rather than vegans for the growth in plant-based. "The market has been forecast to increase by 35% from 2019 to 2024, which we believe is a conservative estimate based on the current sales performance. With more and more consumers seeking to reduce their meat intake, rather than trying to replace it, we do not see a reason for this growth to stall in the mid-term," he adds.
"Food/drink labelled as plant-based sparks more positive associations across a variety of sought-after factors than products labelled as vegan, including nutrition, flavour, sustainability and naturalness. This illustrates the importance of terminology when marketing these products to shoppers," the report notes.
Meat Alternatives
The market for plant-based meat alternatives is expected to be worth £20.4 billion by 2025, according to Euromonitor. The meat-free category has grown exponentially over the last couple of years and this growth is further being driven by lockdown – last year the category grew by 31.8% [IRI]. Victoria Southern, category and marketing director at Kerry Foods, concurs with Butterworth in attributing the growth to the increasing tribe of flexitarians.
"Interestingly, the growth of meat-free proteins has not solely been driven by vegans and vegetarians, but rather those looking to moderate their meat consumption without eliminating it entirely," she says. "As a result, these shoppers are looking for a range of plant-based proteins that look and taste exactly like their meat counterparts."
In response, Kerry has invested heavily in their brands, creating a range of plant-based proteins that don't sacrifice on taste and texture and can easily be swapped into shoppers' favourite meals. "Our entirely vegan brand, Naked Glory, has the ambition of creating a meat-free alternative for every occasion, which is why it has invested in a range of alternative proteins including Naked Glory Sausages, Quarter Pounders and most recently, Naked Glory Chick'n Burgers and No-Beef Strips," Southern explains.
She claims that the £8.8m brand has recruited more new shoppers into the category than any other new meat-free brand, attracting 843,000 shoppers last year.
Kerry has also evolved their Richmond brand, renowned for its pork sausages, to include meat-free options that mimic their pork counterpart, right down to the crispy skin fans love. "Through its range of Meat-Free Sausages, Richmond allows retailers to tap into all family mealtime occasions, no matter dietary preferences," Southern says.
"Richmond Meat-Free Sausages has an RSV of £16.6m and is the number one best-selling SKU in the fresh meat-free category [IRI 52 w/e 24.01.21], with the highest repeat rate, demonstrating the opportunity for retailers to attract and retain shoppers with brands that consumers know and trust."
Snacking Scene
Peparami, which teased temporary vegans with a quirky campaign on last day of Veganuary last year, is relying on the health credentialsto maintain its pole position in the meat snacking category. The brand particularly aims to tap into those consumers who are looking for healthier foods and convenience.
"Peperami offers a range of single and multipack products for consumers, looking for convenient, healthy, protein-packed snacks to consume at home or on the go. This is particularly prominent as healthy sharing snacks are growing in popularity as consumers have spent more time at home," comments Laura Trivulzio, marketing director, Peperami & Jack Link's.
This year, Peperami is expanding its multipack offering for its Chicken Bites range, in addition to its existing single-bag 50g formats and the front of store, meal deal offering of its 40g packs. The brand looks to cater to the increase in top-up purchases in stores, which presents a need to stock familiar favourites in both single, large and multipack formats.The brand offers its iconic 100% pork salami sticks in three flavours, at only 112 calories per stick, while also offering Peperami mini salamis at just 40 calories per stick.
"Consumers continue to seek better-for-you options in the food aisles, particularly products containing functional ingredients such as protein, which has become more mainstream in recent years," Trivulzio notes. "Evidently, high protein, lower sugar, gluten free and under 100 calories have become key benefits consumers are looking for."
---
Best Practice
Some hands-on innovations can help in a sales uptick of free-from products. The ranging at the Premier Eldred Drive in Orpington is a case in point. They used to have a separate section for these products, but shoppers found it confusing, Anita Nye, store manager and an Asian Trader Awards winner, has said.
"We changed what we did. We literally went through every product in the store to see whether its free-from – sugar-free or gluten-free and so on– and then we put a green dot on the sticker. So, when people are doing their shopping they know it's free from something," she explained.
The ingenious method saves shoppers who are looking for a free-from product quite considerable time. "With the green dot on the ticket, they can cut down reading labels on every single product," she said.
---
Symington's, however, bets big on the plant-based trend to take lead among the instant hot snacks, launching a new brand Blooming Good Food Co in January this year. The 100% plant based brand is available in four flavours:  Warming Tomato & Lentil Dhal, Banging Black Eyed Bean & Vegetables, Hearty Sweet Potato & Lentil Curry and Smokey Sweetcorn & Green Beans.
"The product has performed well in the market and we've continued to see growth throughout February, post the Veganuary hype," Butterworth says. "We built on the success of Veganuary with more focussed brand activity in February including online banners, influencer activity and a real push on social media. This will continue throughout the year with more exciting product launches on the horizon."
High protein leguminous crops such as chickpeas, lentils and yellow split peas are not only a source of plant-based protein but also have sustainability credentials i.e. their ability to fix nitrogen levels improving soil health. Symington's has found from their research that 78% of consumers were motivated by a claim of high fibre and protein. The Blooming Good Food Co products with ingredients such as lentils and sweet potatoes are essentially trying to tap into these complementary trends.
The firm has also launched a range of Naked Veg Pots which is 100% plant-based and also counts towards 1 of your 5 a day – the first from the portfolio to hold the health credential. Their Free From Rice Pots are 100% gluten and dairy-free, again a first for the Naked brand.
World Foods
Tiger Tiger, the specialist East Asian foods brand, is also in favour of blending trends when it comes to promoting free-from, but their inspiration  is the consumer desire to recreate authentic restaurant quality meals, particularly as at home consumption occasions accelerated.
"The rapid rise in consumer demand for taste adventure and free from, combined with the popularity of replicating restaurant-style meals at home, means that there is now a huge opportunity for retailers to capitalise on these growing trends," comments Debbie King, sales and marketing director, Tiger Tiger.
The brand has recently launched anew range of free-from noodle kits based on traditional recipes from Japan, Korea and Thailand. All are gluten, dairy and nut free, and suitable for vegan diets."Until now there has not been a range of Asian inspired,free from noodlemeal kits available in the UK as they tend to have been only Thai-based."
Mexican cuisine is also seeing significant growth of 23.9% in the last year [Nielsen Scantrack], with health remaining a big purchase driver. "32% of shoppers are prioritising eating more fruit and veg – which puts cuisines like Mexican, super adaptable and more vegetable friendly than various other world foods, in a real sweet spot," comments Jose Alves, senior brand manager of Old El Paso.
Gluten-free has been a major focus area for Old El Paso as the demand has exploded in recent years with people becoming savvier about the link between gut health and overall wellbeing. In fact, the food and drink industry is actively responding to this, with 23% of new product launches in 2019 carrying the claim [Mintel, 2020].
"At Old El Paso our gluten-free range, which includes a Gluten Free Fajita Kit, Enchilada Kit and a soft tortilla pack, has grown 70% vs last year too [Nielsen Scantrack w/e 04.10.20], which is why we're increasing focus on this area of the portfolio with some exciting innovations planned this year," Alves says, noting the significance of components like tortillas in driving growth in the category.
The brand's vegan Smoky BBQ Fajita Kitjoins the Cheesy Baked Enchilada Kit and Regular Tortillas eight-pack to deliver three of the top 15 SKUs within the entire category, Alves claims.
Pizza
The total frozen vegan pizza market is worth £8m and growing at 62% in the 52 weeks to 27 March [IRI]. This growth can also be seen in the symbol and independents where the vegan SKUs are fairly new, however growing impressively at 129% in the same period.
Chicago Town's first vegan pizza, Vegan Tomato Stuffed Crust Sticky BBQ Jackfruit launched in January 2020, is already the leading vegan SKU in the channel and the brand has added a further two vegan pizzas to their range,  Vegan Deep Dish Cheeezeburger pizza and Takeaway Smokey Bac'n& Mushroom pizza in January this year.In March Chicago Town added a brand new, lighter offering to its iconic Deep Dish range – Light Cheese Feast, boasting 30% less fat than the original. "Chicago Town has achieved a 30% reduction in fat thanks to a new crust recipe and lighter cheese blend, using a delicious blend of stringy mozzarella and full-flavoured, reduced fat cheddar," explains Paula Wyatt, head of marketing – pizza, at Dr. Oetker UK.
In addition, Dr.Oetker Ristorante, the leading thin & crispy brand in symbols and independents, has expanded its portfolio with gluten & lactosefreepizza."In both the total market, and specifically convenience channel it's the fastest growing gluten free pizza – gaining a strong following due to it's no compromise on taste vs standard range," Wyatt adds.
Dairy-free
The number of consumers either avoiding dairy or actively reducing their dairy consumption continues to grow. Dairy-free alternatives reaped the biggest value gains in the pandemic-induced demand for the free-from foods, as around 15% of UK consumers have reportedly cut back on dairy consumption since the pandemic [Nielsen Homescan Survey Nov 2020].  Kantar recently cited an influx of more than 1.5 million new shoppers to plant-based dairy last year, taking penetration from 39.4% to 44.6%.
Though still tiny in comparison to dairy, the plant-based dairy category has nonetheless doubled in size over the past five years and is now worth just under £588m [Kantar].
Now purchased by 15.4% of UK households, dairy-free spreads have mirrored the sector growth trend, posting 97% volume growth in the convenience channel [IRI 52w/e 20.03.21].
---
Choc-a-bloc with good advice
Ritter Sport's Katy Clark offers retailers in all channels this merchandising masterclass of lessons learned in marketing the best-selling chocolate:
Offer best-selling lines alongside new and exciting flavours to drive both planned and impulse purchase.
Have a range of pack sizes and formats to cover all consumption occasions from singles to share bars to gifting to ensure you cover off all need states.
Make the most of available point of sales from brands to highlight availability in store to consumers. 1 in 5 shoppers are on a distress mission in convenience, so placing your best-selling products in secondary displays or close to point of purchase will interrupt shoppers on autopilot.
Cross merchandise where possible. Group similar brands together where appropriate to encourage cross sell.
Keep pricing and promotions both clear and visible, consumers want to be sure on their basket spend
Keep fixtures and displays stocked and tidy at all times. If the product is not available on shelf then it can lead to a missed sale.
---
Emilie Grundy, marketing controller at Saputo Dairy UK, said they expect dynamic growth of dairy-free to continue as more and more consumers adopt plant-based diets, together with an explosion of new products entering the market.
"Demand for dairy-free is no longer driven by medical necessity, but rather has become a lifestyle habit and is very much entering the mainstream. Indeed recently reported Nielsen Homescandata suggests that up to half of those following dairy-free and plant-based diets now do so because they believe it to be good for their health," she said.
Saputo Dairy has refreshed its Vitalite Spread packaging in January to capitalise on this momentum. The pack now boasts a contemporary design that dials up taste cues and drives stand-out on shelf.
Valued at £11.7m, Vitalite is the leading fully dairy-free brand, driving 31% volume growth and 39% value, in convenience [IRI]. Building on its success, Saputo Dairy has launched Vitalite Dairy-free Cheese Alternatives in late 2019 and has ambitions to continue to grow both distribution and range of the brand.
Sam Thomas, head of category at Upfield UK&I, says they also expect the butters, spreads and margarine (BSM) category to continue to outperform the rest of the market over the coming years as consumers make changes to their lifestyle with an even greater focus on health.
"Free-from BSM is growing ahead of the non BSM category, and this growth has now been consistent over the past five years, so we know it's here to stay. The pandemic has had a positive impact on free-from, as shoppers have had more time to consider meat free and dairy-free options for their diets," he says.
More than 1 in 10 said they've tried to increase the number of plant-based products they purchase. 13%are buying less meat and a further 10% are buying less dairy as part of the regular food shop, with over a third (39%) switching to margarine over dairy butter since lockdown began.
"With one in three looking for a plant-based alternative to butter, it's clear that moving from dairy butter to margarine is one of the easy switches that people are turning to," Thomas notes. "In the UK, there are now 25 million flexitarians and 40% of Brits have bought plant-based dairy in the last year,which shows that it's increasingly important to have products to meet their needs."
Soft Drinks
Phil Sanders, out-of-home commercial director at Britvic, opines that the growing demand for plant-based products is also very much present in the drinks sector. On top of that, health trends accelerated by the pandemic have driven the growth of the wellness drinks segment, resulting in an increase in first-time customers.
"The average spend on wellness drinks is now more than twice the average price per litre spent on soft drinks [Nielsen], so it is unsurprising the segment is booming," he says. "It will be particularly important in the convenience channel, as lockdown restrictions are lifted and customers increasingly look for on the go drinks that will help them manage their daily energy levels, or for relaxation – depending on the type of wellness drink."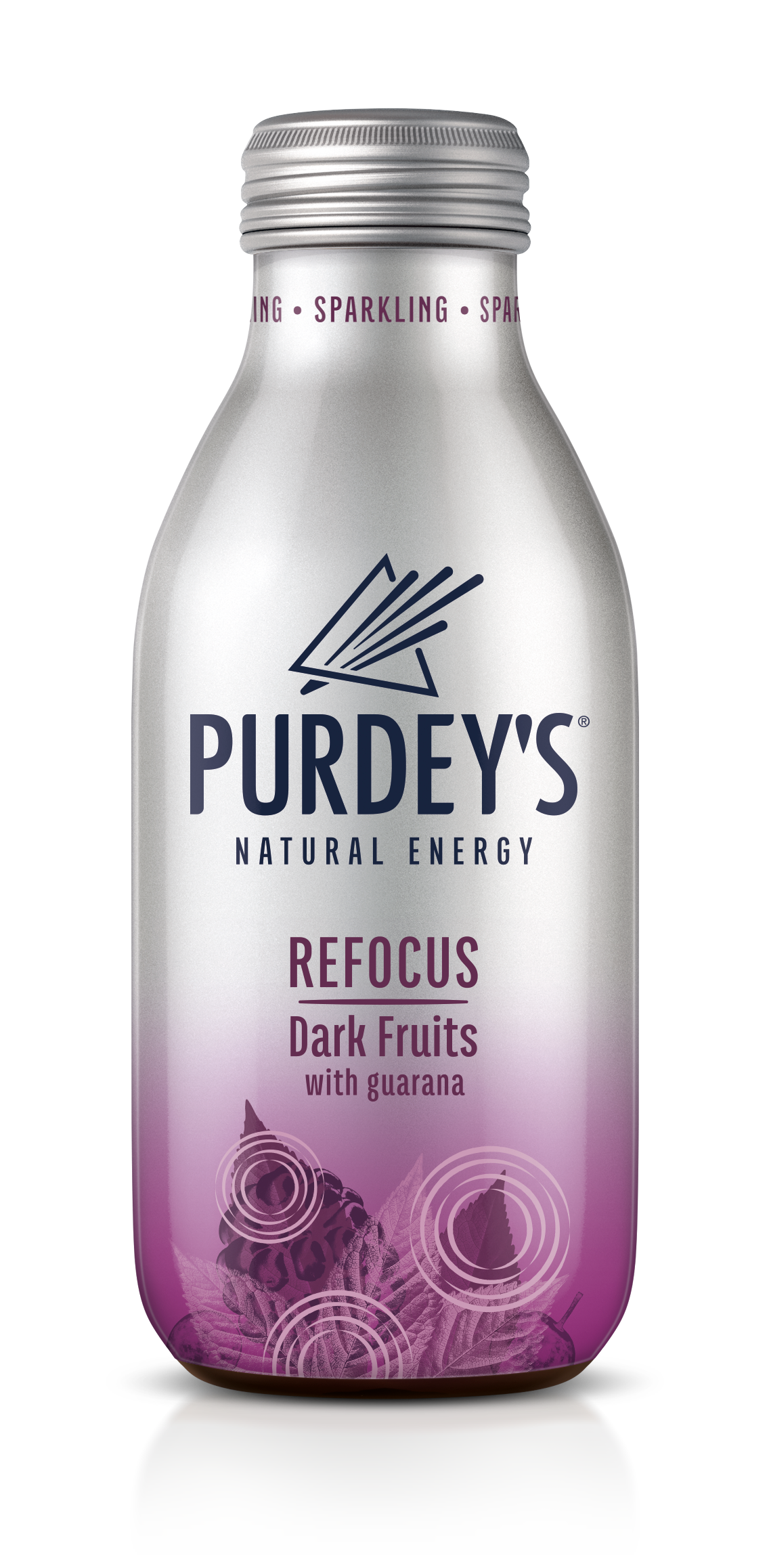 Britvic's latest Soft Drinks Review has identified an £812 extra opportunity to each convenience store in the UK through the functional wellness drinks segment as almost half of people (47%) agree they will eat more foods to support their immune systems going forward. The report forecast a £27m opportunity this year for the convenience channel from the functional wellness drinks segment, equating to an additional £812 per store.
"The functional wellness market is currently worth an impressive £240.1m, and what's more, shoppers are willing to pay more than double the average price for premium soft drinks with added benefits than a soft drink or 34% more than the average single serve, which is already priced at a premium. It's vital that retailers are adapting their ranges accordingly to take advantage of this shift in consumer demand," Sanders says.
Britvic has its hopes on Purdey's, the natural energy drinks brand, to lead in the wellness drinks segment. Containing energising B-Vitamins, botanicals, as well as only naturally occurring sugars, Purdey's has had a successful past four years, seeing growth of almost 70%, and the £10.9m brand is expecting to continue this growth in 2021, with the introduction of two new flavours: Refocus and  Replenish.
"The brand's ambition is to make wellness drinks accessible to more people, by aligning with current consumer trends and providing great taste. The brand delivers the important factors customers look for in functional soft drinks – clear benefits, great taste and healthier ingredients," Sanders adds.
The brand is undergoing a complete redesign with the functional benefits further highlighted to increase stand-out on shelf and both additions will also be available in a new multipack of cans.
As the consumer preference for lower sugar, healthier drinks skyrocketing, Carabao is betting on those energy drinkers who are looking for a product that tastes great but also has positive health credentials. "With much loved fruit flavours, just 63 calories per can and 60% less sugar than major rivals," Carabao says they satisfy all of these consumer trends.
The brand urges retailers to position soft drinks in a way that makes lower sugar soft drinks easily accessible to consumers and place brands that are exclusively low or no sugar at eye level in the chiller.
"Our advice would be to avoid arranging chiller or shelf space by the amount of sugar content, as this could result in shoppers missing those healthier options if they're not grouped with other products from the brand – 'brand-blocking' is an effective technique to apply here," comments Mark Tanner, head of wholesale and independents at Carabao Energy Drink UK&I.
Bottled water, standing at a value of £217.7m, remains a crucial part of the soft drinks category within the convenience sector, but Covid restrictions over the past year have altered the occasions of when people are consuming, says Mike Buckland, marketing controller at Highland Spring.
"Lunch at home remains a key opportunity for natural source water, with the category experiencing a shift in 'Drink Later' formats, which sees larger bottles and multipacks currently driving the category e.g. Highland Spring has witnessed a 32.5% growth in the past 12 weeks for the 1.5L 6 pack format," he explains.
As a result of this, the brand has launched a new 10 litre hydration pack format, a first for the UK retail market and given the continued growth of 'Drink Later' formats, Buckland urged the retailers to introduce formats such as this to align with this shift in consumer behaviour.
Looking at the long-term perspective, the big night in is likely to remain a key opportunity as shoppers will go through a transition phase between staying home and going out as restrictions are eased. According to Buckland, this represents an opportunity, particularly for Sparkling Water and 'Drink Later' options.
"Healthy hydration will be high on consumers' shopping lists so keeping well stocked with 'Drink Later' options is imperative during periods of warm weather, as restrictions ease and consumers look to make the most of summer social occasions. Bottled water is perfect for the summer season, as well as picnics and other outdoor gatherings," he suggests.
Confectionery
Despite increased consumer awareness around the importance of adopting and maintaining a balanced diet and lifestyle, chocolate is one sweet pleasure that locked down Brits haven't denied themselves in the pandemic. However, with growing numbers of shoppers prioritising healthier lifestyles and making better dietary choices, Ritter Sport is responding with a new range of smaller, portion-controlled, impulse purchase products.
"We know that consumers still want to enjoy the full taste of chocolate, rather than switch to reduced sugar options. Portion-controlled packs are one of the ways confectionery brands can help consumers make healthy, informed choices and manage their calorie intake," Katy Clark, head of marketing at Ritter Sport UK & I, says.
The consumer research by the brand has revealed that shopper prefer to have a smaller amount of regular chocolate rather than a larger amount of low sugar chocolate. The new Ritter Sport impulse range looks to help retailers capitalise on this shopper demand.
Another more ethical option from Ritter Sport is vegan chocolate. Meeting the growing demand for vegan friendly treats, the brand marketed an 'accidentally vegan' bar range in time for Veganuary 2021, with top-selling 100g Marzipan bar leading the line-up.
Mars Chocolate Drinks and Treats' (MCD&T) vegan drinks range, including Galaxy Vegan, Bounty Vegan and Mars Vegan, has performed exceptionally well, with sales now totaling £480,000, up 134% [IRI]. The drinks are available in a 250ml format, with no added sugar and registered with The Vegan Society.
"More than 500,000 people have signed up to Veganuary in 2021, surpassing 400,000 in 2020 and so we are delighted to be able to offer consumers additional ways to enjoy their favourite confectionery brands." says Michelle Frost, general manager at MCD&T.
Haribo has recently unveiled two new treats, Sour Sparks and Starbeams, offering greater choice for vegetarian consumers. "There is a huge appetite for sour treats; combine this with the demand for vegetarian lines and it's clear that this presents a strong sales opportunity for retailers. Haribo Starbeams is the very first foam sweet to join our vegetarian range," Claire James, trade marketing manager for Haribo, says.
"Each features an on-pack flash to reinforce that these treats are suitable for vegetarians, making it even easier for consumers to make a choice about the products they would prefer," she adds.
Fruittella has also launched new products last month build greater breadth and choice in the free-from category. The new free-from Fruit Duo and Fruit Coin jellies target shoppers with diverse dietary needs by boasting sugar-free, gluten-free and dairy-free credentials, with no artificial colouring or flavouring.
Owner Perfetti Van Melle (PVM) said that as the UK's number one manufacturer in the £28.5m Better for You (BFY) confectionery market – with a 29% share – it sees potential to support the varying requirements of growing customer bases, such as weight management, or diabetic friendly. Fruittella Fruit Duos and Fruit Coins join its best-selling BFY portfolio, with current SKUs including Chupa Chups Sugar Free Lollipops bag 110g and Fruittella Sugar Reduced Strawberry bag 120g.
"We've found there is a challenge associated with confectionery within the Better for You category and that's why we continually invest in broadening our range in this area," says Kate Howe, Fruittella Product Manager at PVM.
Problem of Plenty
With more and more new health products emerging, the wellness aisle is becoming harder for consumers to navigate. According to a Mintel research conducted prior to Covid, nearly half of consumers agree that the number of new products makes shopping for health foods confusing. This has been exacerbated further during the pandemic, as shoppers don't have time to browse the shops like they did pre-Covid so visibility and clear signage is a must.
"Retailers should therefore create a distinct space in-store/outlet for wellness products. Bringing these SKUs together in a fixture will aid visibility and awareness. Retailers should focus on scale brands that already appeal to the masses as these are a good way of signposting the wellness area too," Sanders recommends.