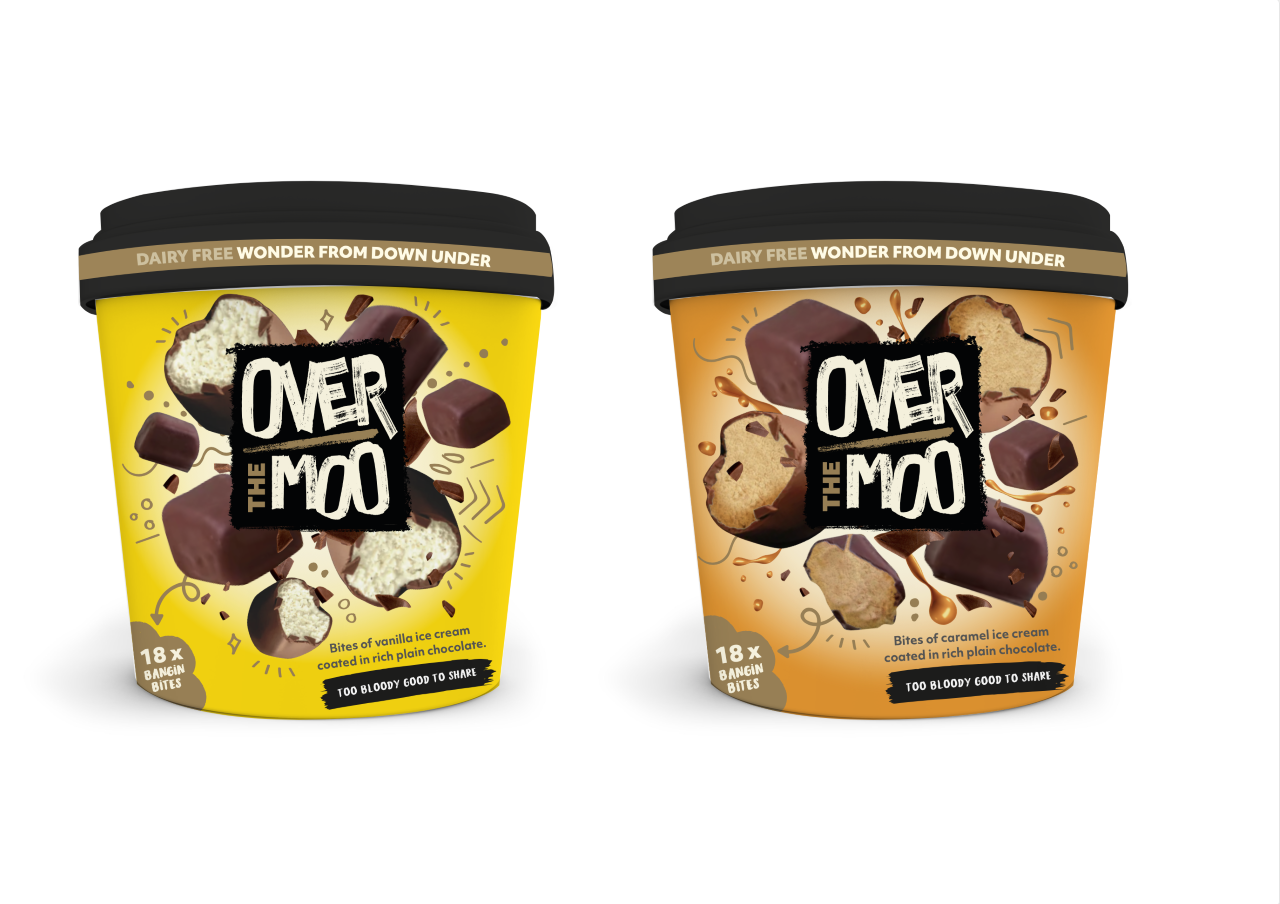 Over the Moo is a a tub of mini squares of ice cream covered with chocolate that follows in the footsteps of alternative agitators such as Oatly. Over the Moo is a quirky, Australian-born brand set to delight UK consumers with a creative new take on dairy-free indulgence. Ice cream snacks have seen unprecedented growth in the past year (bites have increased 1679 per cent), leaving a distinct gap in the market for a dairy-free alternative – despite the rise in consumers pursuing vegan and flexitarian diets.
Made from creamy coconut milk, the plant-based ice cream has enjoyed immense popularity since its initial launch in Australia in 2015. Now, the brand plans to build on that success with two tempting bite-size flavours – vanilla and caramel – both of which will be dunked in dark dairy-free chocolate.
"This is the perfect time to introduce a plant-based snacking ice cream in the UK," said Simon Goodman, Managing Director of Over the Moo UK Ltd and UK. "Over the Moo Mini Bites will grow the dairy-free sector because this is delicious ice cream in a highly desirable format which also happens to be vegan."
The brand will launch with a £450k investment in marketing including advertising on social media, posters and press, and a PR campaign to to drive media coverage and social media engagement. The programme will link directly to retailers listing the product.
Meanwhile, the company's founder, Alex Houseman, commented, "I am so excited to launch Over the Moo in the UK and particularly in the new Mini Bites format. We hope the Brits are going to love the taste of our ice cream as much as they have in Australia!"
Over the Moo brand launched in Australia in 2015. It has sold nearly 2 million units up to the end of 2021. It will be available in vanilla and caramel in tubs of 18 with an RRP of £5.95