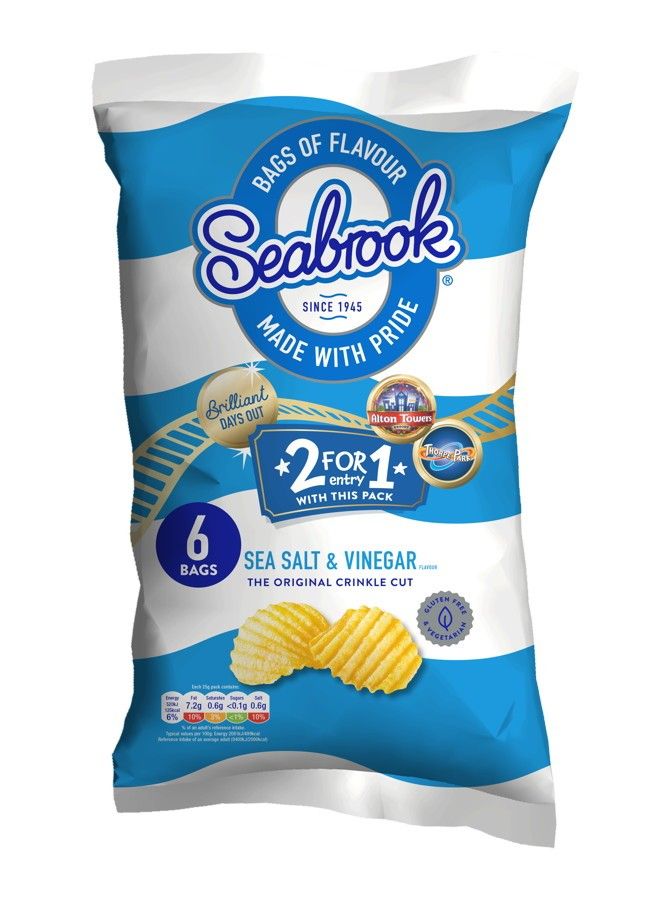 Seabrook Crisps is set to continue its partnership with Alton Towers for a fifth year, with expanding the 2022 offer to include Thorpe Park Resort.
The on-pack promotion, launching at the beginning of April and running through to September, offers shoppers two for one entry at Alton Towers or Thorpe Park.
The Bradford-based manufacturer said the partnership has been hugely successful over the years, driving brand engagement. Seabrook Crisps, part of the wider Calbee UK portfolio, is growing at 32.2 per cent YOY, outperforming the category which is 3.7 per cent over the last 52 weeks. The brand is also up 36.9 per cent in the last 12 weeks. Now a £74m brand, Seabrook is purchased by almost 9 million UK households which is an increase of 1.8 million since January 2021.
Seabrook is in over 1 in 2 households in the north of England and over 1 in 3 households in the remainder of the UK (excluding London at 1 in 5). The expansion of the on-pack promotion to include Thorpe Park Resort, which is based in the south of England, supports the drive to continue strengthening Seabrook's national distribution.
The promotion will run across a selection of Seabrook Crisps Crinkle Cut Multipacks and 70g £1 PMP bags. The activation will be supported with an extensive marketing campaign to include TV advertising, digital and social media advertising as well as trade and consumer PR campaigns.
Jon Wood, commercial director at Calbee UK, said: "Continuing our partnership with Alton Towers and the addition of Thorpe Park is really exciting for Seabrook Crisps. The on-pack promotion offering two for one entry is great for families, young couples and groups of friends looking to save some cash this summer.
"Expanding our offer to Thorpe Park this year is excellent news as it allows our shoppers living in the south of England to redeem the voucher for another great attraction and enjoy a fantastic day out. We're expecting 2022 to be a great year of redemption for both parks."
Seabrook said last year's campaign saved shoppers over £2.5million in entry fees to the UK's top visitor destination. Retailers are also set to benefit, it added as the on-pack promotion will encourage multiple purchases and enhance stand out on shelf. In-store POS materials, including free standing display units, are available to help drive incremental purchase.
Packs featuring the 2 for 1 on pack promotion include Seabrook Cheese & Onion, Salt & Vinegar, Sea Salted, Beefy 5 and Prawn Cocktail 5 pack multipacks and 6 pack multipacks, Variety £1 priced marked multipack, Variety 6 pack, 12 pack and 18 pack multipacks. Cheese & Onion, Sea Salted and Beefy £1 priced marked sharing bags.