An event that was earlier more synonymous with the US than in the UK, Halloween is indeed now one of the biggest retail events of the year – ranking third only after Christmas and Easter.
The spike in the popularity of this spookfest is evident by market reports that claim that it now triggers more sales of food and drinks than Mother's Day, Valentine's Day and even
New Year's.
Pre-pandemic Halloween 2019 saw £474 million being spent, with 61 per cent of households reported to have bought sweets for trick-or-treaters, 54 per cent bought a pumpkin and 51  per cent a costume. Two in five households bought Halloween decorations, as per market reports.
In 2019 and 2020, Halloween week was the seventh highest week in terms of sales value in the year.
"Halloween is getting bigger year by year. Usually, it falls close to Indian festival Diwali and this ups the festive spirit during this time. We see a lot of families coming in asking for sweet bags, chocolate tubs and other confectioneries for trick and treaters. So, yes, it is a busy time for us as this yearly event triggers a lot of sales when it comes to sweets, chocolates, crisps, snacks, pumpkins, masks and other accessories," Sohan Singh from Premier Store in Hitchin in Hert told Asian Trader.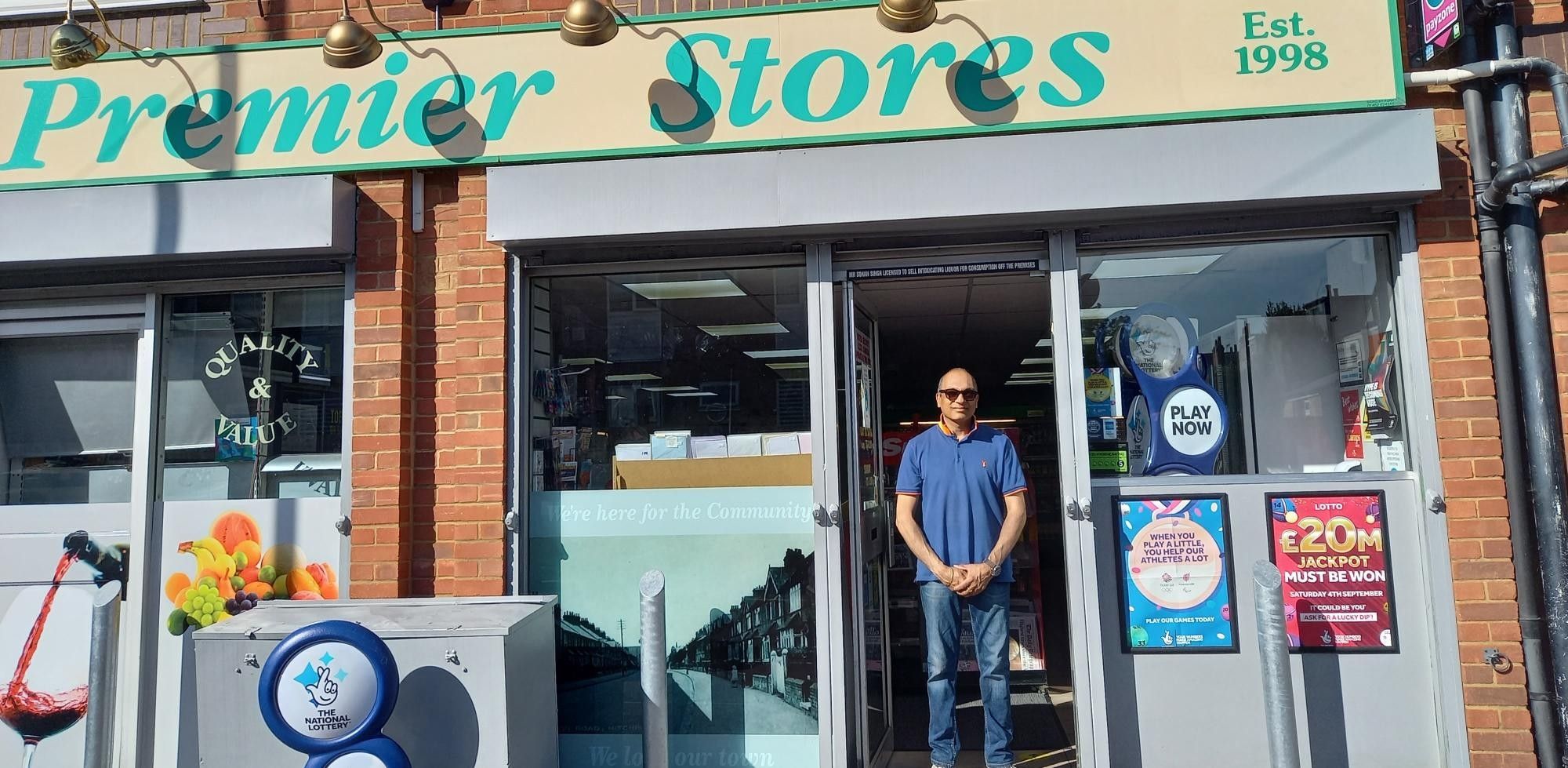 While Halloween is now celebrated across Britain, market reports state that residents in
Brighton are most generous when it comes to buying Halloween treats, spending an average of £18.60, while Hull only spends £1.70, on average, the lowest amount across the country's major cities.
Pandemic Halloween
Last year, Halloween was spooky for other reasons and Britons were forced to tone it down owing to rising cases of Covid-19 around this time.
The market reports showed that while the same amount was spent on pumpkins as in 2019– £9m – sales of sugar sweets were 2.3 per cent lower in October as trick or treating was put on hold.
Multiple confectionery makers and retailers agree that last year Halloween saw a washed-up sales of sweets, candies and other spook-time hits.
"Last year was very much 'stick and treat'. Here parties and at home activities prevailed and trick or treating quietened with so many people in lockdown. But normality should resume this year, with some important hygiene considerations that will support purchase decisions and sales," said Claire James, trade marketing manager at Haribo – UK's leading sweet snack maker and supplier that claims to grab 46.8 per cent share of Halloween leveraged sweets.
Halloween 2021: last one before HFSS comes in
After more than a year of restrictions and trick or treating being almost skipped last year, Halloween is expected to be bigger and scarier than ever this year.
"Following a quiet event in 2020, 'trick or treating' is firmly back on the agenda for many families. About 58 per cent of shoppers with children under 12 are looking to take part and 61 per cent will buy treats to ensure they are ready for the potential visitors," Katie Jenkins, marketing director at KAM Media told Asian Trader, citing a recent study done in partnership with UK's leading confectionery Perfetti Van Melle (PVM).
"In fact, 38 per cent of consumers who usually celebrate Halloween intend to spend more money on celebrating this year compared with normal," Jenkins said, adding that wholesalers and retailers should be well prepared for high demand.
Halloween this year is extra-special- not only because this will be the first one post-Covid-19 pandemic but it will also be the last one before the UK's new HFSS regulation comes into effect next year. Apart from placing a complete ban on adverts of foods high in fat, salt and sugar on TV before 9 pm, the new regulation will also restrict the placement of such products in a brick and mortar store like checkouts, shop entrances, or at the ends of aisles.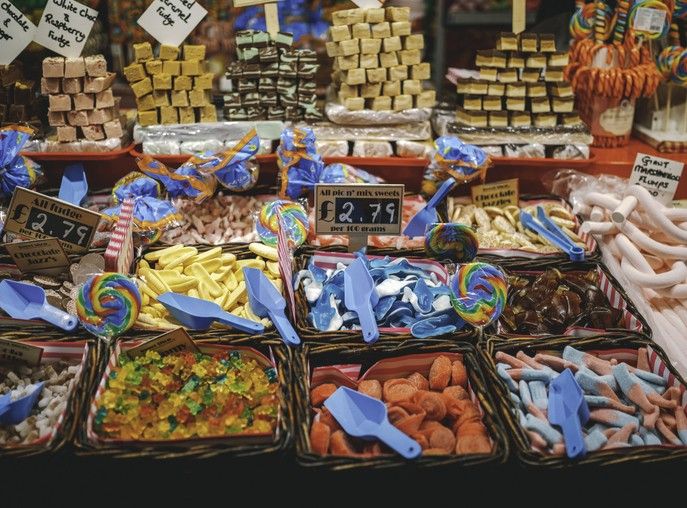 What's scarier is HFSS regulation will see restrictions on almost every Halloween-favourite product – soft drinks, cakes, chocolate confectionery, sugar confectionery, ice cream,puddings and sweet biscuits, among others.
Halloween 2021 might be the first of many lasts, and Jenkins from KAM Media agrees, saying this will be the last Halloween not affected by upcoming HFSS regulations and "we need to make the most of it".
Halloween is the time for retailers to make some 'spook-tacular' sales while getting involved with the local community and making a mark in their memory.
Given the market predictions of a blasting comeback of Halloween spirit, it is no wonder that convenience retailers are well-prepared, with over one-third of convenience saying they will increase their Halloween confectionery space this year, while 90 per cent will have a dedicated, themed range in-store, Jenkins added.
"And it's not just sweets – 22 per cent intend to decorate their house, 24 per cent will carve a pumpkin and 15 per cent will buy a costume," she said.
PVM, one of world's largest manufacturers and distributors of confectionery and chewing gums, has launched its biggest-ever Halloween campaign, "All Wrapped Up", to support sales opportunities ahead of HFSS regulations. The ongoing campaign, including £1m multimedia support, will run across iconic brands Fruittella and Chupa Chups.
When to prepare
While the essential window for Halloween sales is a week before the big night, industry
experts feel that retailers should start prepping their Halloween fixtures up to a month ahead of Oct 31 to create an exciting and frightening point of sale (POS) to remind customers that spooky times are here again.
Imtiyaz Mamode from Premier Gosport in Hampshire is one of the enthusiastic retailers and decks up the store well in advance to make the best of these spooky times, something which "not only cheer up the young ones but also brings everyone together in a festive spirit".
He also does community activities around this time like in 2019, he organised a painting competition and gave free tango slushies for whole day to every shopper. He is yet to decide this year's special activity but said will "definitely do something extra-special".
Nestle also believes that bringing shoppers into the season early encourages the repeat
purchase of Halloween confectionery.
"Halloween continued to be the most important season for confectionery last year, that's why we're starting our activity in September and investing heavily through our above the line 'All Wrapped Up' campaign, including new product launches and in-store support for retailers," Jas Ghag, Senior Category and Insights Executive at PVM said.
Themed POS and in-store displays help to create the right vibe, helping to catch the shopper's eye and thus creating chances of customers making impulse purchases.
"To drive sales, retailers should focus on products that help shoppers cater for the trick-or-treat or party/gathering opportunity. Additionally, retailers can enjoy a longer season by stocking a targeted range of best-sellers and new products from the start of October," Susan Nash, trade communications manager at Mondelēz International told Asian Trader.
Advertisements and marketing for Halloween start around mid-September, and this often includes promotions, sales and new products on the shelves.
"While ranges and limited editions can appear in stores as early as August, shoppers start to into sweet confectionery for Halloween six weeks ahead. Last-minute purchases create peak shopper activity in the week counting down to the Spooktacular event, and this is an essential timeline for retailers," James said.
Halloween must-haves
The sharing segment is strong and growing. Matt Collins, Trading Director at KP Snacks stated that retailers can capitalise on the success of the sharing segment by stocking family favourites and price-marked packs (PMPs).
"PMPs have proven to be a successful tool in driving sales across the impulse channel. Half of shoppers prefer PMPs as they are reassured they're not being overcharged and 82 per cent of retailers believe they must stock PMPs," Collins said, whose company's pop-corn brand has been quite a Halloween-hit.
With almost 41 per cent of shoppers expected to go for more than normal purchase of sugar confectionery this year – either for in-house celebrations or for visiting trick-or-treaters- it is a no-brainer that sugar and Halloween go hand in hand. And both sugar and chocolate confectionery are key to the season.
Zcandy Monster Jawbreaker, Chupa Chups 3D Skull, Haribo Scaremix and Smarties
Halloween Monsters were found to be the top selling products in 2018 while ZED Terror
Eyes, Vidal Bloody Eyes and Rose Mini Malloweens were the top favourite among the
shoppers in 2019, as per market reports.
Haribo's Scaremix share bag – containing bats, broomsticks, frogs and spider-shaped
pieces – was widely reported to be a hit in 2020, confirmed by Singh from Premier Store.
As per Nestle, its Milkybar Buttons, Rowntrees Fruit Pastilles, Munchies, Aero Bubbles
Peppermint and Rowntrees Randoms were also among the bestsellers.
Sharing bags and tubs are always a hit as they work perfectly for gifting, handing out to trick-or-treaters or just to keep around the house.
"Funsize packs remain a staple for the Halloween occasion, with Mars Wrigley holding the largest share of Halloween funsize sales of 28.1 per cent of the category in 2020" Victoria Gell, Fruity Confections Brand Director, Mars Wrigley, said, adding that data shows many consumers purchase a mix of chocolate and sugar confectionery, so retailers should look to stock a variety of treats that are available in different pack sizes to support consumer missions during the occasion.
Within the candy segment, chew products are also growing in popularity each year.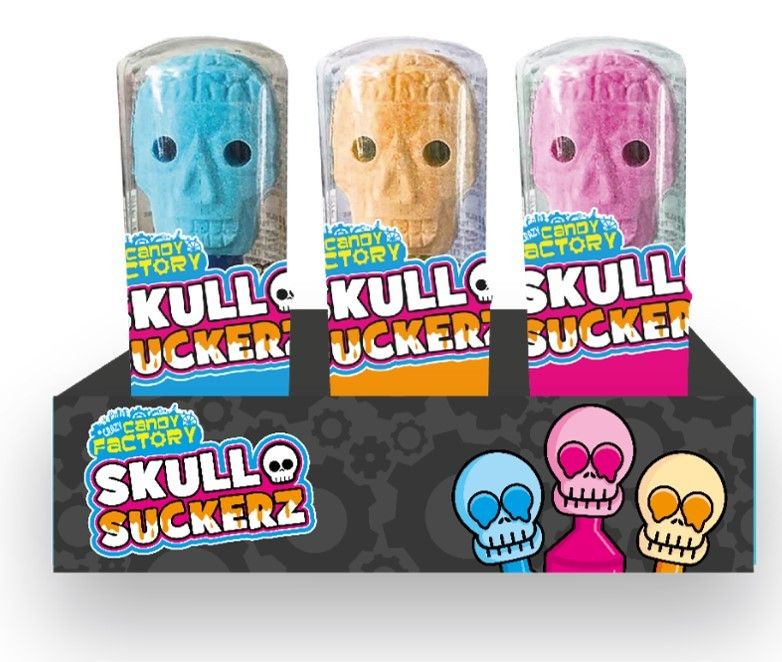 "We strongly believe each retailer should have a wide range of confectionery in their stores in order to appeal to the largest possible customer audience," Chris Smith, marketing communications manager at Hancocks told Asian Trader. "Specifically for bonfire night and Halloween, sharing bags work perfectly for gifting, handing out to trick or treaters or just to keep around the house as spooky treats."
What's New in Confectionery
This year, PVM is adding two new exciting lines to Chupa Chups along with a promotional campaign in which the brand will partner with TikTok influencers to run #ChupaChupsHalloween, PVM said.
PVM is also introducing a fun new 300g tub, containing 32 individually wrapped fun family favourites such as Classic Lolly and Mini Lolly, all within a reusable, recyclable plastic tub.
Most importantly for the grocery channel, both launches will be supported at store level by visits from the field sales team to "selected outlets who will be creating festive in-store displays using Halloween-themed POS", PVM said.
Hancocks too is trying to woo customers by offering retailers lots of options for pocket-friendly treats, including Halloween Single Mallow Pops shaped in characters like Dracula, a pumpkin and a ghost, Crazy Candy Factory Unicorn Light Pop and Crazy Candy Factory Skull Suckerz – all priced at £1.00.
New additions also include a wide range of BUBS skulls, including Vegan Cool Cola Skulls, Vegan Liquorice Skulls, Vegan Big Sour Skulls and Vegan Mini Sour Skull Mix, Monster Jellies, Pumpkin Marshmallows, Tongue Painter Jelly Filled Marshmallows and Pumpkin Jellies.
Hancock's Mix Shaker Cup – the themed mix of favourite Halloween treats including Candy Skulls, Jelly Snakes, Pumpkin Mallows and the scarily real Gummy Dentures- is perfect for Halloween parties. Retailers should also stock brightly-coloured skull-shaped Crazy Candy Factory's brand new Skull Suckerz which is surely going to be a hit among little trickers.
World leader Mondelēz International has also introduced a new Halloween range – Mini OREO Spooky Bags, Spooky OREO Rollpack and Cadbury Skeleton Fingers. It's all-time hit Oreo Mini Filled Eggs and Cadbury Goo Heads – available in Creepy Skeleton, Pumpkin, Frankenstein, Dracula or Werewolf variants – are prized possessions in every kid's candy bag.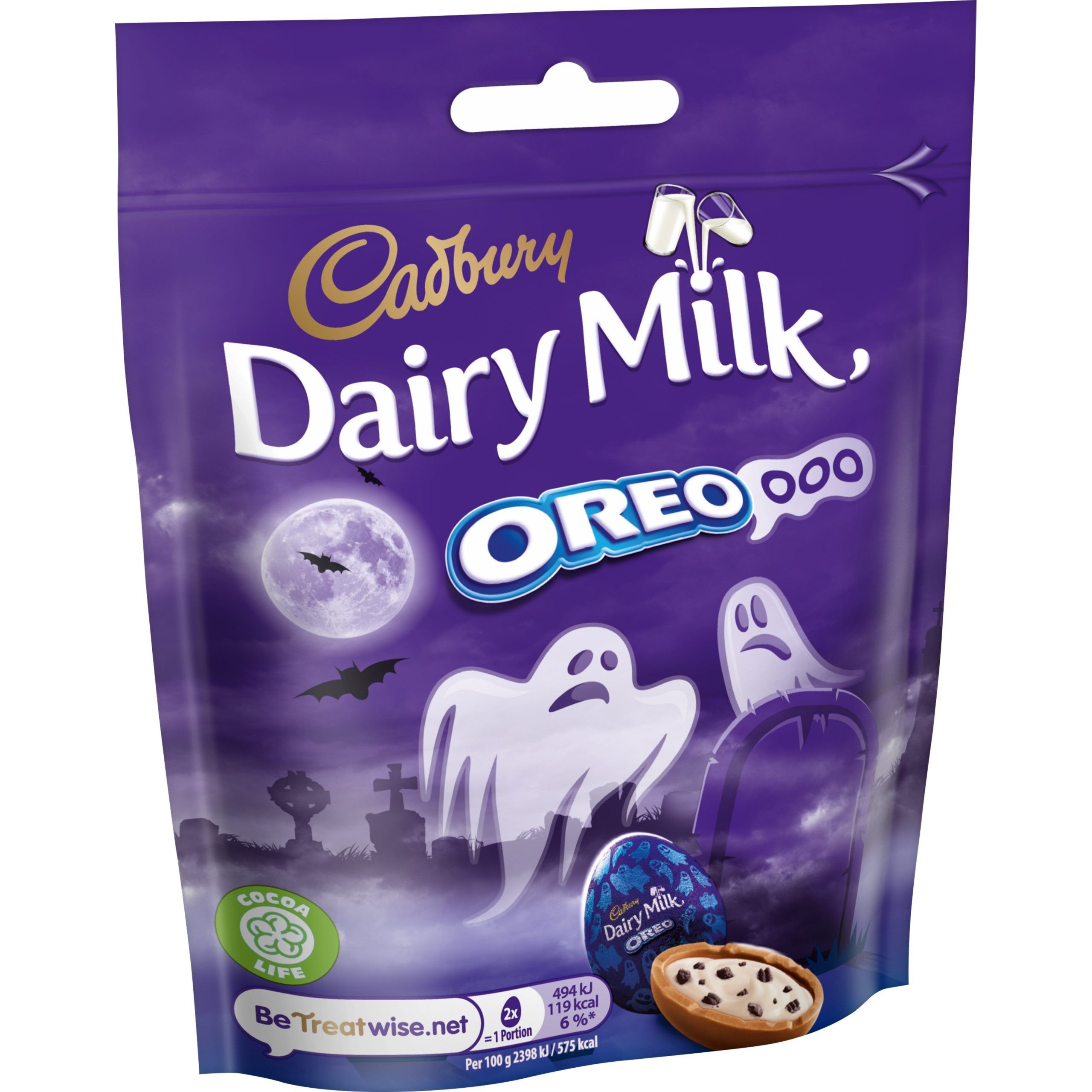 Available in £1 PMP treat bags, Mars Wrigley's latest launch Skittles Giants Crazy Sours have a soft chewy centre designed to strike taste buds- perfect for a trick or treat.
Individually wrapped sweets are also expected to see a better sale this year owing to rise in hygiene concerns post-pandemic.
The individually wrapped sweets in packs from Swizzels, the number-one seller of variety packs at Halloween [IRI Marketplace], are perfectly suited for the spooky eve.
Another of its popular products, Sweet Shop Favourites Tub contains a variety of
individually-wrapped favourites including Squashies, Love Hearts and Refreshers-
something for everyone.
Pumpkins and party snacks
Britain grows approximately 10m pumpkins a year, said reports last year, with 95 per cent of those to be used just for Halloween.
Store owners can up their game a bit by introducing PVM's online pumpkin carving
competitions for whoever is buying one. All they have to do is post their pumpkin's pic online (which they are going to do anyway) and tag the retailer as well, who in turn gets to decide who is the winner.
Teaming up with Craft Factory, PVM will be raising mass awareness of Fruittella through a series of Spooky Sunday videos encouraging consumers to get involved in seasonal activities such as pumpkin carving and costume creation. Content will then be amplified on Pinterest, reaching one in three mums in the UK and capitalising on the 14.7m Halloween-related searches users make on the site every year, informed PVM.
But Halloween is not only about candy and pumpkin-carving, as people are going to make it an eating occasion, too!
In the two weeks covering the Halloween and Bonfire Night period in 2020, St Pierre Group claimed a jump in sales of burger buns and hot dog rolls from £925,000 to £1.16mn, so clearly there is an opportunity for retailers here.
Be it Halloween parties, get-togethers or barbecues, shoppers this year are going to make the best of everything and retailers should respond to the party call by stocking themselves well.
"Products that offer an extended shelf-life are a must-stock for retailers, as they have
become increasingly popular with consumers since the beginning of the pandemic," Paul
Baker, founder of long-life bakery St Pierre Groupe, said.
St Pierre Groupe's products fit-in well in the upcoming Halloween and Bonfire Night season.
Multi-pack, multi-use products that stay fresher for longer will appeal to hosts "who are looking to stock up but don't want to waste food if the party is rained off".
For families looking to enjoy Halloween at home, KP Snack's gluten-free POM-BEAR will also be in high demand, given that about 5.7 million households consume the brand every year. It's another low-calorie offering Space Raiders works well too, especially it's Beef and Pickled Onion PMP.
Slipping healthy goodies among candies and confectionery to little fellows is every health-conscious parent's devilish plan. And the choices are endless too.
Yogurt brand Frubes' Halloween-special limited edition- re-branded as "Ghoulish Strawberry, Howling Red Berry and Scary Peach" – is a win-win situation as it comes with spooky freebies and also claims to be a good source of calcium and Vitamin D.
"As a £22.4m brand, and growing, we want to deliver fun like no other kids' healthy snack!"
Kids will love our limited-edition Halloween pack and by making parents a partner in fun, we're inspiring families to come together in more laugh-out-loud moments. Approved by parents, Frubes are a source of Calcium and Vitamin D and contain no added colouring or artificial sweetener," Joanna Goodman, Head of Marketing, Yogurt (Northern Europe) at General Mills, said.
Claiming that health continues to be a key purchasing driver for parents, Strings & Things taps directly into the demand for healthier kids snacking alternatives, with its Cheestrings in particularly being a source of calcium and Vitamin D.
Additionally, with each pack of Cheesehapes coming in at under 100 calories, Strings & Things portfolio will offer parents healthier alternatives while the limited-edition packaging and shapes will entice children.
"Scary" soft Drinks
Soft drinks is something that can't be ignored as one in three shoppers buy soft drinks during this week- both for consumption in house parties and in smaller avatars for trick and treaters.
One in three shoppers buy soft drinks at Halloween, so this is a key category focus for retailers, presenting a real opportunity to boost incremental sales," said Adrian Troy, marketing director at Barr Soft Drinks, which is introducing new limited edition Barr Sours:
Sour Berry and Sour Apple, while its IRN-BRU – the UK's leading flavoured carbonated brand – will be available in bigger pack formats.
Banking on Fanta's popularity, and pointing out that one in four flavoured carbonates
purchased in October 2020 was Fanta, Coca-Cola Europacific Partners (CCEP) is also wooing Britons with its new on-pack promotion for Fanta, giving consumers the chance to win "scary surprises".
"This year, we want to give loyal Fanta fans and retailers the best Halloween ever, with a scarily-good prize pool worth more than £50,000 and a sales driving marketing and activation campaign which will keep Fanta front of mind with shoppers during this growing seasonal event and take full advantage of the sales opportunity it represents," Martin Attock, Vice President of Commercial Development at Coca-Cola Europacific Partners GB, said.
The ghoulish packs of Fanta Orange and Fanta Orange Zero have QR codes loaded with
cash, home entertainment systems and other supplies for the ultimate scary movie night in, including exclusive digital content to scare their friends.
Don't ignore adults
Well, it's a misnomer that Halloween is for children. Adults also have their share of fun and it is best for retailers not to ignore them during this time of the year.
Traditionally beer, cider, lager, wines and spirits are consistently the biggest sellers in
Halloween week – sales of which continue to grow year-on-year.
"Beers, wines and spirits continue to perform ahead of the wider grocery category, increasing in value by 12 per cent , with both lager and ale in significant growth," Kevin
Fawell, off-trade sales director at Molson Coors Beverage Company, said.
He added that it is important for retailers to ensure "they are catering for different tastes and occasions, from single bottles and small packs for those enjoying relaxed evenings in, to mid-to-large multipacks for those planning gatherings with friends or big social occasions".
Usually, 4x packs of beer and cider are the best-selling formats in the convenience channel and serve as a great size for consumers shopping for supplies for a smaller home Halloween gathering.
Since Halloween is particularly popular among 18-35 year olds, autumnal cocktails, spiced rums, mulled ciders and pumpkin spice liqueurs have also started to flourish among the millennials and young adults. And makers are making sure retailers can make the best of this opportunity.
Oxfordshire-based brewery Hobgoblin is running a promotion on Shopt where retailers can buy three cases of its Hobgoblin range of ales then claim cash back through the app.
19 Crimes wine bottles' packaging and its use of Augmented Reality (AR) technology to bring out the characters to life often becomes a strong talking point when entertaining guests. Recent addition from 19 Crimes portfolio, 19 Crimes Rosé comes in a unique bottle that features 19 Crimes' new roguish character Robert Cranston coming to life, explained Ben Blake, Head of Marketing – EMEA –Treasury Wine Estates.
As part of the campaign the brand will also open a pop-up tattoo parlour in Shoreditch London where 19 Crimes enthusiasts can get a free tattoo from leading tattoo artists, with designs inspired by the 18th century.
Millennial shoppers often include spirits, ready-to-go drinks and flavoured cider as part of their Halloween shopping list in order to recreate their favourite "Instagrammable" cocktails at home.
Fawell from Coors Beverage Company said the category continues to evolve in line with new trends and changing consumer tastes, especially towards more refreshing flavoured options.
"To help retailers capitalise on this, we launched Rekorderlig Pink Lemon in March. It has a light, crisp citrus flavour with a hint of raspberry, reminiscent of a pink lemonade," he said.
Coor's latest offerings- Margarita Spritz, Paloma Spritz, Mimosa Spritz, Sangria Spritz and Bellini Spritz- can be good options to store as more and more consumers are looking for "exciting new flavours and more premium choices they can grab and enjoy at home".
Prepping the store
To maximise on the Halloween shopping missions, independent retailers should consider dedicated displays to make shopping fun, simple and inspiring.
Halloween confectionery undoubtedly remains incremental, so giving it additional space in store will be effective in driving increased sales.
The classic Halloween elements in the store displays such as creating a bat-wall filled with different-sized bats, cobwebs across the store, or spooky pumpkin balloons hanging from the ceiling or big furry spiders on the wall – can go a long way in creating the vibe.
Or, just place a skeleton in a cosy little corner and if you want to go above and beyond, give that skeleton a backstory!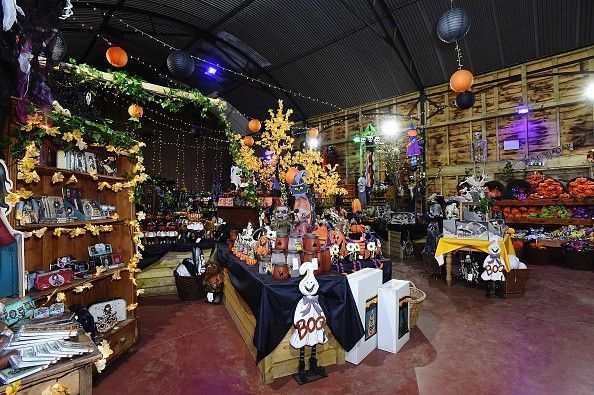 "Themed products help retailers to create store theatre, this acts as a beacon and drives shoppers to key locations in store. Products with packaging and pieces that match the occasion also help consumers to get into the spirit of Halloween," James from Haribo said.
If space allows, retailers can create a spooky tunnel-like entrance to usher in the shoppers inside the store.
Becky Youseman, Senior Brand Manager, Strings & Things suggested retailers to tap into Halloween through limited-edition packaging, which is a great way to drive excitement in store and ultimately boost sales. 
Under its "All Wrapped Up" campaign, PVM is offering "unmissable vinyl-wrapped POS D6 displays to act as final prompts to purchase for consumers" aimed to "boost sales at key grocery locations".
And if store owners don't have space for any of this, one can use a couple of lights to cast huge scary shadows across a wall of the store.
"When it comes to merchandising, retailers should make the most of aisle-end displays in stores and use them to showcase easy to grab items such as sharing bags and shaker cups," Smith Hancocks said, adding that seasonal items should be prioritised in-store merchandising and placed near the front of the store for maximum impact- something surely to attract little ones' attention.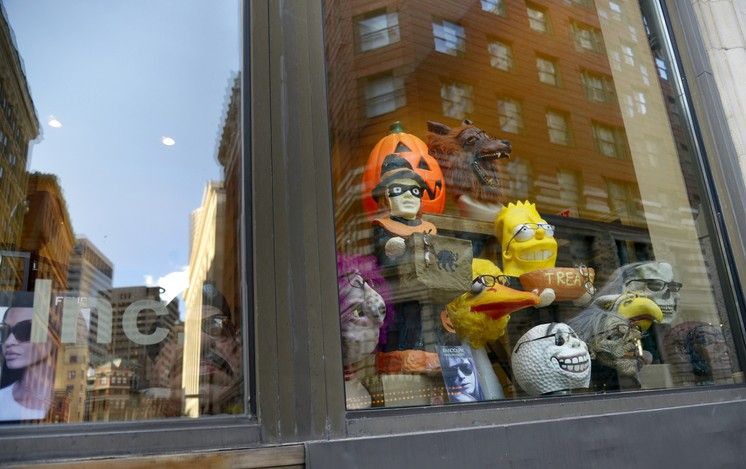 Collins suggested that catching shoppers' attention through window posters and shelf barkers can be great ways to trigger impulse sales, claiming that "42 per cent of shoppers buy on impulse while 83 per cent of shoppers pick up crisps and snacks on impulse."
Dedicated fixtures and promotional offers are other good ways to drive impulse purchases –51 per cent of shoppers are more likely to visit their local store if they offer themed promotion, he said, adding that "retailers should also experiment cross-category display by positioning nuts and crisps in the beers, wines and spirits aisle".
Paul Baker of St Pierre Groupe too agrees on cross-category display.
"Retailers should look to be strategic with their in-store merchandising when it comes to the Halloween occasion as this will encourage upselling. Retailers can do this by grouping products together and inspire usage beyond the usual trick or treating fare," said Baker, whose one of the brands, Baker Street, is planning in-store and digital support this Halloween season.
Nestle also seems to agree as it believes that "unmissable visibility of Halloween
confectionery in store drives impulse purchases for the season".
"There are also opportunities to drive ease of shop by tapping into shopping missions which happen around Halloween, such as 'Big Night In' which can incorporate categories such as soft drinks, confectionery and crisps into a display to allow shoppers to find everything they need to celebrate in one place," the company said.
Troy from Barr Soft Drinks declared that "impactful and unmissable POS is available and we recommend retailers utilise this to signpost shopper favourites and new fun flavours, driving impulse purchase".
"Use big brands to signpost the event, bring big brands together, using POS/display kits where provided to bring a sense of the excitement of the occasion into store," said Claire
Raine, marketing manager for Casillero del Diablo at Concha y Toro UK, advising retailers to consider the "use of price marked packs and round pound price points to reassure customers of value and also make the purchase decision easy".
Halloween themed shelving and displays continue to remain great ways for retailers to encourage seasonal sales though they should refrain from going overboard as it may result in a cluttered store which in turn tends to confuse shoppers.
Singh from Premier Store revealed how he peps up his store for this yearly event but not very much.
"We usually use candles and lights around the store. Also, we use pumpkins and pumpkin-shaped lights to jazz up the place a bit. But we don't go overboard as some people don't like it so we try to balance it," Singh said, emphasising that despite the basic and simple decor, the store is "fully stocked with whatever a customer may require at this time".
Many makers and industry leaders also resonate with Singh who claims that buying areas should not be overdone.
"Consumers also want to easily spot brands, so making sure the branding is clear at shelf, either with specific signage or with brand labels clearly visible will help the purchaser make their decision," said Joanne Wyke, brand manager at Hobgoblin.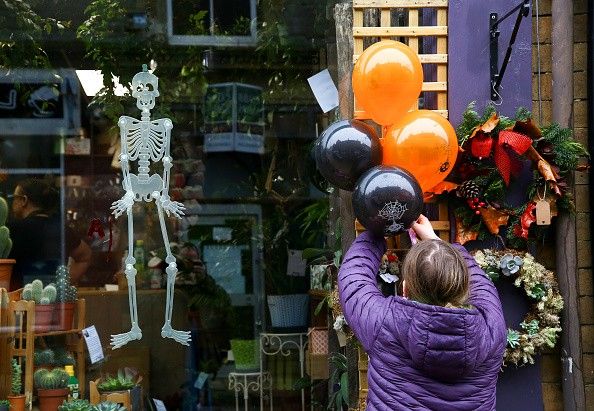 Retailer Imtiyaz however feels that makers and suppliers can support the store owners more as a good promotion at this time "if done well, can go a long way in creating customers for us as well as for the maker".
"Manufacturers should consider supplying freebies to be distributed among shoppers. That way, everyone is happy- customers go home happy and are likely to return for future needs, we get repeat customers and companies can get good word of mouth," he said.
Last but not the least, given that Halloween is falling on a Sunday this year, stores will surely see a rush of last-minutes shoppers. Store-owners and their staff dressing up on the day may give shoppers a scare (and something fun to remember) as no one expects to meet a scary zombie or a witch in their neighbourhood-friendly stores!