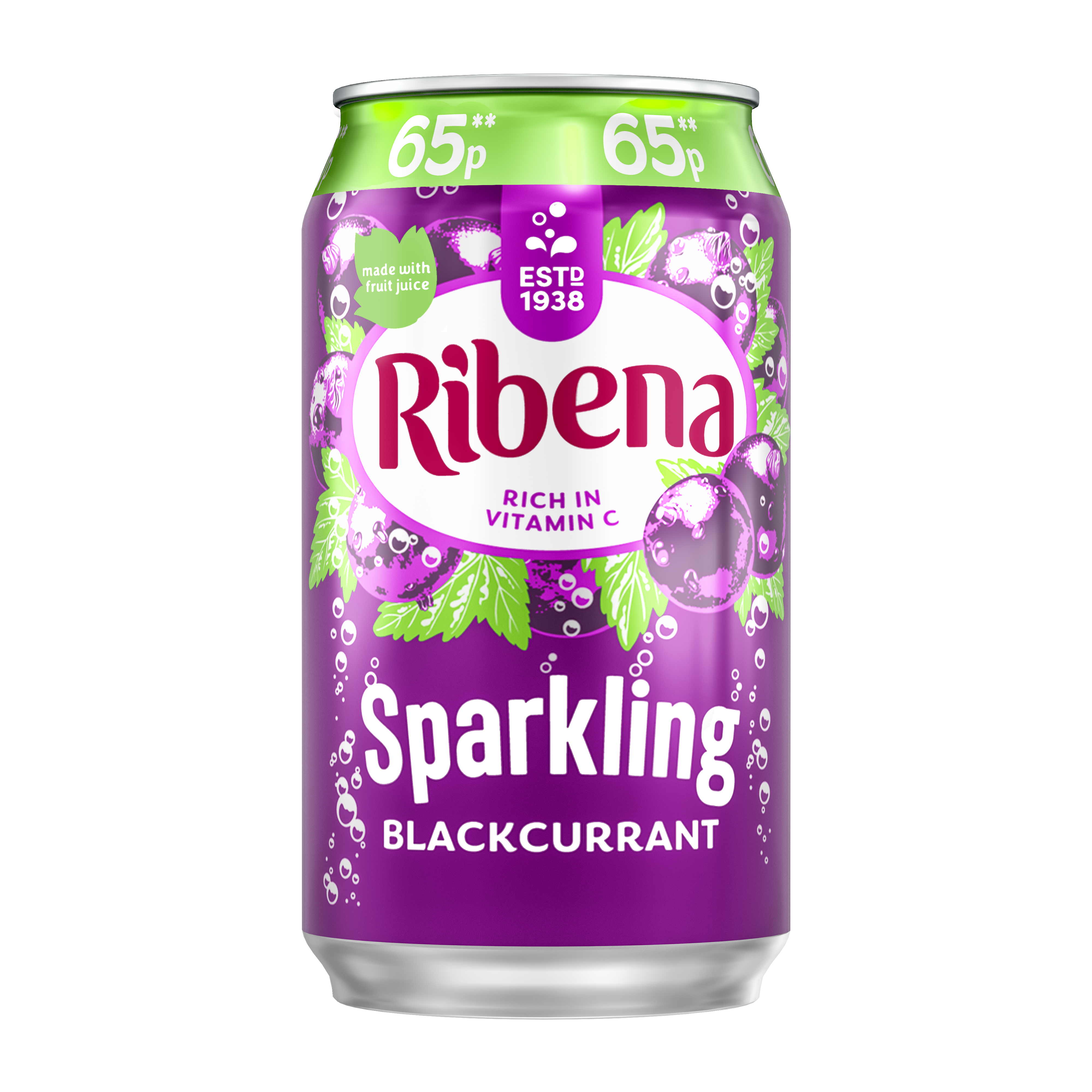 Ribena is launching a 330ml single can in two flavours, Ribena Sparkling Blackcurrant and Ribena Sparkling Raspberry, available this month.
The new format expands the portfolio from the existing three, 500ml, 2L and multipack cans, to ensure the range can meet all in- and out-of-home occasions.
Ribena Sparkling went from concept to execution in 12 weeks and has added over £1.4M [1] to the flavoured carbonates category since its September launch.
"Flavoured carbonates are experiencing growth of 4.2 per cent [2] and 330ml cans are growing at 7.3 per cent [3]. Even though we knew Ribena Sparkling was going to be loved by shoppers, the new range has exceeded our expectations. Combining Ribena Sparkling's performance and the opportunity that exists within single cans, it made sense to bring out Ribena Sparkling in this format." says Charlotte Flook, Head of Brand, Ribena, at Suntory Beverage & Food GB&I.
"There's less than 4 per cent [4] cross shopping between PET and cans so this launch will really help retailers see more sparkling sales from different shoppers choosing the Ribena range," adds Flook.
Designed to sit alongside retailers' flavoured carbonates range in the chiller – separately from Ribena's core juice drinks – Ribena Sparkling is aimed at shoppers looking for new fizzy drink options.
"We know high-impact advertising is critical in helping our retail partners drive sales. Ribena Sparkling, like the rest of our Ribena range, will benefit from best-in-class marketing activity in 2021." Flook concludes.
The new Ribena Sparkling Blackcurrant single can format joins the 500ML and 2L formats in being available in both price-marked and standard packs. Ribena Sparkling Raspberry 330ml single can is available in PMP.
Ribena Sparkling Blackcurrant, 330ml/ 500ml / 2L / 6x330ml
RRP*: 80p/65p PMP (330ml) / £1.50 or £1.09/two-for-£2 PMP (500ml) / £1.85 or £1.79 PMP (2L) / £2.99 (6x330ml) Case size: 24 (330ml) / 12 (500ml) / 8 (2L) / 4 (6x330ml)
Ribena Sparkling Raspberry, 330ml / 500ml / 2L   
RRP*: 65p PMP (330ml) / £1.50 or £1.09/two-for-£2 PMP (500ml) / £1.85 or £1.79 PMP (2L) Case size: 24 (330ml) / 12 (500ml) / 8 (2L)
[1] Ext IRI, Marketplace GB, latest 52 weeks to 22.11.20
[2] EXT IRI, MarketPlace GB, Value, latest 52 weeks to 22.11.20
[3] EXT IRI, Marketplace GB, latest 26 weeks to 26.09.20
[4] Dunnhumby Cross Shop analysis FOS and BOS with Key Competitor August 2020