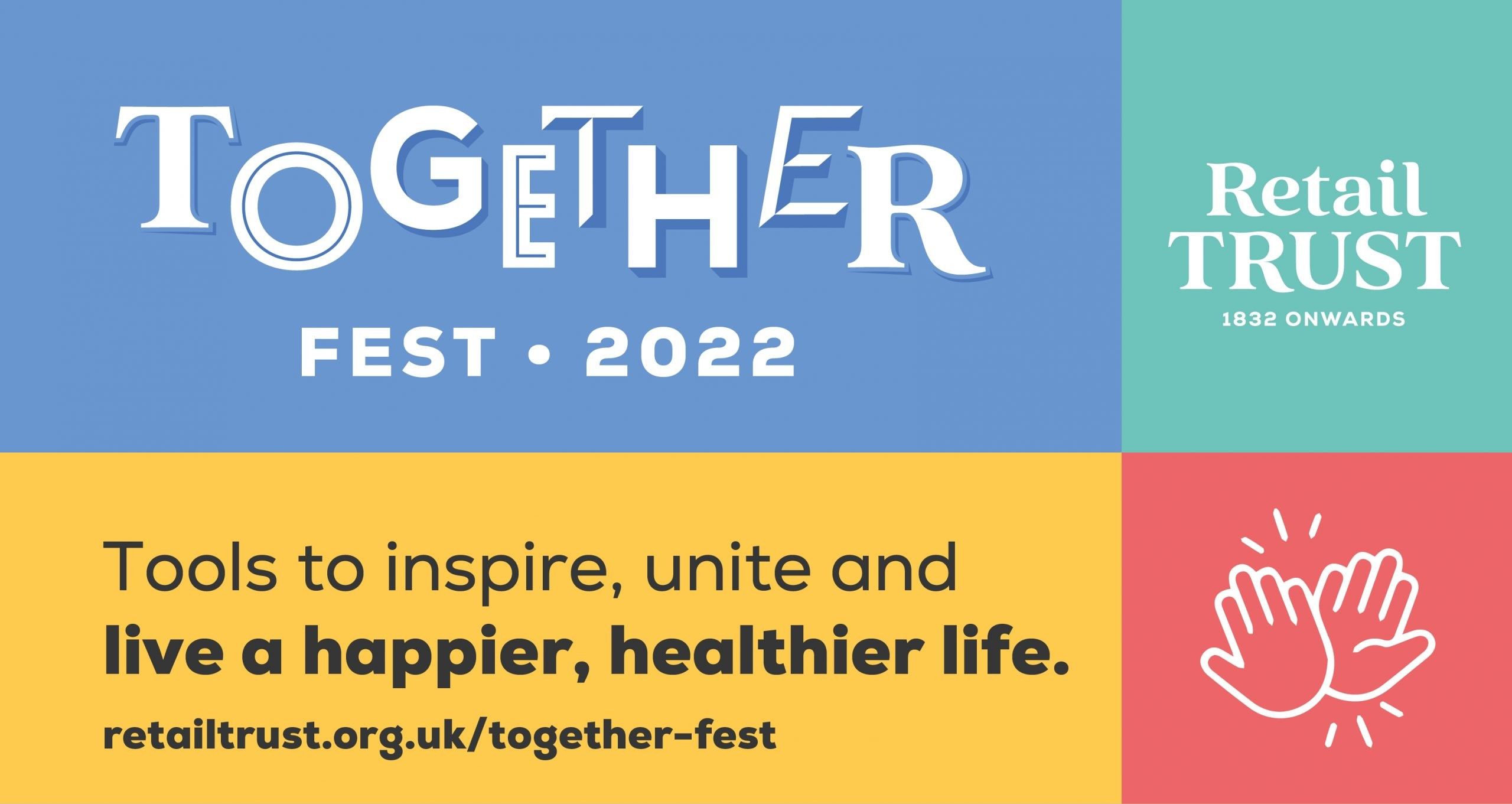 Industry charity the Retail Trust is launching the UK's first wellbeing festival for retail employees to give hundreds of people from the sector new tools to inspire, unite and live happier and healthier lives.
Together Fest, which takes place at The Truman Brewery in London during Mental Health Awareness Week, will offer expert-led masterclasses, activities and live entertainment to staff from more than 50 UK retailers including ASOS, H&M and Iceland. It is also being supported by B&Q, Screwfix and Kärcher UK.
More than 600 retail workers are expected to attend the event on 12 May which will feature more than 25 wellbeing experts and talks on everything from coping with anxiety to dealing with money worries and improving sleep quality. There will also be live cookery demos, mixology lessons, energising workouts, and arts and craft.
Together Fest will conclude with a live sunset DJ set from Capital FM host and TV presenter Roman Kemp on the event's main stage. And Roman will be joined by fellow headliners:
Presenter, author and flexible working campaigner Anna Whitehouse AKA Mother Pukka who will host the event
Podcaster, entrepreneur and former Made in Chelsea star Jamie Laing, who will share his own experiences living with anxiety and panic attacks
Comedians Matt Green, Rhys James and Jordan Brookes who will perform a live stand-up show
Roman Kemp said, "I'm delighted to be joining the Retail Trust at Together Fest and entertaining you all and to help shine a light on how we can better take care of our own wellbeing."
Anna Whitehouse said, "I have spent the last six years campaigning for employers to recognise the very real human needs of their employees, so to see a charity like the Retail Trust putting mental health support, financial aid, counselling and other vital services front and centre for their retail colleagues is – on a very personal level – incredible. I am honoured to be hosting the inaugural Together Fest, which is sure to be an uplifting, empowering day celebrating the power of community and the wonderful things that can happen when we share, support and encourage one another."
Jamie Laing said: "Like many people, it has taken me years to recognise and learn how to manage my mental health. Living with anxiety and panic attacks can feel isolating, so I am grateful and excited to be joining the Retail Trust's Together Fest where we can have honest conversations about these vital issues and support one another to make emotional wellbeing a priority. Can't wait to see you there."
The launch of the event follows a tumultuous two years for everyone working in retail, with demand for the Retail Trust's health and wellbeing and financial aid services for retail workers nearly doubling during the pandemic.
Chris Brook-Carter, chief executive of the Retail Trust, said, "Demand for our services has never been higher so we need to find new ways of supporting and connecting with retail workers across the UK as they continue to face ongoing uncertainty, stress and risk of burnout. Together Fest will bring together as many retail heroes as we can to support and celebrate everyone who works so hard to keep their businesses and the country itself moving.
"As the first event of its kind for retail workers, we want Together Fest to represent everything that the Retail Trust has always stood for; both by inspiring and equipping people with the right tools to improve their wellbeing, and by instilling a real sense of belonging and pride in working for the retail industry. We hope it will leave them encouraged, inspired and entertained, with ideas and practical solutions they can put into practice at home, work and share with their colleagues. And we believe it will really prove that the retail industry is strongest when it comes together in this way."
The Together Fest line-up
 MAIN STAGE
Host: Anna Whitehouse, AKA Mother Pukka, broadcaster, presenter, author and flexible working campaigner.
Jamie Laing: 'Imposter syndrome and me'
The podcaster, entrepreneur and former Made in Chelsea star opens up about learning to live with anxiety and overcoming panic attacks.
Laughter therapy
Stand-up comedy to get the endorphins pumping
 Sunset DJ session
Roman Kemp brings the tunes!
STAGE 1: Inspire
 Secrets of resilience
How to build and nurture your inner strength for the moments you need it most.
 The money clinic: financial wellness made easy
From handling bills to having awkward conversations, financial wellness experts answer your most pressing money questions.
Generation worry? Anxiousness and how to handle it
Symptoms, triggers and coping techniques for feelings of anxiety. Plus, how to spot the signs that somebody is struggling.
Man down: how to get more men talking
How to get more men talking and tackle male mental health, hosted by Book of Man editor Martin Robinson
Stage 2: Empower
How to find your cheerleaders
The power of connection and how to find your community at work and in life.
Masterclass: from burnout to brilliance
The 7 stages of burnout (and how to restore the balance) by burnout coach and author Jayne Morris.
The sleep clinic: secrets to a better night's sleep
Sleep Geek, AKA James Wilson's secrets to a better night's sleep.
Don't panic: how to keep calm under pressure and navigate stressful situations,
With Anxiety Josh, AKA Joshua Fletcher.
WORKSHOPS
Take a breath
Discover the power of conscious breathing designed to soothe anxiety and aid mental wellness, by transformational breathing coach Rebecca Dennis.
Face yoga
Learn the art of DIY face massage and acupressure to support relaxation, ease stress and bring calm when you need it most, by Luminous Face Yoga's Philippa Mitchell.
 Sound bath
Immerse yourself in a world of relaxing sound frequencies and restorative meditation to soothe the mind and heal the body, by leading sound bath instructor David Tran, from BLOK.    
Meal hacks
Live cooking demos by top chef Jasmine Hemsley and Georgina Hayden, on how to eat well when you're time-poor (and without spending a fortune).
 Plus:
All-day crafting table and workshops
Colour therapy: mindful colouring
Barista lessons and smoothie making
And so much more!