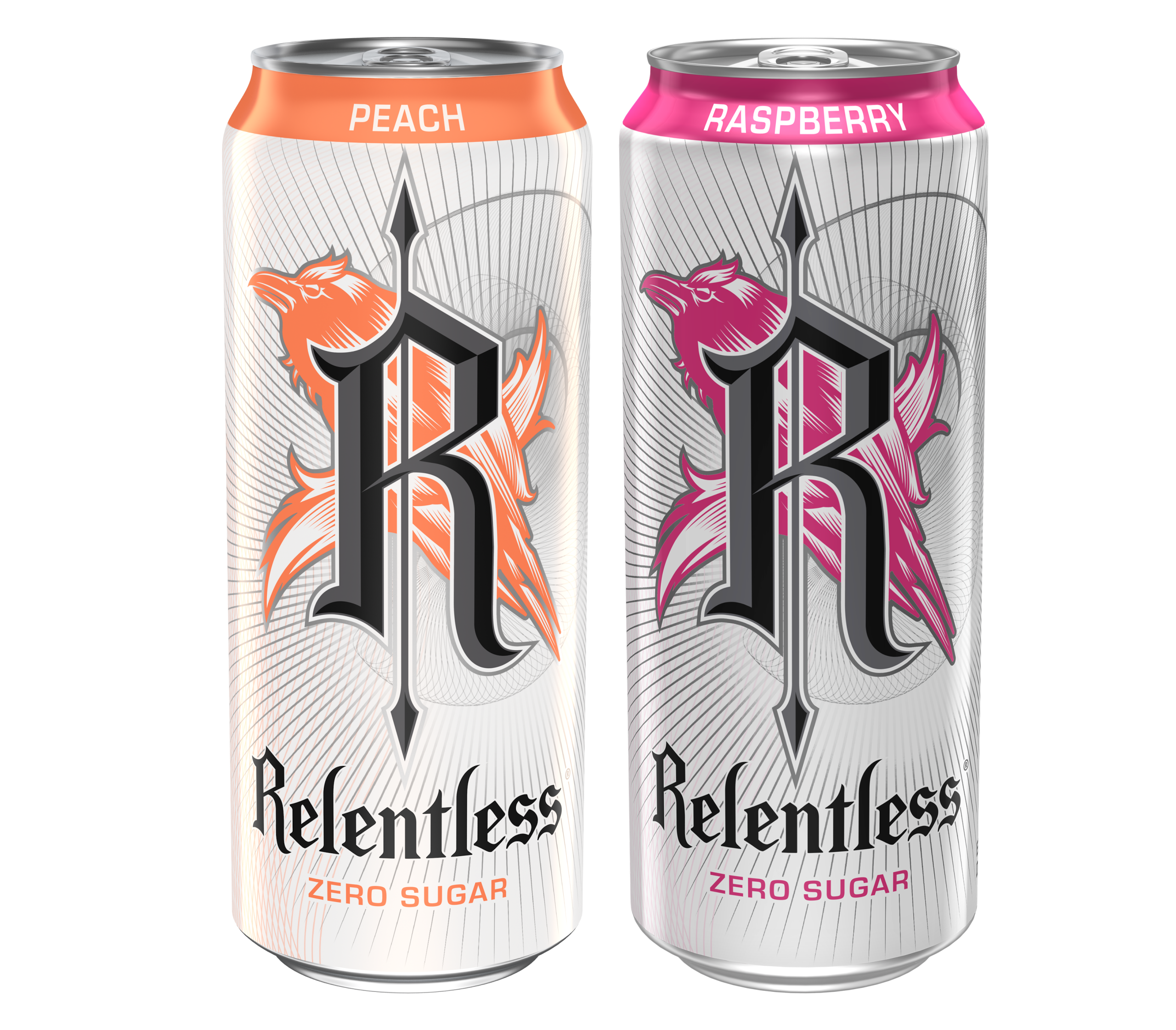 Coca-Cola Europacific Partners (CCEP) is launching a new Relentless Zero Sugar range, which includes two flavours, Peach and Raspberry, and bold new pack design to broaden the appeal of the brand.
Relentless Zero Sugar Peach and Relentless Zero Sugar Raspberry is available now and boasts a light and refreshing energy blend without the sugar. The new duo will feature eye-catching white and pink/peach can designs whilst retaining the recognizable Relentless "R" motif in the centre of the pack.
The new fruity variants are designed to fuel additional growth of the Relentless brand, which is worth over £46m and up 10 per cent in value over the past year.  It will also help retailers tap into the growth of the wider energy drinks sector – now worth £1.52 billion – and the continued popularity of sugar-free, HFSS-compliant drinks.
Relentless Zero Sugar Peach and Relentless Zero Sugar Raspberry will be available in both plain and price-marked 500ml packs for shoppers to enjoy on-the-go.
This new product and refreshed can design gives Relentless the perfect opportunity to drive its #WithoutLimits brand positioning and widen its appeal amongst young adult fans.
The integrated campaign will be amplified via digital, PR, influencers and through in-store activations.
The campaign will be brought to life via a series of energetic digital content which will follow two London creatives around the city.  Media partnerships and event activations will further immerse fans in the Relentless world and drive product trial.
Living without limits means championing freedom of expression and inclusivity. This campaign will inspire people to do just that and demonstrate how Relentless Zero Sugar is the perfect fuel for those who want that lifestyle.
The brand will also be rolling out new point-of-sale (POS) materials including shelf strips, totems, wobblers, free-standing display units to drive excitement in-store. Convenience retailers can request POS materials via My.CCEP.com from June.
"Our energy drinks portfolio has fuelled the category's growth over the past twelve months and we've continued to excite energy drinkers with new flavours and innovations," said Martin Attock, Vice President of Commercial Development at CCEP.
"The new Relentless Zero Sugar flavours will bolster our zero sugar offer which includes Monster Ultra, the No.1 zero sugar energy drink in GB, and help retailers capitalise on the increased demand for energy drinks without sugar. We're confident these new flavours and bold packaging designs will bring excitement to the energy fixture and drive sales, so we're urging retailers to get stocked up."