After what the country has gotten used to over the past twelve months, the strictures that Ramadan brings with it will perhaps seem easier to bear this year, as Muslims fast from dawn to dusk for a month.
By a happy coincidence (which we hope will remain so, in the interim) Ramadan this year will begin in the evening of Monday, 12 April, exactly the date when many of the most severe lockdown restrictions come to an end and shops begin to re-open. Weather permitting, it may well be possible to celebrate the end of the day outdoors at a restaurant if so desired!
By the time Ramadan ends a month later, in the evening of Wednesday, 12 May, life should feel a lot more normal again, and we can probably look forward to the most joyous Eid the country has ever seen.
With each year that passes, Ramadan becomes more of a settled item in the calendar of UK life, and the market for products suitable and in demand during the period of reflection becomes more widespread.
"With nearly 2.8 million Muslims in the UK, there will be many people taking part in Ramadan across the country this April and May, presenting a real opportunity for independent retailers to be a port-of-call throughout the period and drive maximum sales," says Bestway Wholesale's Trading Director, Kenton Burchell.
Last year we pointed out how, in retail terms, Ramadan is bit of a contradiction. On one hand it is a (lunar) month-long period when your target customers don't eat anything during daylight hours, therefore threatening sales and revenue. On the other, it is an ongoing festival season where every night a welcome celebration meal – the Iftar, which means to break a fast – takes place to make up for all the food and drink that didn't pass the lips during daylight hours since the pre-dawn Suhoor meal.
It makes for an interesting merchandising period, when impulse sales will be spurred on by genuine hunger and anticipation as observers of the daily fast hurry home to start cooking and eating.
Additionally, this year, we must take into account the incredible shift in spending that has taken place during the pandemic, from larger supermarkets to local shops, as people stay home and buy items in smaller amounts, more frequently, in their close neighbourhoods.
It was an unforeseen change that has very much benefitted the revenues of the convenience sector, and can be made even more profitable by stocking the right goods for Ramadan and merchandising them to best effect.
Clearly then, the key to winning in Ramadan is the careful planning and marketing of the best range of temptations for the hungry shopper – those that will give the greatest satisfaction in the very near future when the sun goes down, and which they will likely stock up on before-hand.
The Ramadan sales boost is legendary and can go as high as 70 per cent year on year, so it is definitely worth making the extra effort.
And again, as each year passes, Ramadan – like other World Food occasions – becomes more embedded in the UK multicultural calendar. Ramadan offers very many opportunities for the independent sector and significant incremental sales are a real possibility.
Planning the Iftar
Dried fruits, crisps and snacks, fruit juices, and staples such as rice, pulses and breads, will be the mainstay of the Ramadan impulse aisle – and don't neglect sweets and pastries, tea and coffee, which often round off the evening meal. Main meal ingredients can be placed on promotion for extra sales.
For the Iftar, it's quite common and traditional for dates to be eaten before the main meal. Retailers should look to stock these, along with other dried fruits, which provide natural sugars to help restore depleted energy, and which are favourite traditional delicacies.
Following the appetisers, the dishes begin to be brought out, often starting with smaller ones. "A series of snacks are often cooked, such as paneer fritters or vegetable samosas, along with meat and vegetable spicy dishes accompanied by rice and breads," says Burchell. "Therefore, running special offers across chilled halal meats will help encourage multiple purchases."
The London-based Mediterranean food specialist Dina Foods, which is a big supplier to Muslim communities, sees sales of its Medjoul dates, Baklawa, Falafel and other savouries, as well as pitta breads and wraps, boom before and during the Islamic holy month, says Dina Foods Managing Director Mr Suheil Haddad.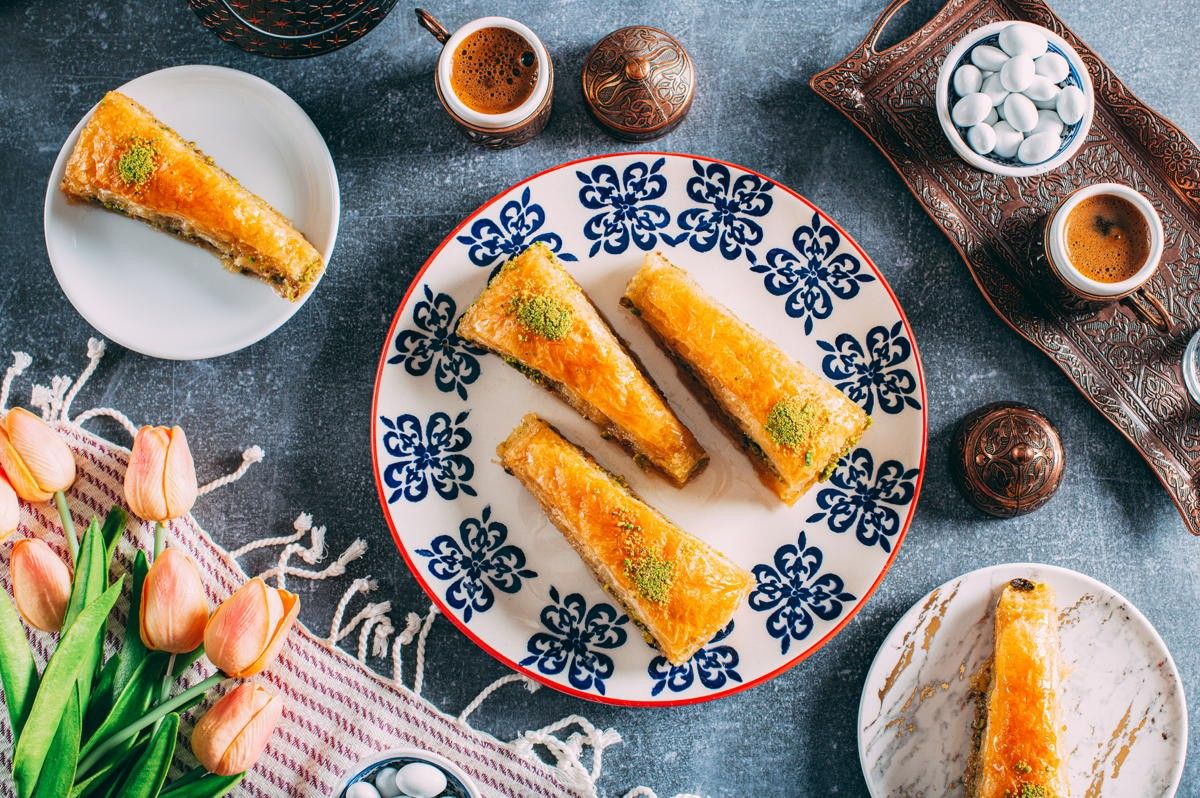 As the leading Baklawa producer in the UK, Dina Foods offers high quality products made to authentic recipes that have been handed down through the generations. All are highly popular during Ramadan and of course Eid, particularly with Dina Foods providing a specialty "Baklawa Ramadan" line.
The company's range of savouries such as falafel, vine Leaves, kibbeh (wheat, onions, and ground beef formed into football shaped croquettes), sfiha (flatbread cooked with a minced meat topping), Hummus and Baba Ganoush also hits the mark during the Islamic holy month.
Falafels come in a range of irresistible flavours, including Dina Food's best-selling sweet potato version,together with a chilli and coriander variant. Its entire savouries range also recently attained Vegan Society certification.
Nutrition – especially under conditions of the pandemic, when it is important to keep both your health and immune system at their resilient best – means that fresh fruit and vegetables are also key for Ramadan, to help add nutrients and vitamins after the daytime fasting.
"Drinking plenty of fluids, as well as consuming fluid-rich foods, such as fruit, vegetables, yogurt, soups and stews, is very important to replace fluids lost during the day and to start the next day of fasting well hydrated," agrees the British Nutrition Foundation."Salt stimulates thirst and so it's a good idea to avoid consuming a lot of salty foods. The pre-dawn meal, Suhoor, provides fluids and energy for the day of fasting ahead, so making healthy choices can help you to cope better with the fast"
"A healthy, natural fruit smoothie is an ideal Suhoor beverage, or vegetable soups are an ideal appetiser to help break Iftar," adds Burchell, and suggests that retailers ensure they have fully stocked fresh fruit and vegetable fixtures.
And the merchandising should shout out about that delicious treats are available: "It's not just about what retailers do inside the shop, it's also important to ensure passing trade are aware retailers have plenty of Ramadan products to help entice shoppers through the doors. Utilising window space and marketing the special offers running on dedicated products will help to attract customers in and maximise sales during this time."
It goes without saying that the finest basmati rice will be in great demand, so it's time to ensure you have the right-sized larger packs of Tilda in-store. Last year, big bags were worth a massive £50 million – five percent up on 2018-19, with Ramadan accounting for 36 per cent of annual sales volume for larger packs. But smaller ones meeting everyday needs are also vital to stock for the right range to guarantee maximum sales. Basmati in 2kg and less is worth £15.5 million– but bigger is certainly getting better in Convenience. (Tilda's Head of Marketing, Anna Beheshti, told us that big bags were growing an amazing 90-plus per cent in value across total Convenience last year.)
"Tilda would recommend stocking a range of formats," Beheshti said. "Tilda Pure Basmati is available in the following pack sizes: 500g, 1kg, 2kg, 5kg, 10kg and 20kg." For Ramadan, "shoppers usually trade-up to larger pack formats like the 5kg, 10kg and 20kg," she advises.
Biryani dishes are also particularly popular during Ramadan with consumers cooking large pots of different biryanis and pulavs. Starting with the right rice is massively important to getting these popular recipes right.
For those meals, Tilda Grand Extra Long Basmati rice's long and fine grains look incredible on the plate and stand out regardless of the ingredients it's combined with. Grown high up in the misty valleys of the Himalayas, it is available in 5kg, 10kg and 20kg packs.
Tilda Golden Sella Basmati is a par-boiled rice that has the quality some Muslim consumers prefer for the rice not to stick. It is a versatile Basmati rice that offers the unique taste of Basmati along with rice grains that are golden, fluffy and separate, and is available in 5kg and 10kg packs
Sweets such as Firni or Rice Kheer with rosewater and cardamom are dishes that tend to be cooked in abundance during Ramadan when Muslim consumers break their fast," she says. "Tilda Superior Broken Basmati is ideally suited for cooking Kheer as it brings rich tastes and aromas to the dish," and can be bought in both 10kg and 20kg bags.
And don't forget the breads! Dina Foods supplies authentic wholemeal, white and seeded flatbreads, pitta breads and its versatile Paninette flatbread, which can be used as a wrap, or served alongside a traditional mezze as a tear and share bread – and now even as soft-dough, two-layered pizza bases, sold in packs of four. These can be filled, used as wraps or topped like a pizza, and are perfect to share with family over Ramadan
Dina Foods have recently launched their Tasty Goodness range of pitta breads with three variants: seeded, sourdough, and plain mini flatbreads. All three are made using 50/50 wholemeal and white flour.
Quenching Ramadan thirst
Barr Soft Drinks make the fruit juices of the Rubicon brand, the exotic flavours of which have proven incredibly popular with Ramadan consumers over the years.
"Barr has a range of Rubicon products that cater for all shoppers needs," explains Adrian Troy, Marketing Director.He says that retailers should focus on the Rubicon Still range early in Ramadan when consumers are fasting and then move towards Sparkling closer to Eid celebrations to maximise incremental sales. Rubicon Deluxe also plays an important role during Ramadan as an indulgent high sugar drink – these are celebration products and can be merchandised as such to increase excitement and anticipation.
Total Ramadan sales were still up +11.5 per cent last year, with the soft drinks category showing +16 per cent growthon the previous year, according to Kantar.  "Larger Rubicon pack formats are seeing growth of +45 per cent," reveals Troy – a figure that reflects the general move under the lockdown to larger formats moving through the convenience channel.
He adds that World Food soft drink shoppers were also spending more per trip last year, buying an additional 2.2 litres and contributing to +9 per cent volume growth. The taste for the tropical and sub-tropical Rubicon fruit flavours – mango, pomegranate, passion fruit, guava, lychee – are the perfect "getaway" when we are all bound by lockdown and the tail-end of a British winter. Add a day-long fast to that and the sweet tastes are more than welcome, as sales reflect.
Snack attack!
The crisps and snacks category has fared well under the lockdown with the heightening of the Big Night In occasion, and provocative, interesting flavours have benefited especially.
The UK palate is changing, and this is nowhere clearer than in the rush to ever more spicy and chili-packed crisps and snacks. The hotter the better, seems to be the watchword, and the outdated British aversion to strong tastes (can anyone remember when only "Continentals" would consider eating garlic?).
Jon Roberts is Brand Manager at Cofresh Snacks, who are the specialists in developing Asian flavours including traditional Indian Mixes (Bombay Mix, Balti Mix, Khatta Meetha etc) potato-based 'Grills' range in six flavours, Chilli & Lemon, Jalapeno and Peri Peri. He says that The booming consumer demand for bolder, spicier food is a key driver in the popularity of world snacks, which should be prominent on the shelves during the Ramadan period.
"Consumers are becoming ever more discerning and are actively seeking out great-tasting authentic snacks in preference to mediocre alternatives.  Snacks are up +29 per cent with Sweet & Savoury Mixes up 45 per cent (Kantar 4 w/e 24.01.2021) – statistics which reflect the trend we've seen throughout Covid where people have wanted to give themselves a special treat or just to gain some energy to get through the long days of working from home."
Ramadan therefore is not only a great time to maximise sales, as consumers will be looking for tasty and traditional snacks to enjoy when they gather to celebrate Iftar each evening, but it is also a great opportunity to highlight your offering and increase your customers' basket spend, says Roberts.
Ramadan is also an opportunity for the convenience snack aisle to come off best against the mults, making the most of local and impulse influences – not least with the indies' PMP advantage. "We find in our Grills (crisps) range, PMPs are very important as they allow retailers to highlight what great value for money they are versus mainstream crisps which are also priced at £1 but are often in smaller packs," Roberts confides.
To help retailers make the most of Ramadan, Cofresh is offering some of its most popular snacks – as well as some exciting new 'limited edition' collections – in share pack formats for extra convenience and value.  "Must haves" for Ramadan also include three of Cofresh's classic Mixes – Bombay Mix, Chilli & Lemon Bombay Mix and Hot & Spicy Bombay Mix in 325g packs – as well as the best-selling Chilli & Lemon and Jalapeno Grills, and Hot Chilli Hoops, in 80g sharing bags.
Additional share packs perfect for Ramadan include:
New Masala Chips and Chilli Chips (120g)
New 'Party Mix' packs of assorted Grills, Spirals and Hoops in three delicious flavours – Cheese & Jalapeno, Sweet Chilli and Sour Cream & Chive (120g)
Chilli& Lime and Hot & Spicy Corn Crackers (120g)
Mango Chutney and Chilli& Lemon Poppadums (100g)
Merchandising Ramadan
Ramadan 2021 (or 1442 if you go by the Islamic calendar) is sure to be a interesting one. How far gatherings will be allowed remains to be finally determined, although the trend finally looks as if it's in a more open direction, which is great news for Ramadan sales.
Also, the month should be merchandised enthusiastically as a run-up preparation for the great opening up of Eid, which truly will coincide with national life starting to loosen and return to something like normal. Make the most of the excitement and longing for better times with delicious and atmospheric products appealingly displayed to tap into this national thirst for easier, sweeter and more social times.
"Creating in-store theatre early on is important to drive soft drinks sales during occasions such as Ramadan, as well as making the most of POS on the fixture," says Barr's Adrian Troy. "Retailers should signpost the category and event to entice shoppers in. Increasing online presence, where possible, will also help to maximise communications with shoppers throughout any lockdown restrictions that might be in place."
Bestway's Burchell says,"We advise that retailers create a specific Ramadan area in the store, where all related products can be found, making the shopping experience as quick and convenient as possible. Utilising a shelving space adjacent to a chiller is ideal, as that way all ambient and chilled products can be housed near to each other."
Co-fresh's Roberts emphasises the logistics of lockdown shopping to assist in Ramadan sales. "In these trying times," he says, "make sure you offer a wide range of snacks and products so that people can shop 'grab and go' with exactly what they need in one place. No one wants to be out shopping too long at the moment!Lockdowns and the pandemic have proven to be a boon to the sector as people have preferred to shop closer to home and avoid busy shops where possible."
This encapsulates the Ramadan opportunity for independents, whose connection with Ramadan observers is in any case firm to begin with on a community level:"During Ramadan, there is a great opportunity for independents to set out attractive merchandising displays and showcasing new or special offer items," Dina Food's SuheilHaddad enjoins. "Independents can operate with speed and offer greater variety than the multiples, providing a welcome platform for innovative suppliers over Ramadan and all year round," he concludes.