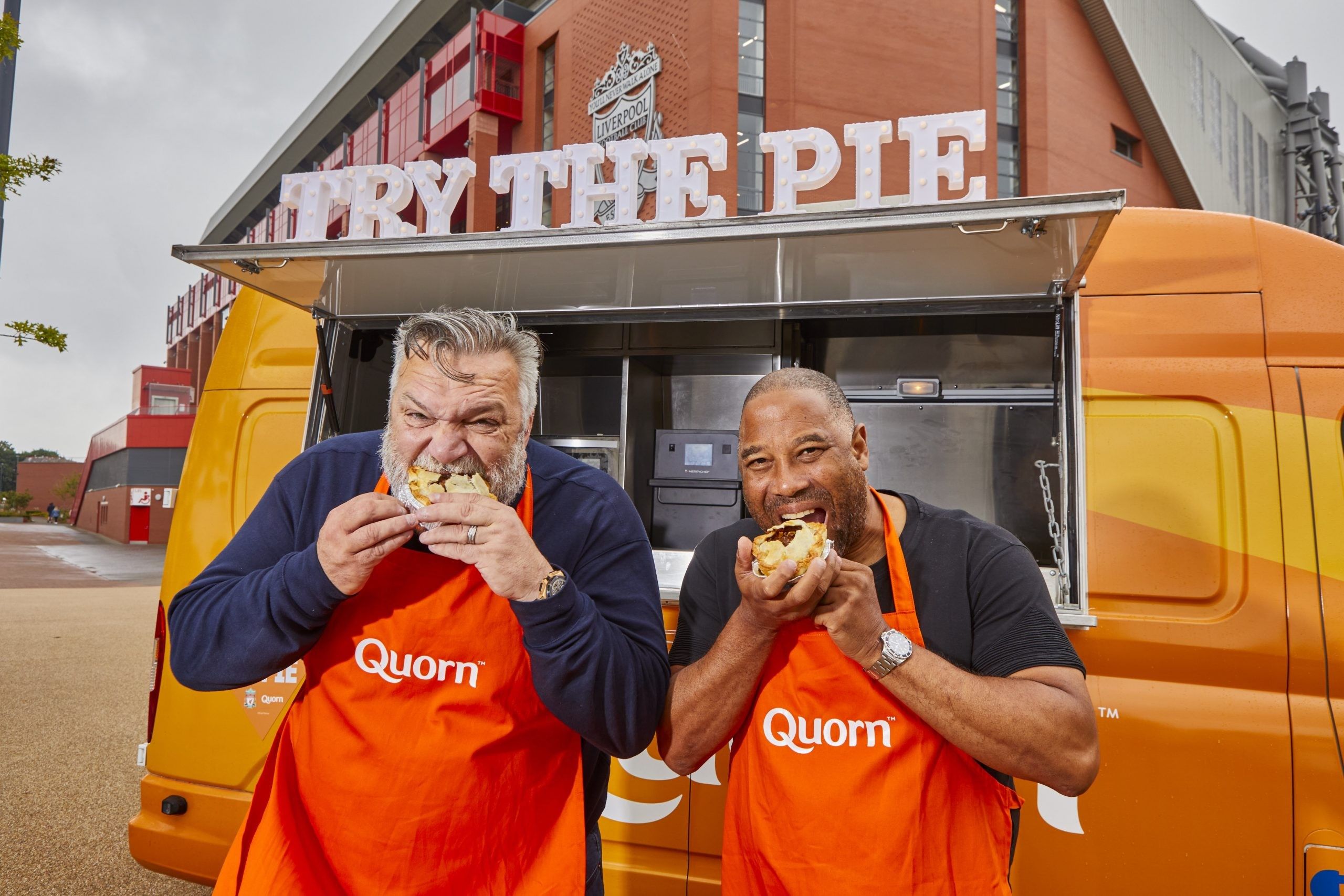 In partnership with Liverpool FC, Quorn has reinvented the classic match-day pie as part of the "pie-neering" brand's mission to become a net zero business by 2030.
Former Liverpool FC players John Barnes and Neil "Razor" Ruddock helped to launch the new Quorn Meat Free Steak Match Day Pie onto the match day menu at Anfield and will be serving it to fans at LFC's home game against Burnley on Saturday 21st August.
The launch forms part of Meat Free Match Days, an initiative from Quorn and which aims to foster greater food sustainability. Quorn became the club's Official Sustainable Protein Partner in 2020, helping LFC to contribute to greater food sustainability as part of its "The Red Way" initiative.
"If football fans at Anfield swapped to a Quorn Meat Free Steak Match Day Pie for just one home game, we can save 102,600 kgCO₂e, which is the equivalent to the energy needed for 733 matches worth of floodlights in Anfield," said Gill Riley, Marketing Director at Quorn Food.
"As you can see by our rigorous taste testing with Liverpool FC legends John and Neil, choosing Quorn is a delicious swap we can all make. Not only are our Quorn pies super tasty, they are a smart sustainable option. By making better food choices available on match day menus, we can all make a real difference."
The launch comes as new research reveals that nearly half (45 per cent) of football fans have experimented with a non-meat or flexitarian diet and 78 per cent would change their diets to help the planet.
LFC legend John Barnes said: "Making better food choices for the environment is a team effort, and given how tasty these Quorn pies are, this is one 'Super Sub' that I think our Liverpool FC supporters are going to enjoy seeing at Anfield!"
"Everyone knows I love my grub so the thing I love most about Quorn's meat-free pies are they're a sustainable choice and absolutely delicious!" added  Ruddock.
Quorn's meat-free pies will be permanent fixture on LFC's match day menus from Saturday 21st August.