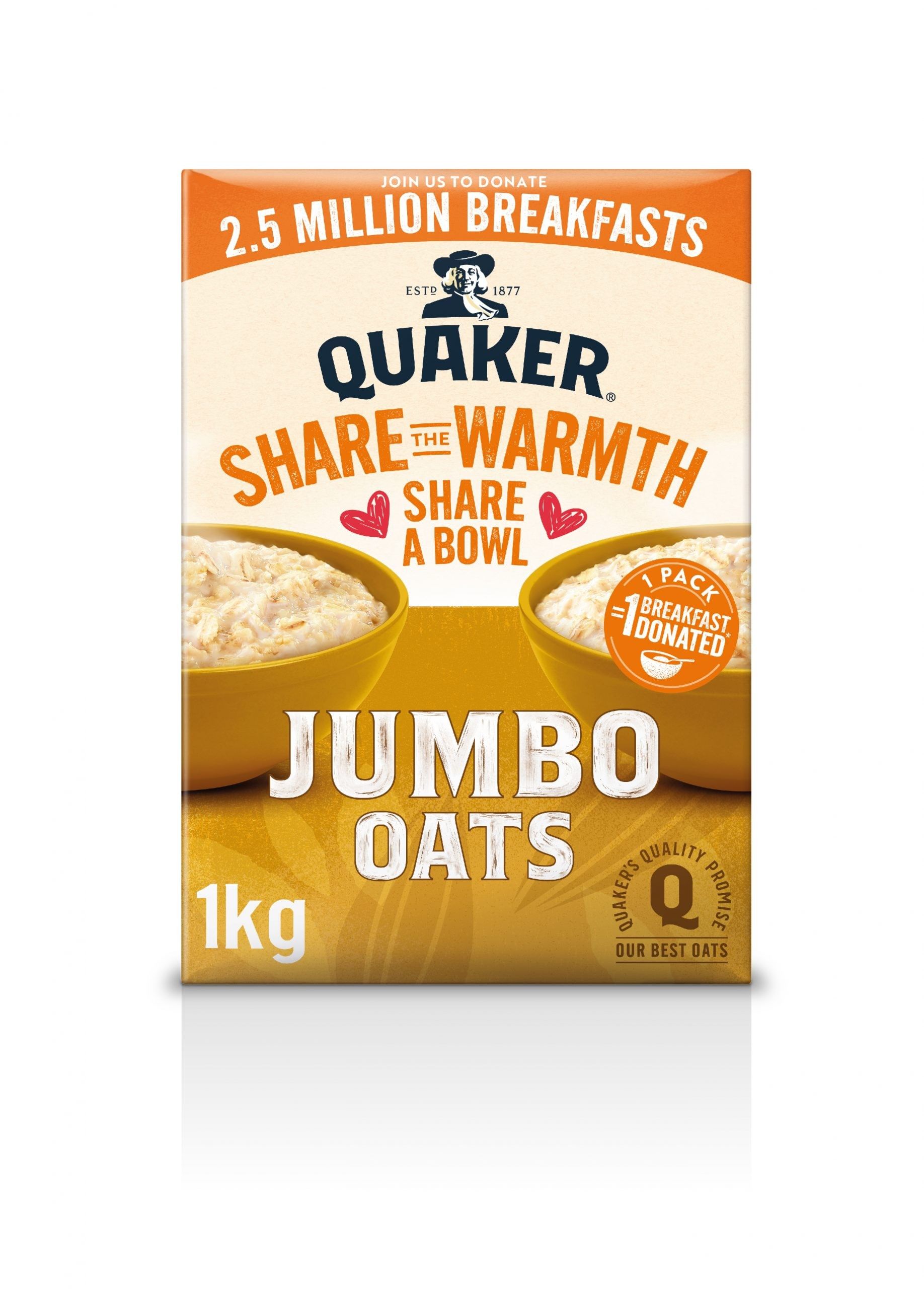 This winter, Quaker Oats is pledging to donate up to 2.5 million warm breakfasts to communities across the UK who need it most. The new campaign, titled "Share the Warmth", builds on Quaker's long-standing partnership with Magic Breakfast and is bolstered through a new collaboration with FareShare.
The new limited-edition packs will highlight that for every promotional pack sold, Quaker will donate one bowl of porridge to its charity partners Magic Breakfast and FareShare*. The packs will be rolling out across the grocery, convenience, and wholesale channels until March 2023. The campaign will be supported by wider marketing initiatives, including radio, social media and in-store activity.
"As a brand, Quaker Oats is committed to both doing good as well as making you feel good with a range of nutritious breakfast options," said Divesh Parmar, General Manager, Quaker Oats UK. "Share The Warmth was created to support communities that are facing challenging times this winter. By working in partnership with Magic Breakfast and FareShare, we can play a part in getting a warm, nutritious bowl of porridge to those who need it most. By purchasing one of our promotional packs, shoppers can also get involved and help share the warmth across the UK."
Quaker has donated millions of bowls of porridge to Magic Breakfast since 2009, providing hungry children with a nutritious breakfast before school lessons – fuelling their concentration and learning, so they can reach their full potential.
Lindsey Macdonald, CEO of Magic Breakfast, commented: "For the past 14 years Quaker has generously supported Magic Breakfast, providing millions of warming bowls of porridge for hungry children and young people at the schools we work with across the UK. We're incredibly grateful for the support from Quaker and thrilled to be part of their 'Share the Warmth' campaign."
Quaker's on-pack promotion will appear across Quaker Oat So Simple Original; Golden Syrup; Apple & Blueberry; and Sultanas, Raisins Sachets 10pk, Quaker Oat So Simple Original and Golden Syrup Family Packs; Quaker Rolled Oats 1kg; Quaker Jumbo Oats until the end of March.