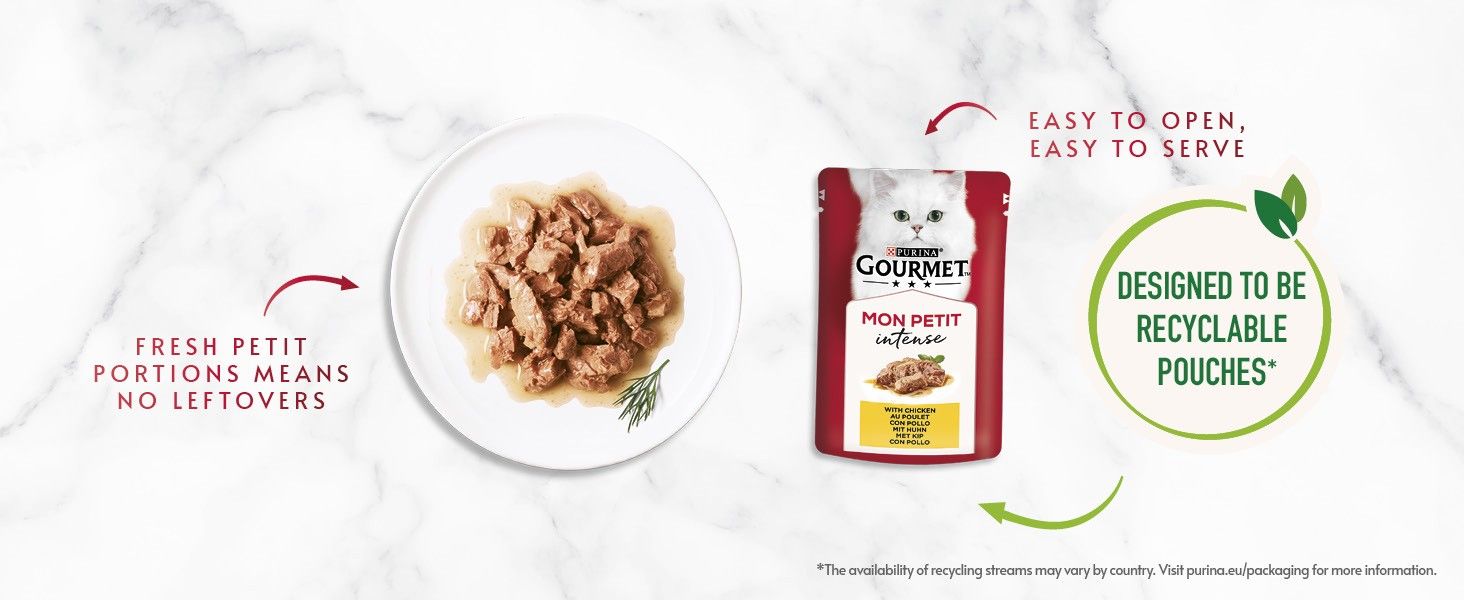 Purina, Nestlé's pet food subsidiary, has launched its new mono-material pouches, which are 'designed to be recyclable', on two of its biggest brands.
Gourmet, the European super-premium wet cat food, will debut the cutting-edge packaging with the relaunch of its Mon Petit range, building on a successful year-long pilot study under the Felix brand in the Netherlands.
Available in stores from mid-May, this new packaging is being introduced in more than 20 countries across Europe, including the UK. The Felix Soup range will get the packaging in early 2023.
The improved packaging is made of Polypropylene (PP), which allows the pet food pouches to be designed to be recyclable, whilst being resistant to high temperatures and offering robust protection for their contents.
The pouches will be sold in a cardboard box which itself is recyclable. This box will contain six pouches with three different flavours.
Purina said the relaunch marks an important step in its path towards 100% reusable or recyclable packaging by 2025. The business is also exploring innovations including new paper-based materials and piloting reusable packaging systems where customers can bring their own containers to fill with dry petfood.
"The new mono material pouches are another great example of our commitment to using simpler packaging, making recycling easier for pet owners. These new pouches demonstrate progress and can now be recycled at larger supermarkets in the UK and at kerbside in Ireland," Sokhna Gueye, Head of Packaging Nestlé UK&I, said.
"Simplification of our pouch structures will also enable this type of packaging to be part of flexible packaging household recycling collection, which has been announced by the government to be introduced by March 2027.  We look forward to rolling out mono material pouches across the rest of our UK pet portfolio in the coming years."