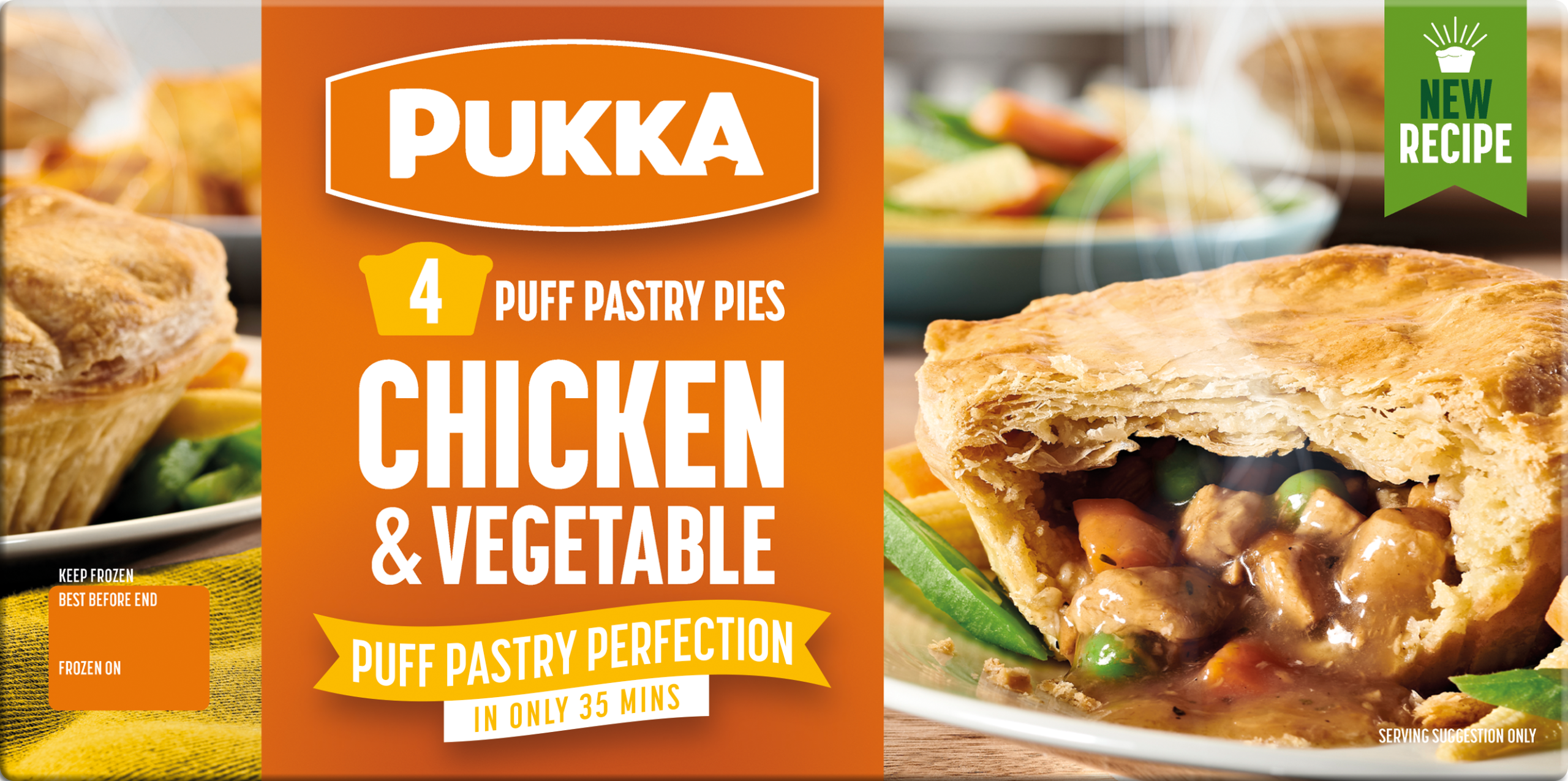 Pie maestro Pukka is building its presence and bringing its category-leading pie expertise to the frozen fixture with a new range of four-pack puff pastry pies. The "Family Favourite" range will enable retailers to shake-up their frozen pie offerings and drive sales among family shoppers with recipes that deliver on the great taste and quality missing from freezers.
Bringing taste, inspiration and excitement to the category, the oven baked range includes Beef & Vegetable and Chicken & Vegetable puff pastry pies. The Beef & Vegetable recipe features minced beef with diced carrot, swede and peas with a tasty, beef gravy. The Chicken & Vegetable contains tender pieces of chicken, diced carrots, peas and onions in a chicken gravy. Both recipes are wrapped in a light puff pastry case and bake from frozen in just 35 minutes. They join Pukka's existing frozen line-up including its microwaveable twin pack pies – available in All Steak, Cheese, Leek & Potato, Chicken & Bacon and a recently launched Vegan Minced Steak & Onion recipe.
The  range of puff pastry pies comes alongside a disruptive packaging makeover across Pukka's entire frozen portfolio. Using clear quality food imagery to stand out and entice shoppers to frozen, the revamped look brings warmth, quality and innovation to the currently cold, functional frozen aisle.
"We've been bringing the people of Britain great-tasting and award-winning pies for nearly 60 years and our latest recipes are the next step in propelling frozen sales," says Rachel Cranston, Head of Marketing and Innovation at Pukka. "And the category needs food which delivers full on flavour. Our research shows that over half of UK shoppers have negative perceptions of frozen food when it comes to taste and quality. This needs to change.
"That's why we're on a mission to fulfil unmet needs. By bringing our oven baked chicken and beef puff pastry pies to the frozen aisles, we're raising the bar in the category when it comes to quality and flavour, with recipes that we know the whole family will love. In fact, our existing range of frozen pies already outperforms competitors on quality and taste, with over half of consumers saying they'd choose Pukka above other brands."
Pukka's new frozen range comes hot on the heels of another successful year for "The People's Pie". After recently making a major move in the Savoury Pastry category with the launch of a range of Pukka Sausage Rolls, Slices and a Pasty, three of the recipes became top performers in the category after just two months.
Cranston concluded: "This exciting new launch, supported by the brand's continued strong performance, best-in-class innovation and heavyweight marketing investment, means now's the time for retailers to stock the nation's favourite pie in frozen."
Pukka's Family Favourites Puff Pastry four packs (RRP: £3.25, 362g per 4 pack) are rolling out across multiple retail, convenience and wholesale from March.