Pukka is adding a duo of new recipes which shoppers can enjoy anywhere, anytime, cold or hot. The launches are set to open the door to new meal occasions for the brand and the category, to appeal to new and existing shoppers.
Hitting shelves now, Pukka's All Day Breakfast Slice joins the brand's extensive line-up of Slices including its popular Steak Slice and Pepperoni Pizza Slice. Classic and tasty breakfast ingredients such as baked beans, sausage, smoked bacon and mushrooms are all wrapped up in a golden puff pastry case, creating a unique Savoury Pastry proposition that can be enjoyed at any time of the day, on-the-go, at work or at home.
Alongside this is Pukka's new Chicken Pasty. Following the popularity of the brand's Beef Pasty, the tasty recipe is made with roast chicken, potato, swede, onion and gravy, making it ideal for consumers who enjoy the classic flavour combinations of a pasty, but prefer chicken.
The launches follow the success of the brand's wider portfolio of Slices, Sausage Rolls and Pasty which – after just two years on supermarket shelves – are worth £15M , due to bringing full-on flavour to the category.
"We first launched our on-the-go Savoury Pastry range back in 2021 to bring a unique portfolio of taste-led products to the fixture, which catapulted us into new consumption moments through a line-up of distinctively full-on flavour Pukka Slices, Sausage Rolls and a Pasty," said Pukka's Managing Director, Isaac Fisher. "The response has been incredible and, thanks to the ongoing backing of the nation, we've already contributed £5M worth of incremental value sales to the category.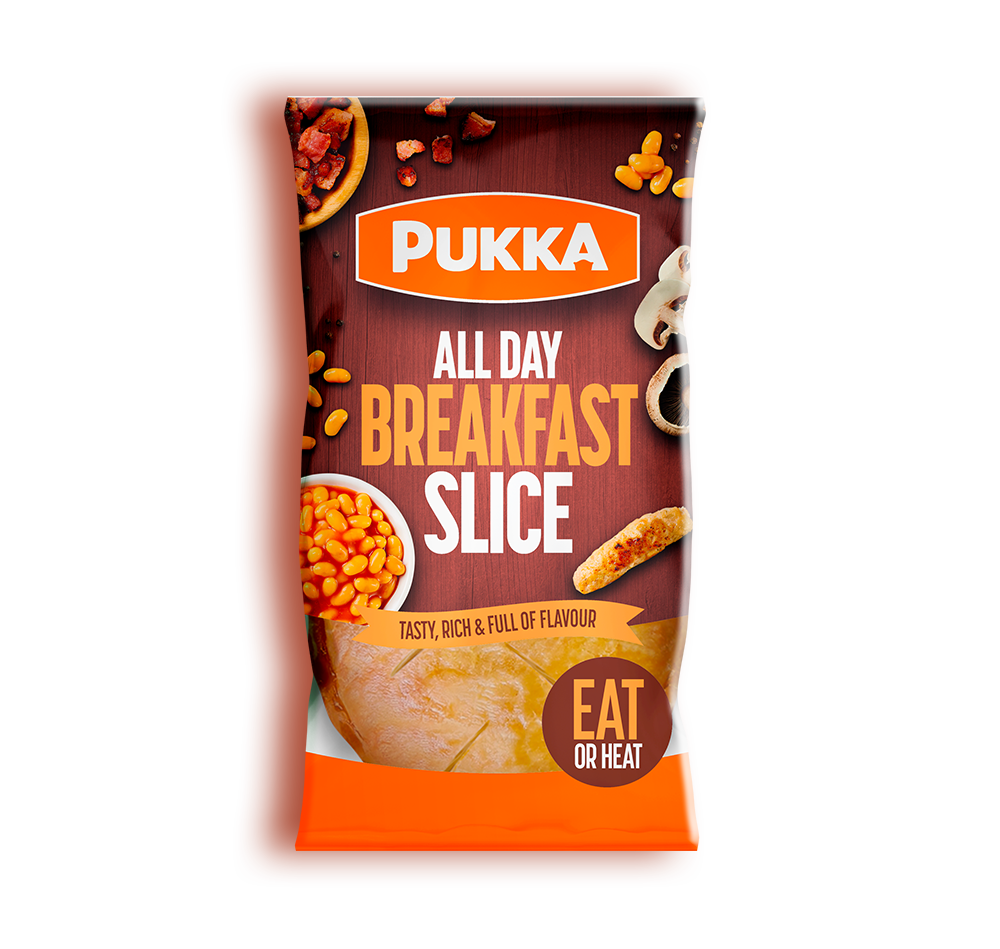 "It's clear shoppers have a real taste for savoury pastries by Pukka, and we're continuing to drive growth for the category by giving shoppers the recipes along with the full-on flavour they're hungry for, which also bring differentiation to the wider category.
"We've already taken the Slices market by storm, becoming the second-bestselling slices brand in retail , and we're going to continue pushing the category forward, with innovation such as our All Day Breakfast Slice. Bringing together great taste and something new to Slices, this launch gives shoppers the opportunity to enjoy Pukka hot or cold at breakfast, lunch, dinner – and everything in between!
"By stocking up on this launch, retailers will be unlocking a never-before-seen opportunity to get shoppers heading to the Savoury Pastry aisle throughout the whole day to attract even more new shoppers to the fixture – two thirds (67 per cent) of shoppers have said that this slice flavour appeals to them, so it's bound to be a winner .
"If that wasn't enough, fresh out of the oven is our Pukka Chicken Pasty. Traditionally, pasties are made with beef – and our very own Beef Pasty is no exception. But we want everyone to be able to enjoy the great taste of a Pukka Pasty, so launching a new version for those who prefer chicken was a natural next step.
"The best news? The recipe is already proving popular amongst Savoury Pastry traditionalists, with 81 per cent of shoppers demonstrating interest in this new full-on flavour Pukka Chicken Pasty ," Fisher concludes.
The new launches come as Pukka posts another phenomenal year of sales, with the brand growing more than two times faster than the total category, at +23 per cent, with a retail sales value of over £70 million .