Pie brand Pukka is kicking off pie-eating season with a bang, by bringing the nation three new full-on flavour recipes, set to propel further growth for Savoury Pastries, where the brand is already contributing over £13 million worth of growth.
First, Pukka is spicing up pie fixtures with its latest limited edition flavour – Doner Kebab Pie. The launch follows closely in the footsteps of its popular duo of takeaway-inspired limited editions – Pepperoni Pizza Pie and Chip Shop Chicken Curry Pie – delivering another of Britain's takeaways.
Also joining the individual pie portfolio is a Cheese & Bacon Pie. And continuing the innovation, Pukka is expanding its 'Just For Two' sharing range, with a Chicken & Chorizo Just For Two recipe, evolving the line-up to add a modern, on-trend twist to classic combinations.
The brand has carefully curated this selection of recipes to pique the interest of a range of consumers – and drive high levels of incremental sales for retailers in the process.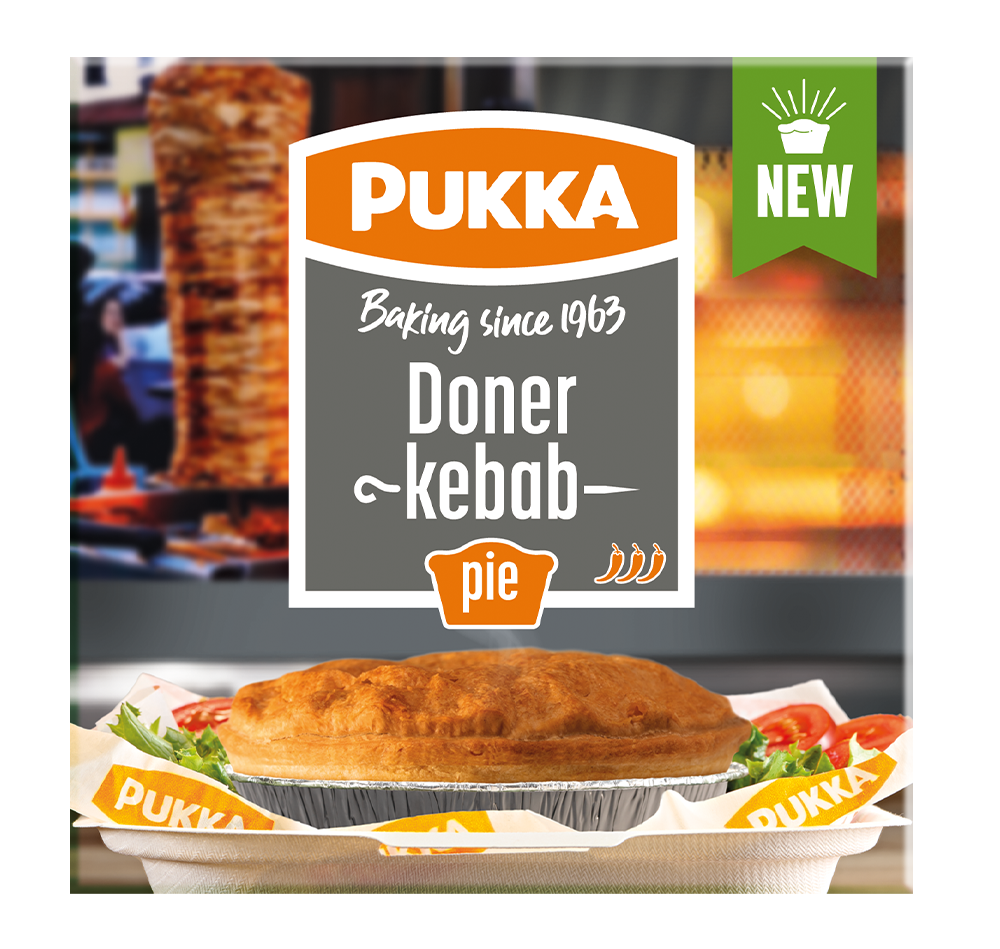 "Our tasty portfolio of full-on flavour recipes is already well-loved by consumers up and down the country in and out of home, but we're constantly looking for ways to step that up, innovate and ramp up sales – particularly at this time of year when even more people are set to tuck into pies as the weather cools and nights draw in," says Pukka's Managing Director, Isaac Fisher.
"There are 67 million people in the UK, all with different palates, and our mission is to drive excitement with great tasting new recipes so that there is a Pukka for everyone. And at the same time, we've identified an opportunity to drive a higher frequency of purchase amongst existing Pukka fans by providing even more flavours that we know they'll love.
"Take Doner Kebab, for example," explains Fisher. "Not only are we targeting pie lovers who like a little bit of spice, but we're shaking-up the pie fixture with something unique, by stepping away from pie-filling classics with a distinctive takeaway-inspired fusion flavour that's sure to get mouths watering."
Pukka's Doner Kebab Pie is yet another example of how the brand is disrupting the category with innovative recipes which pay homage to it being popular with consumers in and out of home, through bringing the nation's favourite takeaways to Pukka.
"Last year, we launched Pepperoni Pizza and Chip Shop Chicken Curry pies, bringing Britain's best-loved takeaways to pie fixtures with our distinctively Pukka twist. Doner Kebab marks the latest addition to this, and we know shoppers are going to love it – particularly because consumer testing confirmed that the pie appeals to two thirds (67 per cent) of 18-26 year olds.
"Beyond this, we're wrapping a popular, great tasting flavour combination – Cheese & Bacon – in 144 layers of our golden signature puff pastry, giving it our distinctively Pukka spin. As a brand for the people, we listened to our loyal customers, who make up 80% of our audience, and delivered a flavour they've been crying out for, for some time. This is sure to be a new classic from Pukka.
"Not only will the recipe drive a higher frequency of purchase amongst our core buyers, but we also expect it to be a segue to the pie fixture for a slightly younger shopper base. And the best news? It already appeals to 71 per cent of shoppers.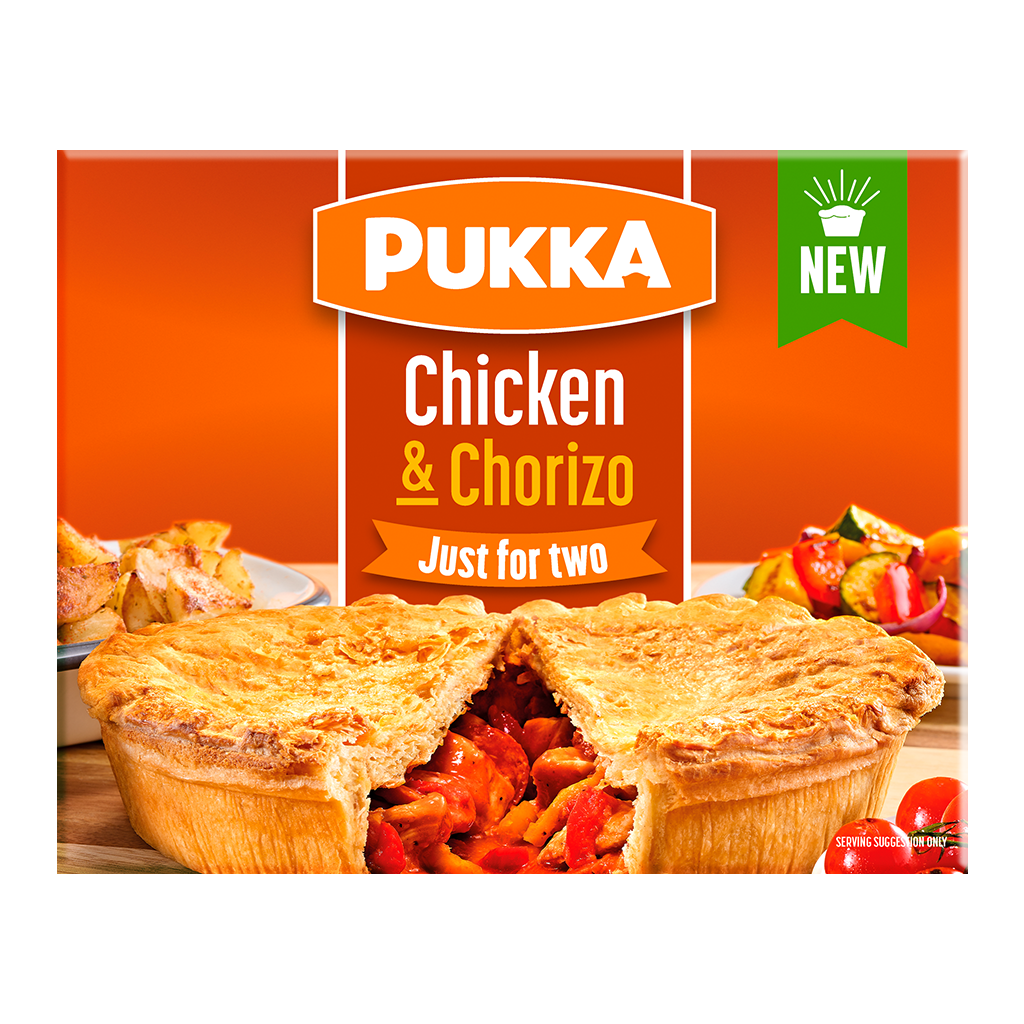 "Finally, we've extended our Just For Two range – which has been made specifically for two people to share – with a trend-led Chicken & Chorizo recipe. This expands the line up beyond 'classic' and into 'gastro'. And, in the wake of the cost-of-living crisis, timing couldn't be more perfect because we want to give consumers tasty options which will help them to elevate sharing moments at home, just because, and that's exactly what this launch will do (and 77% of consumers agree).
"For this wave of NPD, we've really focused on delivering products which can help retailers target different consumers with varying needs, and we're confident that by stocking-up on these recipes, you'll be stocking-up on incremental sales growth as well."
The new launches come as Pukka posts another phenomenal year of sales, where the brand is growing over twice as fast as the market, at +23 per cent with a RSV of over £70 million.
Pukka's new Doner Kebab Pie (218g, RRP: £1.99), Cheese, Bacon & Potato Pie (213g, RRP: £1.99), Chicken & Chorizo Just For Two Pie (539g, RRP: £3.49) will launch into wholesale and convenience retail over the coming months.