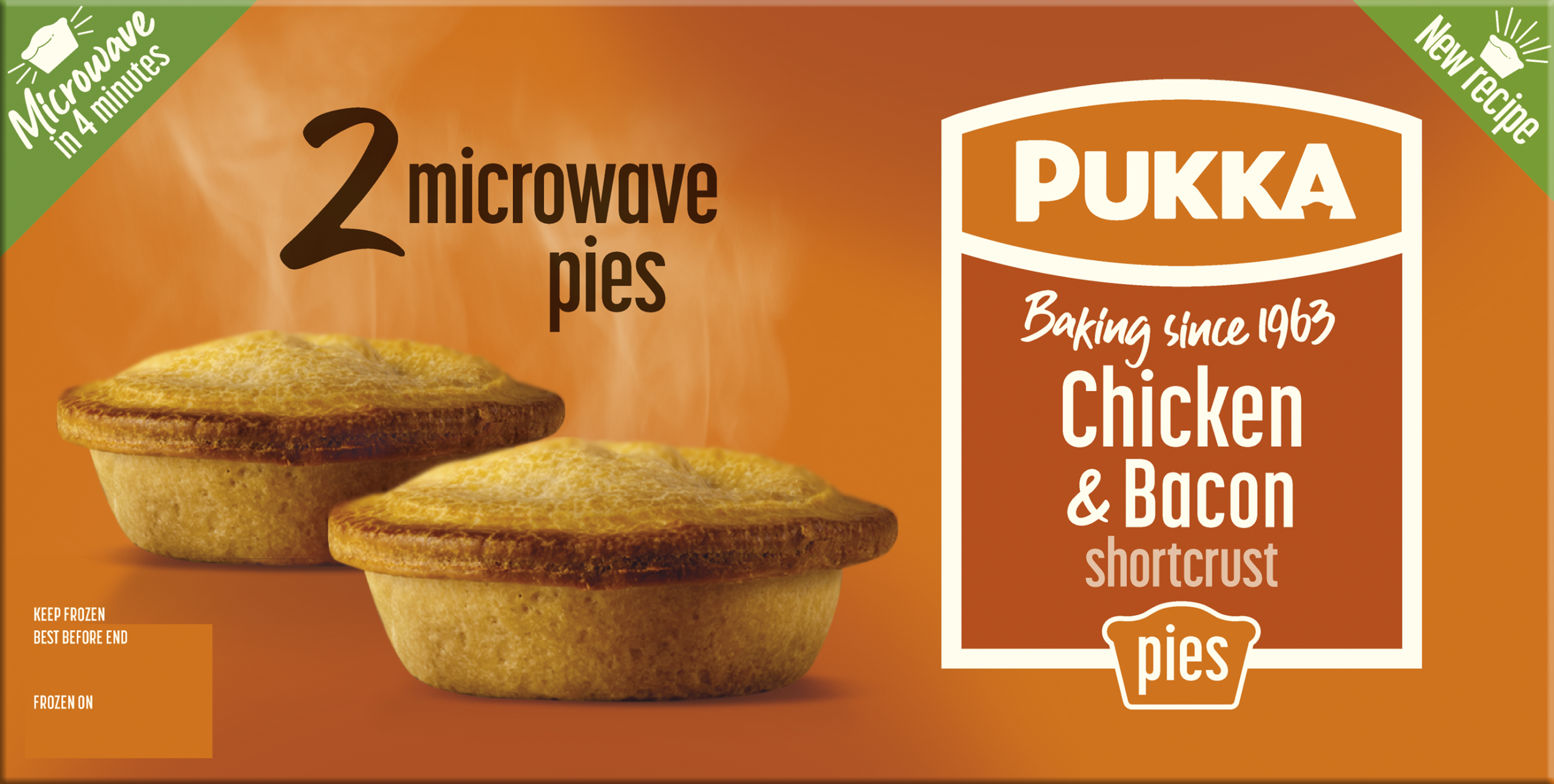 Pie brand Pukka has extended its frozen range with the launch of two brand-new SKUs: Chicken & Bacon Microwaveable Twin Pack and Vegan Minced Steak & Onion Microwaveable Twin Pack – allowing retailers to tap into demand for quick and convenient meals that don't compromise on taste.
Landing on shelves from September 5, both SKUs cook in the microwave straight from the freezer in just four minutes, ticking shopper demand for a quick and tasty meal or filling snack.
This launch sees Pukka introduce its first vegan frozen offering with The Vegetarian Society's vegan stamp of approval. With over 2 million new shoppers buying Pukka's chilled vegan range since its launch last year, and 'Creamy Chicken & Bacon' coming out top in independent consumer research, the launch of these popular variants in frozen, microwaveable formats is a natural next step for the nation's favourite.
"The pandemic has really shifted shopper views on frozen food, with the category growing +17 per cent year-on-year," said Rachel Cranston, Head of Marketing and Innovation. "It's clear that as a nation, we're falling back in love with our freezers, so it was only right for us to offer people these popular Pukka recipes in our convenient frozen, microwaveable format, to make sure there's a Pukka for everyone.
"Chicken & Bacon is a classic fan favourite and demand for vegan offerings is going through the roof, with the number of vegans in the UK up +350 per cent in just 12 months . There is clearly huge potential for a quick and tasty plant-based recipe which appeals to not only vegans – but veggies, flexitarians and meat-reduces alike," she continued.
Pukka's Chicken & Bacon Microwaveable Twin Pack will be available in boxes of 2 microwavable pies (RRP £2.75, 400g per twin pack), with Vegan Minced Steak & Onion Microwaveable Twin Pack to follow.