pladis, the leading global snacking company behind iconic brands McVitie's, Jacob's and Carr's, has unveiled a new look line-up of McVitie's favourites for Christmas 2023 that will offer festive cheer for retailers looking to capitalise on bumper seasonal biscuit sales.
Starring fresh innovation alongside a rejuvenated collection of the brand's bestsellers, the 2023 festive selection from McVitie's is set to help retailers tap into the growing Sweet Seasonal Biscuits opportunity which, in 2022, topped sales of £150 million (+1.8 per cent) .
Building on the seasonal demand for premium assortments – which last year grew by +4.6 per cent – pladis is refreshing its bestselling deluxe assortment brand with new McVitie's Victoria Chocolate Creations, which have been dubbed its "most luxurious biscuit collection yet." Meanwhile, leveraging the enduring seasonal appeal of McVitie's Jaffa Cakes, pladis is also adding a fun-filled Jaffa Tree to the line-up for Christmas, offering great in-store theatre and the ultimate impulse gifting purchase.
"Sales of Sweet Seasonal Biscuits reached new heights last year, so we know that consumers are hungry for festive treats," says James King – Marketing Director McVitie's at pladis UK&I. "But they're also after something new, particularly at Christmas, so it's a great opportunity to shake things up a little, catch shoppers' eyes in store, and get on their shopping lists.
"That's why we're giving some of our most-loved seasonal favourites a makeover for Christmas 2023 – to create fresh appeal for all our favourites, whilst also making sure we're catering to shoppers seeking unique novelty products for the festive season.
"And, with biscuit gifting proving more popular than ever and growing 25 per cent year on year, we're confident we've hit the right formula to inspire shoppers and drive further value into the seasonal biscuit opportunity."
The McVitie's 2023 Christmas range will be backed by a "Ready, Steady, Christmas" seasonal campaign aimed at celebrating the nation's love for McVitie's' family favourites. Featuring sampling and online activation, the campaign will be brought to life by in-store theatre and eye-catching point of sale materials.
Products in the McVitie's Christmas range will be widely available across all channels from the end of August.
NEW for 2023
McVitie's Victoria Chocolate Creations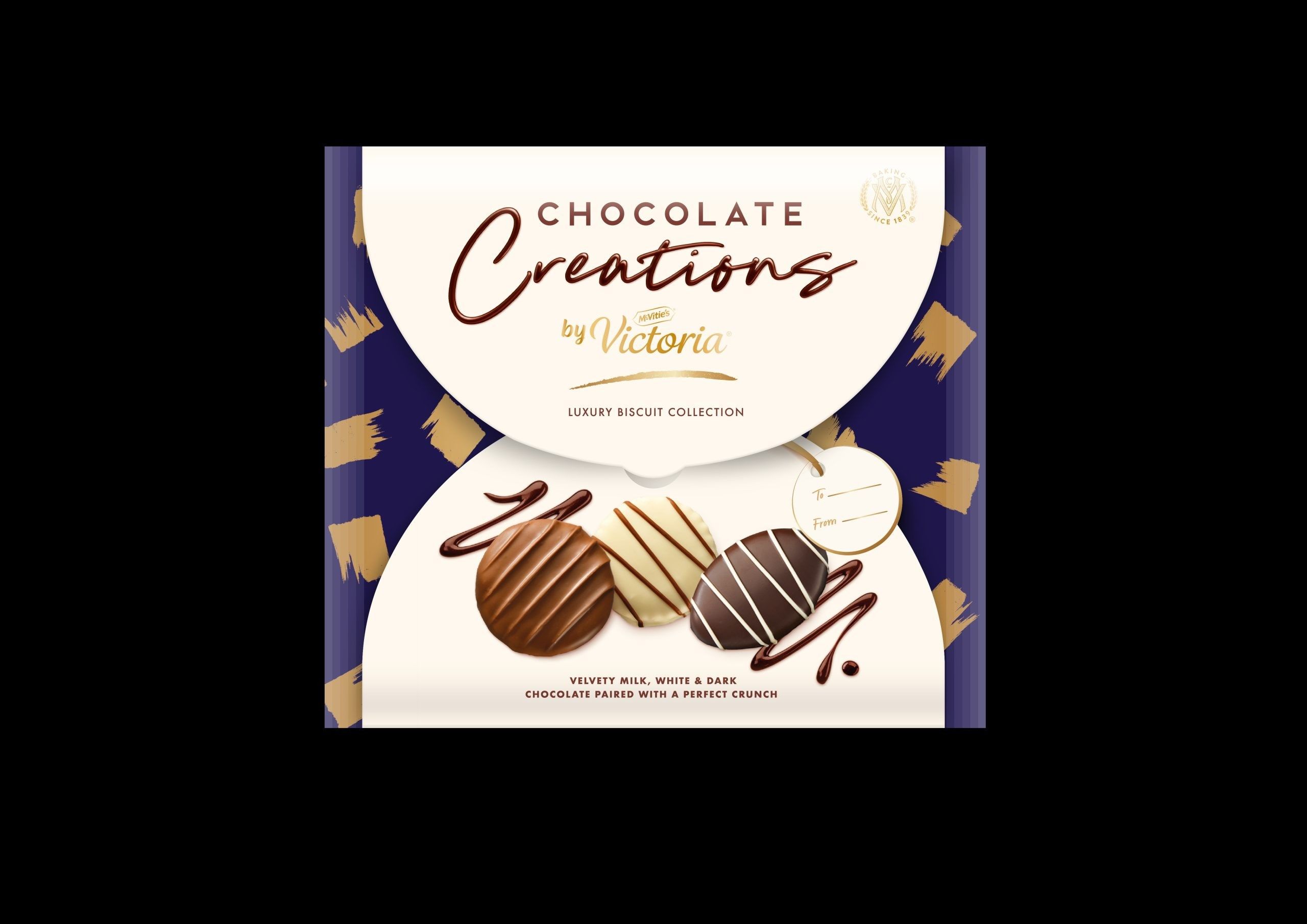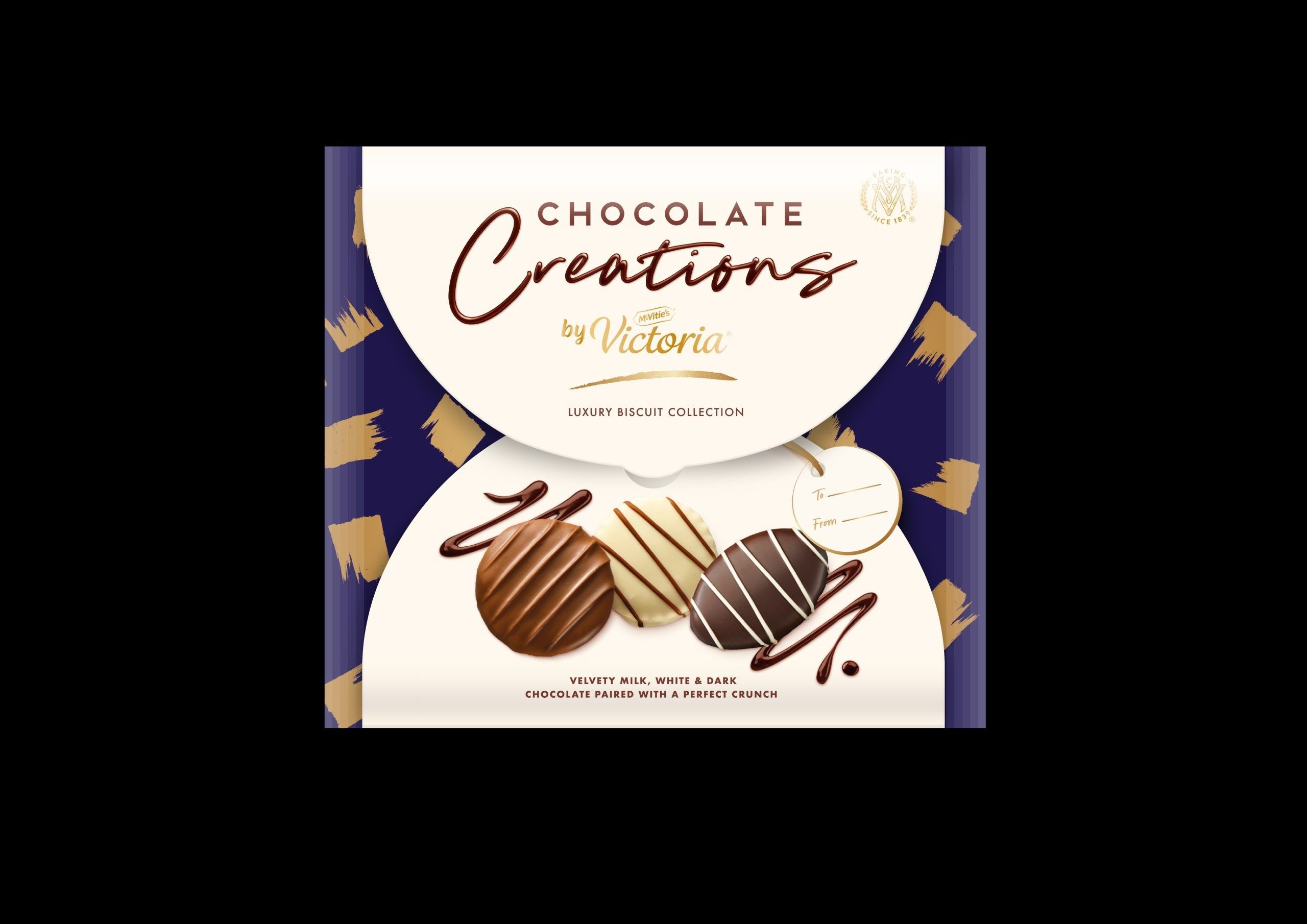 Introducing McVitie's' most luxurious seasonal assortment yet. McVitie's Victoria Chocolate Creations has been refreshed for 2023 – now with an upgraded, premium packaging design with a unique present-like opening. Featuring decadent product cues and a personalised gift tag, it's the perfect gift for festive shoppers seeking something extra-indulgent.
McVitie's Victoria Chocolate Creations includes eight luxurious biscuit varieties enveloped in layers of luxuriously thick milk, dark, and white chocolate – paired with the perfect crunch. Available in a 340g box (RSP: £6.75), this deluxe assortment is a seasonal gift that is sure to impress.
McVitie's Jaffa Tree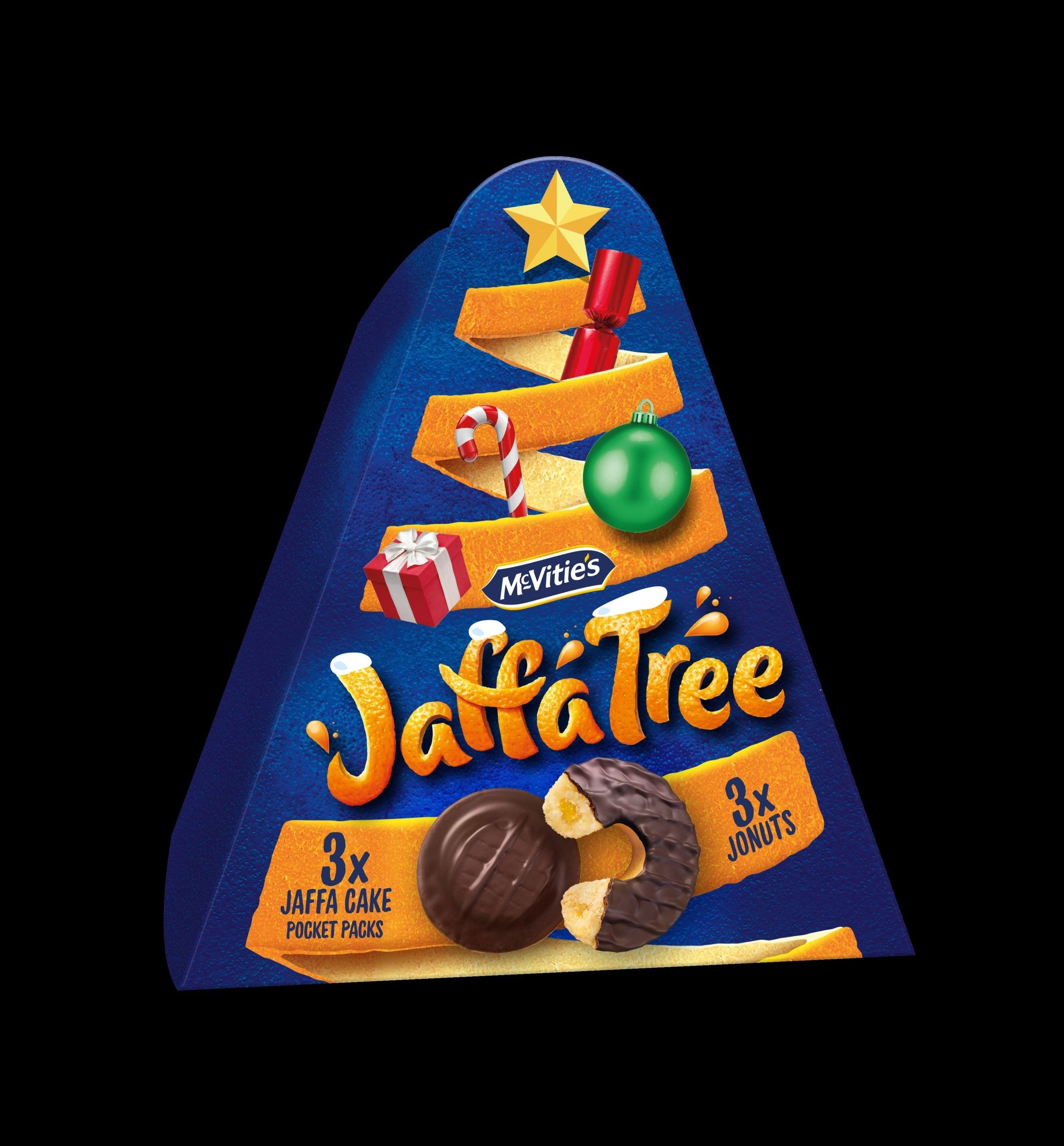 Jaffanatics are in for a treat with the all-new Jaffa Tree (RSP: £3), exclusively available for the 2023 season. Adorned with the iconic Jaffa branding, this delightful Christmas tree-shaped carton holds a treasure trove of treats comprising a unique selection from the £64.8M McVitie's Jaffa Cakes brand .
Both loyal Jaffanatics and seasonal shoppers in search of exciting and affordable gifting options can tuck into 3x Jaffa Cakes Snack Packs, plus 3x of the brand's revolutionary Jaffa Jonuts.
McVitie's Penguin Cracker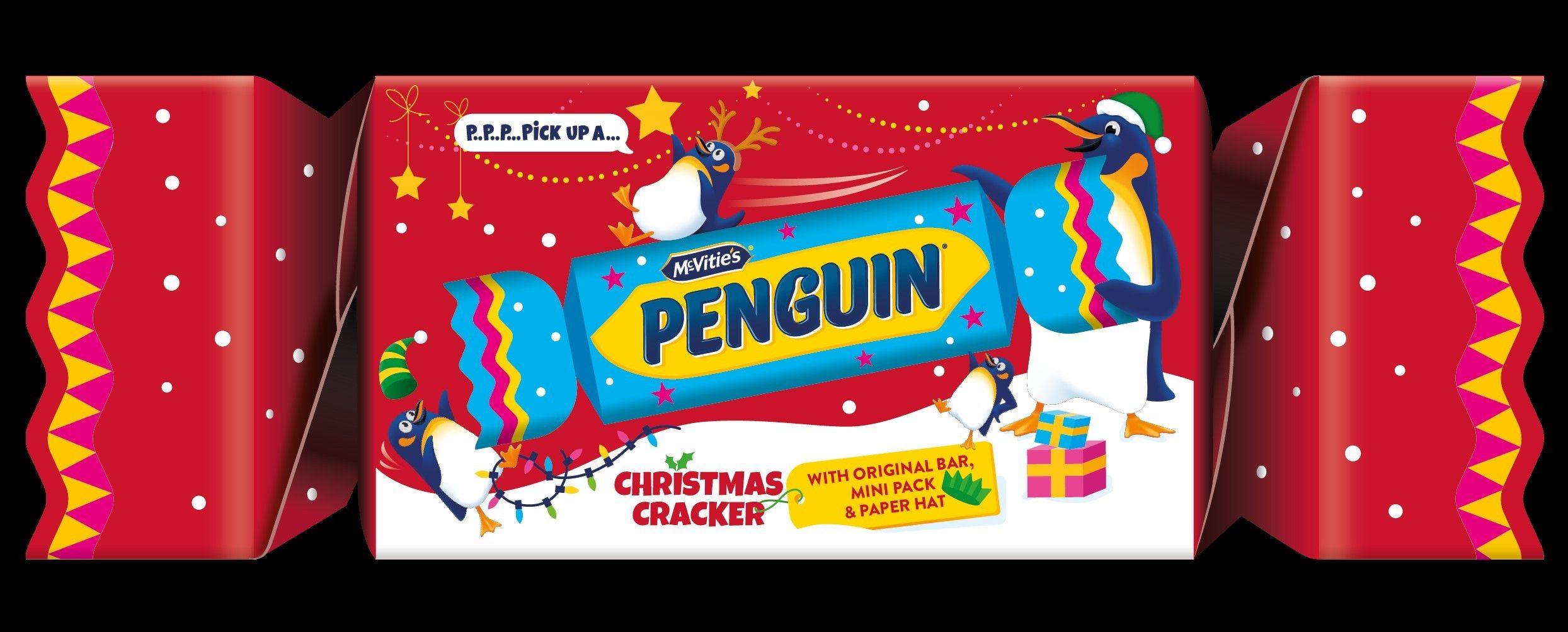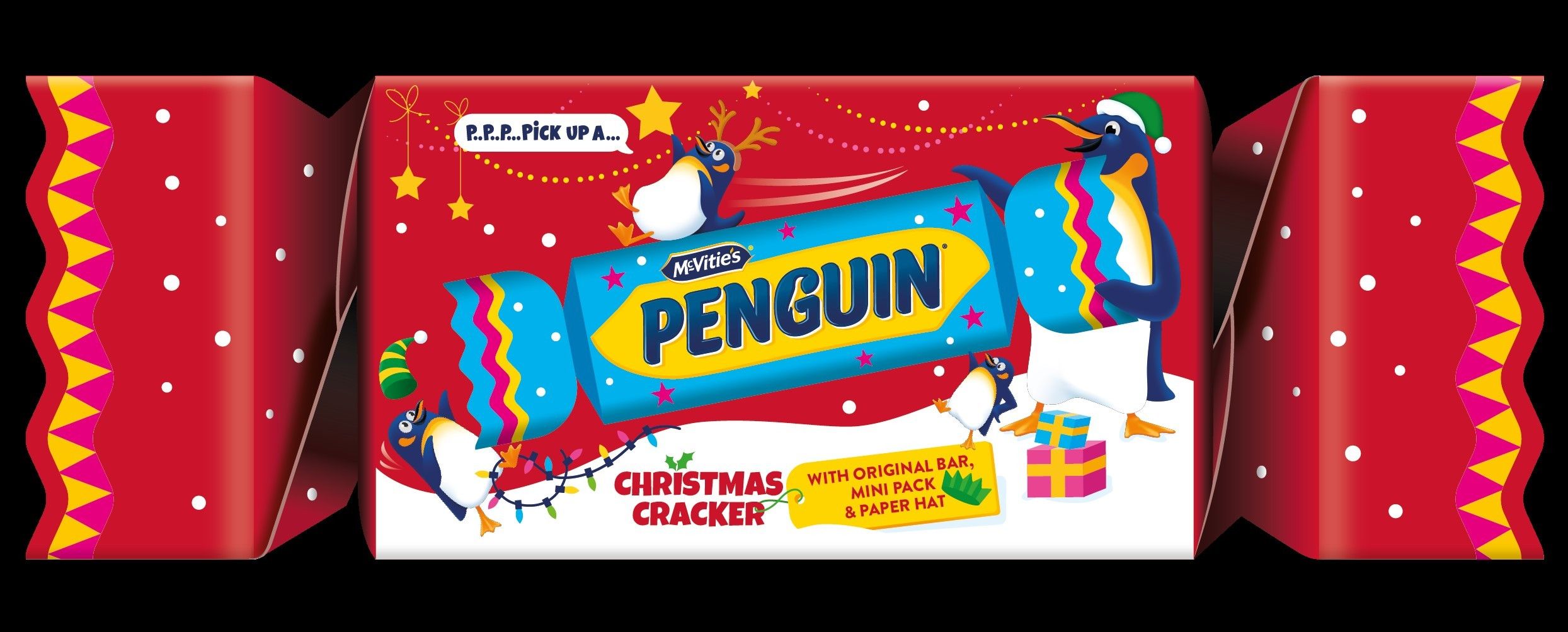 A brand-new launch under the much-loved McVitie's Penguin brand, McVitie's Penguin Cracker is poised to become a stocking-filler-favourite this Christmas.
Featuring three unique designs, McVitie's Penguin Crackers embody the playful nature the Penguin brand has long been loved for – with an added twist. Packs comprise all the essential elements needed for the perfect family Christmas party, including a McVitie's Original Penguin Bar, McVitie's Mini Penguins Pack and a festive Christmas party hat.
Available in mixed cases of 12, McVitie's Penguin Crackers tap into the growing demand for novel festive treats. And, with an affordable price point (RSP: £1.25), these charming crackers are perfect as stocking fillers or to add a touch of extra entertainment to the children's Christmas table.
Returning festive favourites
McVitie's Victoria
You can't ring in the season without Christmas' number one premium biscuit assortment , McVitie's Victoria.
This Christmas, McVitie's Victoria is looking to continue its reign as shoppers' go-to biscuit assortment by combining its irresistible flavours with sustainable packaging.
The classic assortment features all-time favourites like the Milk Chocolate Wheel, as well as the indulgent Chocolate Orange Dreams and White Chocolate Crumbles, ensuring a delectable variety of treats fit for the whole family.
Available in fully recyclable 275g (RSP: £5) and 550g (RSP: £7) boxes, McVitie's Victoria proudly displays an 'even more chocolatey' flash on-pack. With 8 biscuit varieties to choose from, this assortment continues to draw in seasonal shoppers, inspiring them to trade-up for a treat that's worth the extra investment.
McVitie's Family Circle
As the number one choice for everyday branded biscuit assortments in the UK , McVitie's Family Circle offers a selection of classic biscuits that are sure to satisfy all tastebuds. From the timeless Shortcake, to tasty choc chip cookie – it has all the family favourites wrapped up in one festive box.
This year, Family Circle is back and bigger than ever with a brand-new fully-recyclable 400g box (RSP: £2.50), making sure there's always enough to share. Plus, the special seasonal packaging ensures strong stand out on shelf.
McVitie's Jaffa Cakes Christmas Pole
Get set for the return of the iconic McVitie's Jaffa Cakes Christmas Pole. Back by popular demand, the McVitie's Jaffa Cakes Christmas Pole secured the number four spot in the top 10 best-performing novelty products last year . Complete with a fresh redesign – and now featuring a fun 'Santa Stop Here' crafting activity for the whole family – McVitie's Jaffa Cakes Christmas Pole is the perfect seasonal treat.
Each pack contains 40 Original Jaffa Cakes (RSP: £3.75).
McVitie's Santa Snacks Chocolate Cake Bars
McVitie's Santa Snacks Chocolate Cake Bars
Last, but not least, McVitie's Santa Snacks Chocolate Cake Bars will be making a triumphant return for the fourth year running.
Individually wrapped for both ease and portion control, each bar comes in at just 99 kcals and features a soft, fluffy sponge layered with indulgent chocolate cream and enveloped in McVitie's signature smooth milk chocolate.
Available in packs of seven at an affordable everyday price point (RSP: £1.50), these are the ultimate grab-and-go treat for the festive season.