pladis, the global snacking company behind some of the UK's most loved and iconic brands, Jacob's, Carr's and McVitie's, has unveiled its 2023 Christmas ranges from Jacob's and Carr's, led by a new look line-up packed with both brands' bestsellers.
Once again heading into Christmas as the nation's top savoury biscuit brand , Jacob's is introducing a refreshed line up of its popular bestsellers and novelty products especially for the season – including Jacob's Christmas Caddies, which achieved sales of £11.2M last Christmas . With classic flavours and revamped packaging, the collection features favourites to tantalise all taste buds.
Meanwhile, premium offerings from Carr's – including Carr's Seasonal Selection – provide a lucrative opportunity for retailers to drive higher value sales, as shoppers are more willing to trade up for a little luxury during the festive season.
"With Seasonal Crisps and Snacks reaching new heights and achieving double-digit growth of +12.4 per cent last year, we know that shoppers are on the hunt for savoury treats from their favourite brands which are fit for the festive season," says Asli Akman, Health & Wellness Director at pladis UK&I. "That's why we've made sure our 2023 collection is tailored towards a whole host of taste preferences and key seasonal trends – such as moments of togetherness.
"We've focused on bringing back some of our beloved Jacob's and Carr's classics, whilst injecting a touch of extra excitement into the category with fresh updates across some of our signature lines. Whether shoppers are looking to create a classic cheeseboard or tuck into a savoury snack whilst watching a festive film, they'll be looking to our family-favourite brands for products which they can rely on to deliver on quality and taste, time and time again."
The Jacob's and Carr's seasonal portfolio will be supported by an overarching 'Ready, Steady, Christmas' campaign featuring sampling and online activation, alongside shopper marketing. It celebrates moments of connection by showcasing how family-favourite products from Jacob's and Carr's unite loved ones.
The Jacob's and Carr's Christmas products will be available through wholesale and convenience.
Bringing Back the Bestsellers
Jacob's Christmas Caddies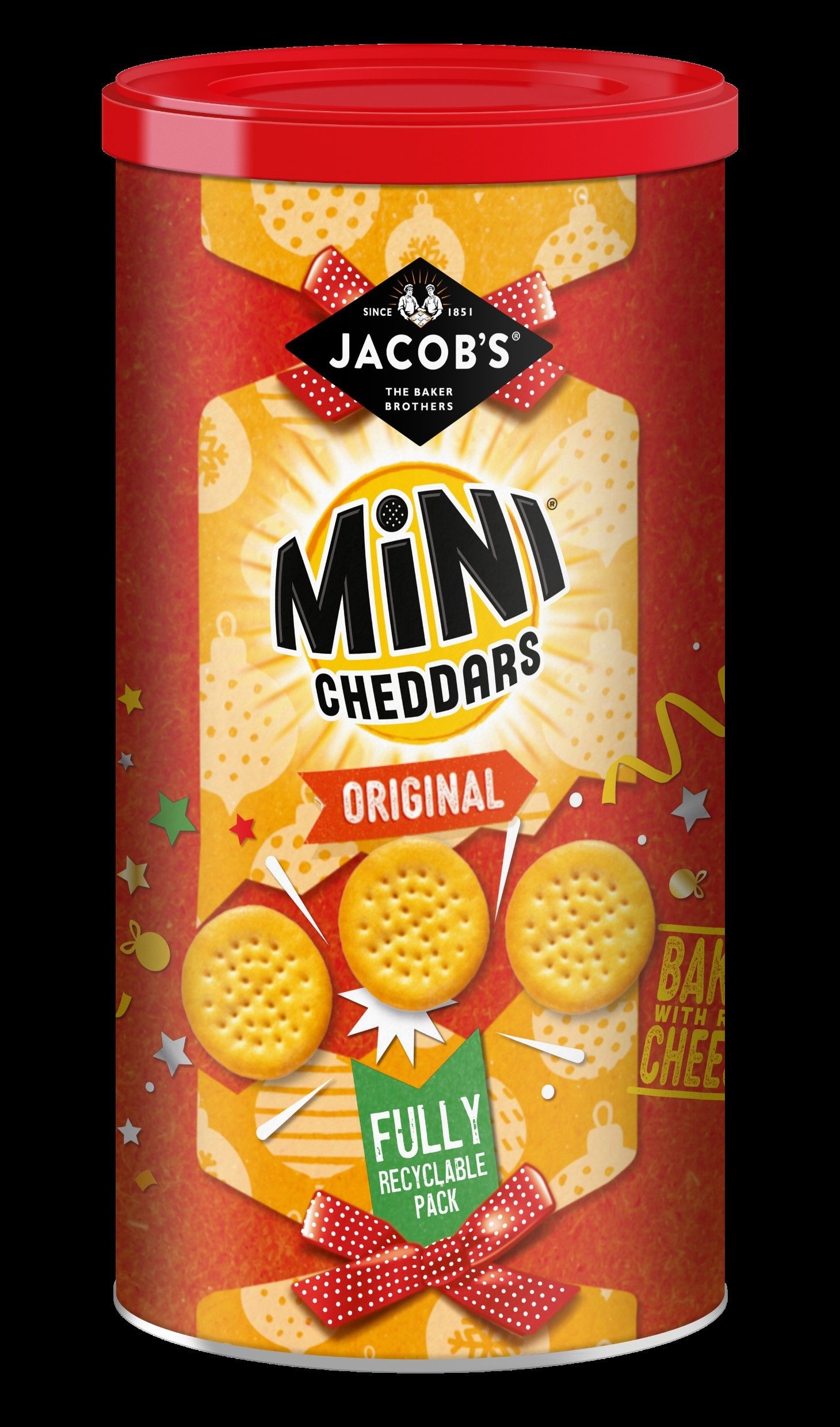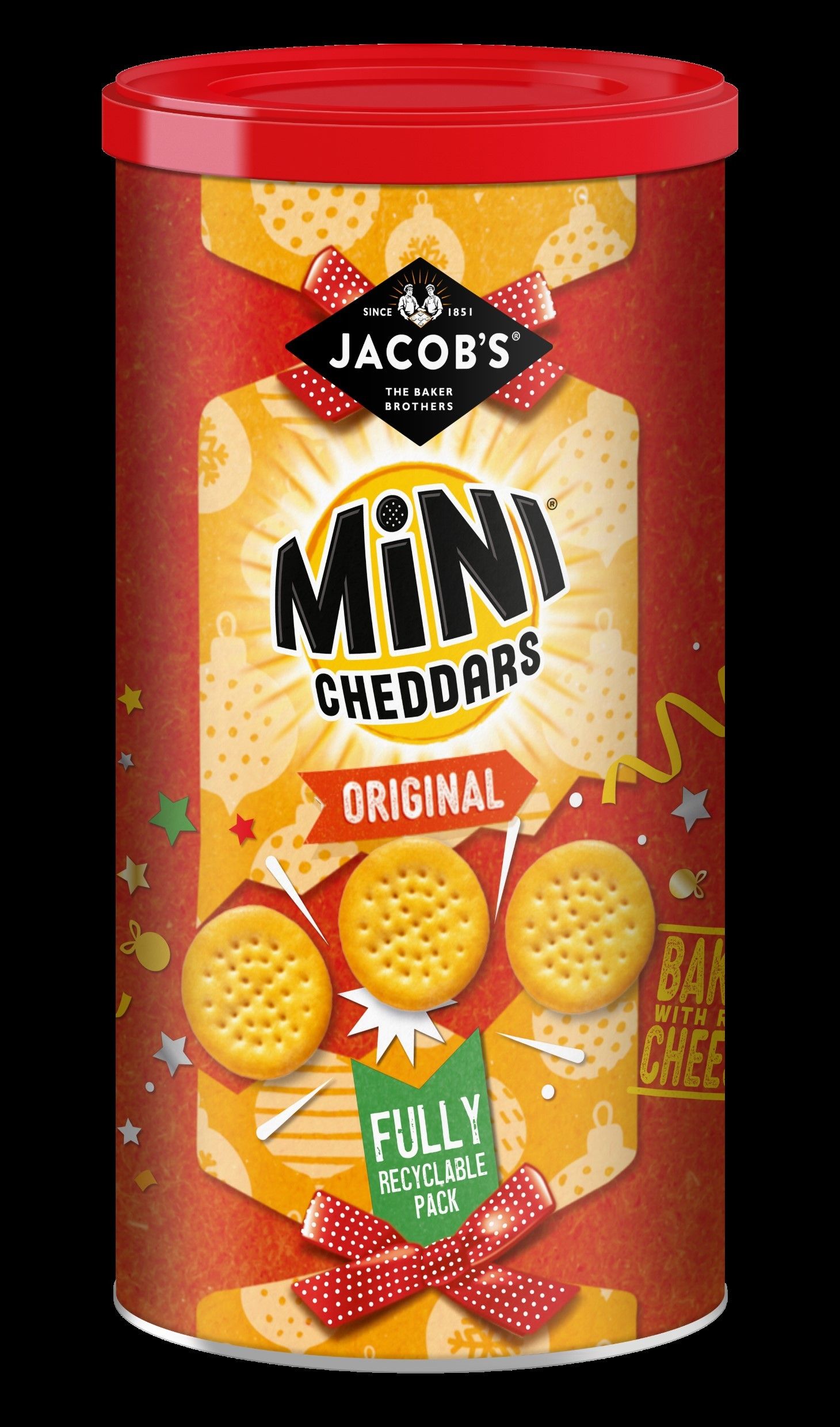 Tuck into your share of seasonal snacking sales this Christmas as the popular Jacob's Christmas Caddies (200g-280g, RSP: £2.50) return for 2023, following a successful 2022.
This year's line-up features timeless favourites including Jacob's Mini Cheddars Original and Jacob's Treeselets, alongside a two-strong range of non-HFSS products to ensure seasonal snacking shoppers have plenty of choice.
Jacob's Mini Cheddars 30 per cent Less Fat, Cheddar & Smoked Paprika will be making a comeback following a strong performance in 2022, during which they ranked seventh in top NPD for Crisps and Snacks sharing innovation. They'll be joined by classic Jacob's Mini Twiglets (non-HFSS) for those looking for something a little lighter to munch.
Jacob's The Festive Selection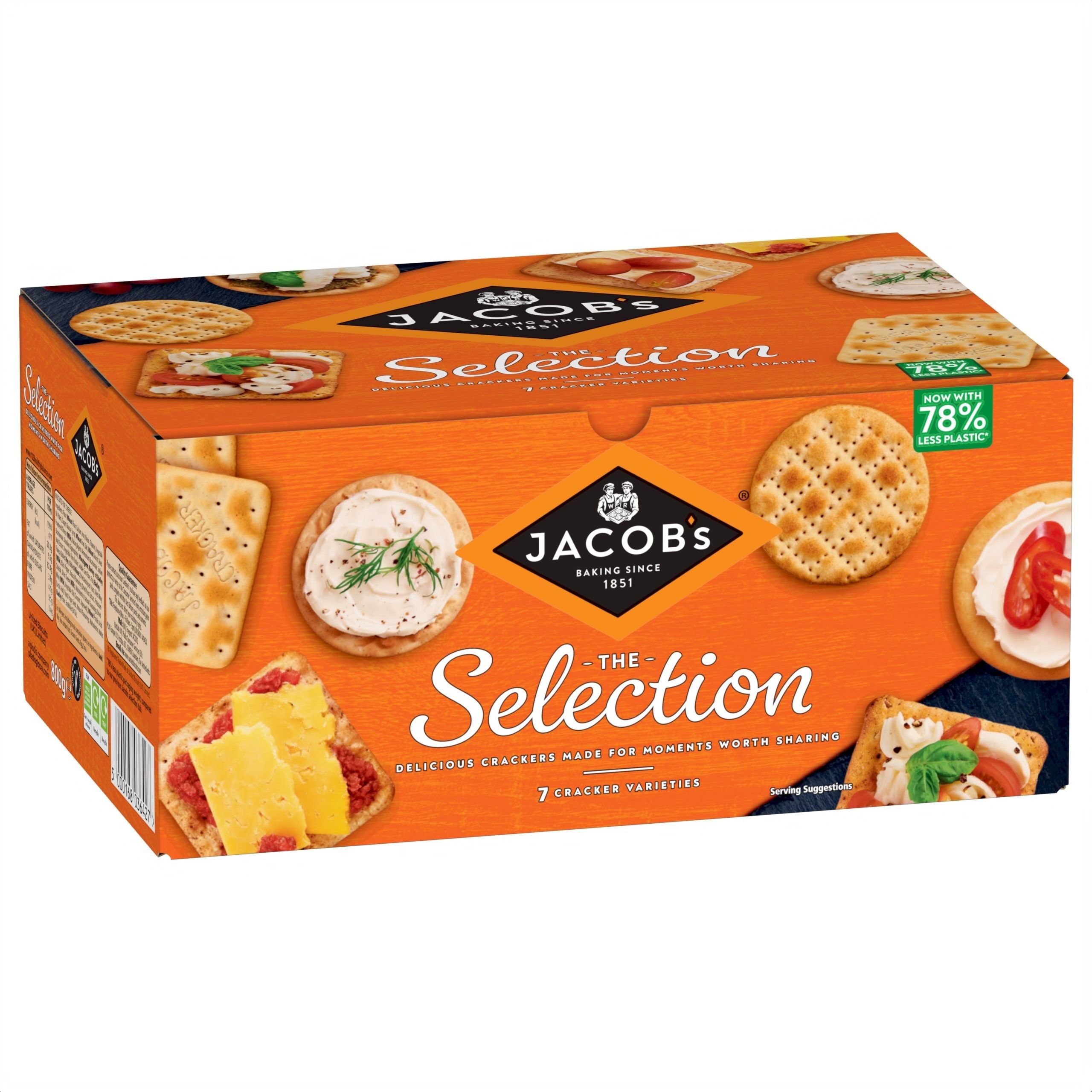 The family-favourite Jacob's The Festive Selection is back and better than ever – as our largest pack format joins the other sizes in being wrapped up in a bright, bold, fully-recyclable cardboard box. By introducing updated, recyclable packaging across the line-up, Jacob's The Selection will entice shoppers seeking more sustainable options for their seasonal celebrations.
Featuring seven classic varieties, this large-format selection is perfectly-placed for festive gatherings – whether shoppers are seeking a classic Jacob's Cream Cracker to pair with their favourite cheese, or a seamlessly-seasoned Jacob's Salt & Cracked Black Pepper Bakes for dipping.
Jacob's The Selection is available in a 300g box (RSP: £4), a 450g Festive themed box (RSP: £4.50) or 800g box (£7).
Jacob's Savours Selection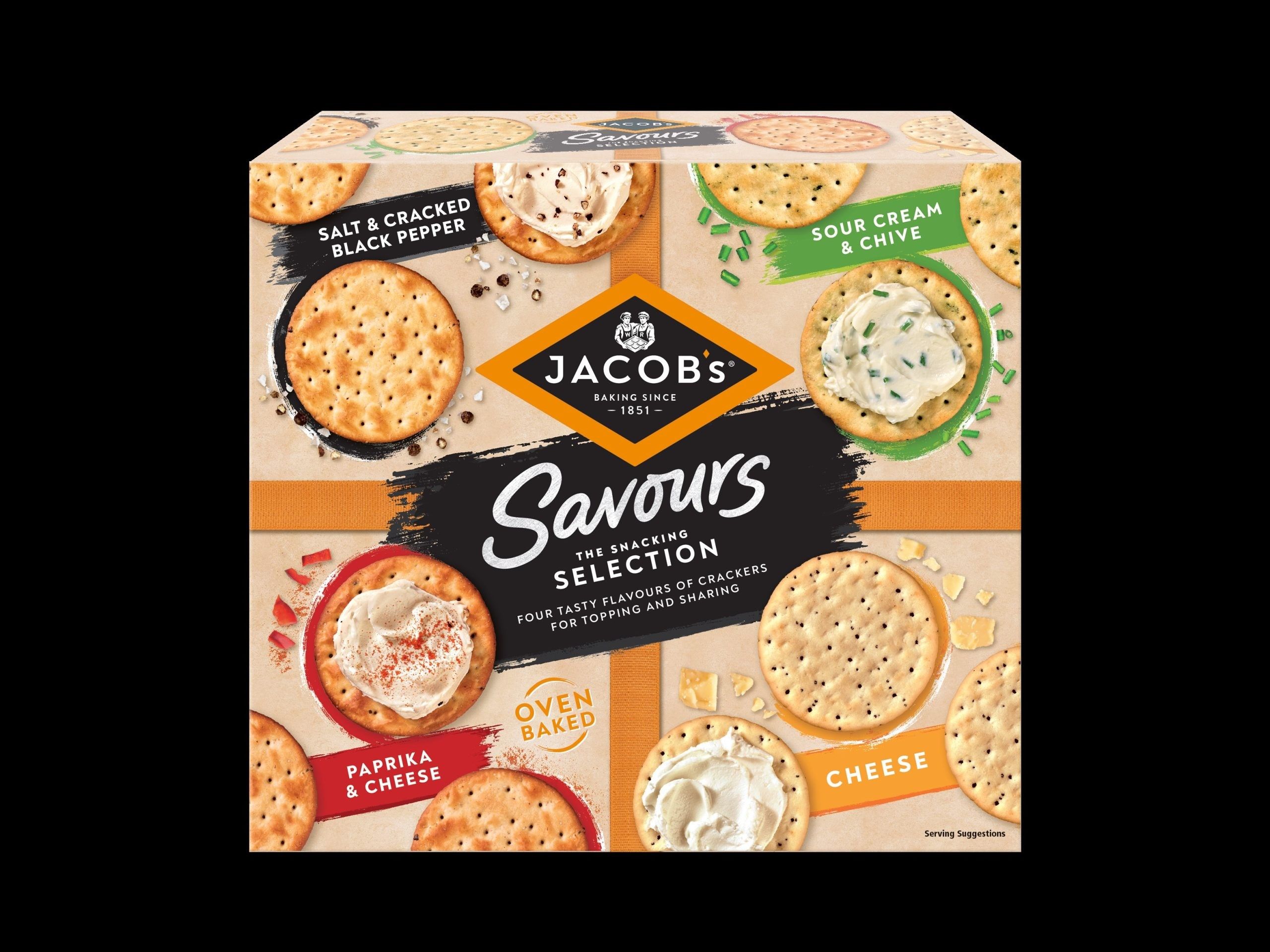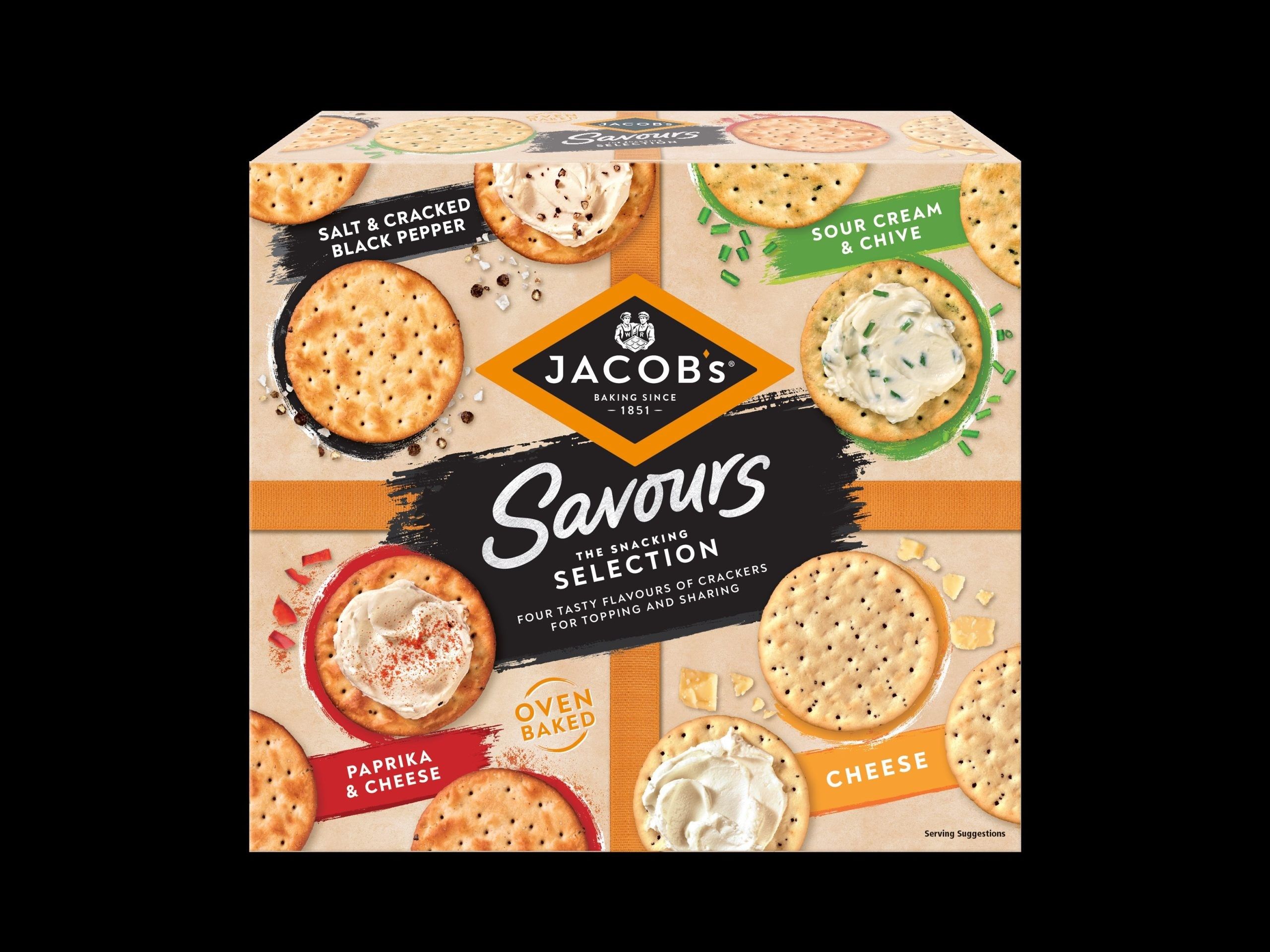 Back again for another year, Jacob's Savours Selection will be available just in time for Christmas – but with a NEW festive flavour and refreshed, modern design to drive strong standout on-shelf.
Offering shoppers something special just for the festive season, the Savours Assortment now includes an exclusive, limited-edition Paprika & Cheese flavour which joins the classic line-up of Cheese, Sour Cream & Chive and Salt & Cracked Black Pepper savoury biscuits.
Taking the brand beyond biscuits for cheese, Jacob's Savours flavour-packed Selection (250g, RSP: £4) is perfect for topping, dipping and snacking.
Carr's Seasonal Selection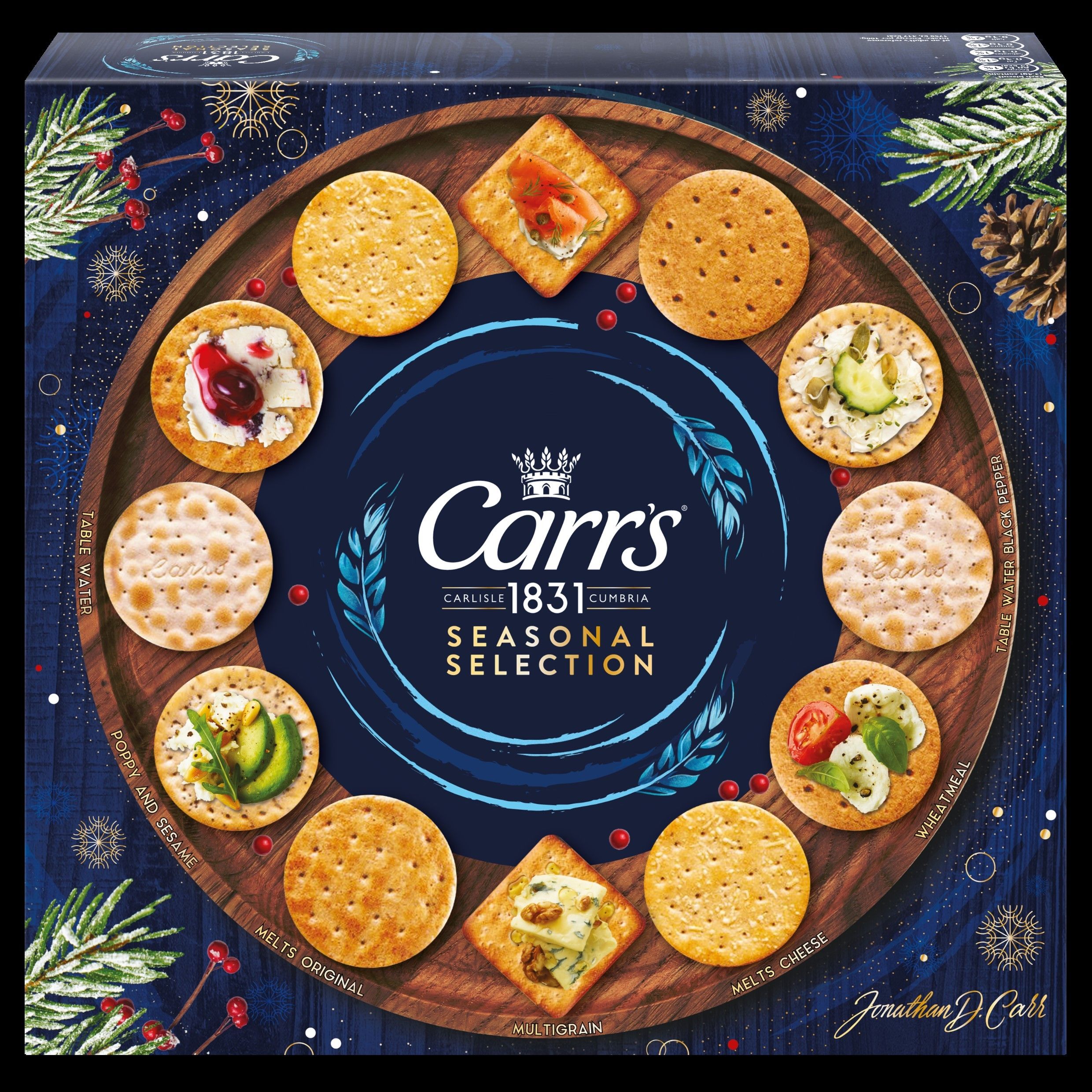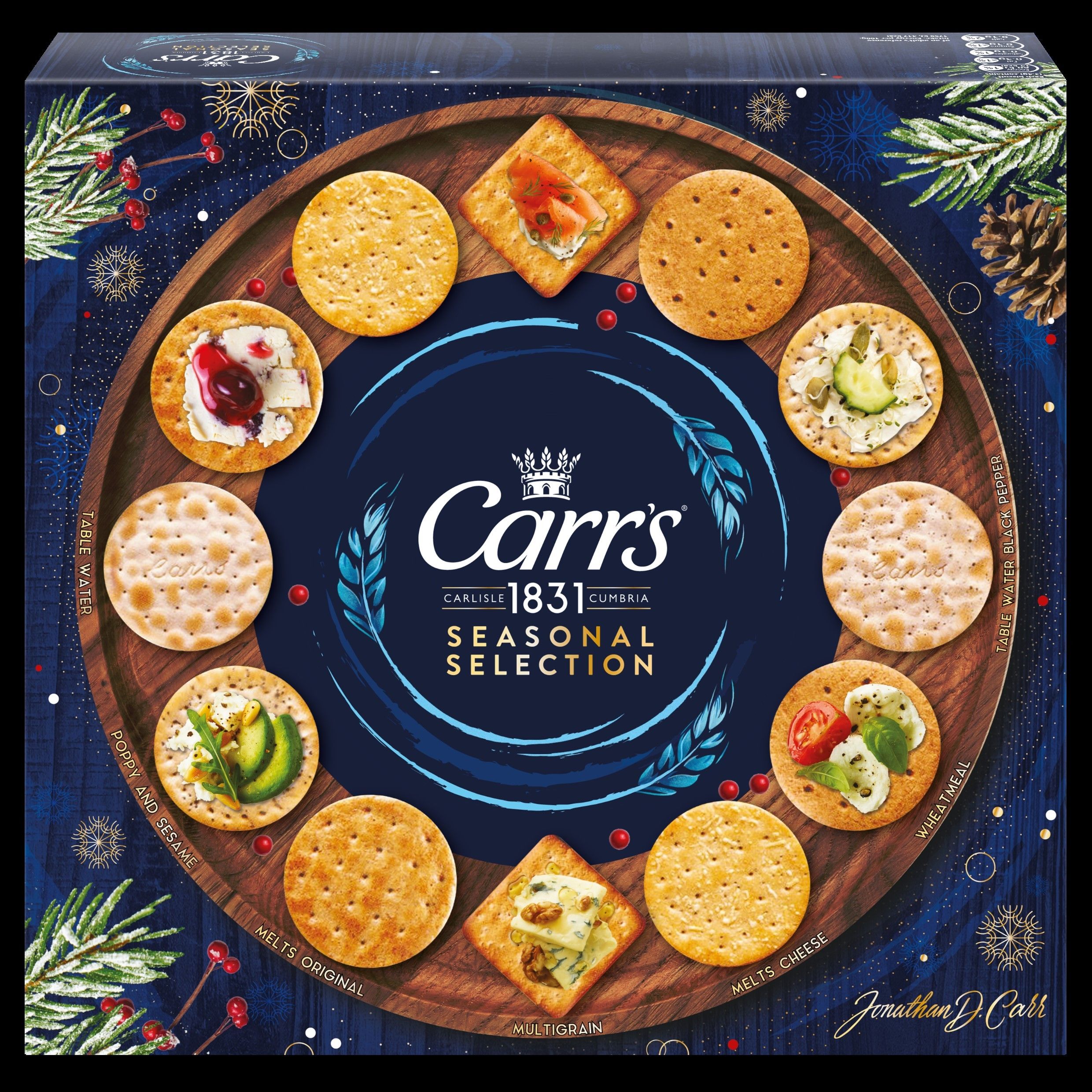 After two years in shoppers' seasonal snacking spreads – third time's a charm with the return of Carr's Seasonal Selection.
A collection of the brand's finest biscuits and crackers – including Carr's Melts Cheese and Carr's Table Water – Carr's Seasonal Selection is set to drive sales among shoppers seeking first-class snacking options to elevate seasonal events and family gatherings.
Carr's Selection 200g (RSP: £3.50) and Carr's Selection Carton (400g, RSP: £4.50) will be retailers' ticket to maximising value sales throughout the seasonal period.