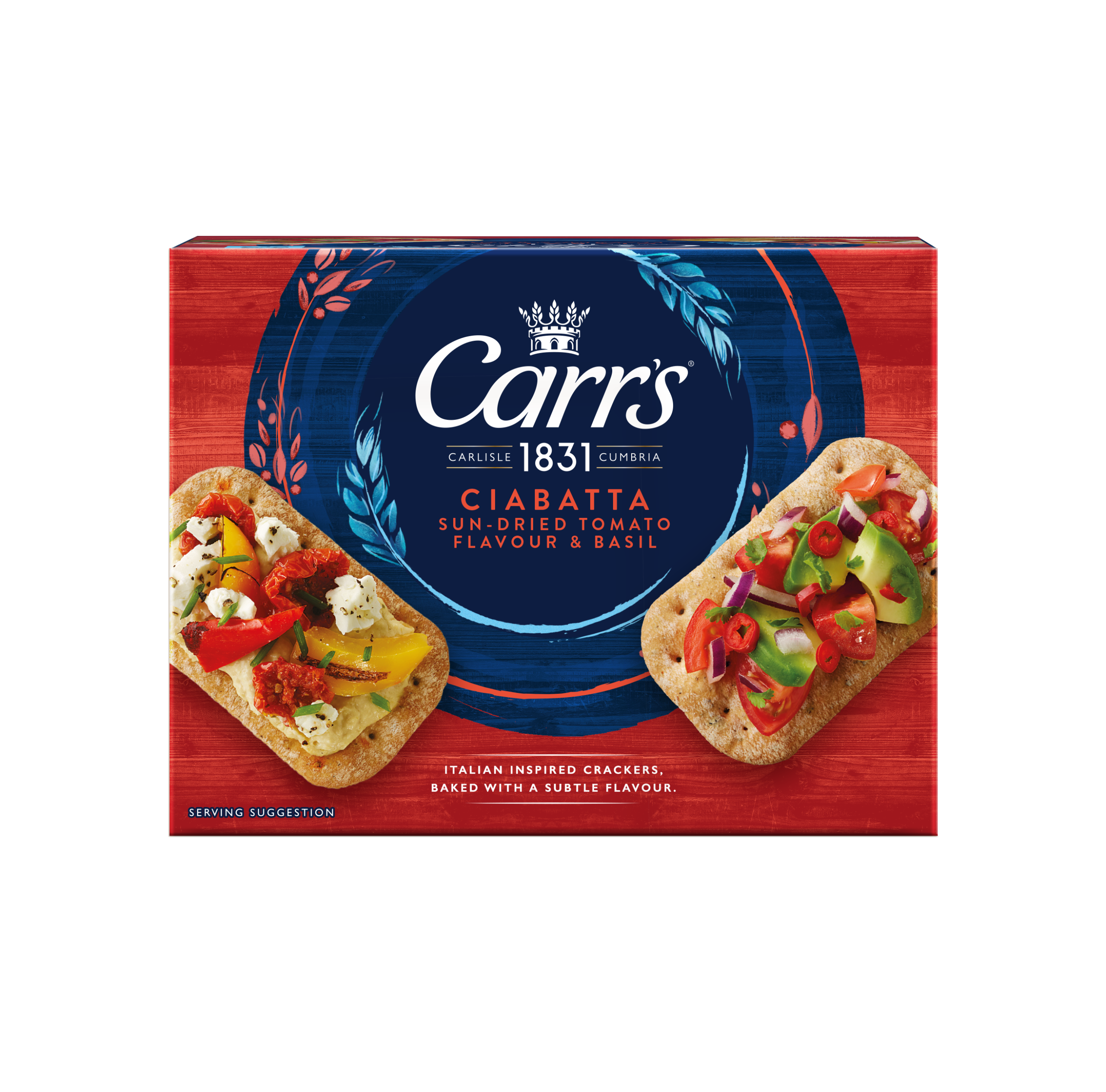 Global snack giant pladis is spotlighting the baking heritage of its Carr's brand with a £1M contemporary redesign and market relaunch for the first time in nearly a decade.
Aimed at inspiring shoppers to tuck into Carr's range of premium crackers on occasions beyond the traditional cheeseboard, the refreshed packaging features artisanal foodie cues – complete with "Why not try …?" serving suggestions curated by pladis' lead chef, Mark Schomberg.
The new look also points to Carr's longstanding heritage with a logo that establishes "Carlisle", "Cumbria", "1831" – its founding date and location – into its iconography. With this, pladis aims to attract more discerning food lovers nationwide – driving household penetration and helping retailers increase sales among shoppers looking for new ways to enjoy savoury biscuits.
"Carr's' baking heritage spans 190 years, so we like to think we know a thing or two about savoury snacks," says Alex Payne, Marketing Brand Manager – Carr's, pladis UK&I.
"With even more opportunities to get creative in the kitchen – whether we're lunching 'al desko' or getting back together with friends and family in our homes and gardens – we want to inspire consumers both familiar and new, to broaden their palates, try something different, and increase brand awareness along the way.
"That's why, alongside our new on-pack serving suggestions – we've partnered with popular Michelin-starred TV chef, Tom Kerridge, to create a series of online recipes. Having now launched across Instagram (@carrs_uk), the recipes – under the name Carr's Creations – will help guide our followers to discover exciting new flavour experiences."
Carr's refreshed look comes alongside a range revision which puts premium ingredients and recipes at the heart of the brand. This includes the launch of new Carr's Black Olive Melts, plus the addition of Crispbreads, Flatbreads and Ciabatta.
Carr's Black Olive Melts are deliciously-crisp wheaten biscuits, embodying Carr's signature mouth-watering light, melting texture. The Carr's Melts range – which also includes Original and Cheese flavours – has grown +20 per cent since 2019 and now worth £4.5M .
Also available in a range of classic flavours is Carr's crunchy Crispbreads, versatile Flatbreads and Italian-inspired Ciabatta – all baked with subtle flavours designed to complement a vast range of dips and toppings.
The new packaging – along with Carr's Black Olive Melts (150g pack size, RRP: £1.49) – is available on-shelf now at all major grocery retailers, as well as in convenience and wholesale.