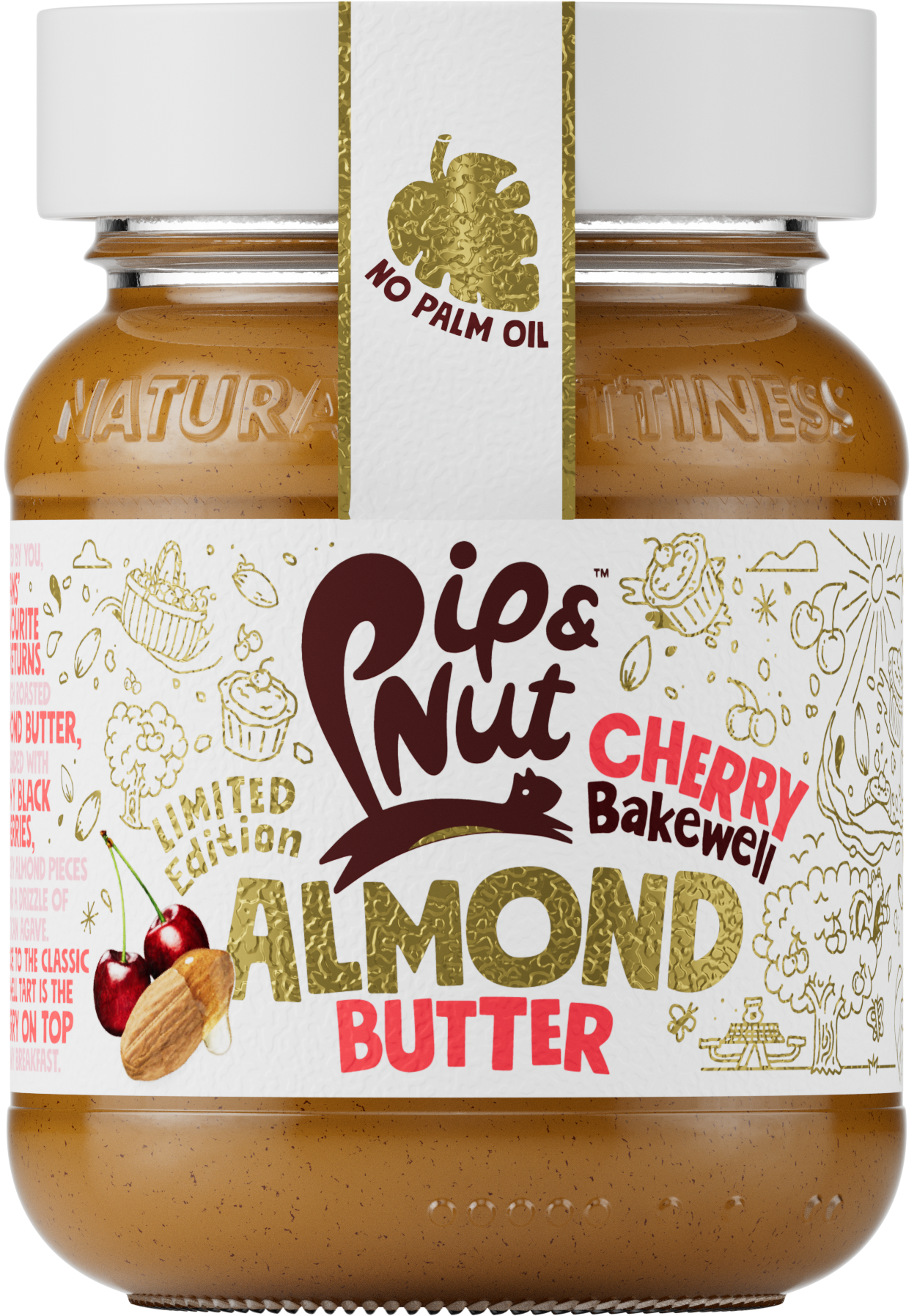 Following the continued success of its previous Limited Editions, this month Pip & Nut announces their latest launch…with a difference. Following a vote from the fans, Pip & Nut will be re-introducing a firm flavour favourite – Cherry Bakewell Almond Butter.
Back by popular demand, the latest Limited Edition is available from this week, rolling out with Sainsbury's (333 stores) and Ocado, as well as independents nationwide and the Pip & Nut website (www.pipandnut.com, RRP: £3.25 / 170g).  It will be available at wholesalers like CLF, CN Foods and Cotswold Fayre.  
Inspired by the traditional Cherry Bakewell Tart, the combination of just-roasted almond butter with chopped almonds and real cherries, makes this taste naturally sweet and decadent. As with the rest of the range it features only the finest quality ingredients and, as always, is free from palm oil. Although the recipe remains unchanged, the latest launch now comes complete in Pip & Nut's new custom-made and fully recyclable glass jars, which feature a fun limited edition design by Argentinian illustrator Bernardo Henning.
Pippa Murray, Founder, Pip & Nut, says, "Having harnessed the power of the Pip & Nut community and put it to the vote, we're so pleased to be bringing back our Cherry Bakewell Almond Butter. This is a flavour that's all about the fans and we've even crowned a community member the chair of the Cherry Bakewell Fan Club!
"The launch is timed perfectly to maximise the seasonal opportunities of Veganuary and Pancake Day. We're so grateful to have the continued support of our retail partners and we know our Limited Edition's are really sought out by our customers. Featuring the very best natural ingredients, a delicious, innovative recipe and now in our glass jars, it's the latest example of our commitment to 'nut butter done better'."