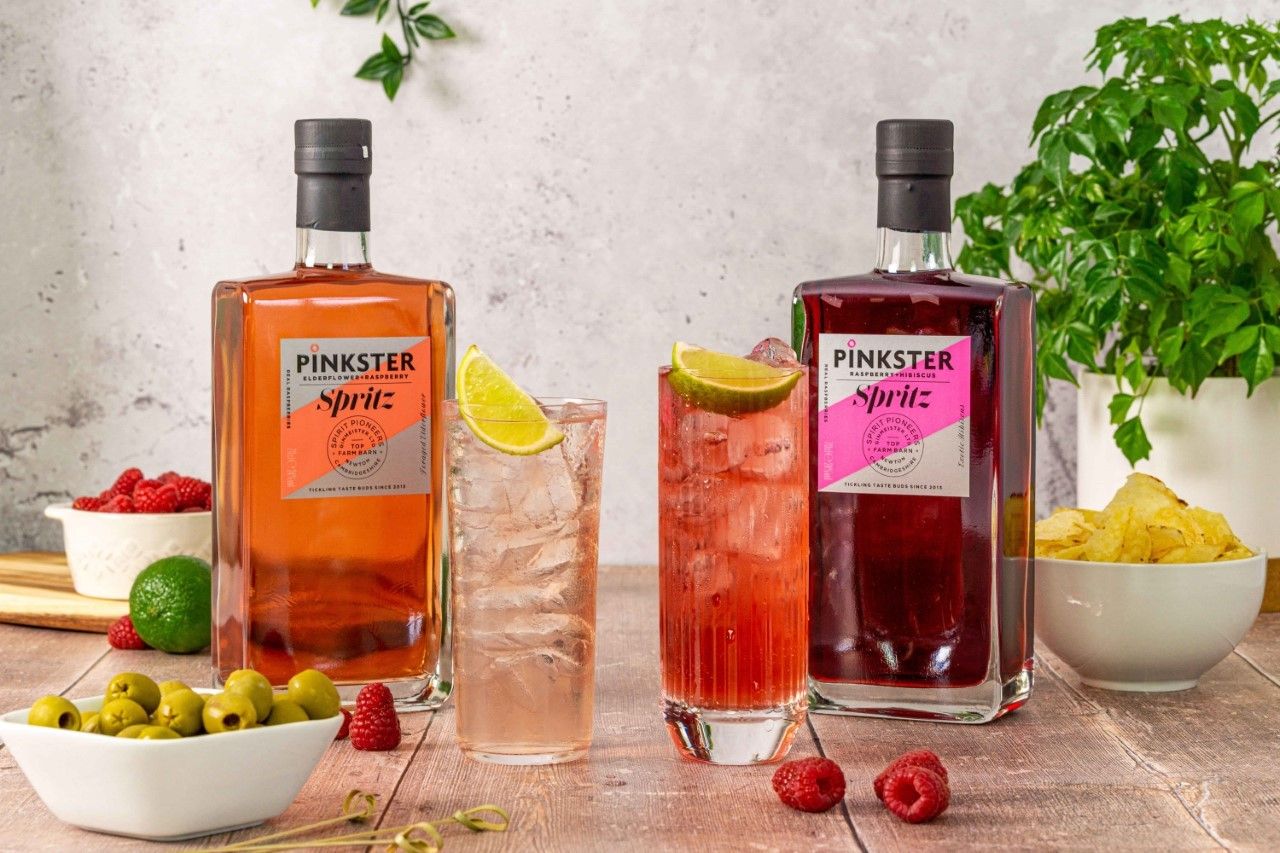 Pink gin pioneer Pinkster has entered the burgeoning spritz market with the launch of Pinkster Spritz, a lower-abv spirit drink.
Bottled at 24 per cent, Pinkster Spritz is made with gin-soaked raspberries left over from producing Pinkster and is initially available in two flavours, Raspberry and Hibiscus, Elderflower and Raspberry.
"Drum roll please for Pinkster Spritz, a mainstream alternative for spritz drinkers with discerning taste buds, looking for a naturally delicious light aperitif," said Stephen Marsh, Pinkster MD.
"With more and more people trying to lead healthier lifestyles and cutting back on alcohol, all consumer insight indicates that lower-abv and lower-calorie drinks are totally on-trend.
"It's been some time in the making and as you'd expect from us, this is another authentically subtle drink that's sustainably sound and made with natural ingredients, including our signature real raspberries grown minutes away from our rural Cambridgeshire HQ."
With a perfect serve of soda water and a lime garnish, Pinkster Spritz is designed to be the ideal base for a light, refreshing spritz. Following last year's launch of Fever-Tree's soda range, spritz can now be a more efficient two-part pour for the on-trade with the full flavoured soda, particularly Fever-Tree's Mexican Lime, replacing Prosecco.
A 25ml Pinkster Spritz measure has no more than 40 calories, with just 4.8 per cent vol and 0.6 units for the finished drink. Calorie and unit health information is being voluntarily displayed on the back label, along with a QR code linking to further product details and suggested serves, in order to ensure consumers are as well informed as possible.
Elderflower and Raspberry is crafted with elderflower foraged from East Anglian hedgerows. Raspberry and Hibiscus is infused with exotic hibiscus flowers.
Marsh added: "With the UK emerging out of lockdown and easing into summer, we're expecting a fresh, fizzy and fun spritz to be the drink of the season as friends reunite for alfresco get-togethers. Thanks to the lower abv this is guilt-free kicking back.
"Just as we triggered the pink gin revolution back in 2013, we're confident that Pinkster Spritz has the potential to be another trailblazing category launch."
The launch is being backed by a light-hearted 'What's your excuse to spritz?' creative campaign that champions the everyday nature of spritz drinking occasions.
Pinkster Spritz is also available in 70cl formats with RRP of £28
Pinkster Spritz will be available to purchase from pinkstergin.com
For sales enquiries please contact: [email protected] 01763 849 739