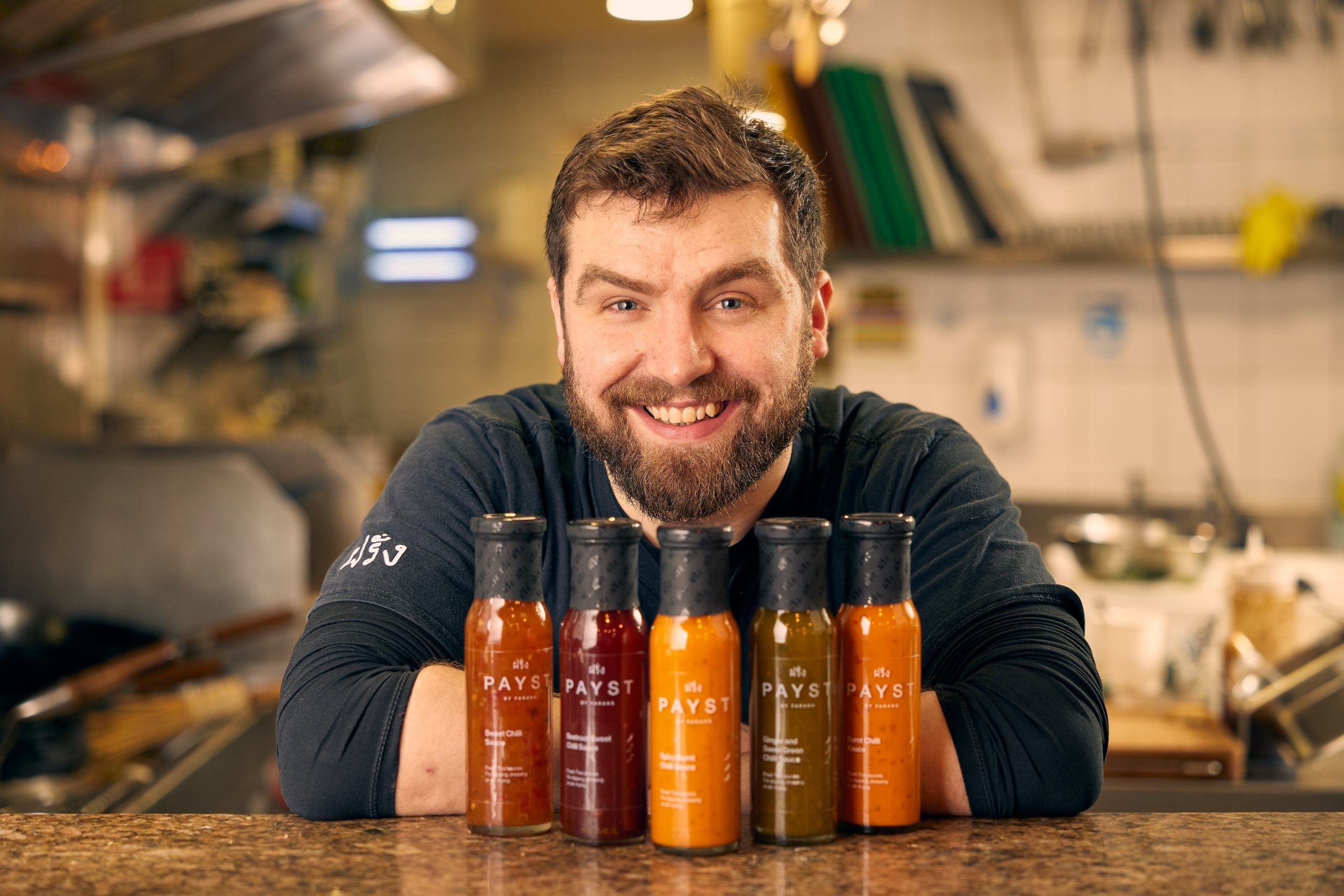 Sebby Holmes, the mastermind and head chef behind one of London's most renowned Thai restaurants, Farang, has launched Pasyt- a premium range of fresh Thai-inspired dipping sauces, stir-fry sauces and curry pastes.
Each Payst product is lovingly crafted in the Farang kitchen by Sebby and the team, freshly bottled and delivered to stores and homes across the nation. The Payst product range provides the perfect opportunity for Brits to discover the diverse flavours of Thai cuisine and experience authentic Thai flavours in the comfort of their own home.
Born from Sebby's passion for Thai cuisine and experimenting with flavours and ingredients, Payst is now available in stores across the UK, including the likes of Harrods, Selfridges, Daylesford Farm Shop, and straight from the kitchen at Farang.
The range of Thai-inspired sauces and pastes are made with the freshest ingredients, sourced from top farms across Thailand and the UK. All products are completely free from preservatives and artificial ingredients, including the only fresh Thai curry pastes available on the UK market.
Payst's curry sauces are the perfect companion for any chef regardless of skill. From amateur to pro, these curry pastes bring the authentic Thai flavour to any kitchen.
RRP at £4.25, Pasyt's curry sauce range includes Green Curry Paste, Red Curry Paste,  Jungle Curry Paste, Massaman Curry paste, Gaeng Gari (Yellow) Curry Paste and Gaeng Gatti (Spicy Coconut) Curry Paste
Although dubbed for "dipping" these sauces are perfect to give an extra dash of spice to Thai dishes, added to stir-fry's, soups and salads each sauce teases a different personality of spice into your dish, and they are incredibly dippable as well!
RRP at £5.95, dipping sauces include Sweet Chilli Sauce, Burnt Chilli Sauce, Spicy Burnt Chilli Sauce, Beetroot Sweet Chilli and Ginger and Sweet Green Chilli Sauce
The taste of Thai in a bottle, these PAYST stir-fry sauces guarantee to bring an authentic taste to dishes time after time. Each flavour is easy to use and created with a buildable spice level, perfect for people who want to experiment with spice, but at their own pace.
RRP at £5.49, Payst's Stir-fry sauces include Mushroom & Garlic Stir- Fry Sauce, Pad Thai Stir-Fry Sauce, Vegan Pad Thai Stir-Fry Sauce and Kra Pao Stir-Fry Sauce.
Sebby Holmes, Founder of PAYST and Farang, said: "Covid played a huge role in the birth of Payst. When the country was forced into lockdown and we had to shut our doors, we very quickly pivoted the business to keep bringing the flavour under the belief that just because you can't leave your home doesn't mean you can't explore through taste!
"The day the hard lockdown was announced my team and I picked up the phones and rang every booking we had over the coming weeks and months. We offered everyone the chance to pick up their meal or deliver it to their door if they were local enough to us. We were very lucky that there was so much support from the local community. People kept coming and wanting more of our food.
"Customers repeatedly asked if they could get our sauces as a side to use later in their own meals; and that's how Payst was born.
"This is the start of a much wider range focused on bringing the tastes of Thailand to every kitchen across the nation, without compromising flavour or freshness."