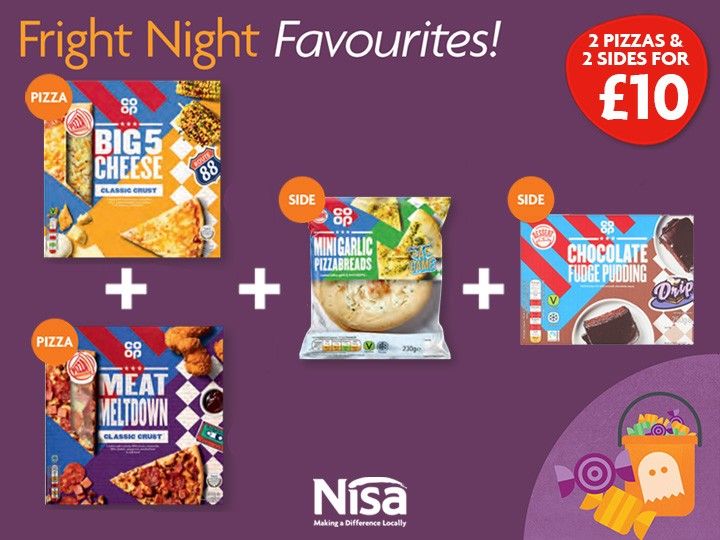 Nisa is supporting its retailer partners this Hallowe'en with a raft of scarily good seasonal promotions to help shoppers celebrate the eerie event.
With research revealing that Hallowe'en is the fourth largest retail event in the UK, Nisa's promotional event caters to a range of shopper missions from those looking for sweet treats to those on the hunt for a deadly deal to accompany a more intimate fright night at home.
The event, which is available in stores now, features deals on a raft of sweet and savoury treats including Cadbury Goo Heads Cake Bars 5pk and McVitie's Funny Bones Cake Bars 7pk for £1 each, Mr Kipling Fiendish Fancies 8pk and Toffee Apple Pies 8pk for £1.50 each, Fanta 2ltr bottles for £1.50, and Pringles 200g tubs for £1.55 – that's half price.
And shoppers can keep the trick-or-treaters at bay with Swizzels' Sweet Surprise Tubs for two for £5, Fruit-tella Duo Stix for £1 and Maltesers Fun Size Packs for £1.50.
"Last year the UK found itself in regional lockdowns around Hallowe'en and consumers were advised that they should avoid trick or treating to help stop the spread of Covid-19. Because of this long wait children up and down the country will be itching to get dressed up and pay a visit to their neighbours on the hunt for sweet treats," said Nisa's Seasonal Manager, Hannah Goodwin.
To cater for those opting for a quieter night in with a scary movie, the popular two Co-op pizzas (Big Five Cheese Classic Crust Pizza and Co-op Meat Meltdown Classic Crust Pizza) and two sides (Deep Garlic Flatbreads and Co-op Family Chocolate Fudge Pudding) deal is also available for just £10.
Nisa's Hallowe'en campaign is supported with in-store point of sale – including window clings and bunting – and is featured on consumer leaflets, as well as on the Nisa Locally website. On the website, shoppers will also be able to find hacks on creating Hallowe'en decorations and inspiration for a scare-filled party.
Promotions manager, Laura O'Hearne said: "Hallowe'en falls on a Sunday this year meaning shoppers are likely to celebrate over the entire weekend. And the event isn't only about trick-or-treating. Adult parties or even nights in front of the television are also extremely popular – especially as some consumers still choose to avoid unnecessary social contact due to the pandemic.
"Because of this we are encouraging partners to keep a mixture of products on the shelves right up until the big day to cater for a wide range of shopper missions."
Research shows that almost half of Hallowe'en shoppers purchase more than they anticipated when in-store, so to capitalise on impulse purchases Nisa is also providing partners with a range of Hallowe'en accessories including a Co-op Pumpkin Carving Set at £1.39*, Co-op Pumpkin and Ghost Garlands at £1* each and Co-op Hallowe'en Buckets at £1.25*.
*Available in selected stores only.