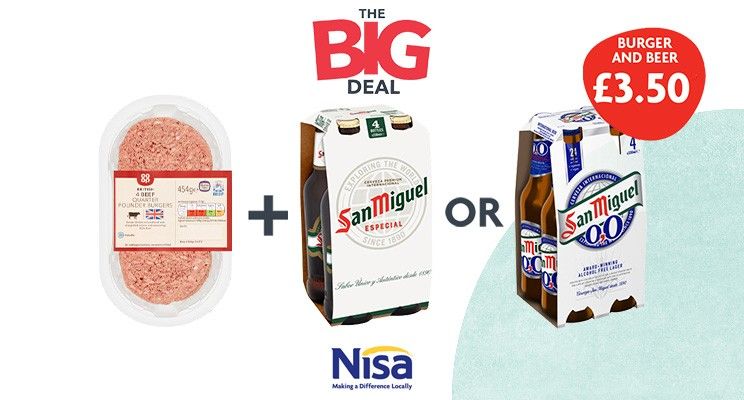 With the Euro 2020 final imminent, Nisa retailers are helping shoppers to stock up for less with the latest Big Deal, comprising a four-pack of Co-op British Quarter Pounder Burgers and either San Miguel or San Miguel 0% 4x330ml for just £3.50 – offering savings of up to £4.75 off the RRP. Alternatively, Coca-Cola, Diet Coke and Coca-Cola Zero 4x250ml packs are a non-alcoholic option.
The deal is available now in participating stores until 20th July and is supported by in-store POS, in addition to being promoted via Nisa's consumer leaflets, website and social media channels.
Further deals on a range of accompaniments are also available to complement the offer, including Co-op Mature Cheddar Slices or Co-op Mild Cheddar Cheese Slices at any two for £3, and Hovis Premium Burger Buns for £1.40.
"Our Big Deals continue to be popular with shoppers and with savings of up to £4.75 off the RRP, this promotion offers fantastic value for money and caters for a variety of mealtime occasions or weekend plans," said Chris Walker, offline marketing lead at Nisa.
(Due to minimum unit pricing in Scotland and Wales, deals may vary)