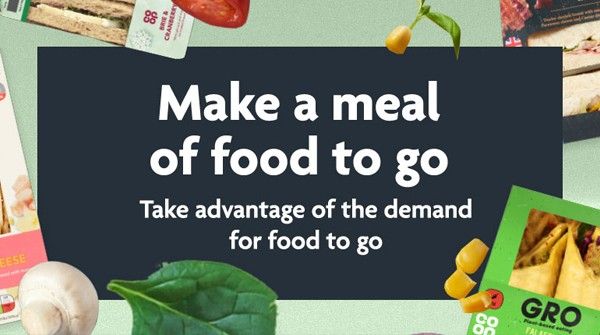 Nisa's independent retailers are being encouraged to meet the needs of the post-pandemic food-to-go (FTG) shopper and help grow sales in their stores at the festive season approaches.
Whilst growth in the FTG market paused last year due to lockdown, the category is back on the up, and with the arrival of December and the addition of some Christmas-themed products, Nisa partners are being encouraged to get the right range for their shoppers.
"Having the right range for customers is key and we've launched some great new lines this autumn taking us through to Christmas to get people into the spirit of the season," said Jonny Lambert, wholesale category lead for Co-op.
As well as the traditional Co-op Turkey Feast Sandwich and a Co-op no-turkey vegan alternative from the Co-op Gro range, other festive flavours available to Nisa partners include Co-op Pork, Sage and Onion Stuffing Scotch Eggs, Co-op Pork, Stuffing and Cranberry Sausage Roll and Co-op Smoked Salmon and Cream Cheese Pasta Salad.
Merchandising tips have been shared to support partners in-store with pointers on how and where best to site the FTG fixture to drive maximum sales.
And a FTG "Category Talk" film which first aired at the Nisa Expo in autumn has been made available to partners offering insights and advice from Co-op's FTG buyer, Nisa's Wholesale Category Controller for FTG, and a representative from key supplier Greencore.
The film touches on the impact the lockdown had on the category and how the FTG offer can be differentiated in stores. There is also supplier advice on quick wins, how to grow sales, current trends, and drivers of growth – including how to make the most of own-brand and branded opportunities.
Claire Parker, Co-op Marketing Manager for category growth in wholesale, said: "The category talks are a simple way of sharing some insights and ideas from experts in the field, both from within the Co-op and Nisa business as well as from suppliers.
"This is part of our package to support Nisa partners and help them to drive sales in the Food To Go market, particularly in the lead-up to Christmas."