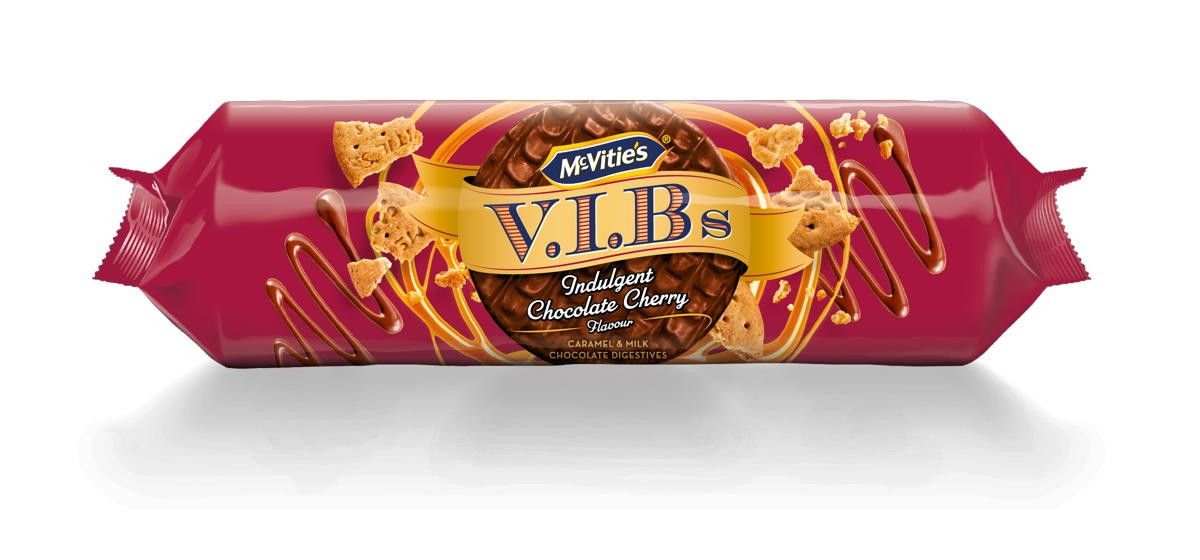 Global snacking giant pladis has expanded its McVitie's V.I.Bs range with the launch of a new flavour: Indulgent Chocolate Cherry.
Joining the existing McVitie's V.I.Bs line-up, Classic Caramel Bliss, Heavenly Chocolate Hazelnut and Luscious Blood Orange, the new, on-trend variant is expected to help retailers drive incremental sales and frequency of purchase, particularly amongst younger shoppers.
Each digestive biscuit has been golden-baked to perfection, coated in a layer of delicious chocolate cherry flavoured chewy caramel and topped with a lavish coating of McVitie's iconic silky-smooth milk chocolate.
"We're encouraging shoppers to enjoy some much-needed me time with a cup of tea and a biscuit that's a permissible indulgence," said Emma Stowers, McVitie's marketing director at pladis UK. "Our McVitie's V.I.Bs are already encouraging 'everyday treat' shoppers nationwide to trade-up and treat themselves, whilst helping retailers boost revenue in the process.
Stowers said McVitie's V.I.Bs have played a key role in attracting particularly younger shoppers to the brand since its launh, as the range over-index with under 45s compared with Everyday Treats sub-sector as a whole.
"In part, this is because, when it comes to sweet baked goods, almost three-quarters (74%) of shoppers between the ages of 16-34 are looking for more flavour innovation. This means we're always assessing how we can help retailers boost biscuit sales through trend-led flavour variations of our bestselling biscuits. What's more, cherry flavoured products are hot property at the moment – and NPD incorporating this flavour grew by 23 per cent over the past year," she added.
"The latest flavour in our McVitie's V.I.Bs collection has already achieved high likeability scores and purchase intent, so we're confident that McVitie's Indulgent Chocolate Cherry V.I.Bs will continue to appeal to younger shoppers seeking a special sweet treat."
McVitie's Indulgent Chocolate Cherry V.I.Bs will be launching in Tesco from 28 June at an RRP of £1.79. Further roll-out into other major retailers – as well as in the convenience and wholesale channels – will follow from July onwards.