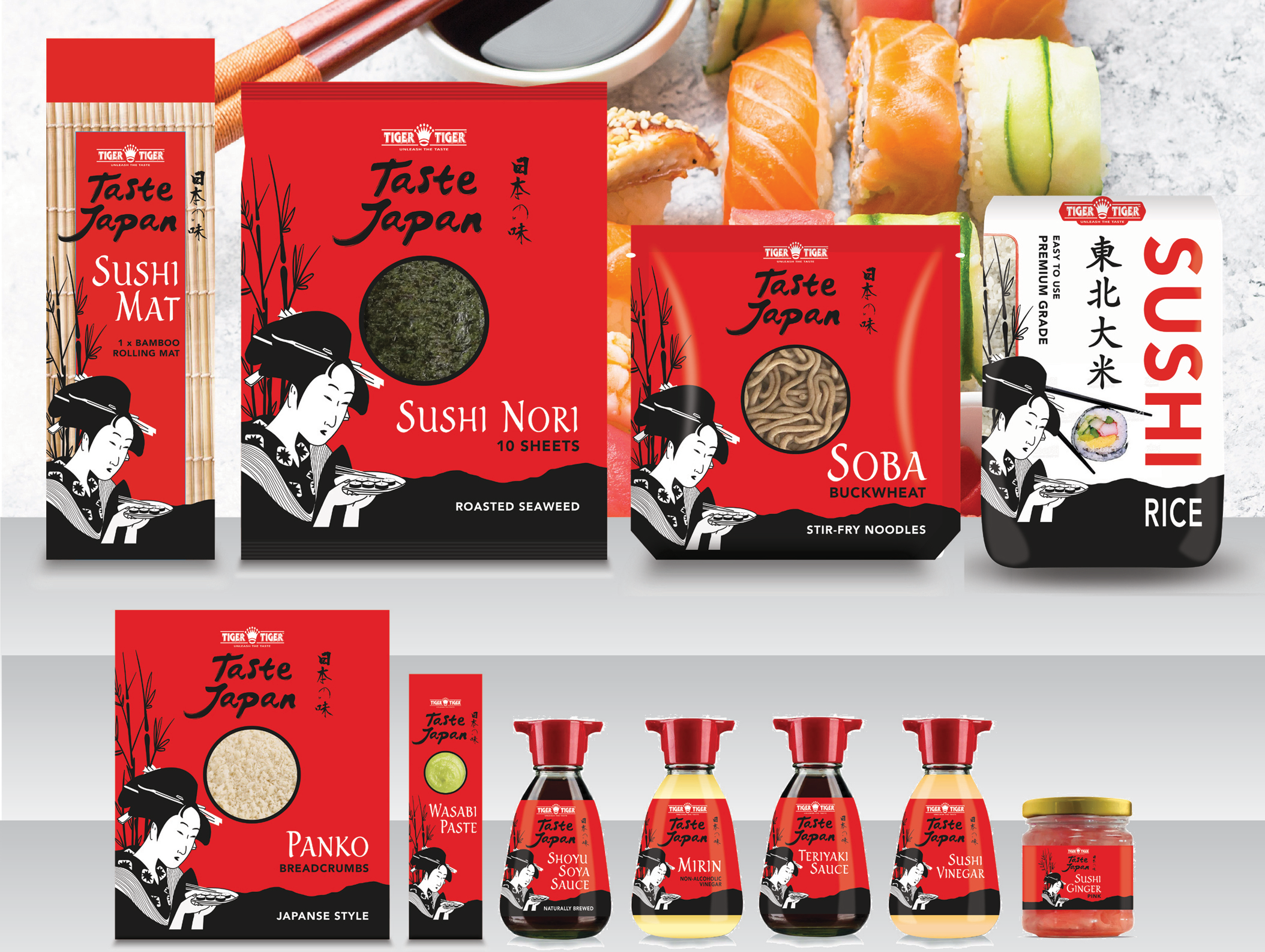 New from Tiger Tiger, the specialist pan-Asian food brand, comes the exciting 'Taste Japan' range specially developed to help consumers recreate this popular cuisine in their own homes.
Inspired by traditional recipes for truly authentic flavours, the range features ten key ingredients including Sushi Nori roasted seaweed sheets, Sushi Rice, Sushi Ginger and Sushi Vinegar, Soba Buckwheat Noodles, Panko Breadcrumbs and Wasabi Paste as well as Mirin Vinegar, Shoyu Soya and Teryaki Sauces. All come in distinctive red and black packaging, symbolic of Japanese culture, for high on-shelf impact and visibility.
"With Japanese cuisine currently the largest sector (representing 37 per cent of the category and showing +54 per cent YOY growth according to the latest IRI Market data), this is a huge opportunity for retailers to bring something new and fresh to the market and to capitalise on the growing popularity of Japanese home cooking," said Debbie King, Sales & Marketing Director at Tiger Tiger.
"Lockdown brought a renewed enthusiasm for cooking from scratch – a trend which is set to continue long after restrictions are lifted. People are falling back in love with home cooking but they are seeking ingredients that enable them to cook up a feast themselves while replicating all the authenticity and taste adventures of restaurant-quality meals."
Tiger Tiger, best known in the independent supermarkets, wholesale and restaurant sectors for its wide range of pan-Asian foods, is now targeting the retail sector following significant investment in NPD and a brand refresh which is due to roll out soon. Additional support for the brand will include high profile PR, advertising and social media campaigns, a new look website and in-store activity partnerships to help build awareness of Tiger Tiger and drive shoppers to the fixture.