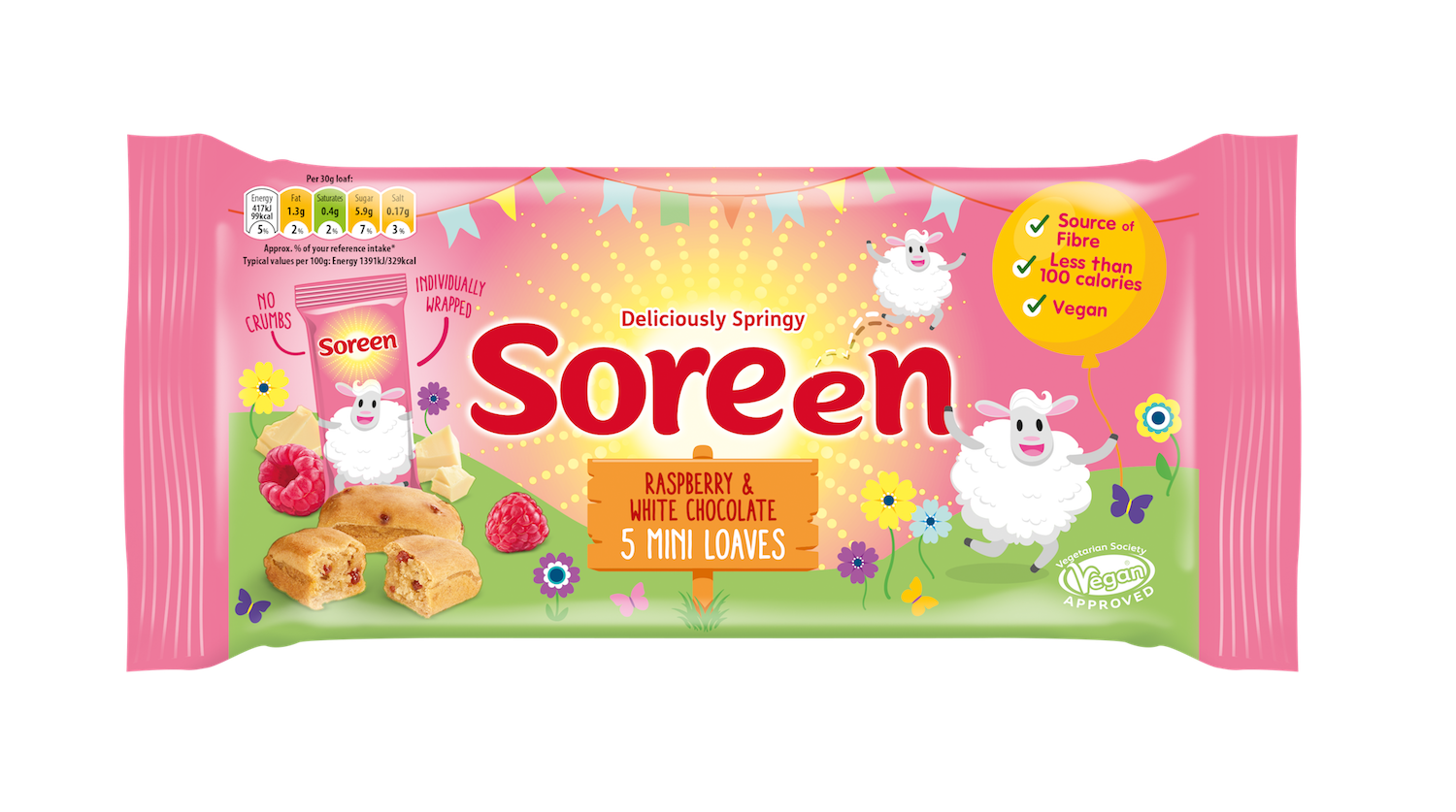 Malt loaf brand Soreen has announced some spring-tastic news with the launch of their new Limited Edition Mini Loaves.
The vegan-friendly, individually wrapped loaves are ideal for children as they act as a source of fibre and come in two fabulous flavours; Raspberry & White Choc and Gingerbread, both of which are vegan.
Bursting with flavour, the Mini Loaves are both under 100 calories per bar, and 50 per cent less sugar than the average Easter cake bar, making it possible to indulge in a sweet treat this Spring without having to worry about the calorie or sugar content.
"In the build-up up to Easter, which is traditionally a time of indulgence, we tend to find that parents are interested in healthier choices for their children," said Liz Jacobs, Marketing Director.
"Our brightly coloured packaging and tasty limited edition flavours, offers families a healthier option at Easter. Each Mini Loaf is under 100 calories, low in saturated fat and individually wrapped with no crumbs, creating the -perfect on the go snack for kids.
"Our Spring Mini Loaves also contain no reds in their nutritional traffic lights. We took the decision to feature the traffic light nutritionals on the front of our packs in 2017 to make it easier for parents to make healthier choices.
"Whilst these flavour combinations – ideal at Easter time – are aimed at young families, we're certain that they'll be enjoyed by everyone."
The Spring Mini Loaves come in multipacks of five and are all individually wrapped, providing an easy grab on-the-go snack. Find them in the cake aisle in supermarkets now.
"We're delighted to launch this new range in time for the Easter period. Our Limited Edition Seasonal Flavours are growing in popularity each year and we're confident that shoppers will love our latest edition to the family.
"The new Mini Loaves also maintain the unique combination of deliciously squidgy taste and texture, as well as holding great nutritional values, meaning it's a win win for parents and children. Plus, as they're vegan friendly they can also be enjoyed by children who need to follow a dairy free diet." added Liz.