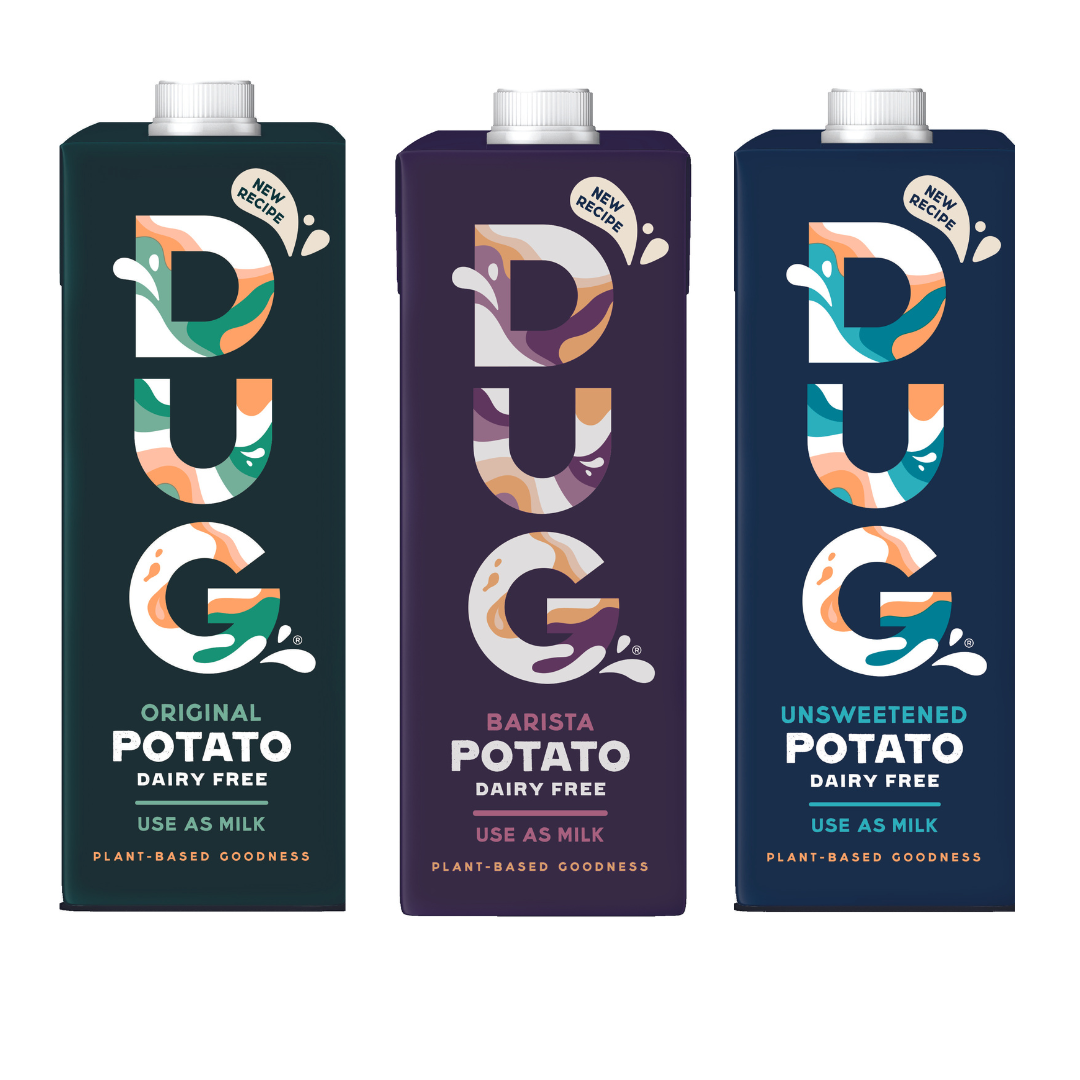 Potato-powered plant-based milk, DUG, is hitting retail shelves this January with a new, low in sugar, maltodextrin-free recipe with an even better taste and a longer shelf life.
DUG foams up fabulously in coffee and adds creaminess to any hot drink, and due to its patented potato-based emulsion, it doesn't separate in hot drinks or when used in cooking and baking.
Veg of Lund, the company behind DUG, listened to consumer feedback and refreshed the recipes of its Barista, Original (now both low in sugar) and Unsweetened varieties to make them even more appealing to those looking for an alternative to dairy.  And with a longer shelf life that benefits both retailers and consumers alike.
Low in saturated fat, DUG is fortified with Calcium, Vitamin D, Vitamin B12, Riboflavin, and Folic Acid. And that's not all.  DUG is free from the top 14 most common allergens, including lactose, milk, soy, gluten and nuts, making it an ideal choice for allergy sufferers and those with intolerances.
This award-winning, delicious, vegan-friendly, plant-based potato drink has its roots in science and research.  It was developed by Professor Eva Tornberg at Lund University in Sweden whose company, Veg of Lund, aims to help more people follow a plant-based lifestyle, that will benefit their health and our planet's future.  It is committed to environmental sustainability, minimising its climate footprint through efficient land use, low water consumption and low carbon emissions.
"DUG caused a stir in the £335 million milk alternatives market in 2022 thanks to its unique potato-power," said Graham Stonadge, UK sales director. "It has given other plant-based milks including oat and almond milk a run for their money and 'dared' consumers to try something completely different from anything else available in the category.
UK sales of plant milks are growing at a rate of 16 per cent year on year and the UK's plant-based milk market is the third largest in value of all Western countries. More than a third (34 per cent) of UK consumers now regularly purchase milk alternative products, with 11 per cent opting solely for these alternatives. 31 per cent of UK adults say they'd be willing to swap away from dairy.
Veg of Lund works with the following wholesalers who supply the independent/convenience channel: CLF, Suma, Essential, and Mercari