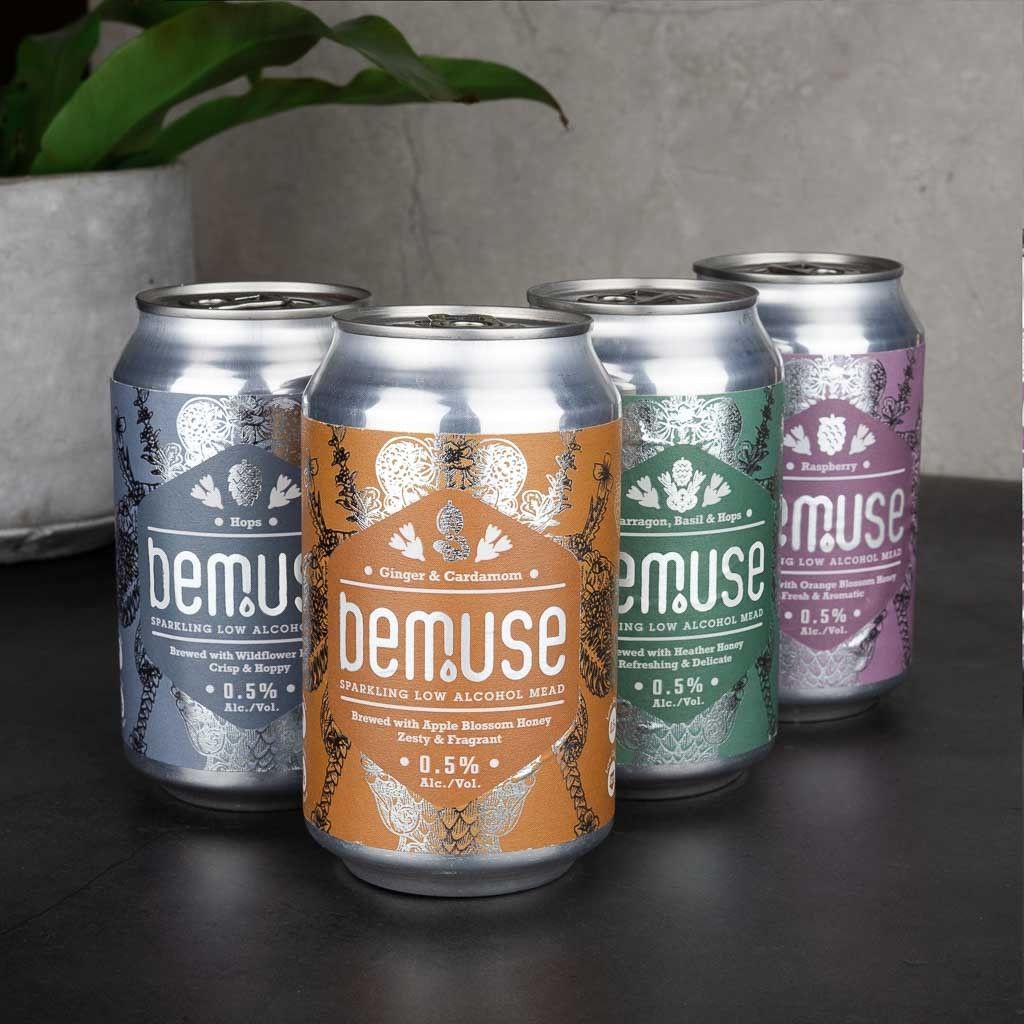 Bemuse, a distinctive new range of sparkling craft meads, has been launched into the growing low- and no-alcohol drinks sector.
Billed as completely new drinking experience based on Britain's oldest alcoholic drink, Bemuse range aims to meet consumer demand for innovative and tasty drink choices in UK off-trade, offering a range of sparkling, modern craft meads that are low in alcohol and sugar.
Founded by entrepreneurs Nataliya Peretrutova and Anna Chalov, Bemuse reimagines mead for today's tastes, creating a refreshing, lightly sparkling drink that also supports its natural producers – our endangered city and country bees.
"Mead is made by fermenting honey and has been produced for thousands of years, with evidence pointing to mead being produced up to 9,000 years ago. The Romans loved it, the Medieval Britons used it as sparkling table wine and Tutankhamun's tomb was even reputedly stocked with it. Now Bemuse offers an exciting and innovative twist for a new generation; a curiously modern craft mead," Chalov said.
"With its unique focus on low-alcohol meads, Bemuse has reinvented the style to produce an enjoyably fresh drink and, also, create a pioneering drinks category. A light, social, low-alcohol and low-calorie drink, the Bemuse mead range can be enjoyed all year round, on their own or as an accompaniment to food."
The range is available in four natural flavours, from the sweeter and fruitier (Raspberry) to herbal (Tarragon, Basil & Hops), spicy (Ginger & Cardamom) and craft beer style (Hops). Bemuse meads have a pleasant, natural colour, similar to sparkling white wine but have only 0.5% alcohol and 40 calories per can.
"Globally, the low- and no-alcohol drinks category is expected to rise by 31 per cent by 2024," Chalov noted. "But it is currently dominated by beer which has 92 per cent of the market. By introducing the first range of low-alcohol craft meads into the sector, Bemuse is revitalising this traditional drink for a contemporary audience and expanding their choices beyond an increasingly crowded beer selection. In short, we are encouraging people to 'Bee inspired to drink differently'."
The only drink of its kind, Bemuse is made with just honey, water and yeast, infused with natural ingredients to create the individual flavours based on traditional recipes. Consciously crafted to be environmentally beneficial, Bemuse is produced by a natural fermentation process using specially selected honey.
The four Bemuse flavours are 0.5% ABV, available to stock individually or as a group and are available in 330m fully recycled cans. For further information please contact Anna Chalov at Bemuse on [email protected], or Tel: 07525701565