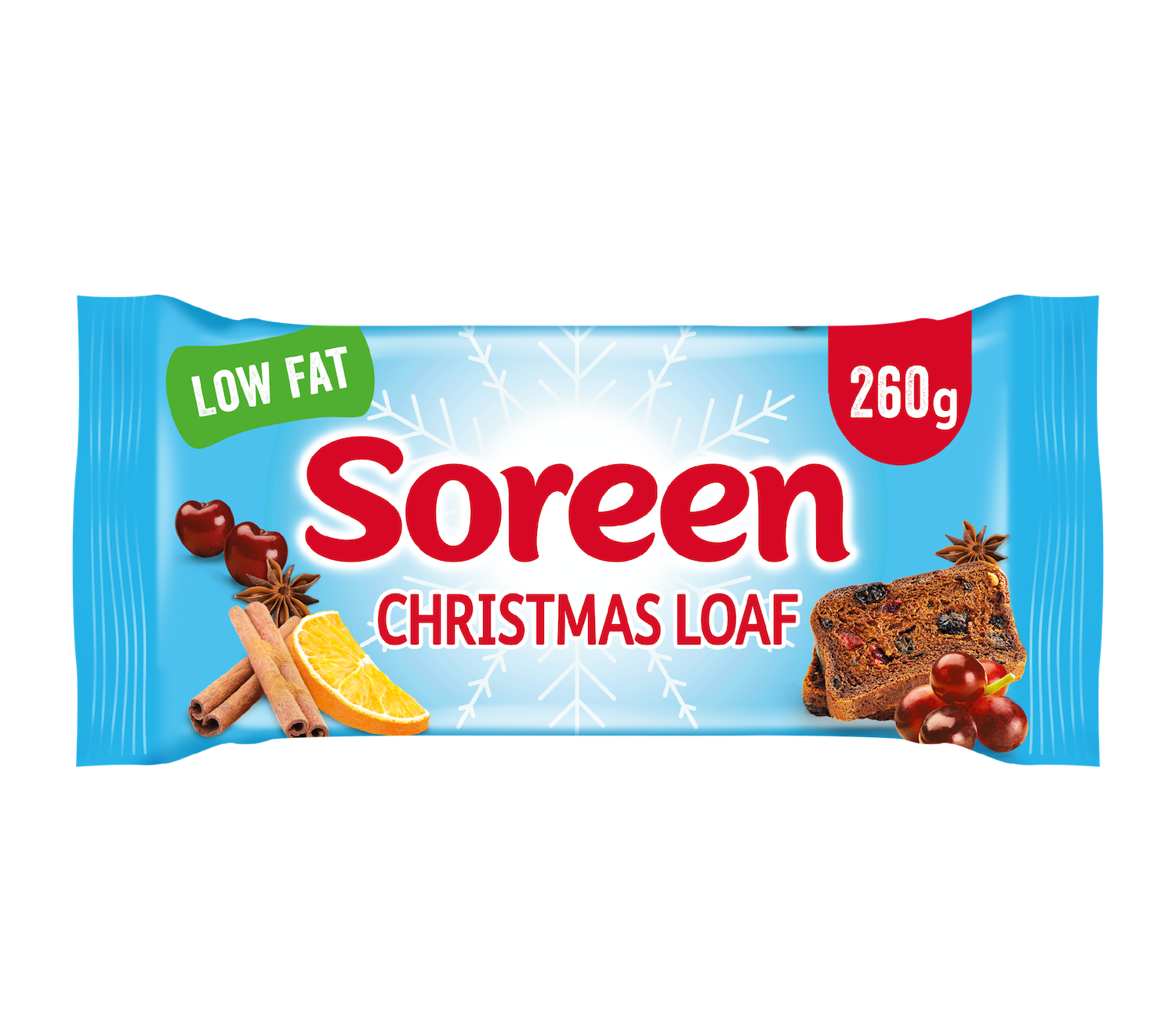 There's some merry news this festive season for the health-conscious consumers as Soreen brings out their new revamped core Deliciously Snowy Christmas Loaf.
The fruity Loaf is packed with a sumptuous mix of raisins, currants and cherries, along with a hint of citrus and warming winter spices – tasting just like a Christmas Pudding. The perfect winter warmer, alongside a cuppa, on a cold Winter's day for just 159 calories per portion.
This tasty winter treat also contains 87 per cent less saturated fat and 38 per cent less sugar than the average Christmas pudding choice meaning this festive favourite can be enjoyed guilt-free. Soreen's Christmas Loaf is also HFSS compliant and Vegan Friendly.
What's more, the iconic brand are also bringing back their limited-edition individually wrapped Mini Loaves, which come in two fabulous flavours; Raspberry & White Chocolate and Gingerbread, both of which are vegan.
Bursting with flavour and acting as a source of fibre, the Mini Loaves come in at under 100 calories per bar, making for a tasty but healthier treat to be enjoyed throughout the festive season.
"We're delighted to bring back – by popular demand – our Deliciously Snowy Mini Loaves. As well as our new revamped core Christmas Loaf as an extension to our limited-edition range," said Liz Jacobs, Marketing Director at Soreen.
"The festive break is traditionally a time of indulgence for tasty treats and flavoursome snacks, however we find that families are also interested in healthier choices in the build up to the holidays. Our Deliciously Snowy range provides the perfect combination, offering families a tasty treat that is low in calories, low in saturated fat and still retains that squidgy Soreen deliciousness to satisfy the taste buds either on-the-go, after or between meals."
Seasonal flavours are often sought after for the nostalgic, feel-good sentiments they provide, but with Soreen's Deliciously Snowy range, they also hold far better nutritional values.
Liz added: "We intend to continue extending our seasonal appeal and help retailers to capitalise on their wrapped cake seasonal sales with our limited-edition variants, which are proving exceptionally popular.
"What's more our entire Deliciously Snowy range is vegan, therefore can be enjoyed by those who need to follow a dairy free diet. Plus, they are HFSS compliant, so there's no compromise on taste, which many other retailers are struggling to adhere to due to the impending restrictions."
New product developments and innovations have helped boost Soreen sales over the past few years, with Soreen growing seven times faster than the cake category.
All RRP £1.25