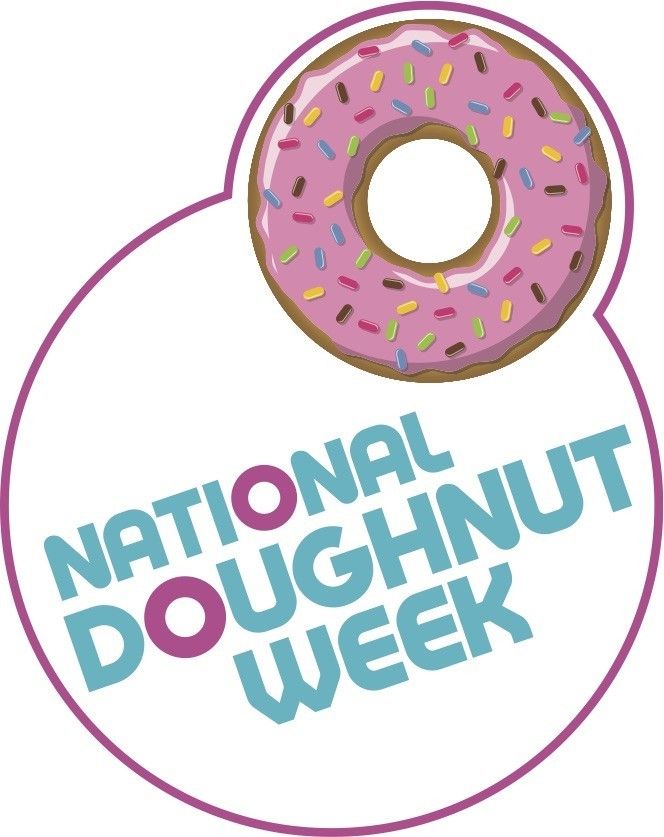 The official National Doughnut Week has revealed the top six trends it predicts will be big during this year's charity week. Running from 10th – 18th July, 2021 marks the 30th anniversary of a week which encourages retailers to sign up to the activity in order to raise lots of *dough* for a worthy cause.
To get involved in the fun this National Doughnut Week, and help raise lots of money for charity at the same time, businesses can register here to receive a branded POS kit. All money raised will go to The Children's Trust, the UK's leading charity for children with brain injury.
For inspiration and encouragement for businesses taking part, here's the top doughnut trends that will be popular this July.
1 – OOZING WITH FLAVOUR
The classic glazed ring doughnut remains a popular treat for many, and today's doughnut-lovers are after a step up to something a little more indulgent. Not only do they want a sweet topping to doughnuts, they also we want filled doughnuts filled. From Lotus Biscoff Loaded Doughnuts with a Toffee Sauce injection, to Chocolate Orange Doughnuts with a Chocolate Crembel filling, topped with Chocolate Orange Pieces, the possibilities when it comes to filled doughnuts are endless, and tap into the trend of permissive indulgence that is sweeping the UK. Almost half (49 per cent) of Brits admit that the top reason for eating a doughnut would be indulgence so it's no surprise that filled doughnuts are going to be a regular sight during this year's National Doughnut Week.
2 – GET READY FOR GREEN
Matcha, the Japanese green tea powder, was a huge trend in hot drinks about five years ago. Since then, it has evolved to be incorporated into a wide range of food items, desserts, drinks and even beauty products. This year prepare for an influx of green, as matcha doughnuts take centre stage. The bright colour of the matcha not only looks great, it tastes great too, particularly when paired with fruit such as red berries.
3 – SHINE BRIGHT LIKE A DOUGHNUT
Albeit slightly unusual, today's Instagram-generation champion bright, bold and picture-worthy treats that look good when shared on social media. Neon colours will be big during this year's charity week, as the unusual hues will get people talking. From swirling purple and pink galaxy glazes, to eye-catching greens and blues, neon doughnuts will be taking over our Insta feeds this July.
Alongside neon brights, rainbow colours will also be big for this year and will range from bright rainbow shades to more muted pastels. The rainbow theme has been huge for the last 15 months in recognition of the NHS, and so this will be reflected in the first National Doughnut Week since the pandemic began.
4 – VIVA LA VEGAN
More consumers than ever before are turning to a vegetarian or completely plant-based diet, particularly amongst the younger audience. Doughnut fans are looking for products to incorporate into their sustainable lifestyle with animal welfare, environmental protection & health being strong social issues with a long-term presence. Vegan doughnuts will be big for this year's National Doughnut Week, particularly amongst 25-34-year-olds who gave the highest positive response in a recent study when asked how likely they are to buy vegan.
5 – GET YOUR FIVE A DAY
Fully loaded fruit doughnuts not only look, and taste, delicious, they also add a touch of guilt-free indulgence as the fruit feels somewhat healthier than a chocolate or icing topping. Summer berries are a fresh and light way to enjoy a dessert in the warmer months, so will be making an appearance as a healthier doughnut topping this July.
6 – SAVE ROOM FOR DESSERT
This year will see some dessert inception, as the trend of "dessert doughnuts" will prove popular. From Key Lime Pie doughnuts, to Blueberry Cheesecake doughnuts, and even Black Forest doughnuts, the traditional flavours that you can find in classic desserts will be replicated in doughnut form.
Registration for this year's National Doughnut Week is now available at http://www.nationaldoughnutweek.org/.