Naksha has taken its first stride into the UK by securing stardust listings of its delicious and beautifully-designed recipe kits at Whole Foods Market, Harrods and John Lewis. Naksha's UK-made range include both savoury and sweet (baking) dishes, encouraging users to discover and cook off-the-beaten-track cuisines in their own kitchens.
Naksha Recipe Kits, first launched by Nisha Ramisetty and her husband Sam Williams in Dubai in 2020, quickly gained traction by winning the prestigious Spinneys and Waitrose Local Business Incubator and has been listed in Spinneys and Waitrose stores in the UAE ever since.
Naksha's arrival in the UK in June 2023 is shaking up the cooking experience of UK home-chefs by redefining store-bought, shelf-stable recipe kits. With whole, small-batch ingredients, authentic local recipes, and original hand-drawn artwork by emerging artists, Naksha's kits prove that simplicity and convenience are compatible with premium look-and-feel and gastronomic wow-factor. Kits suit weekdays, special occasions and gifting.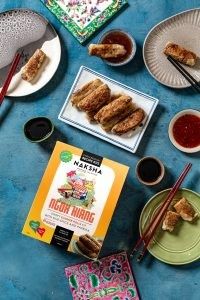 "Many people want to cook more often but struggle to keep their menu varied", says Nisha. "At the same time, many tempting cuisines are perceived to be too complex, expensive or wasteful to cook at home. Naksha tackles this by curating recipes from amazing places and giving customers the specialist ingredients needed to cook them without waste or fuss. UK consumers are hungry to cook food with engaging origin stories, and we are feeding that appetite."
Arranged into regional collections, Naksha's recipe kits give customers an immersive cooking experience encompassing great flavours, thoughtful storytelling, stunning packaging, and simple cooking methodology. The recipe kits focus on cuisines with strong appeal but limited visibility, looking beyond the predictable world of Mexican, Thai and Indian. Naksha's kits instead bring to life dishes from countries including Cuba (Ropa Vieja), Singapore (Lemak Cili Padi), Turkey ((Dark chocolate fondant with Turkish coffee), Jamaica (Curried Goat) and Lebanon (Milk chocolate blondies with Lebanese tahini); meeting demand for international food, which is growing rapidly in the UK.
Naksha kits are vegan-friendly as they don't include perishable ingredients. Instead, the shelf-stable products include easy recipe cards and specialist ingredients such as spice blends, herbs, grains, noodles, sauces and other extras. The fresh items (i.e. veg and protein) that a customer needs to complete the dish are easily obtainable as part of a normal weekly shop, maximising choice and flexibility. Customers aren't locked into costly commitments – yet, thanks to Naksha's diverse range, they can access a multitude of flavours. Most of Naksha's recipe kits are also gluten-free and contain organic ingredients.
Naksha is based between London and Brighton and has manufacturing facilities in Derbyshire.
Each recipe kit serves two people (savoury range) or 6-8 portions (baking range) and has a handy 12-month shelf life
Prices range from £7.99 to £11.50
For more information, visit nakshacollections.com