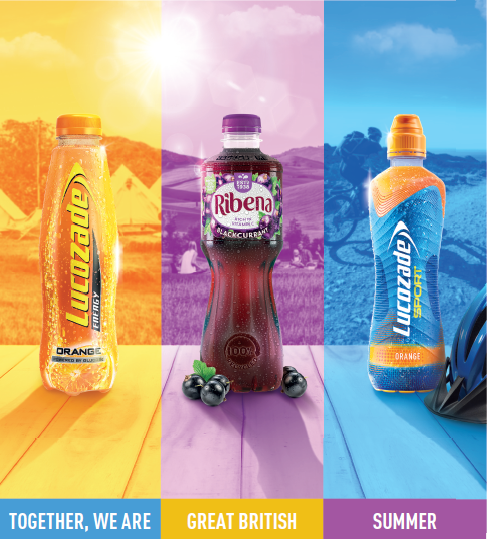 Suntory Beverage & Food GB&I is unveiling a new text-to-win promotion across its leading soft drinks brands to help retailers take advantage of this summer's sales opportunity.
Marking the first time Lucozade Energy, Lucozade Sport and Ribena have come together for a consumer promotion, this in-store summer activation will run for six weeks and offers consumers the chance to win a host of unstoppable prizes when buying their favourite soft drink.
With 60 per cent more people holidaying in the UK this year, research predicts that the summer 2021 season will unlock an incredible £160M of soft drink sales. A "normal" summer sees at least a 10-12 per cent sales uplift for the soft drinks category, particularly within drink-now formats, as shoppers look for tasty refreshment while out and about. But with UK consumers looking for fun holidays and experiences closer to home this year, this summer's sales are set to be even bigger.
"This summer we're making sure no-one misses out while enjoying their holidays at home," said SBF GB&I's Sales Director Alpesh Mistry. "It's the first time we've brought our biggest brands together in this way and we can't wait to see how the total brand power helps retailers to leverage excellent seasonal sales.
"The lifting of lockdown and the launch of new drink formats has seen our sales fizzing over; in fact we've increased production by 45 per cent! What's more, we know that 80 per cent of regions in the UK saw soft drinks sales uplifts in 2020, and with the rise in people enjoying holidays at home this seasonal spike is set to be even bigger this year. Well-chilled impulse soft drinks will be especially important for retailers as the on-the-go occasion returns in a big way during the warmer months."
The SBF GB&I portfolio of leading brands is well-positioned to help retailers capture more summer soft drinks sales. Lucozade Energy's flavours range, for example, sees a 20 per cent uplift during the summer months, and almost a third of shoppers choose Ribena for its hydration.
The multi-brand promotion will be activated in store through a suite of bespoke PoS materials including display units and posters in store. Consumers simply text the final four digits from the barcode on any participating pack of Lucozade Energy, Lucozade Sport and Ribena to 85100 for their chance to win a prize, including camping trips, BBQ experiences and bike rides.
What's more, to mark the start of the consumer promotion SBF GB&I is giving one lucky retailer the chance to win a summer's worth of soft drink stock across their three leading brands.
To enter, retailers should simply send their name, store name, address and contact number to [email protected].