Food to go (FTG) has been knocked a bit sideways by the Covid-19 lockdown, yet Mos Patel is one enterprising retailer who has taken the bull by the horns and expanded the offering at his two stores even amid the pandemic. And it's worked. He has seen increasing footfall and sales, and earlier this year topped it by bagging the Food To Go Retailer of the Year accolade at the 31st Asian Trader Awards.
It's not that the pandemic hasn't posed him any challenges. In fact, like many independents at the start of the first lockdown, Mos was hit by supply constraints. However, as a retailer striving to keep his stores up-to-date, he is always prepared for change, planned or unexpected.
"I think the main thing is you've got to be adaptable to change," he says. "You've got to have innovation as well, which is obviously thinking outside the box. And that's what we've had to do."
How he tackled shortages during those panic-buying days last year would be an example.
"We couldn't get hold of the basics like bread and milk. So we basically got the suppliers to the schools, because schools were closed. That's what kept our shelves full. Same with the eggs. We were going to the farms directly and ordering milk and eggs. Same with the fruit and veg. There was no fruit and veg available. Again, we used local suppliers. And that's how we got through Covid," he says.
It was exhausting and "definitely tiring", but Mos was quick to realise that it provided a "perfect opportunity" to advertise his shop.
"I don't look at this as a long term. I knew that this was a short- term burst, until something happened," he says.  "What we did was make sure prices were always kept rock-bottom. We never took advantage of that."
Essentially, his aim was to keep the new customers coming in and appreciating the store. Mos knew human beings have a tendency to forget very quickly, and found this was his opportunity to capitalise on the free marketing, as he calls it.
"So from products, ranges, cleanliness, and staff behavior, including your behavior, and how you portray yourself, in store and on social media," everything was geared to this mission of keeping as many of his new customers. And it's certainly helped.
"We've sustained the sales, believe it or not, whatever we did during Covid we are actually doing now, that's become normal," he says. To put this in context, during Covid, he has seen sales tripling. So, no mean feat there.
More significantly, the average basket spend has also gone up, giving him a chance to get the foot in the door as far as the big shopping trips are concerned.
"They come to see the store; they understand you offer from A to Z that they could get from a supermarket. Obviously not price and choice because of square footage, but they could do the second shop now, or the third shop, which we weren't getting," he notes.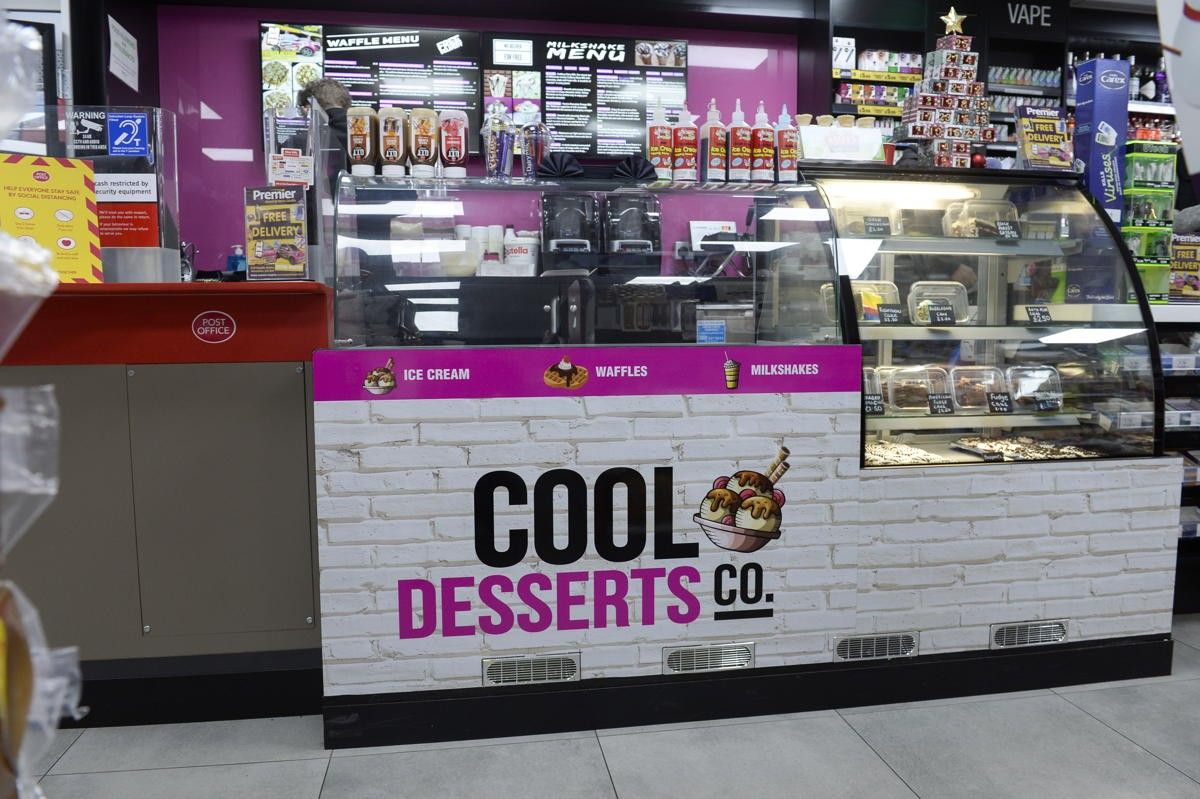 He put the dessert bar in just before the pandemic restrictions began and a full kitchen after the UK exited the first summer lockdown. The striking tiled dessert bar and full kitchen manned by trained chefs make Food to Go the undisputed jewel in the crown of Mos's two stores, Premier Heyside in Oldham and Family Shopper in Ashton-Under-Lyne, and sets them well apart from local competitors.
The investment has been a game of two halves, with the addition of the dessert bar, including freshly made to order waffles, milkshakes, cakes, and serve-over-ice creams in February last year. Tango ice blast, F'Real, regular slush, alcoholic slush and new coffee machine were also added to the mix.
However, recognising an opportunity for an even heftier hot FTG offer, the second wave of investment came in June, with the addition of a full kitchen, manned by a team of dedicated chefs who can personalise anything from the huge menu.
Lockdown has in fact helped, as Mos was able to hire an Indian restaurant chef – then out of work, of course– to develop a range of fresh home-cooked curries. The chef spent six weeks training his kitchen team, some who had never even cooked rice before. They can now all cook restaurant-quality curries.
"We've obviously evolved since then, as you can't stand still [in FTG]," Mos says. "What we do differently is we actually cook them, make your milkshakes, now we got into alcoholic milkshakes as well, Little things like that. That helped our sales in continuing growth."
The most striking about Mos is his attention to detail. He makes huge investments to his stores, but what he measures is not just the pounds, but even the time to make milkshakes and waffles.
Sample this: "In the dessert bar, you need an extra staff, because to make a milkshake or a waffle is time consuming. First of all, you have to make the ingredients. So it takes about seven, eight minutes. Then you have to serve the customer. Then you have to wash it, because you've got allergens. So, one milk shake would take you 15 minutes. Same with the waffle."
It does not stop there. You make deliveries and there are many areas that you need to pay attention. They have got a person working as a picker, and then the driver who is executing the order. Order picking accuracy is still an ongoing job that Mos strives to perfect.
"It may sound simple to you, but someone might order an Andrex four pack and there are different fragrances or types. They might be given the wrong one. Where you've got nothing in stock, you have to phone the customer to make a substitution," Mos explains, pointing out that supermarkets don't do that. "They do a substitution and send you an item. We don't. So this is more than the personal touch."
Then, they have driver training, which is not just about safety, but also looking to tackle customers who try to deceive."They need to take pictures because we realise some people were lying," he says, revealing that they have experienced shoppers saying they have not received the order despite being delivered.
"This kind of stuff happens. So we have a system in place where we were taking pictures of the stuff in the shop, and then a delivery picture," he says. "Not only you focus on improvement, but you had to put a procedure in place that complements what you're doing."
Of course, you cannot dismiss all customer complaints, and two issues stood out regarding his delivery service: deliveries were late, and the food was warm, not hot.
So, he recruited younger, faster drivers – without discrimination, he asserts – with clean driving licenses and experience. Then they got hot plates at £1000 each for the cars. The process involves measuring the temperature with a thermostat when the driver is given the plate from kitchen, and taking a picture of it as well.
"Because, again, people were trying to get free food. They said the food was warm, and all that. So now we've got evidence where the food was delivered, like 60 degrees. And only three miles we are driving," Mos says.
No wonder then that complaints have dropped from 15 per cent to just 0.5 per cent. This perfectionism is Mos's trademark, but with deliveriesit wasimperative, as delivery service is the new business model around which he wants to build his stores. He has already spent £100,000 for a fleet of "fully green" electric cars for home delivery and is looking to launch a dedicated app for his stores. He currently makes use of Snappy Shopper, but his own app is in development.
"My main focus is the new business model, which is our delivery service," he says. "We've got the hot food, we've also got cocktail bar. So, we're making cocktails, alcohol slushies, but they will be delivered to the house, so they don't have to come here."
At the same time, Mos expects people to cut down on deliveries. "I'm not contradicting myself," he explains, "What I mean is they want things given to them. But they will hold back because obviously things are opening up now. So if you were doing 30 deliveries that might drop to 15."
Still, he hopes to take on major delivery platforms like Uber Eats by capitalising on the breadth of his range and the savings from free delivery and promotions that he can offer to shoppers. "What we try to do is kind of compete with the major platforms, like saving 10 quid just on deliveries, just by promo, which no one else could do. They can't compete with that," he says.
For Mos competition, whether with supermarkets or small shops, is like a sprint – "You don't look backwards, you don't look sideways because that will delay you."
So, shoppers are now offered family packs –a case of Pepsi, Surf large pack for £10 – and Mos says average spend has gone up as customers find value for money. In addition, he makes sure his FTG machines are always upgraded to stay ahead on the curve.
"2020, we put up new Tango machines. 2021, we've just upgraded because we get more setups out of the machines, get less chance of breaking down. Last year we put a slush machine in. This year, we've just brought one for £2,500 because the original kept couldn't meet today's demands," he explains.
In fact, Mos has done three major renovations to the Family Shopper store in five years, making large investments each time. He would rate it as one downside of staying ahead: "it's always changing and you end up with less money, because you are reinvesting, continuously."
Working with a big team, he is unlike the old-timers when it comes to long hours. "I've seen a lot of the old-school Asians who used to work 60 hours a week. And then next thing, you know, they've hit the deck, because they've not seen that kid grow up. They've not enjoyed their life." The work life balance is important for Mos.
However, he shares one significant trait with the pioneering Asian retailers: getting involved in his local community. He really knows his area of "about 300 chimneys, low income families, basically couple plus kids, average age is 25." And he takes particular care to direct his support to the needs of the community.
"We sponsor local football teams to get kids off the street, because we think of crime in the area, young crime as well, because, parents, for whatever reasons, they've got kids left unattended," he notes.
The stores sponsor football teams of three different age groups. He has been actively supporting food banks and the homeless during the pandemic, besides donating food to hospitals. Mos is also of the opinion that retailers need to spread awareness of the support they provide to the community.
"We don't do it just for the sake of doing it. We do it because we can. But also when you do it, you also need to tell the community that as well. There's no point you doing it, and no one knows. Because they need to appreciate the shop as well," he reasons.
There's another reason for Mos to do community events like Halloween parties in store. "People think of shops as rip-offs, because that's what supermarkets have done with over 30 years of brainwashing. The only way to crack that would be doing community events," he says.
Mos has just two suggestions for independent retailers to unlock success: "You have to be adaptable to change and don't copy your competitor because we have people trying to copy us. You got to do what's right for you, and what's right for your business."
And, it can still be distilled to one very basic idea: "Put your customers first. That's what it's all about. You have to mean it.Don't look at your own pockets. Everything else will fall into place."