Health has been on the national agenda higher than ever during the pandemic, and consumers are following a more controlled diet to manage their weight and general health.
A recent survey by ProVeg International, a global food awareness organisation, found that a significant number of people began eating more plant-based foods during Covid-19 in the UK, and notably, the switch continued even as the pandemic subsided.
In September 2022, ProVeg International surveyed 1,000 UK residents about their eating habits before, during, and after the pandemic in order to compile the report, titled "How did Covid-19 impact diets around the UK?" The results were conclusive: our diets have changed, and it seems for the better.
When asked how their eating patterns changed during the pandemic's peak, 46 per cent of people agreed or strongly agreed that their habits had changed substantially, and 39 per cent said they ate a greater variety of foods. More specifically, and encouragingly, 26 per cent agreed or strongly agreed that they ate fewer animal-based foods and a similar number said they ate more plant-based foods during the height of the pandemic.
Moreover, 18 per cent of people agreed or strongly agreed that they had both increased consumption of plant foods and decreased consumption of animal products; and of these people, 70 per cent said they had maintained their new eating habits since the end of COVID restrictions, while only 28 per cent conceded that they had returned to their old eating habits.
"These results clearly illustrate a move towards eating more plant-based foods and a move away from animal-based products," Stephane Jaczniakowska-McGirr, head of corporate engagement at ProVeg, said. "With this in mind, the future certainly looks bright for dietary change in favour of more plant-based foods in the UK."
The Veganuary 2023 statistics, which broke all previous records with more registered participants than ever, backs this up. 706,965 people officially signed up for the vegan diet challenge from nearly every country in the world this year.
According to Veganuary, several studies have suggested that the total participation in the challenge is significantly larger than the number of registered people through Veganuary's website.
In a YouGov survey conducted this year, four per cent of UK respondents reported they were practising Veganuary during January 2023. Another 2022 YouGov poll found that nine per cent of Brits had participated in Veganuary since the campaign began in January 2014.
"The impact our food choices have on the planet is getting harder to ignore, and it's very inspiring to see so many people around the world starting the new year by taking action," Toni Vernelli, Veganuary's head of communications, said.
"Attitudes towards veganism are changing, and Veganuary's just-give-it-a-go-for-a-month-and-see-what-you-think approach has undoubtedly played an instrumental role in this shift, offering a non-judgmental way for businesses and individuals alike to explore a transition towards plant-based."
Meaty question
The sales value of plant-based food grew by 73 per cent (£670m) between 2018-2020 in the UK, while sales volume increased by 67 per cent [Nielsen]. The sector is led by plant-based meat (£450m), and plant-based sausage is the most dominant segment in the category.
And, Birds Eye is revamping its Green Cuisine Meat-Free Sausages to create a new Meat-Free Cumberland-Style Sausage, tapping into the soaring demand.
The new Meat-Free Cumberland Style Sausage will dial-up the sausage's taste credentials and savoury notes, it will also have a new casing, creating a firmer bite and locking in the juiciness of the sausage. The new look sausage will be accompanied by updated recyclable packaging and will be available across all channels.
Victoria Westwood, senior brand manager, Birds Eye Green Cuisine, said shoppers are continuing to look for plant-based alternatives of their favourite foods, with the alternative protein market forecast to become 11 per cent of the overall protein market by 2035.
Birds Eye's Green Cuisine range has helped to fuel category growth, providing meat-free versions of some of the nation's most popular dinner-time staples. The range has seen strong growth of 31.3 per cent YA, which equates to tremendous growth of over 300 per cent compared to 2019 sales.
"At Birds Eye, we are always looking for ways to enhance our offering to ensure we are delivering products that shoppers keep coming back to. That's why we've invested in improving the quality and taste of one of our original Green Cuisine SKUs. The new and improved Cumberland-style sausages are the tastiest we've created to date – this isn't just our opinion either; consumers agree, with testing revealing that the new recipe has much higher preference scores with consumers than the original version of the sausage," Westwood commented.
"The renovation of our meat-free sausages will ensure Birds Eye's Green Cuisine range continues to play a leading role in the plant-based revolution. Shoppers increasingly expect plant-based versions of their favourite dinner time staples to deliver on taste, quality and overall experience. With the changes made as part of this new recipe, alongside continued marketing support, we're confident our Green Cuisine range will stay front of mind for consumers, as they seek out the best meat-free options."
Meanwhile, Squeaky Bean, famous for its category-leading ready-to-eat vegan meat alternatives, is expanding its range with the launch of its Cooking Chorizo Style Sausage – a plant-based product that perfectly mimics the taste and texture of the Spanish dry-cured meat.
It's the first product in the Squeaky Bean range to be designed specifically for use in cooking and builds on its reputation for developing innovative and delicious plant-based slices and pieces, that already include Pastrami Style Slices and Chargrilled Steak.
With 58 per cent of British adults now including plant-based meat alternatives in their diet [Ipsos], Squeaky Bean's new Cooking Chorizo Style Sausage has been designed to meet a gap in the plant-based market for flavoured ingredients to complement existing ready to eat ranges.
The cooking sausage is seasoned with chilli, smoked paprika and garlic, giving it a distinct red colour and fullness of flavour, before going through the same slow dry curing process as a meat chorizo sausage, which helps it to match on flavour and texture. Pan-fried in just two to three minutes it can be used to give a smoky kick to dishes such as shakshuka or stew, or eaten hot or cold as part of a traditional tapas spread.
"At Squeaky Bean we believe consumers should eat vegan because it's the tastier choice, which is why we are committed to using the latest product innovation to create recipes that are even better than their meat counterparts. We've already achieved this through our ready to eat sliced and chargrilled plant-based meats, but we know our fans have been increasingly craving vegan products that can replicate their favourite cooking ingredients, which is where our new Cooking Chorizo Style Sausage comes in," Rebecca Youseman, brand manager at Squeaky Bean, which is part of The Compleat Food Group, said.
"Offering the same smoky punch of flavour and texture as a Spanish chorizo thanks to our slow dry-curing process, the Cooking Chorizo Style Sausage allows consumers to recreate their favourite chorizo dishes in a plant-based format, making it an ideal choice for meat reducers and vegans alike.
"With an ever-increasing number of people looking to reduce their meat consumption, we are excited to be able to use our expertise to create a truly innovative recipe that will be a fantastic addition to the chilled plant-based aisle, as well as meeting the demands of consumers for a wider range of meat alternative products, with no compromise on taste, texture and flavour."
---
---
Plant-based food in the UK – Key highlights
Consumer profile: 9% of UK consumers are vegan or vegetarian. After Germany, the UK has the largest share of plant-based eaters in Europe. 23% of UK consumers identify as flexitarian.
Consumption of plant-based products: looking at plant-based food, the most frequently consumed items are plant-based milk (26% at least once a week), plant-based beef (24% at least once a week), and plant-based poultry (23% at least once a week).
Plant-based meat and fish consumption: UK consumers would specifically like to purchase plant-based chicken breasts (31%), sausages (29%), and minced meat (28%) in supermarkets. UK consumers would also like more plant-based fish burgers to be available on supermarket shelves (22%), along with smoked salmon (20%).
Plant-based dairy consumption: in terms of plant-based cheese, UK consumers would especially like to see plant-based sliced cheese (38%) and plant-based mozzarella (36%) available in supermarkets. The plant-based dairy sector in the UK is smaller than the plant-based meat sector, but growth rates are higher for plant-based milk and cheese than they are for plant-based meat.
Plant-based baked goods: if the taste and texture of plant-based baked goods were the same as conventional baked goods, 30% of UK consumers would be likely to purchase plant-based baked goods regularly. Sales value for plant-based baked goods have increased steadily.
Source: The Smart Protein project, 2021
---
---
On-the-go options
The plant-based options are getting increasingly popular among the food to go customers, as evidenced by the reintroduction of its plant-based range by leading FTG brand Urban Eat.
The Roots from Urban Eat. range, launched in January with a fresh look and tantalising NPD, consists of two sandwiches: tangy Cheeze and Pickle with tomato and lettuce, and Falafel and Houmous, complete with vegan mayonnaise and crunchy salad.
The brand's hugely popular Tomato and Pestowrap is also part of the range, along with a new option –Spicy Bean.
Abigail Nelson-Ehoff, brand manager, Urban Eat. said the range has been carefully designed after extensive research and development to offer high-quality, delicious plant-based options that appeal to a broad range of consumers.
"Our research shows that 65 per cent of people in the UK are reducing meat from their diets, but they're not willing to compromise on taste and quality to do so. When designing the Roots proposition, we therefore knew we didn't want to launch 'just another vegan sandwich' – it was important to us to create a lunchtime offering full of flavour and variety that appeals to a broader target audience than just those with a vegan diet. Resonating with flexible meat reducers as well as devoted meat excluders increases our audience by 50 per cent, which in turn offers a bigger commercial opportunity for us and our customers," Nelson-Ehoff said.
"And we're confident we've created a range of plant-based perfection which does just that! What's more, with our striking new packaging, customers will be able to identify us easily in the chiller and understand what we offer – food that's plant-based and big on taste."
Florette, the leading brand in the UK salads market that sells 34 million packs annually, is urging convenience retailers to enhance their offer to meet shopper demand for more choice in fresh, naturally nutritious options.
Martin Purdy, commercial and marketing director at Florette UK, points out that, rather than restrictive, calorie-controlled diets, consumers are making dietary lifestyle changes and moving more towards a varied and natural diet, in which Florette stockists are perfectly placed to benefit.
"More than a third of shoppers surveyed by IGD place an importance on eating more fruit and vegetables to lead a healthier lifestyle, with a further one in five looking to eat more fresh produce in particular," he says.
"When it comes to convenience store shoppers, research by Lumina highlights brand and health are the most important factors when conducting a planned top up mission (63 per cent of shoppers looked for brands/44 per cent for healthier products) highlighting the need for stocking a reputable range of healthier brands such as Florette."
By stocking a brand like Florette, which is already bought by one in five UK households, retailers could also make a statement about their commitment to encouraging a healthy lifestyle, he added.
The size of the prize for convenience retailers shouldn't be under-estimated. The leafy prepared salads market in convenience is already worth over £77m and shoppers are visiting more frequently to purchase leafy salads (+13.5 per cent) showing a growing appetite for the category in the channel [Nielsen and Kantar].
Snacky bits
In 2020 the plant-based baked goods category crossed £1 in sales values. Plant-based confectionery has seen particularly impressive YOY growth of 94 per cent in 2019-20, as the development of new vegan chocolates thrived.
"Over the course of the year, we've seen an increasing consumer appetite for varied snack options, and plant-based alternatives have never been more important," comments Susan Nash, Trade Communications Manager at Mondelēz International.
"It's important to us to cater to consumer choice wherever we can, which is why we're proud that Maynards Bassetts' Fizzy Fish has received vegan certification. Additionally, the fast-growing Sour Patch Kids range has been joined by a fourth flavour variant that's also vegan-certified."
Containing no gelatine, Sour Patch Kids Watermelon provides shoppers with the iconic flavour change from sour-to-sweet in a delicious, sugar-coated jelly. This addition to the range is performing strongly, generating a £2.4m RSV already since its launch.
Mondelez has also launched Cadbury Plant Bar – an alternative to the nation's favourite chocolate bar, Cadbury Dairy Milk. The bar was developed for over two years at Mondelez's Research and Development centre in Bournville and sees the usual milk ingredient replaced with almond paste.
"This allows it to retain the creamy taste you expect, while offering a hint of nuttiness. Cadbury Plant Bar is registered by the Vegan Society and is available in two flavours, Smooth Chocolate, and Smooth Chocolate with Salted Caramel pieces," Nash adds.
The recent introduction of HFSS legislation has been a major disruption in the snack aisles, but it has also led to more of a focus on healthy snacking. KP Snacks is supporting this pivot, providing people with healthier options to enjoy as part of a balanced and healthy lifestyle.
"The health segment is growing 20.2 per cent year on year [Nielsen]. 53 per cent of consumers say they try to eat healthy most of the time and only 1 per cent state they never try to eat healthily [Mintel 2020]. However 'healthy' means different things to different people. For some it's a focus on positive health e.g. increased protein or fibre, whereas for others, it's a focus on portion control or calorie reduction," notes Matt Collins, trading director at KP Snacks.
"Today, positive health within the snacking category is seen to be more about 'managed health', e.g. things that we can take out of our diet. This means that offering products with lower calories, as well as less saturated fat, salt, sugar, and additives, is becoming increasingly more important for snack brands."
Nash, of Mondelez, concurs, adding that pack formats can help shoppers to manage portion control, while still enjoying a great-tasting product.
"Dairylea's iconic triangles, made with milk and cheese, provide a good source of calcium with no artificial colours, flavours or preservatives. At 33kcals per triangle, this tasty snack is perfect for shoppers looking for portion control for their families," she says.
"As well as this, many of the Dairylea snacking products, including the portable format of Dairylea Filled Crackers, moved to under 100kcal in line with its commitment to bring snacks that are typically bought for families under this threshold. This meant that in 2021, Dairylea removed over 2 billion calories from its range."
Collins agrees that plant based eating trends are here to stay, with more consumers actively choosing diets which incorporate more veg and plant based foods.
"46 per cent of 25-44 year olds believe it's healthier and 38 per cent believe it's better for the environment [IGD, 2020]. The popchips health and flavour credentials have driven the brand's appeal to date," he says.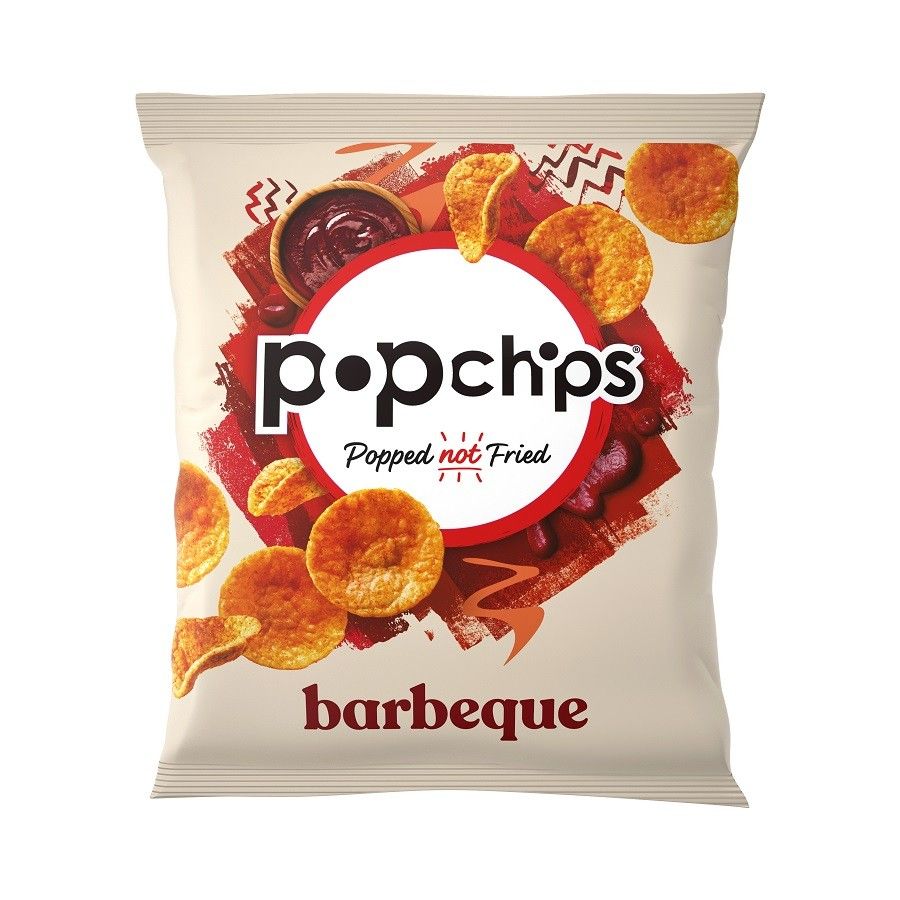 Coming in at under 100 calories per serving, suitable for vegetarians and vegans, and with a third less fat than the market leader, popchips provides a more permissible snack option without compromising on big flavour, which is the no. 1 purchase driver in crisps, snacks and nuts.
"As a responsible snacks manufacturer, KP is committed to providing more 'permissible' snack products and communicating openly, to help people make informed decisions about the snacks they're buying. Positive health within the snacking category is a lot about 'managed health' so we make it a priority that our consumers have the required knowledge and options to make informed decisions by highlighting attributes such as high in fibre, Gluten Free and good source of protein, and by adding colour coding to the nutritional intake labels across a number of our packs," Collins adds.
Milky way
The UK has a strong plant-based milk market, valued at £265m in 2019, and by 2025 the value looks to increase by more than double, reaching £585m, growing at an estimated CAGR of 13.8 per cent between the years 2020-2025 [Grand View Research].
The market for almond milk is set for incredible growth, expanding at an estimated CAGR of 16.6 per cent during this period. Almond is a popular choice; it's tasty, creamy, and low in calories, carbohydrates and fat. It is also versatile and works well as an addition to both beverages and meals.
Matching this CAGR of 16.6 per cent is the "others" category. Oat milk has received unprecedented interest, owing to claims of better sustainability practices and exciting product developments within the category. Falling just behind this is rice milk with a CAGP of 14.1 per cent between 2020-2025. New product development within the rice milk category has not taken off to the same effect as other vegan milks, so there is room for market growth and development.
The last category is soy milk. In 2019 this held approximately 20 per cent of the overall plant milk market in the UK. Due to a stagnant CAGR of 2.9 per cent in the coming years, this is set to drop to approximately a 10 per cent share. Soy milk has been a staple plant milk for many years in the UK, however a lack of recent product development within the category may be holding back its appeal.
In 2019, beverages accounted for approximately 60 per cent of the dairy alternative market and foods accounted for 40 per cent. These categories are expected to grow at a CAGR of 13.8 per cent and 14.2 per cent between the years 2020-2025, with the market share between these two categories remaining the same.
Previously, vegan cheese held the highest share of the market. But in 2019, both the cheese and snacks categories levelled out to approximately 40 per cent each, with desserts accounting for the other 20 per cent. Due to varying levels of growth, by 2025 this is set to change.
Vegan desserts have the strongest forecasted CAGR of 17.6 per cent between 2020-2025, which is set to increase their market share to 25 per cent. This has been aided by the launch of several vegan ice-creams coming to market in recent years. Vegan cakes are also becoming more mainstream.
Vegan snacks have a forecasted CAGR of 14.4 per cent between 2020-2025, which will help the category in holding its 40 per cent market share in 2025, aided by the launch of new vegan chocolates. The vegan cheese category has the lowest forecasted CAGR of 11.9 per cent, and for this reason, their market share is set to drop to 35 per cent.
Mondelez launched the first plant based soft cheese alternative of its Philadelphia brand last year, with a unique recipe that combines oats and almonds into a delicious and creamy spread, as good as the Original.
"Philadelphia Plant Based's recipe was perfected over two years so that the taste, texture, and quality that Philadelphia is renowned for is not compromised. With such advances, the brand is able to reach younger audiences who follow flexitarian lifestyles and vegans who do not consume dairy cheese," Nash says.
Since its launch, Philadelphia Plant Based has received fantastic response from shoppers, reflected in its strong repeat purchase rate of 30 per cent. "It's been clear that the product has truly delivered value to shoppers, with the range over-indexing versus the category particularly for under 34s, pre-families and young families," Nash adds.
Potato-powered plant-based milk, DUG, has hit retail shelves this January with a new, low in sugar, maltodextrin-free recipe with an even better taste and a longer shelf life.
DUG foams up fabulously in coffee and adds creaminess to any hot drink, and due to its patented potato-based emulsion, it doesn't separate in hot drinks or when used in cooking and baking.
Veg of Lund, the company behind DUG, listened to consumer feedback and refreshed the recipes of its Barista, Original (now both low in sugar) and Unsweetened varieties to make them even more appealing to those looking for an alternative to dairy.  And with a longer shelf life that benefits both retailers and consumers alike.
Low in saturated fat, DUG is fortified with Calcium, Vitamin D, Vitamin B12, Riboflavin, and Folic Acid. And that's not all.  DUG is free from the top 14 most common allergens, including lactose, milk, soy, gluten and nuts, making it an ideal choice for allergy sufferers and those with intolerances.
"DUG caused a stir in the £335 million milk alternatives market in 2022 thanks to its unique potato-power," said Graham Stonadge, UK sales director. "It has given other plant-based milks including oat and almond milk a run for their money and 'dared' consumers to try something completely different from anything else available in the category."
UK sales of plant milks are growing at a rate of 16 per cent year on year and the UK's plant-based milk market is the third largest in value of all Western countries. More than a third (34 per cent) of UK consumers now regularly purchase milk alternative products, with 11 per cent opting solely for these alternatives. 31 per cent of UK adults say they'd be willing to swap away from dairy.
Premium chocolate drink Chocomel has also announced the launch of a new plant-based variant in January 2023: Chocomel Plant-Based.
With an exclusive cashew nut and pea milk formulation, the drink offers the same chocolatey richness as the original and has been rated as 93 per cent positive in advance taste tests, with 48 per cent unable to fault the product at all, beating current market leaders in a blind test, the brand said.
The premium milk drinks category has grown by 51 per cent year on year [IRI], and Chocomel is driving forward well ahead of the category with a growth rate of 81 per cent and sales of £6.9 million. The brand said a core element of this growth has been the new users, adding that the new launch will drive awareness even further.
Alongside the growth of the move towards "better for you" diets, recent research suggests that 32 per cent of UK consumers are regularly enjoying plant-based milks and that this growth is expected to continue over coming years [Mintel].
"Delivering a plant-based product to the market is a big step forward in Chocomel's development within the UK. Dairy remains a key pillar of our FrieslandCampina product offering, but we want to make sure that we meet – and exceed – the desire of many consumers who enjoy both dairy and non-dairy products," Gabriella Sudall, marketing manager NPD (Chocomel) at FrieslandCampina UK, said.
"A 2021 YouGov survey found that three per cent of people in the UK are vegan and this is currently on the rise. For Chocomel Plant-Based, it was vital to get the thick and creamy texture as close to the original as possible. Our technical team has worked tirelessly to ensure we are able to re-create Chocomel's famous velvety and chocolatey taste, and we've been genuinely delighted with the results – and so have our shoppers."
Saputo Dairy UK says they are seeing demand for dairy-free alternatives continuing to grow, both amongst people who suffer from conditions or intolerances, as well as, increasingly, amongst people who believe free from is the key to their healthy lifestyle.
"Appetite for plant-based eating is at an all-time high, with almost two and a half million UK households now having a vegan or vegetarian household member, while others are taking conscious steps to reduce their dairy consumption. Those aged 16-24 – the Gen Zs – are leading the way here, citing 'feeling healthier' and 'sustainability' as key drivers for their choice," Emilie Grundy, VP of butters, spreads, oils at Saputo Dairy UK, explains.
This sustained growth, with household penetration of non-dairy alternative products now entering the mainstream, should give retailers the confidence they need to include plant-based alternatives within their day-to-day range.
Barriers
Pilgrim's Food Masters, owner of leading brands Richmond and Fridge Raiders, says apprehension towards the taste of plant-based foods is a barrier to more than a quarter of the UK population.
According to its research, over half (52 per cent) of Brits have sampled a meat-free product while some 26 per cent said they would buy more meat-free products if they could trust that they had good quality taste and texture.
The vegan category is currently at worth around £531m. In the last two years alone, plant-based shoppers have increased by 6.5 per cent. Health (37 per cent) and environmental factors (31 per cent) are the biggest driving forces behind this uptick in consumers.
Despite the growth there are still barriers holding back the category. One in four (26 per cent) consumers say they would eat even more meat-free products if they were confident they tasted good. Specifically, it is taste and texture that is preventing 17 per cent and 16 per cent of consumers respectively from buying more meat-free products.
Perhaps unsurprisingly, it is over lunch and dinner that consumers are most likely to serve up meat-free dishes, with 38 per cent of those polled saying they would opt for meat-free products for dinner and 23 per cent for lunch. This is further evidence that whilst new product development has focused on the dinner occasion to date, the lunch moment, as well as snacking and breakfast, are still underserved.
Stocking a variety of products is also a key pillar in continuing the category's evolution. 11 per cent of consumers stated if there were more flavours available, and a wider variety of proteins used, they would purchase more meat-free options.
"We know there's clear consumer appetite for meat-free products driven by sustainability and health needs," explained Conor Lowry, category controller at Pilgrim's Food Masters. "But we know consumers still have barriers around perceived taste and texture, and as a category we need to continue to raise the bar and deliver against expectations."
"Listening to consumers and responding to their needs is crucial to enable the category to reach its full potential. Consumers expect more in 2023 so continued development is key."