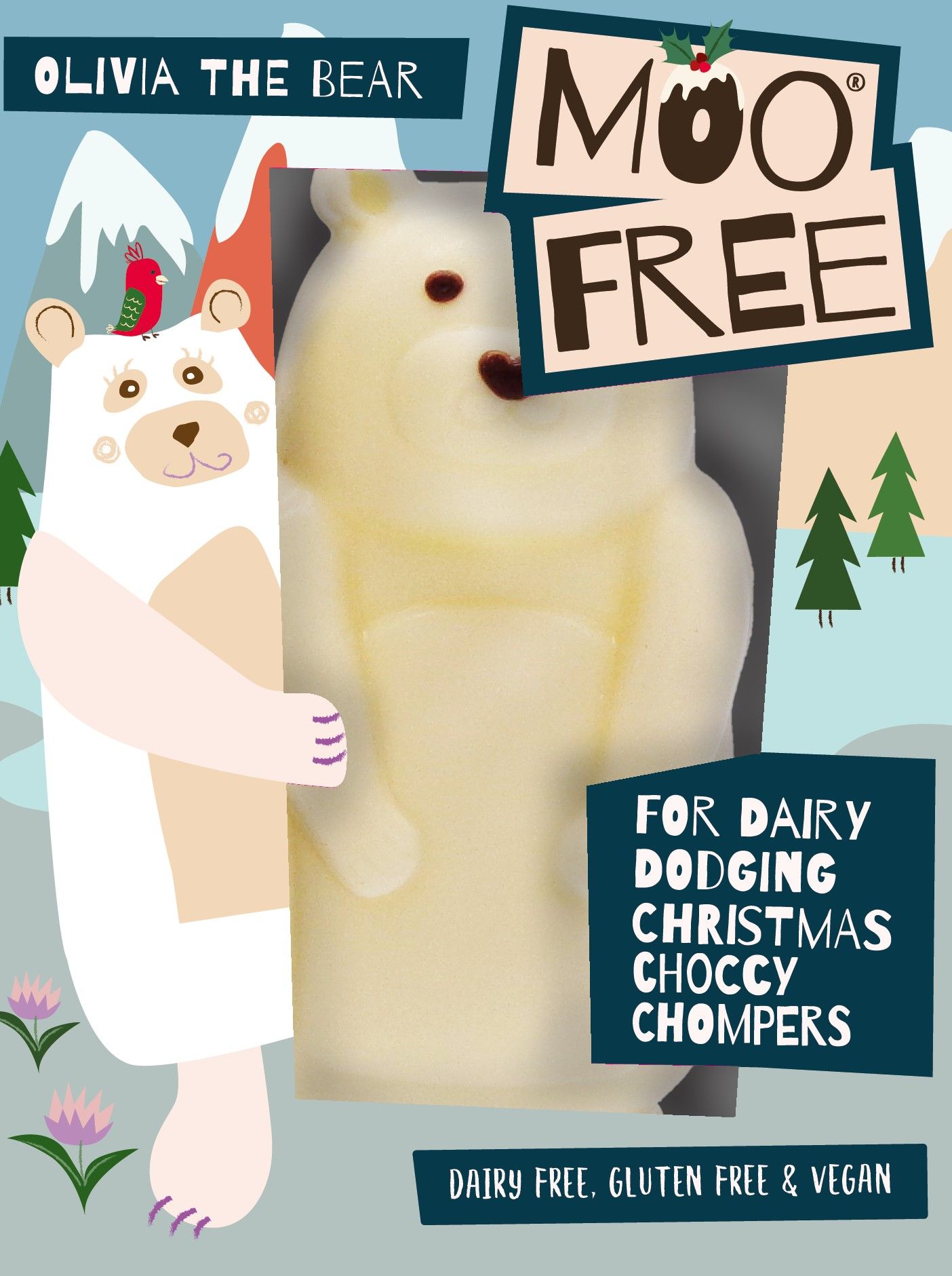 Free-from and vegan chocolate brand Moo Free is launching two new Christmas products to extend is existing festive range – Olivia the Bear and White Choccy Snowball.
Growing at an average 30 per cent year on year, Moo Free has won more than 100 Free-From and Vegan Awards. Its popularity stems from its appeal to those with allergies or who are following a plant-based or vegan diet. The product range is free from dairy, gluten and soya and uses high quality, ethical chocolate.
Moo Free's new Olivia the Bear White Chocolate (RRP: £2.99) is being introduced following on from the popularity of its milk chocolate counterpart, Oscar the Bear. Olivia is made using Moo Free's white chocolate, which is creamy in both taste and texture. Gluten-free, soya-free and suitable for vegans, Olivia is the perfect stocking filler for those with allergies or intolerances. The second new Christmas treat from Moo Free is the White Choccy Snowball (RRP: £2.50) containing vegan marshmallows and honeycomb.
In addition to these two new white chocolate products, Moo Free will be bringing back its festive favourites this Christmas. The range includes a choice of Advent Calendars, a Selection box and a host of Santa- and Snowman-shaped chocolate bars and festive figures. Each product is guaranteed to be free-from gluten, dairy and soya.
Moo Free's sustainability credentials are robust too. The brand sends zero waste to landfill and helps cocoa farmers by using ethically sourced UTZ/Rainforest Alliance cocoa, as well as organic cocoa from the Dominican Republic.
"Sales of our Christmas range have enjoyed double digit growth each year, alongside the success of our all-year-round range," said Andrea Jessop, CEO. "We are appealing to the increasing number of people following a range of diets from gluten free to vegan. Our 2021 Christmas range is the largest yet with something for everyone, so we would urge retailers to stock up early."