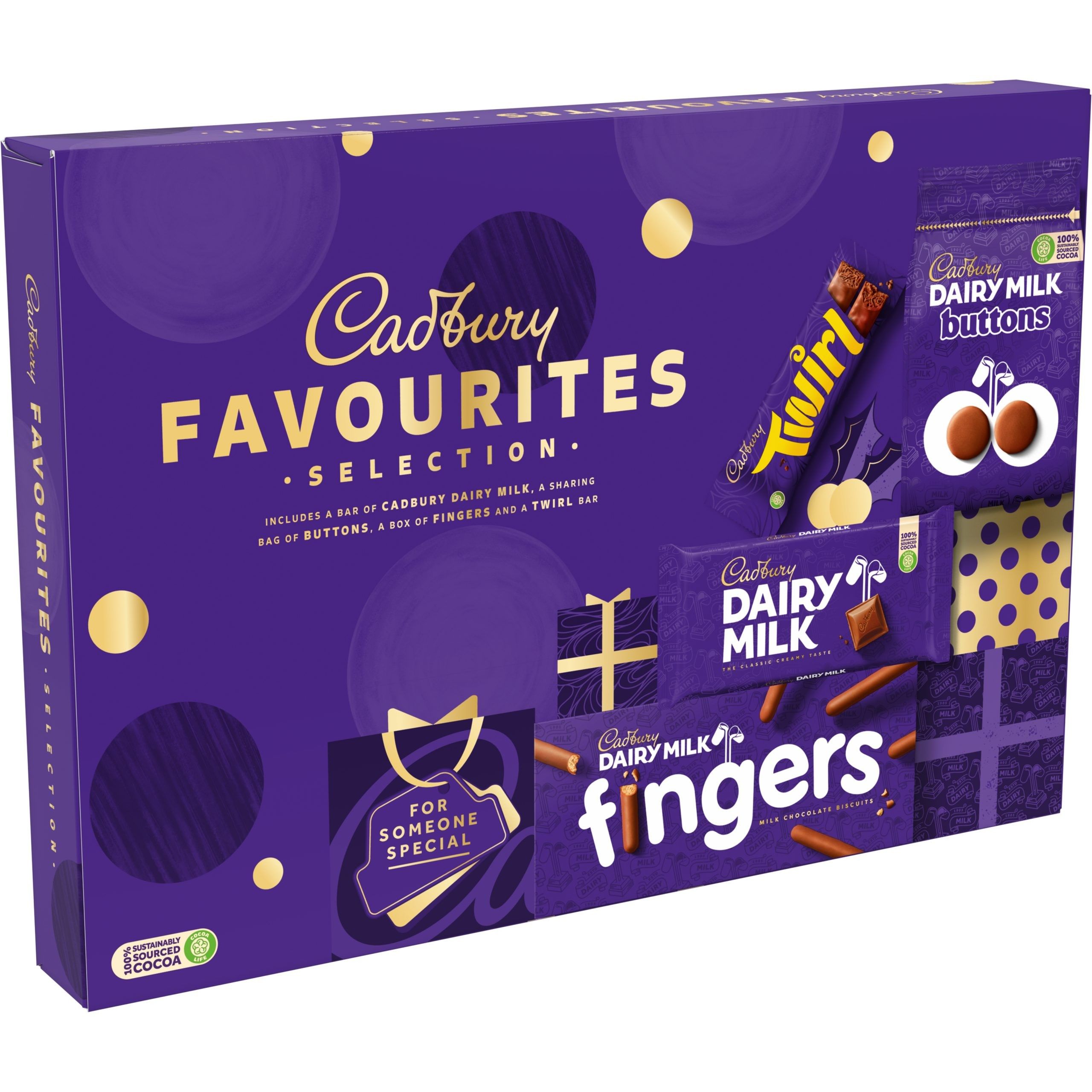 Mondelēz International (MDLZ) is once again bringing their festive favourites to market this year with a sleigh-load of confectionery and biscuit treats. It will be helping retailers to make the most of a potentially great festive period with treats from iconic brands such as Cadbury, OREO, Maynards Bassetts and Green & Black's.
Mondelēz International is central to Christmas confectionery, leading the market with the #1 SKU in seven sub-categories – seasonal sharing, advent calendars, selection boxes and tree decorations, just to name a few. Shoppers clearly trust MDLZ to bring them the products they love come Christmas-time, with total seasonal sales growing over six per cent last year. In seasonal biscuits, MDLZ also has a strong presence, growing over three per cent last year with top-performing products from Cadbury Biscuits and OREO.
This year sees a re-design across the seasonal range with new and eye-catching packaging that raises the "specialness" element and builds on seasonal and gifting cues present on-pack. The new look will help drive further value for retailers and shoppers with a fresh touch of Christmas magic guaranteed to create excitement in-store.
The Season – Part One: "Fast Start"
Remember that the festive season actually starts as early as September, with shoppers beginning to cosy-up indoors due to the darker nights and cooler weather. As a result, retailers may see an increase in Big Night In sharing occasions, which they can cater to with sharing packs, multipacks and block formats. Cadbury's range of sharing pouches (such as Cadbury Dairy Milk Classics and Cadbury Roses) are shopper favourites in the category, with the Cadbury Heroes pouch achieving the #1 SKU in Grocery.
In October, the upcoming seasonal occasions are becoming prevalent in shoppers' minds, and many will be looking for self-treat and sharing novelties. MDLZ is launching an NPD, the Cadbury Mini SnowBalls 110g Bar, the ultimate combination of the UK's #1 sharing novelty treat, now in  a tablet format. OREO will be bringing a playful twist to Christmas with seasonally coloured cremes through the classic Original flavour. OREO Festive Colours are perfect for sharing, with three 114g roll packs which include red, green, and white coloured-creme options. Cadbury Puds made a much-anticipated return last year, and were quickly a huge hit with shoppers becoming the season's #1 NPD.
The Season – Part Two: Driving the Excitement
By November, the countdown to Christmas has begun. Shoppers begin preparations for the season by purchasing of advent calendars and tree decorations. This year, Mondelēz International is bringing consumers a Christmas challenge in the form of brand-new Cadbury Dairy Milk Advent Bar featuring 25 individually-numbered chunks of the nation's favourite chocolate, with a resealable wrap for stand out on-shelf. Tapping into festive fun, the unique "One Chunk a Day Challenge"  is something everyone can take part in.
Finally, as we enter December and the big day approaches, retailers can profit by stocking up on larger gifting and sharing formats. This year, Mondelēz International is rolling out a brand new treat, the Cadbury Chunk Collection, to include individually-wrapped chunks of various Cadbury chocolates, including Cadbury White, Cadbury Dairy Milk, and Cadbury Dairy Milk Wholenut. The Chunk Collection is available in a 243G Carton format, with an eye-catching design that is sure to stand out on-shelf. The iconic Cadbury Heroes Tin will also be available in a new "Who Am I?" card game edition that will bring the entire family together. These gifting and sharing formats elevate festive moments, and are a fantastic opportunity to drive maximum sales from shoppers by providing the option to "trade up" their treats.
All in all, MDLZ have executed a fresh and coherent, excellently integrated re-design of the Cadbury range, using the (now copyrighted) purple livery in a subtle and enticing manner to best present a slew of NPD and traditional favourites.
Susan Nash, Trade Communications Manager at Mondelēz International, commented that despite the growing cost-of-living crisis, the prospect for improved sales over the festive period is excellent this year, due to shoppers looking for "value self-treats" and gifting chocolates in place of more expensive consumer durables.
The products
September/October: Festive Firsts
Cadbury Mini Snowballs Bar
Brand new for 2022, Cadbury Mini Snowballs Bar sees the combination of the #1 Christmas sharing novelty product, Mini Snowballs with the nation's #1 chocolate, Cadbury . This unique treat comes in the iconic Cadbury heartland tablet format which is perfect for both sharing and self-treat occasions. Retailers can use this irresistible proposition to drive their fast-start to the season and repeat purchase rate. RRP £1.49, Weight: 110g x 20 per case
Cadbury Dairy Milk Winter Mint Crisp
Cadbury Dairy Milk Winter Mint Crisp is a top performer come Christmas-time , tapping into festive flavours with delicious mint crunchy pieces. New for 2022, it will be available in a 360G block format making it the perfect small gift for Cadbury lovers. What's more, it'll be rolled out with a new and impactful gifting design that is sure to stand out on-shelf, driving incremental sales and encouraging shoppers to 'trade-up'. RRP £3.99, Weight: 360g x 13 per case
Cadbury White Jingly Bells
Cadbury Jingly Bells are expanding their range with a brand new White addition for 2022. Jingly Bells are individually wrapped in large sharing pouches, making them an ideal treat to share among your family and friends. The Jingly Bells range have an eye-catching seasonal design of snowflakes on a cosy knitted background which invites shoppers to celebrate the festivities, and this new addition will only drive excitement further! RRP £1.49, Weight: 72g x 16 per case
November: Countdown To Christmas
Cadbury Chunk Collection
The brand new Cadbury Chunk Collection provides the nation's favourite chocolate in individually-wrapped chunks of various flavours, including Cadbury Dairy Milk, Cadbury Dairy Milk Caramel and Cadbury Dairy Milk Wholenut. This collection's elegant packaging stands out on-shelf, but also has an aspect of versatility which allows retailers to tap into various seasonal shopper gifting occasions. RRP £5.00, Weight: 243g x 5 per case
Cadbury White Santa
Chocolate Santas are a must-have for chocolate lovers when it comes to the festive season, making them a fundamental part of any retailer's Christmas confectionery offering. This year, Mondelēz International is rolling out a brand new chocolate Santa, made from indulgent Cadbury White. This delicious flavour is accompanied with a stand-out design of Santa wearing white, rather than his traditional red. This exciting addition to the range is sure to engage your shoppers. RRP £2.99, Weight: 100g x 8 per case
Cadbury Dairy Milk Advent Bar
Mondelēz International has a brand new challenge for chocolate lovers this Christmas with the launch of Cadbury Dairy Milk Advent Bar! Delicious Cadbury Dairy Milk Chocolate will be sectioned into 25 individually-numbered chunks that can be broken off and enjoyed each day in the lead up to Christmas. This unique new bar will add a touch of magic to the advent countdown for consumers and is sure to be a talking point! Retailers can join in with the fun by encouraging their shoppers to take part in the 'One Chunk A Day Challenge'. Who'll be able to resist? RRP £3.49, Weight: 270g x 14 per case
Oreo Festive Colours
OREO will be bringing a playful twist to Christmas with the launch of brand new OREO Festive Colours. For the first time across Europe, there will be red, green and white coloured cremes whilst also keeping their iconic Original Vanilla flavour. The product includes three 114g roll packs, each with a different colour making it an ideal sharing treat to celebrate the festivities together. With an eye-catching seasonal design, retailers can drive excitement in their stores with this unique treat. RRP £2.50, Weight: 462g x 6 per case
December: Christmas Magic
Cadbury Dairy Milk Tins
Tins are a growing category in Christmas confectionery which drives value and offers shoppers the opportunity to 'trade up'. This year, Cadbury are launching two new beautifully designed tins filled with delicious Cadbury Chunks. Tins make a great gifting proposition for the festive season, and these new additions will give shoppers two different sizes to choose from for their recipient, 396g or 850g. Small Tin: RRP £5.99, Weight: 396g x 6 per case. Big Tin: RRP £12, Weight: 850g x 1 per case.
Cadbury Heroes Game Tin
The iconic Cadbury Heroes tin is a must-stock for the Christmas season and this year, Mondelēz International is rolling out a brand new version that is sure to create excitement in-store. Cadbury Heroes Who Am I? features all of the treat-sized shopper favourites you'd expect, but with a brand-new in-built game for all to enjoy while they share and indulge in their treats. This enhanced value proposition will bring family and friends together during the festivities, and will provide retailers a fantastic sharing option to offer to their shoppers. RRP £12, Weight: 900g x 1 per case
Toblerone Selection Box
Toblerone is a popular with premium chocolate shoppers, and Christmas is the perfect time for shoppers to 'trade up' and treat themselves and those around them. That's why Mondelēz International has developed a new Toblerone Selection Box, filled with four 100g bars and a mix of treat-sized Tinies in delicious milk, white, and gingery orange flavours. This selection box is perfect for retailers who want to tap into the high-end seasonal gifting opportunity with a well-loved premium chocolate brand. RRP £10, Weight: 480g x 7 per case
Cadbury Favourites Selection
Finally, the brand new Cadbury Favourites selection box is ideal for seasonal indulgence, offering shoppers several of their favourite Cadbury Dairy Milk treats in one including a sharing bag of Buttons, a box of Fingers, a Twirl bar and 100g tablet. The impactful design sets out the product proposition clearly for the shopper, and includes the label "for someone special", making it a perfect personalised gift for any festive occasions. RRP £5.95, Weight: 370g x 7 per case