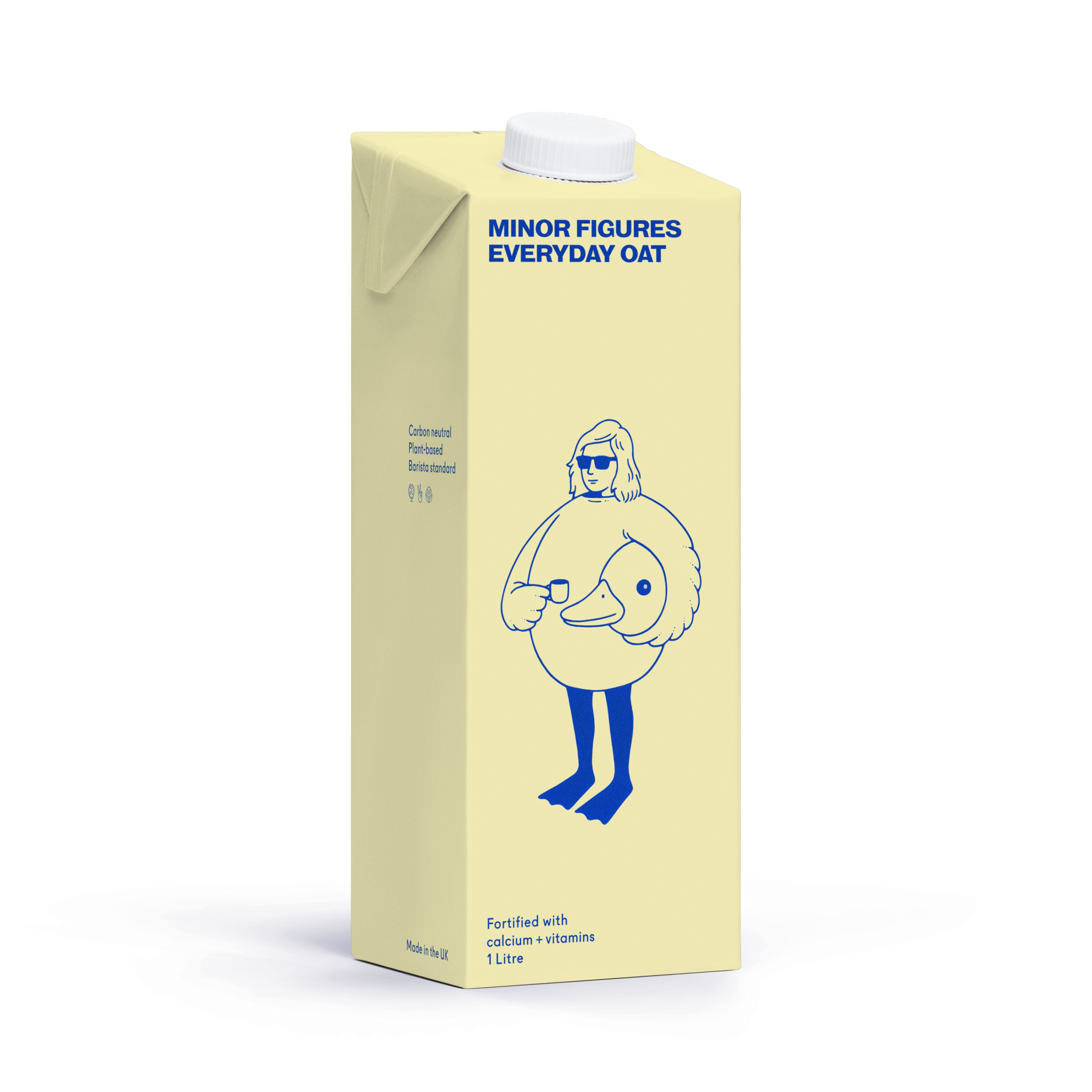 Minor Figures, the UK's No.1 fastest growing alternative milk brand, today confirms the launch of a two
strong range of fortified oat m*lks as it enters the chilled category.
The new range, which marks the brand's first foray into the chilled aisle, will be launching initially with Waitrose across 250 stores from this week, followed by the full Holland & Barrett estate from early June. Everyday Oat and Everyday Oat Light (RRP: £1.99 / 1Litre) will also be available to independent retailers nationwide.
The new range boasts a thicker mouth-feel and is positioned as a creamy, dairy-free milk alternative that tastes great on cereal, in smoothies and in tea and coffee. As with the rest of the range it is plant-based, 100 percent carbon neutral and has no added sugar. Not only is it vegan and non GMO, but both contain naturally occurring sugars, and are fortified with calcium, iodine, & vitamins B2, B12, and D.
Stuart Forsyth, Minor Figures, Co-Founder & CEO, explains "We pride ourselves in making great, innovative plant-based products for oat milk lovers, baristas and a better planet. The launch of our new Everyday Oat range means we're not only entering a new space in the supermarket, but we have been able to fortify the product with vitamins and minerals that are commonly lower as part of a vegan diet.
"We're really pleased to have the support of both Waitrose and Holland and Barrett to help us take our latest innovation to an even broader consumer audience".
All Minor Figures products are not only proudly plant-based, UK-made and carbon neutral, but they never compromise on flavour or quality. Minor Figures' real focus is on crafting products which allow the coffee's natural characteristics to be present in the cup.
The launches follow a period of sustained growth for the plant-based pioneers, who saw their RSV increase by £9million in the last year alone. Not only that, but the brand predicts a 100 percent YOY growth in revenue for the next three years ahead.
Now stocked in over 2,500 grocery stores across the UK and more than 5,000 coffee shops and independents, the Minor Figures range is also seeing success internationally, now available in over 40 countries worldwide.
Minor Figures recently ran their first integrated out of home campaign which ran across three providers; JC Decaux, Clear Channel and Jack Media through the month of May in over 600 strategically located sites across Greater London, Brighton & Hove, delivering more than 40,000,000 impressions.
Everyday Oat is available now from Waitrose and will launch into Holland & Barrett in June 2022.