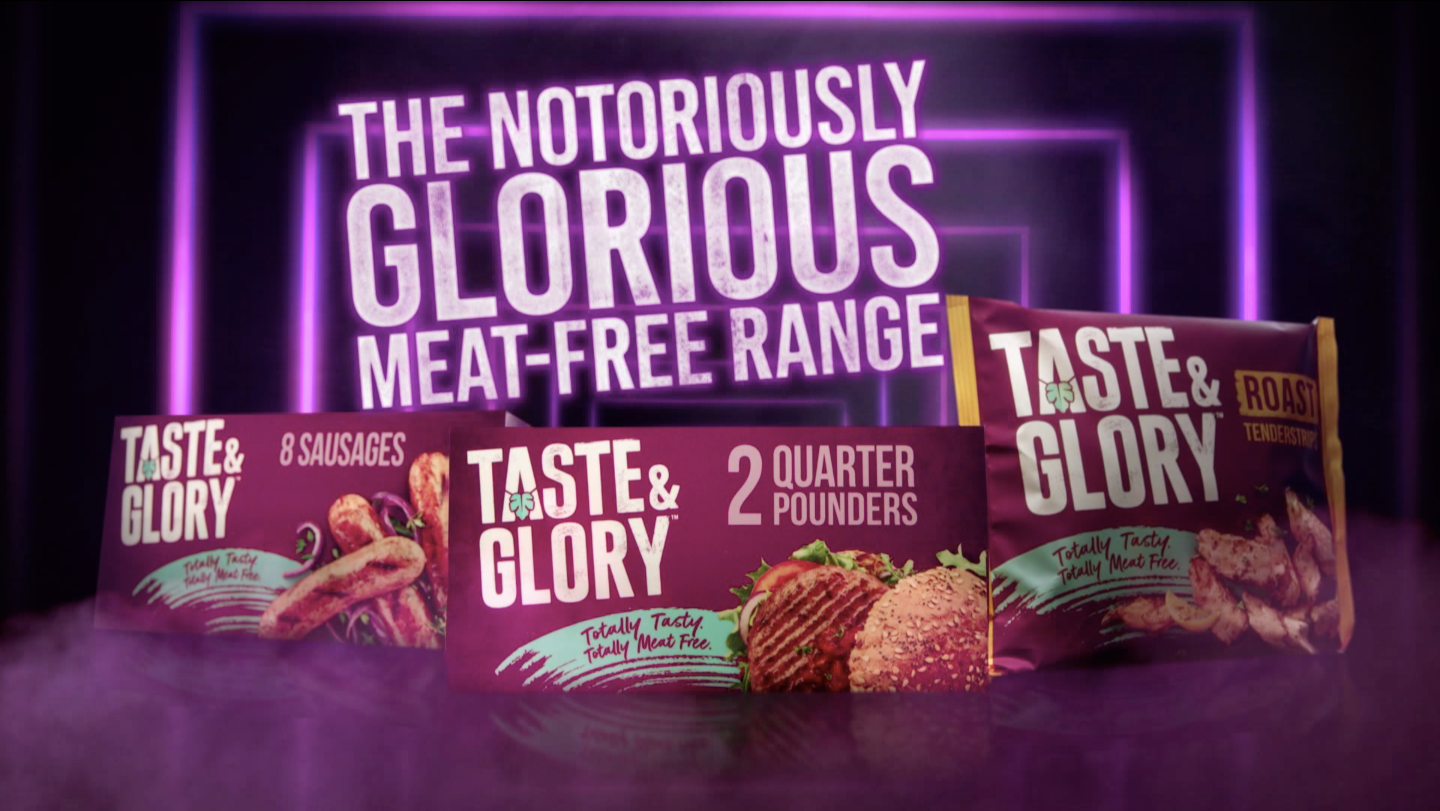 Taste & Glory, Kerry Foods' 100 per cent meat-free brand, has today launched a £1 million "Notoriously Glorious" marketing campaign to showcase its taste credentials. The brand's evolution to Taste & Glory was announced last month to better reflect its range in the meat-free category.
Running from July to September with a '90s hip-hop vibe and the brand's plum and teal colours throughout, the campaign champions Taste & Glory's signature offerings. The Quarter Pounder is the star of the show alongside its Sausages and Tenderstrips. Going live across TV, VOD, digital platforms and social media, the "Notoriously Glorious" Campaign focuses in on Taste & Glory's core message: free of meat, full of taste.
This integrated campaign is designed to raise awareness of the range, enticing existing customers and newbies to the plant-based category of the brand's commitment to taste. Taste & Glory will be featured on the side of 300 London buses from 12th July for two weeks and the meat-free brand is also running a sampling campaign with 200 micro influencers to further raise awareness of the range and drive shoppers in-store with a combined reach of over 16 million. The campaign is designed to cement the new name and comms in the minds of both shoppers and retailers.
"This hip-hop inspired campaign that celebrates great tasting meat-free food is just the beginning of Taste & Glory's exciting evolution," said Alison Lees, Marketing Manager for Taste & Glory. "With our amazing 100% plant-based products taking centre stage, we're showcasing the dedication to flavour that Taste & Glory has as well as the amazing growth of the brand. We look forward to exciting shoppers to discover our full portfolio of delicious meat-free swaps, perfect for every mealtime."
Taste & Glory has become the largest dedicated meat-free brand to have launched in the last two years with an RSV of £9.5 million to date. 63 per cent of the brand's current shoppers buy across the portfolio and over 80 per cent of sales are incremental to the whole category. The new marketing campaign will reinforce the brand's position as a meat-free brand that tastes good and that flies off shelves.