Can you please give an overview of your brand?
popchips is a beacon "Better for You" snack brand that's vibrant and popping with positivity. We know our consumers live busy lives but want to get the most out of their snacks, so we make sure our snacks are full of flavour, and are popped not fried – ultimately satisfying flavour cravings without the guilt!
On top of great flavour, our core popchips are gluten-free and suitable for vegetarians and our newest range, popchips Veg Vibes, are also vegan! The flavour-packed core range includes BBQ, Sea Salt, Sour Cream & Onion, and Sea Salt & Vinegar, while popchips Veg Vibes come in spicy Sriracha and tangy Sea Salt & Balsamic Vinegar. Our core range comes in at under 100 calories per serving and with a third less fat than the market leader.
How is your brand currently performing? 
popchips is worth just over £34m RSV and is growing in value at +17 per cent YTD, ahead of all of key "Better for You"crisp competitors. popchips is also ranked No.1 "Better for You"bagged snacks within sharing.
We're also proud to say that we've been growing faster than the total Healthier Snack market this year! Available in all formats and for a range of consumption occasions, popchips appeals to shoppers of all ages who are looking to make empowered choices.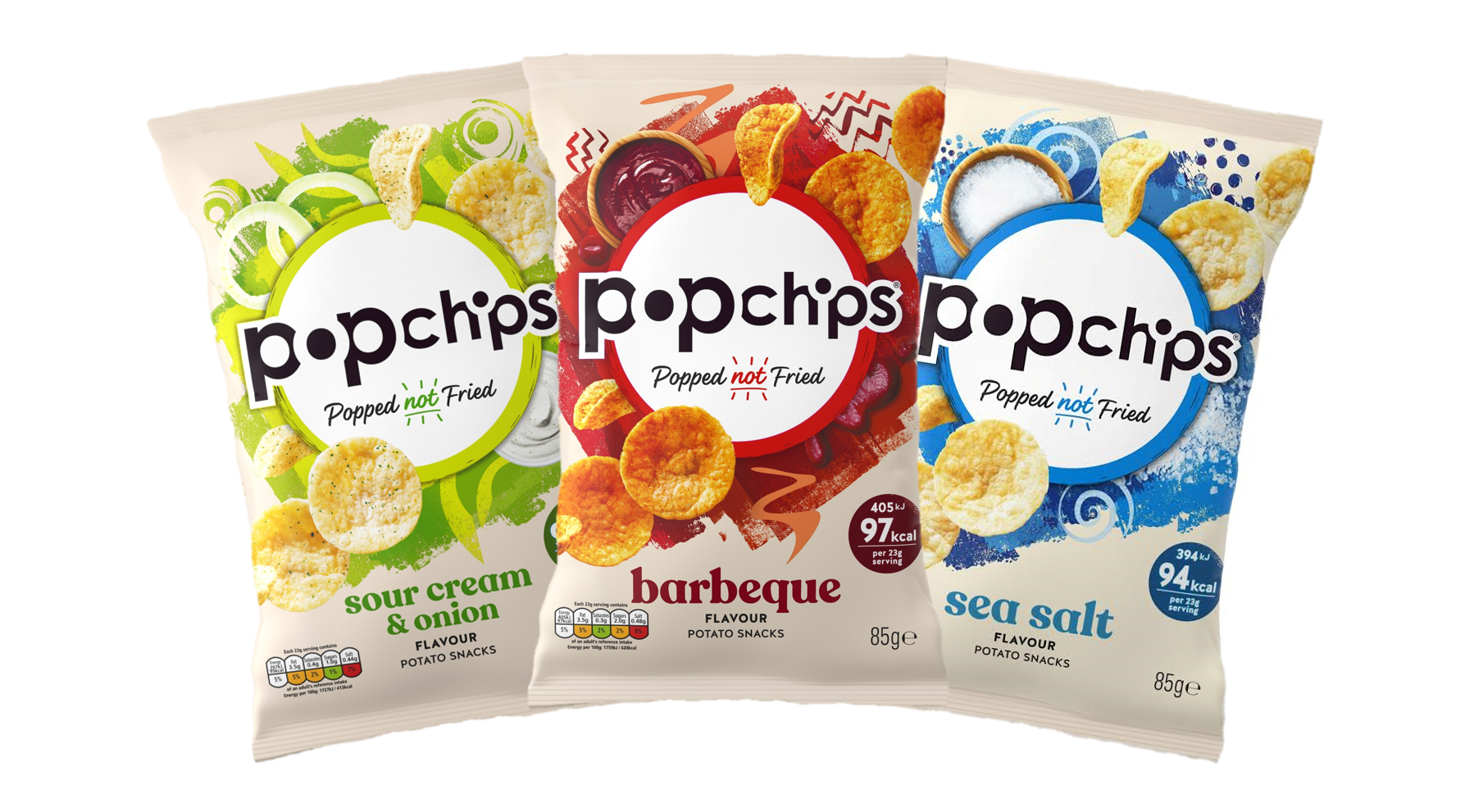 How is the crisps, snacks and nuts market (CSN) currently performing? 
CSN is a fast growing, priority category with huge scale. Worth over £3.4bn and growing at +3.7 per cent YOY, CSN represents an important opportunity for retailers to grow sales and footfall, and with the introduction of new HFSS restrictions, healthy snacking is set to grow exponentially. The health segment has seen +10.2 per cent growth in the last 12 weeks. Flavour is still the no. 1 purchase driver in crisps, snacks and nuts, and healthy snacking is no exception.
Do you have any new product development? 
Our recent NPD has focused on alternative 'Better for You' ingredients but with big tasting flavour cues that inspire consumers and add something totally new to the healthy snacking segment. Our most recent new product launch is popchips Veg Vibes, a light and crunchy new snack made of sweet potato, chickpea and rice combined with deeply satisfying flavours that consumers don't usually see in vegetable-based crisps. This one is for the food lovers!
How are you supporting your brand & NPD? 
Earlier this year, we announced a £2m investment in popchips, with the launch of an exciting new campaign, "Start Something Good", which saw popchips make its first-ever TV appearance. The campaign comes at an exciting time as the brand continues to grow within the healthy snacking market, and aims to drive awareness and trial, keeping popchips front of mind for consumers looking for a tasty and balanced snack.
The new campaign follows a brand-new look and feel for popchips with a new pack design, giving the brand a more modern look and feel, with fresh and vibrant colours.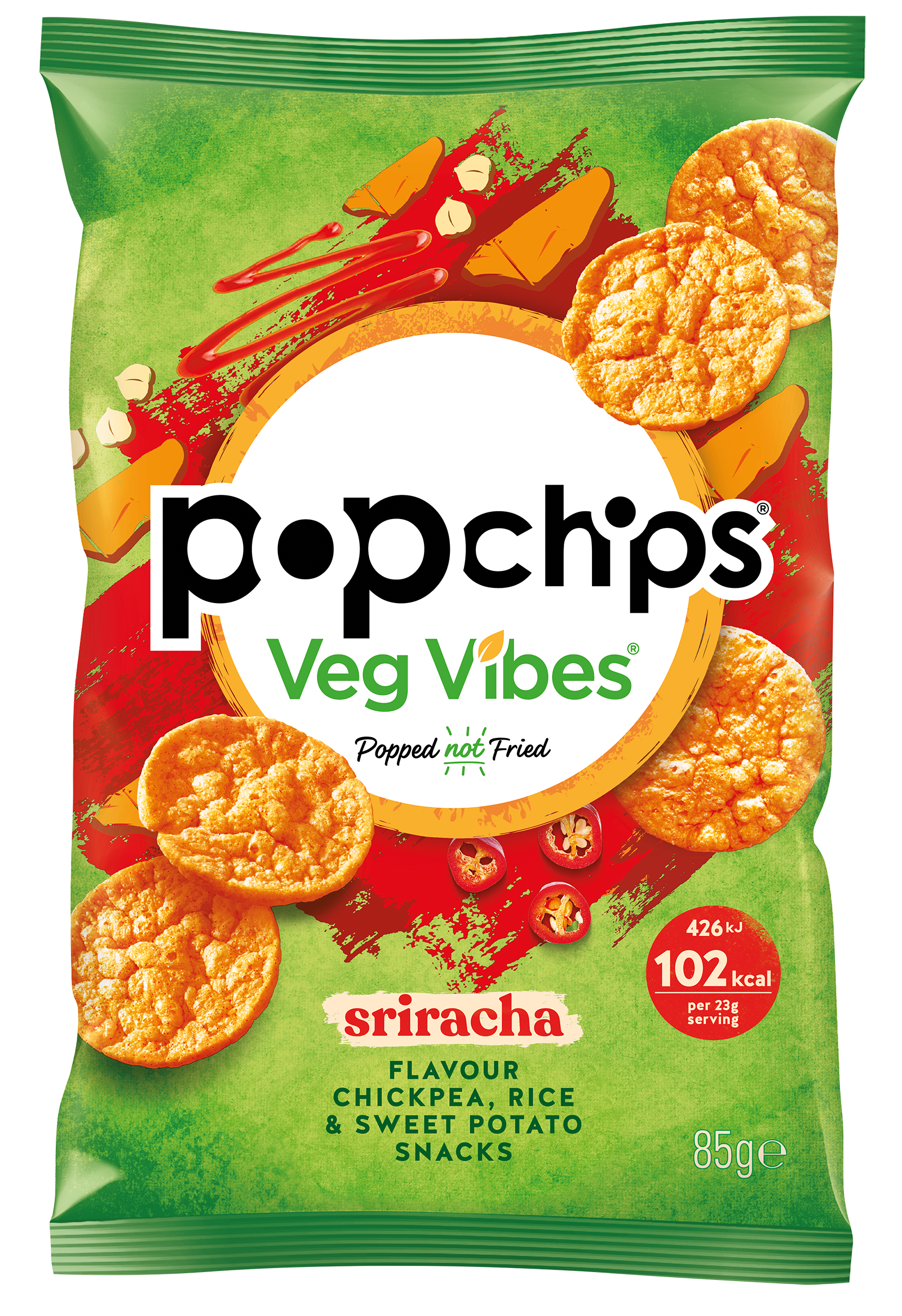 We'll also be supporting popchips Veg Vibes this October with its own comms launch via OOH, digital, and social.
What trends are occurring in the sector? 
Plant-based eating trends are here to stay, with more consumers actively choosing diets which incorporate more veg and plant-based foods. 46 per cent of 25-44 year olds believe it's healthier and 38 per cent believe it's better for the environment. The popchips health and flavour credentials have driven the brand's appeal to date, and the launch of Veg Vibes sees popchips capitalise on the constant evolution of healthy eating trends with a unique vegan snack.
Consumer demand for sharing products is also on the up, as friends and family are still choosing to spend more time at home. Snacks are a hugely important part of a memorable sharing occasion. When stocking up for these occasions, healthier sharing options should not be ignored. popchips offers a more permissible snack option while still being a tasty treat – perfect for consumers who are looking for a healthier product to share when having an evening in.
Describe your brand in three words…
Positive, energetic, expanding.