Can you please give an overview of your brand?
Our journey started in 1899, when the now-famous brand was named after one of London's famous streets – Pall Mall. We have not stopped moving forwards since. Over the years, we have listened to our evolving Pall Mall consumers and adapted the brand to suit their changing tastes and needs. But Pall Mall has always remained true to itself, particularly its unshakable commitment to quality.
I remember launching Pall Mall in the UK as an Area Manager in 2007. The brand became an overnight success and gained high single digit share of the tobacco market for BAT UK. We didn't stop there. After the launch we worked hard to make sure Pall Mall stayed relevant, fresh and innovative.
We were the first to remove a stick from the pack, keeping Pall Mall affordable while satisfying the daily needs of our consumers. Soon afterwards, the whole Pall Mall product family was made fully capsule and then, in another first, we added a double capsule cigarette to the range.
How is your brand currently performing?
In the UK, Pall Mall is synonymous with blending the best value and high quality. It's a combination that really resonates with adult nicotine consumers in the UK, who see Pall Mall as a premium brand at an affordable price – and that builds loyalty too.
How is the tobacco and nicotine market currently performing?

It's clear that tobacco has retained its appeal for many consumers throughout the past year. In that time, we've seen an overall increase in tobacco sales across most brands. Earlier in the pandemic, we saw some consumers buying larger amounts in one purchase, but since last summer sales, buying habits have returned to normal.
Traditionally, Pall Mall offered consumers menthol and capsule cigarettes. Now, the brand has moved successfully through the ban on cigarettes with characterizing flavours by adapting from a capsule product to a standard one. Pall Mall is becoming just as popular now as it was before the menthol ban.
Do you have any new product development?
Pall Mall continues to be a major area of innovation for us. Pall Mall was the first capsule and double capsule product in the UK. That reputation for pushing innovation has continued thanks to the addition of more unique features. Following the ban on characterising flavours, we've enhanced the tube flow filters to make it well-rounded and firmer for a smoother draw. We've also improved the quality, firmness, and blend of the cigarette. And our innovation has gone further with the launch of a new product offer, the Pall Mall Shift Blue, which features a unique stick, slimmer and longer than a traditional cigarette.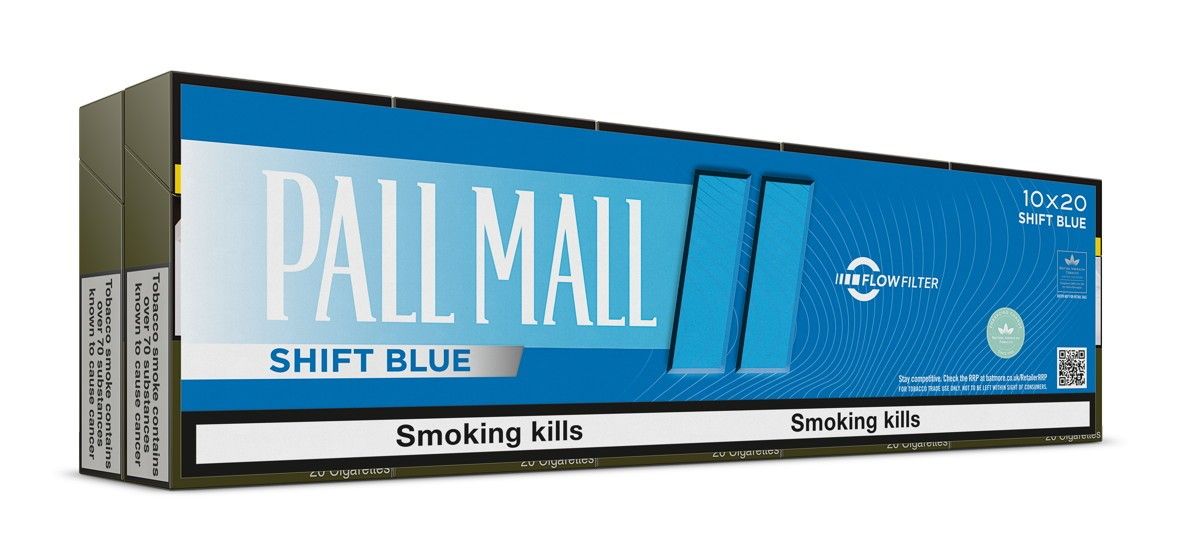 How are you supporting your brand and new product development?
We want to make sure that we are delivering over and above so that our consumer always gets the best. It's our main motivation to keep the brand moving forward by regularly introducing relevant new products and solutions that are tailored to the consumer's needs. Our research has given us valuable insights into how we innovate a brand known for pushing the boundaries.
How important are independent retailers to your brand?
Independent retailers are crucial to the success of Pall Mall. They are our key contact with consumers and represent almost half of the tobacco retail market. These retailers are hugely important when it comes to meeting the specific needs of consumers – they help drive the ongoing success of the brand by making Pall Mall widely available.
It's vital that independent retailers know as much as possible about what their consumers want and merchandise and stock accordingly. Adult nicotine consumers are brand loyal, particularly when it comes to Pall Mall. By keeping the availability of the product high they can make sure these consumers continue to visit their stores for their favourite brand.
What trends are occurring in the sector?
Looking at the predictions for the combustible industry for the next few years, it seems that the value-for-money and low segments will continue to grow. In recent years, the global tobacco and nicotine market has diversified beyond traditional, combustible tobacco. We're seeing a shift by traditional smokers to alternative nicotine products such as vaping, tobacco heating products and oral nicotine pouches – driving growth in those categories. And many adult consumers have become dual users, alternating between cigarettes and vaping or nicotine pouches.
Describe your brand in three words…
Premium, innovative, value-for-money.